The fluffiest souffle pancakes in the world are in Japan! They have a limited supply and you have to get there early in the morning if you want the best breakfast in Tokyo, but these Japanese fluffy pancakes are well worth the journey.
Cafe Gram: The Best Pancakes In Tokyo
The Best Breakfast In Tokyo: 3 Is The Lucky Number
Cafe Gram is a chain cafe throughout Japan. While traveling in Osaka, I walked by the cafe and was amazed to see these Japanese fluffy pancakes. The actual term for them is Japanese souffle pancakes in case your looking for the recipe.
Unfortunately the line was insanely long. Determined, I took another trip to Japan the following year. I also failed. Then another trip! This 3rd trip I was determined to get to Mt. Fuji and eat Japanese fluffy pancakes! I wasn't successful in climbing Mt. Fuji but I did get the best breakfast in Shinjuku!
At Cafe Gram Tokyo they serve you 3 souffle pancakes! That's non-negotiable!
Japan, 〒150-0001 Tokyo, Shibuya City, Jingumae, 1 Chome−9−30 1F
Sold Out of Japanese Fluffly Pancakes!?
We only had 2 days in Tokyo and on the first day we went to Cafe Gram at 1pm and they were already sold out!  They told us to come back tomorrow.  We saw a sign (in English) that said they open at 11am, but start handing out tickets for reservations at 10am.
Apparently everyone gets there before 11am when they give out the reservations. The reservations are laminated cards that you exchange for your seat later in the day.
With empty stomachs, we headed over to get the best Japanese Curry in Tokyo since we couldn't get the Japanese souffle pancakes.
Japanese Fluffy Pancakes Cure Hangovers
Later that night, we got really drunk and everyone was hungover the next morning.  The night was filled with the Tokyo Robot Restaurant, Akihabara Cosplay Ninja bars and the All-You-Can-Drink Maid Bar had us wrecked.
I was up early and we rallied as a group we departed our Tokyo Capsule Hotel at 10am.  From there, we tried to get to the Cafe Gram for breakfast in Shinjuku as fast as we could. We arrived at Shinjuku station at 10:12am and began running towards the Cafe Gram. Running up stairs, through alleys and weaving through crowds of people. I didn't make it to the top of Mt. Fuji, but this is the day I ran faster my fastest.  The desire for a Japanese souffle pancake really makes you move faster.
Getting A Reservation For Cafe Gram
By the time we got there it was 10:20am. There was a short line and we knew that they were only handing out 20 reservations in the morning.  We stood in line with a lot of hope.  As we got to the counter, we were able to lock in a reservation for 3 people at 12:20pm!
Feeling accomplished, we walked around looking to kill time for 2 hours.  We ended up waiting at a Starbucks so we could also recover from the night drinking.
At noon, we made our way back to the cafe and were able to get seated a little early.  Without hesitation, all three of us ordered the Japanese fluffy pancake special.
Experiencing The Best Breakfast In Tokyo
Each order came with three giant fluffy pancakes stacked on top of each other.  When the souffle pancakes were ready, the waitress would very carefully walk each plate with both hands to the table.  As the pancakes hit the table we could see it jiggle around (almost like jello).  Sooooo fluffy.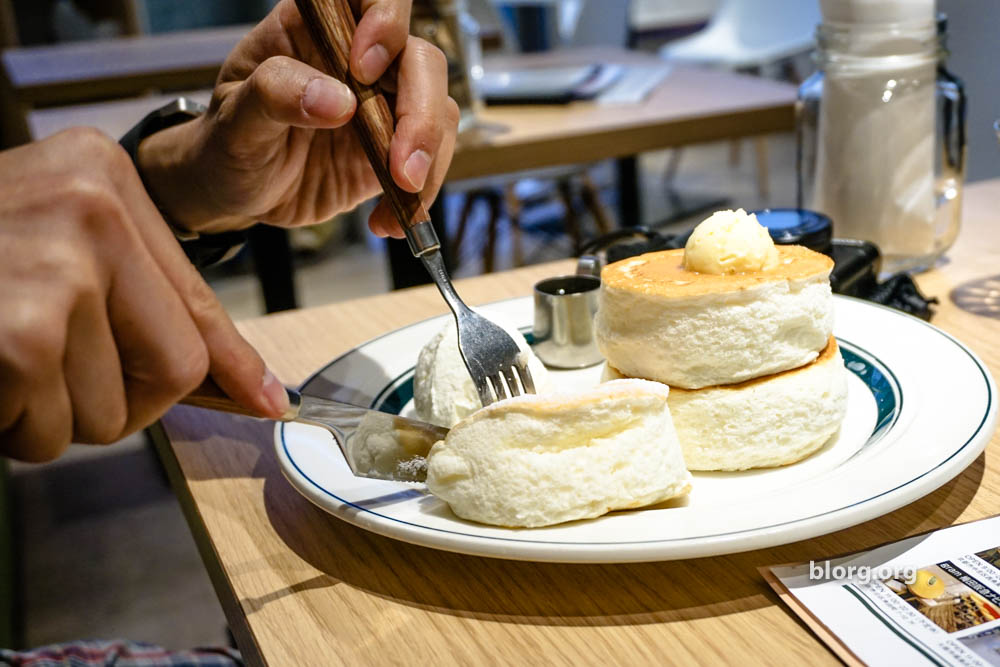 The pancakes were pretty good, but too much of a good thing.  I ate all 3 pancakes but felt very full after just 2.  I think I would have been happy with just one and a little variety from the other breakfast dishes.
Dan's pancake rating: 9/10 (if you only eat 2 of the 3 pancakes)