In this Fiji Airways Business Class review, we'll be flying on the Fiji Air A330 from Singapore to Fiji (Nadi Airport). This Fiji Air review will contain the entire experience from checking-in at Singapore Airport to arriving at Nadi Airport.
Singapore Airport
After a pleasant stay at the Intercontinental Singapore, I left the hotel at 2pm. That's as late as they let me stay with my late check-out benefit from the IHG credit card. My flight departing from Singapore to Nadi, Fiji was at 9pm. With 7-hours to kill, I decided to go straight to the airport.
Visiting Singapore Airport is an adventure in itself. It's known as the best airport in the world, with good reason. It's massive and has so many free activities. It's like having the convenience of a mall at the airport, but it's even better cause it's like 4 really good malls. Singapore Airport caters to all budgets from low to luxurious. You can buy food for a few dollars in the local hawkers stalls of B2 in Terminal 3…or you can eat at one of the fancy restaurants at the Jewel. They have 2 free movie theatres, an actual IMAX theatre, slides, an arcade, kids activities, shopping, restaurants, bars, dry cleaners luggage storage and so much more. If you have the chance to show up to Singapore Airport 5-hours early, you should.
Checking-in At Singapore Airport Terminal 1
Terminal 1 was definitely the original airport terminal in Singapore before expanding to 3 terminals. Terminal 1 is A LOT smaller than the other terminals in Singapore. They still have a lot of flights flying out, but they don't have much space in the terminal for passengers.
Fiji Airways is located at check-in desk 12 and it's a journey to get there from airport train since you have to move and dodge all the people traffic to get there. It's very similar to walking the streets of downtown Singapore.
3 hours before departure, I decided to check-in…pretty much when they check-in became available. The check-in agent was very quiet. I actually couldn't hear anything he was saying. But it was just the usual exchange of confirming my destination and if there are any batteries in my check-in luggage. He gave me my partial business class ticket to Fiji and my ticket to access the DNATA lounge, the Singapore Airport Terminal 1 Priority Pass lounge.
Terminal 1 is the smallest terminal at Singapore airport. I HIGHLY recommend spending your time in other sections of Singapore airport (like the Jewel). Just be sure to get to your gate at least 1 hour before departure because you have to go through security.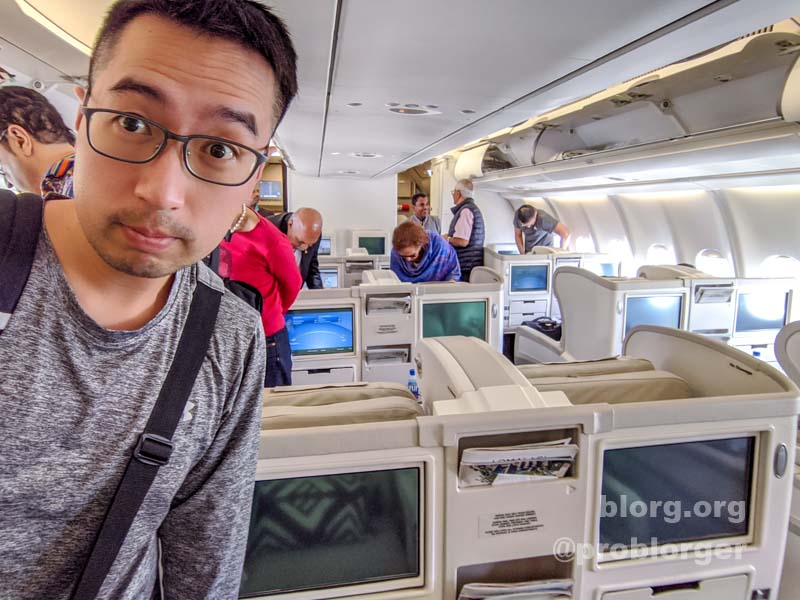 Security At Singapore Airport
Singapore Airport if my favorite airport in the world because you don't have to go through security until you need to go to your gate! You still have to go through a few levels of security, but it only takes a few minutes and there's never a line cause it moves so fast!
To enter the terminal, the first guard checks your passport and ticket. You then proceed to the automated immigration control. There, you scan your passport. If your passport scans successfully, 1 of 2 doors open. You then need to scan your thumb and if approved, the 2nd door opens. The last check is another security guard checking if your ticket matches your passport. The entire process only took a few minutes!
You only go through the actual security before boarding. Each gate is grouped with several other gates and has it's own security checkpoint. The usual things happen there where your belongings and you go through x-rays and metal detectors.
The Ticket!
I booked a roundtrip ticket from Singapore to Los Angeles via Fiji with Fiji Airways for US$790. Yeah, that doesn't sound like much of a deal, BUT half of the flight is in business class:
SIN-NAD: Business
NAD-LAX: Economy
LAX-NAD: Economy
NAD-SIN: Business
Each segment is over 10-hours so that's 40+ hours of flying. Of course, each way I have to stop in Nadi, Fiji. About 1 week after I booked the mistake fare ticket (Big Thanks to Sam Chui who wrote a blog post on it), Expedia Singapore called me (I booked it through them) and told me that there was a problem with my ticket.
I was nervous because I knew there was a problem with the ticket, the price was way too low. Initially I thought the call was about that but then they told me something else!
My flight was rescheduled, so instead of having a 9-hour layover in Fiji, they gave me the option for a refund or to accept the schedule change which would give me a 2-night layover in Fiji. I gladly accepted the schedule change, but that's not all!
Fiji Airways offered to pay for my hotel for 2 nights and give me a $50FJD dining credit for my inconvenience. I just got a mini free vacation in Fiji on top of getting a cheap business class ticket, while also being able to collect a lot of frequent flyer miles for the trip! This was a win-win-win!
Alternatively, you can always bid for an upgrade with Fiji Airways. For my flight from Fiji to LAX, the minimum bid was $800USD to upgrade from economy.
Fiji Airways Business Class Review A330 SIN-NAD
Fiji Airways Business Class Seat: Angle Lie Flat Seats 3/5
The Fiji Air business class seat is an older business class configuration with a 2x2x2 style. That just means, everyone has aisle access except for anyone sitting at the window seat. Luckily, the cabin was pretty empty and I ended up having 2 business class seats to myself.
Although it's an older business class, Fiji Air keeps it looking like new. Everything was in immaculate condition which left me pretty impressed.
The only thing I didn't like about the seat was that it was angle-lie flat. When you recline the Fiji business class seat to "bed mode," it doesn't reach that flat 180 degree angle. It's more like 150 degrees and feels like you're sleeping on a slide.
In-Flight Entertainment 2/5
Flying in Fiji Airways business class from Singapore to Nadi is going to take a little more than 10 hours. You have a lot of time to watch movies if you wanted to. Unfortunately the movie selection is very limited. This flight was in January 2020 and the movie/TV selection had very few new releases.
For what they lacked in new releases, they made up for with very old releases. I ended up watching Police Academy (1984) and Die Hard (1988). I've seen these movies, they happened to be the best available. I'm glad I had audiobooks with me otherwise I would have been super bored.
Food 3/5 (generous score)
The food on the Fiji Airways A330 Business class wasn't great. All the food lacked flavor and the quality was just okay. The food is better than what you would get in economy class, but it's still average food that I wouldn't look forward to eating.
If you get the chance, load up on food at the Fiji Airways lounge in Nadi Airport. I found the food there to be pretty tasty and it's your best dining option in the entire airport (since there's just a Burger King and general food concession stand).
On board the Fiji Air Business Class A330, I got the fish for dinner. It lacked flavor but they made up for it with portion. Quantity over quality I guess. I would rate the breakfast 2/5. One small sausage, inedible hash brown and a chewy omelette. I enjoyed the chocolate chip scones much more.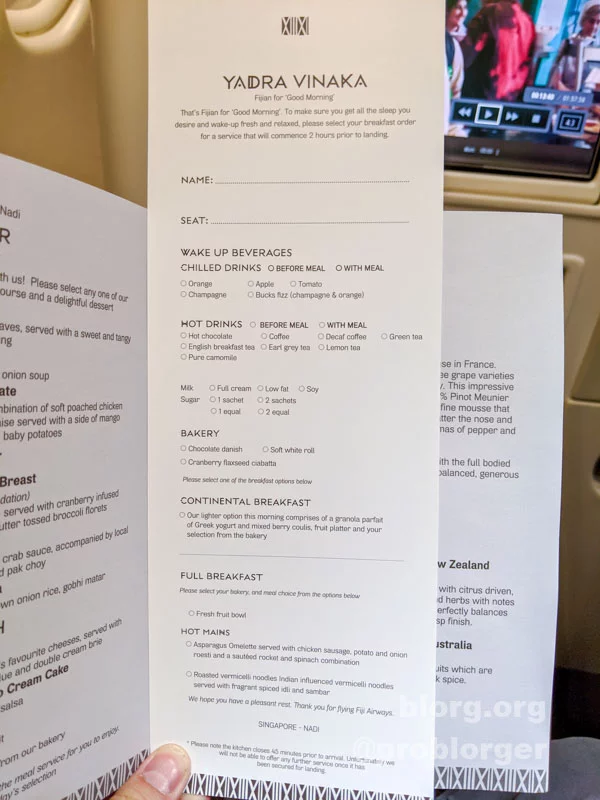 Service 3/5
All the flight attendants are from Fiji. Nothing wrong with that, but what really came to my attention was the size of the flight attendants. Some were very large which was surprising to see because after flying around Asia so long, I got used to seeing very slim flight attendants (less fuel?).
Nothing wrong being a bigger person, it's just surprising to see that size of a person as a flight attendant. I felt intimidated at times because they leaned over my seat (towering over me) during our interactions.
This made me think why did I feel intimidated? That's because on other airlines that REALLY focus on service, the flight attendant will never lean over you. I noticed this from my Qatar Airways business class experience and with my Singapore Air business class experience. There's many more, but those two are very immediate examples.
With Qatar and Singapore, the flight attendants crouch down to your eye level (or below) when speaking with passengers. It's the little things like that really add to the experience.
As for the actual Fiji Airways Business Class service experience throughout the flight, it was just okay. 3/5. Not saying it's bad, it's just average.
Amenities 3/5
The Fiji Airways amenity kit included ear plugs, toothbrush/toothpaste, lip balm an eye mask, lotion and socks. I always take off my own shoes/socks and switch to the airline compression socks. It makes the experience much better.
Additionally, the Fiji Airways business class seat included slippers, Bose noise cancelling headphones, a pillow and a blanket. They made sure to collect the headphones before the flight landed to prevent theft…I guess it's an issue?
The Fiji Airways slippers are surprisingly small! My feet didn't fit and my feet always fit in the slippers. I'm a size 9.5US and it looks like it was meant for a size 7 or less. They totally cheaped out on the slippers.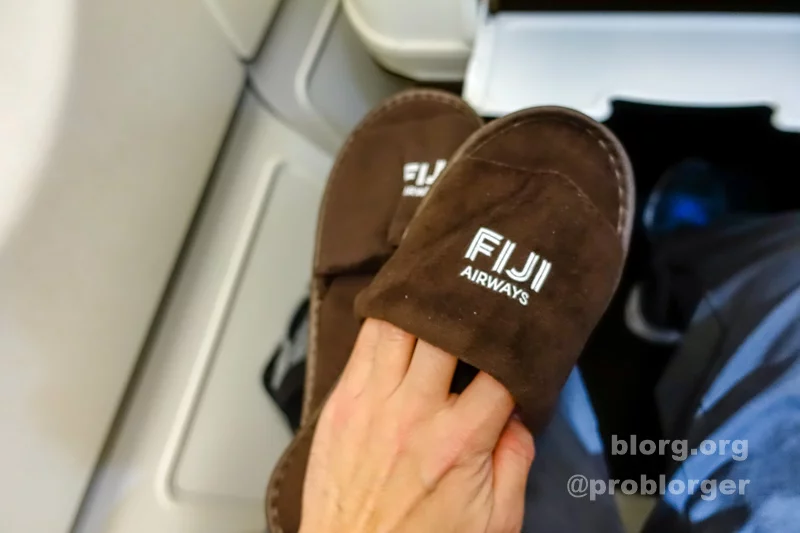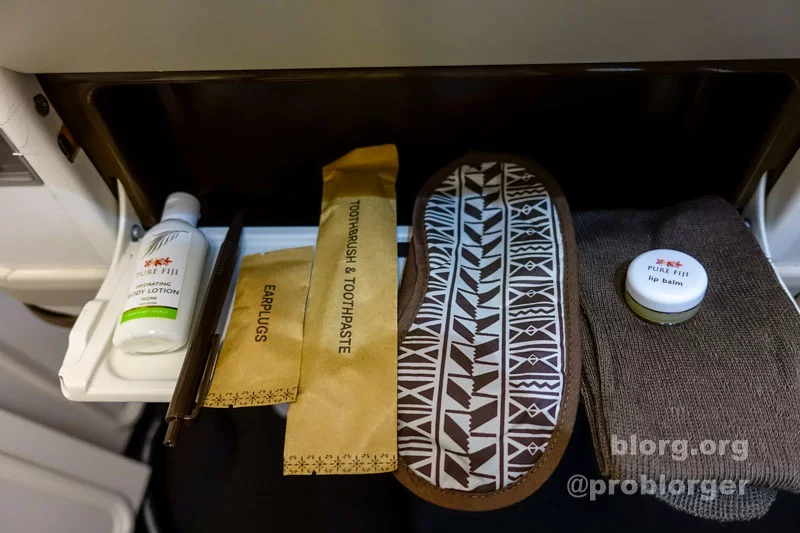 Overall Thoughts: Fiji Airways Business Class Review
I got to fly 22 hours in business class and 20 hours in economy class on Fiji Airways for $792 (mistake price?), but would NOT do it again. The most painful thing about the flight is the limited access to in-flight entertainment.
I got really lucky having the business class seat next to me empty, but if all-aisle access is an option for a business class cabin, I'll take that any day.
The seats and angle lie-flat aren't that comfortable for sleeping.
Overall, I'd rate the Fiji Airways business class at 3/5. A very generous 3/5, since there's a lot of better long haul business class cabins you can compare it to. That's not a bad score, it just means it's an average experience and can be improved.
Bonus: Arriving At Fiji Airport
If you're transferring at Fiji Airport with a layover greater than 2 hours, be sure to leave the airport. Fiji Airways is a hub between Asian, Australia and North America so many flights connect through here. The transfer line can be very long!
It took me an hour to transfer at Fiji Airport (when I was flying in economy) because they only have 1 security lane. It's significantly faster to go through customs and officially enter Fiji, then go back through security again through the departures hall. Also, there's not much to do in the Fiji Airport, besides hanging out at the Fiji Airways Lounge (official listing).