Getting from Nagasaki airport to city center is easy with the Nagasaki airport limousine bus! For only 900JPY, you can get to central Nagasaki for easily! In this post, I'll show you how to get to Nagasaki!
Arriving In Nagasaki Airport (NGS Airport Code)
Nagasaki Airport is very small with only one runway for planes. Inside Nagasaki Airport, you'll find 2 carousels for luggage. This is pretty typical for small airports that don't get a lot of flights.
A majority of flights coming to Nagasaki are domestic flights from other parts of Japan. International flights include some routes to South Korea and China.
There are only 4 airlines that fly to Nagasaki: ANA, JAL, China Eastern and Asiana.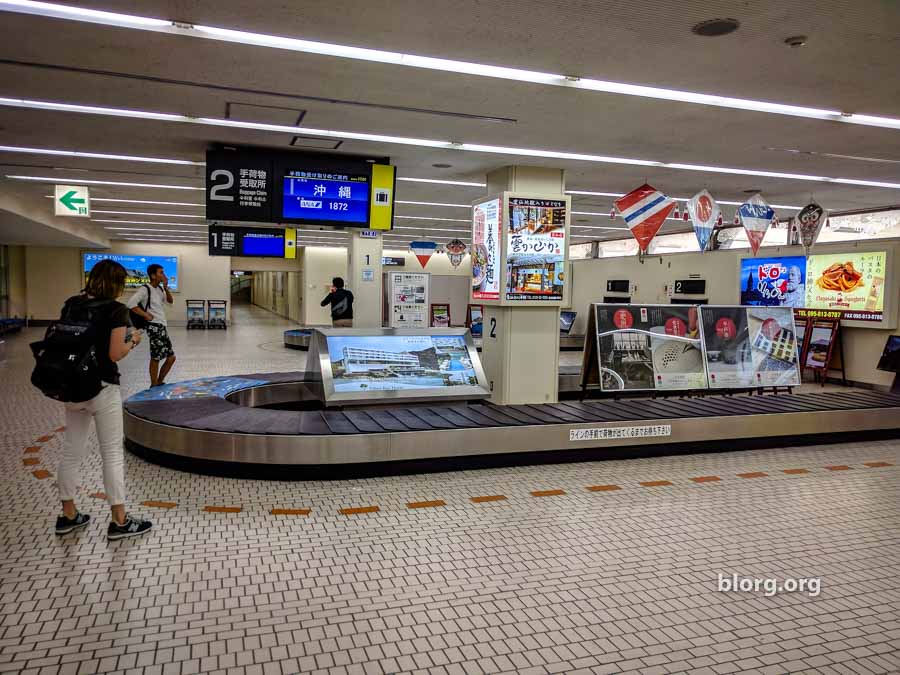 Options For Getting From Nagasaki Airport To Nagasaki City Center
When I arrived in Nagasaki airport, I used the Google Maps app to see what my options were to get to the city of Nagasaki.
1. Taking The Train From Nagasaki Airport To Nagasaki City Center: How To Get To Nagasaki
There are no trains, bullet trains, or shuttles from Nagasaki airport to the city. I was very surprised when I arrived and had to figure a way out to the city. Nagasaki airport isn't as connected to the city as Tokyo, Osaka or Sapporo.
2. Taking The Taxi From Nagasaki Airport To Nagasaki City: How To Get to Nagasaki
Taxis were available but are insanely expensive in Japan and I'm trying to save money. If you do want to take a taxi, you're looking at a 45-minute drive (if there's no traffic). I would expect this type of taxi ride to cost around 7000 JPY. Personally, I'm comfortable with the Nagasaki bus.
3. Taking the Shared Taxi: Nagasaki Airport To Sasebo
If you're trying to get from Nagasaki airport to Sasebo to visit Huis Ten Bosch, then you're in luck! There's a shared taxi that will take you from Nagasaki airport to Sasebo for only 1500 JPY! The ride takes approximately 55-minutes.
4. Nagasaki Airport Limousine Bus: How To Get To Nagasaki
The only realistic option was the Nagasaki airport limousine bus. I had no problem picking this option since I've used the airport limousine bus in Tokyo several times and found it to be a convenient and affordable option.
Buying Tickets For The Airport Limousine Bus
Just outside Nagasaki airport, you'll see a yellow sign that says "Bus Tickets." This is the Nagasaki bus that will take you to Nagasaki city center. The kiosk has an option to switch to English so that makes things easier! Just select your destination and it will show you how much the ticket will cost.
My ticket was from Nagasaki airport to Nagasaki city center and cost 900 JPY. The ticket showed my destination so the bus driver would know where I was going and where to store my luggage.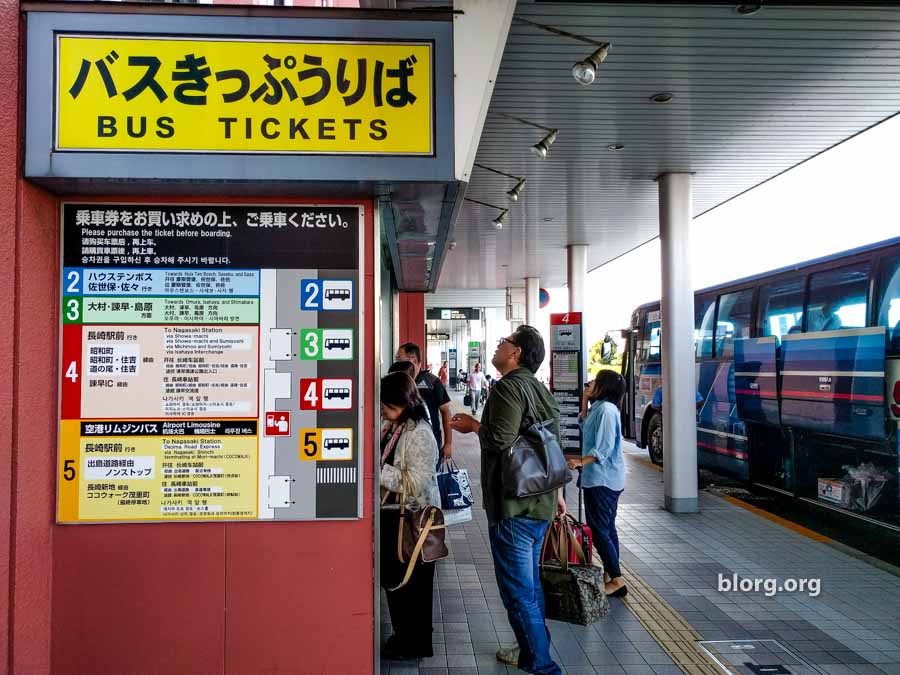 Nagasaki Airport Limousine Bus Prices
The pricing for the Nagasaki Airport Limousine Bus varied depending on your destination. The Nagasaki airport bus will only have a few stops between the airport and Nagasaki city. If you just want to get from Nagasaki airport to Nagasaki city center, the price is 900 JPY.
Riding From Nagasaki Airport to Nagasaki City Center
Boarding The Nagasaki Airport Limousine Bus
After purchasing your Nagasaki bus ticket, you'll then hand your ticket and luggage to the bus driver. He'll take your luggage and place it under the bus. Each section of the bus has luggage based on the Nagasaki bus stop. Once the Nagasaki bus arrives at your destination, the bus driver will unload all the luggage assigned for that stop.
Inside The Nagasaki Bus
The Nagasaki airport limousine bus takes approximately 45-minutes to get to Nagasaki city. There are several stops along the way but the ride is still very comfortable. The bus was in very good condition and very clean. As you can see from the photo, the seats are pretty slim. Definitely designed for the Japanese people.
My flight from Okinawa to Nagasaki didn't have that many people on board. There were even less people on the Nagasaki airport limousine bus. Probably less than 10 people on the bus ride, but I loved it since I got to stretch out and be more comfortable.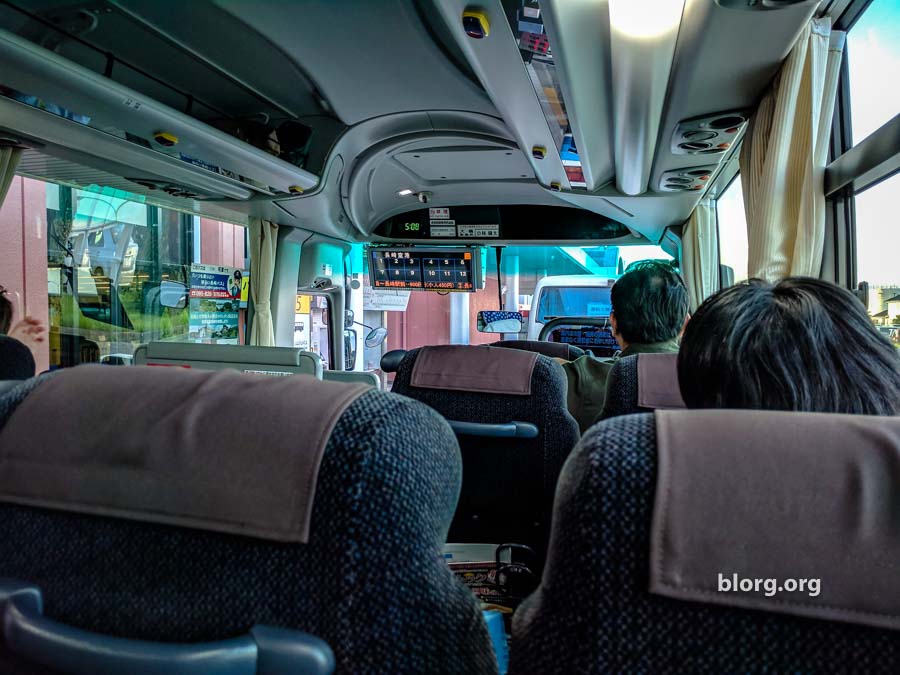 Finding Your Stop: Nagasaki Airport Bus
To the top left of the windshield, is a digital display with numbers. As soon as the bus started driving, each number was populated with the name of the upcoming stop.
Example: If Nagasaki city center was 8 stops away, after we pass two stops in the Nagasaki airport bus, the Nagasaki City Center stop would be updated to the #6 position.
After I figured out that the stops were labeled, it made things much easier. But of course I knew I wanted to go to Nagasaki city, all the previous stops were small towns or along the Nagasaki countryside.
Arriving in Nagasaki City Center
Once I got to my stop, I disembarked and the Nagasaki airport bus driver took out all the luggage for this destination. I picked up my luggage and made my way towards hotel.
From the bus stop, it was only a 5-minute walk to my capsule hotel, First Cabin Nagasaki. After checking in, I went to eat horse and whale meat.  A little surf and turf.
Nagasaki Things To Do
Nagasaki Things To Do: It's a pretty small city, so there are a few things within the city and few things worth taking a trip outside the city.
1. Huis Ten Bosch Amusement Park: Nagasaki Things To Do
Taking the train to Huis Ten Bosch from Nagasaki will take about 100 minutes. BUT, there you will find an amazingly beautiful Dutch City in Japan.
About 40 minutes by ferry from Nagasaki, you can visit Battleship Island. If you've seen James Bond: Skyfall, then you've seen how awesome this abandoned island is! It's also been featured in a few Japanese films like the live action version of Attack on Titan.
It's not something I enjoyed, but something I will remember. That's what new experiences are about. To give you some perspective and more understanding about yourself and other cultures. So that's why I tried horse meat and whale meat while in Nagasaki.
Conclusion
Taking the Nagasaki Airport Limousine bus is pretty easy even if you don't speak Japanese. It's the cheapest option since the airport is 45-minutes by driving from the city. Unfortunately, trains are not an option.
Getting to Nagasaki via bullet train (Shinkansen) isn't an option since the bullet train doesn't run to Nagasaki. A local train from Nagasaki Station to Hakata Station (Fukuoka) will connect you to the bullet train.
If you're looking for places to stay in Nagasaki, anywhere in the city center is fine. Most of Nagasaki is walk-able otherwise you can take the local trams, buses or taxis all at an affordable price.
Will you be traveling to Nagasaki soon?