If you're currently outside the United States and have use VPNs before, all of them have an issue connecting to Hulu, Disney Plus, Crunchyroll and Netflix. That's because those are shared VPNs with multiple people logging in different accounts from the same UP address. This creates that IP address to be flagged as a VPN or proxy and then gets blacklisted. That's why you need to get your own IP address in the United states.
How to set up a US IP Address from anywhere in the world!
[Beating Region Blocking with VPNs] If you've ever used Netflix while traveling, you'll notice that the library of content available to you is different based on your location. And if you've tried to use Hulu abroad, you know it doesn't work. There is no free VPN that works with Hulu because all free VPNs get blacklisted. In this post, we'll cover setting up a VPN that works with Hulu and then how to get your VPN working on your internet router. If you want to set up a Roku VPN for your home network, you'll need to have a router capable of logging in to your VPN connection.
[Most VPN Services don't work with Hulu and Disney Plus]
As you may have already tried, most VPNs don't work! You'll encounter two problems:
1. The VPN connection is too slow for a consistent stream.
2. The streaming services recognizes you are using a VPN/proxy.
I've tried several different VPN services that all failed to connect to US based streaming platforms like Hulu, Disney Plus and Netflix. That's because VPNs use shared IP addresses. When Netflix sees multiple accounts accessing their content from the same IP address, they will recognize it as a VPN and blacklist that IP Address.
[What can you do?] Get the Best VPN for Hulu
Basically you need a dedicated IP Address in the United States that you can VPN into. There are several different services that can do this, but I happened to settle with Torguard and am happy with their service. You'll need to purchase an IP address that is just for you in the United States. You can do this with Torguard for $20/month or $120/year. Obviously, it's cheaper annually, but since I've been burned by VPN services before, I decided to try it for 1-month before committing.
[Avoid FREE VPN Services]
If you're looking for a free VPN for Hulu, don't bother. Free VPN services have their IP addresses flagged by Hulu already so it won't work. Additionally, FREE VPN services are dangerous because some actually steal your data.
If you actually plan on using a VPN for security, go with a reputable source. Torguard has multiple VPN pricing options, but I pay the extra money with them to get my own IP address in the United States so I can stream Hulu from anywhere in the world.
If you want to help me out AND get a 50% of your recurring subscription, I have a TorGuard sign up link and you can use
TorGuard sign up: https://torguard.net/aff.php?aff=6955
TorGuard 50% off recurring subscription promo code: fvd
[Setting Up Torguard]
After purchasing my custom IP address from Torguard, it didn't work. I emailed support regarding this issue and someone was able to help me immediately. My questions were answered within minutes and they helped me get the VPN running in 10 minutes. I was surprised by Torguard's fast and reliable customer service. This sounds like I was paid by them, but I was not. If they want to pay me…just stop charging me for my VPN please.
After making your purchase with Torguard, you'll need to contact support to set up your custom IP address. They initially assigned me an IP address where I was getting 0.128mbps. Unusable. After showing them this, they were able to re-assign me an IP address with a speed of 6mbps. Which is pretty much the speed you need to stream content in HD.
With that, I was physically not in the United States but my IP address was. This gave me access to US streaming content for Netflix, Hulu and Disney Plus. So if you want the best VPN for Hulu, you'll need a private US IP address from Torguard.
Now that I had a VPN to stream Hulu, Disney Plus and Netflix, I wanted more. I didn't want to just watch it on my computer, I wanted to be able to use my VPN with Roku and my other devices.
Setting Up Roku with VPN
The easiest way to set up your Roku, Firestick, PS4, Nintendo Switch, tablet or just about any device is with a router! You'll need to look up if your router supports OpenVPN, if not, you'll need to buy another router.
Relax! Routers are very affordable and I recommend having 2 router so you can easily switch between WiFi signals. You'll need to get a router with OpenVPN (best price seen $20.49).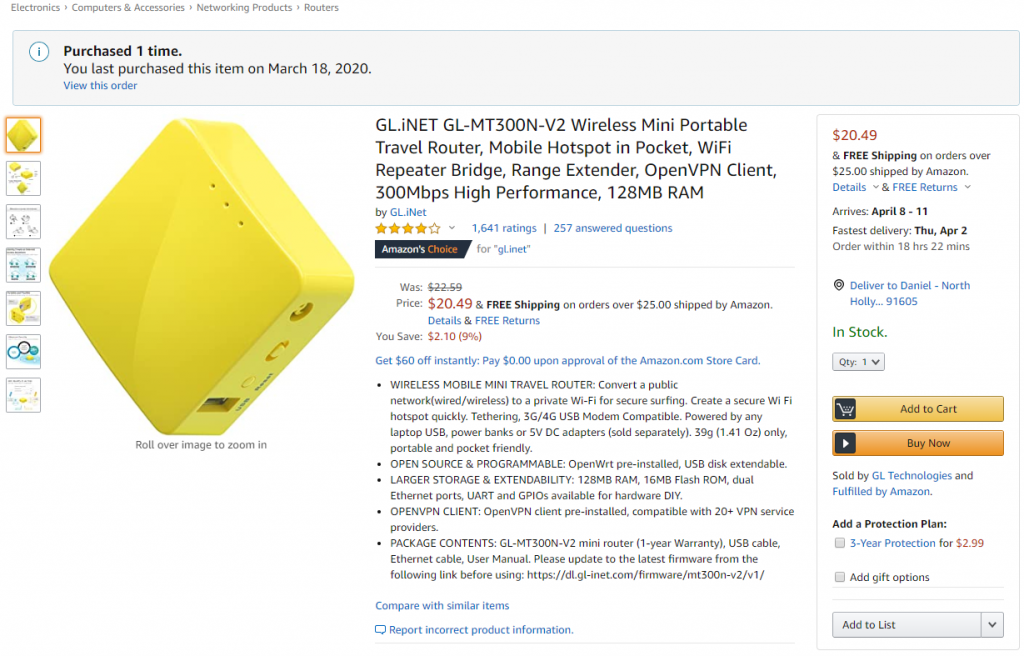 Setting Up the OpenVPN Router
Basically I just hooked up my new OpenVPN router…to my existing router. The GL.iNET mini router comes with a power cable and an Ethernet cable which is everything you need to get set up. Once everything is plugged in, take a look at your available WiFi connections and you should see a GL network available. The password default is "goodlife".
Next, you'll need to log into your routers IP address. It should be available in your instruction manual, otherwise you can easily get it with these steps:
Click Start> Run> Type "cmd" and hit enter. This brings up command prompt.
Type in "ipconfig" and you'll be able to see the IP address in the "Default Gateway" section. This will look something like "192.168.8.1".
You'll then need the default password which is in the manual.
If you plugged in your mini router directly to your modem, router, tethered computer or Wifi signal, you should already have internet. I found the interface to run pretty slowly so give it some time.
Set up your wireless settings to your preferences. Once your done, select VPN> OpenVPN Client on the left side drop down menu.
Select the [Management] tab at the top
Select [+ Add a New OpenVPN Configuration]. You'll then be prompted to add a .zip, .tar, .gz, .conf, .txt or .ovpn file. You probably don't have this file yet, but this is the last step to the set up process.
Getting Your OpenVPN Configuration File
If you set up your Torguard dedicated IP address earlier, you'll need to do the following:
Log in> My Account > Tools > OpenVPN Config Generator
Fill out the config info based on your Torguard client settings
Select [Generate Config] This will create the file you will need to finalize your router settings.
Using a VPN with Roku
After you have your router configured to your TorGuard VPN, it's time to relax and enjoy all that streaming content. Just log in to Roku or any of your devices at home to your new network connection and it will automatically go through your VPN connection. You have now unlocked America. Enjoy!
If you used the mini router as an additional connection like in my example, whenever I want to switch to my local IP address, I just switch my wifi connection to my home wifi. This is done because the Torguard connection only gets a max speed of 6mbps, so it should only be used for streaming and not for anything else, otherwise the quality of your stream will be degraded.
How To Use Roku with Hotel Internet
The GL mini router is pretty amazing. Since you can use an existing internet connection to broadcast a WiFi signal through a VPN, you can easily just plug into any existing internet network…even hotels!
Hotels typically have a log in screen that require your room number and last name to access the internet. You'll need to log in to your GL mini router set up page to access your hotel internet log in page. Once you're logged in, you can just share your internet connection with ALL your devices…even using it to log in to your Roku device so you can stream content directly to your hotel TV.
Just remember to not leave your Roku or router behind when checking out of the hotel. If I really don't want to forget my Roku and router, I'll just tie my shoes shoelaces to the wires. There's no way you can forget it that way.
FAQ:
Can you do this with other VPN services? I actually tried half a dozen VPNs. They all have the same IP addresses for all their users and are flagged as VPN's by the streaming services. This means, to many people have access to the VPN and have tried to stream online. To bypass this, you'll need a dedicated IP address
Should I use a free VPN service? Never use a free VPN service. Many free VPN services are scams that monitor your traffic. It "looks like they are giving you privacy, but they are just stealking all your personal info. Stay safe!
Can you use a VPN with Hulu? Yes, but you'll need to use a VPN that gives you your own IP address in the United States. This service costs more, but you won't get detected by Hulu that you are not in the USA.
How do I trick a location on Hulu? You will need a VPN that gives you a dedicated IP address just for you that's located in the United States.
How can I watch Hulu outside the US? Hulu is only available to US residents. But you can use a dedicated IP address to access Hulu internationally.
Is Hulu available internationally? No. Hulu is only available to US residents. But you can use a dedicated IP address to access Hulu internationally.
Can Netflix detect VPN? Yes and no. Netflix can detect you are using a VPN. Since VPN services give access to the same IP addresses to all their users, this gets detected by Netflix. You can still use a VPN with Netflix, but you'll need to use a VPN with dedicated IP address. I use Torguard and there are several other providers for this service.
Which free VPN works with Netflix? There are no FREE VPN services that will unblock the proxy detection with Netflix. This is because many people use free VPN services and Netflix recognizes that many people are using their service from the same range of IP addresses. If you want to use Netflix with a VPN, you'll need a premium VPN from Torguard that assigns you your own IP address from anywhere in the world.
Also, NEVER use a free VPN. Many free VPN services are scams that monitor your traffic. It "looks like they are giving you privacy, but they are just stealking all your personal info. Stay safe!
Does Private Internet Access work with Hulu? No. I've actually had Private Internet Access for years (that's the actual service name, PIA), but it's only given me access to Hulu a few times abroad. This is because the PIA VPN addresses access Hulu with multiple accounts. On Hulu's server side, they'll recognize this as a VPN.