Cabin & Lounge Highland Station Inn is a super clean capsule hotel and everything seems pretty new. There's only one-type of capsule rooms for men and women (separated by floor). When looking for a Mt. Fuji Capsule Hotel, this was the cleanest and newest place I could find online. A lot of the hotels are very expensive in the Kawaguchiko area so finding a capsule hotel for 3200JPY was an absolute deal.
This was my first time staying on the north side of Mt. Fuji. I'm super cheap so I don't mind short stays at a capsule hotel or a hostel. If you've never stayed in a capsule hotel before, definitely give it a shot! My absolute favorite capsule hotel was Cabinhouse Yado Fujinomiyaten on the south side of Mt. Fuji in the Fujinomiya area.
The rates for this capsule hotel are pretty low considering it's right next to a station and it's super new/clean: Check out the prices here
Getting To Cabin & Lounge Highland Station Inn
The Cabin & Lounge Highland Station Inn capsule hotel is located right next to Fuji-Q Highlands theme park. I mean right next to it. If you're outside the capsule hotel, you can hear people screaming on the roller coaster. Don't worry though, there's no sound issue. The theme park closes by 9pm and the actual capsule hotel is insulated really well so there's not much noise. Plus, free ear plugs!
I took the Keisei bus from Narita Airport to Kawaguchiko station and then took the local train 1 stop to Fuji-Q Highlands Station. There's a Fuji-Q Highlands stop on the bus, but you'd have to walk around the theme park with your luggage. It's much easier to just go to Kawaguchiko station then take the train back.
Checking-In to Cabin & Lounge Highland Station Inn
Upon entering the building, you'll be required to take off your shoes. There are free lockers right at the entrance. The shoe lockers were incredibly clean and you could lock up your shoes.
Check-in as at 3pm and like most hotels in Japan, there is no early check-in. They clean the facility from 10am-3pm.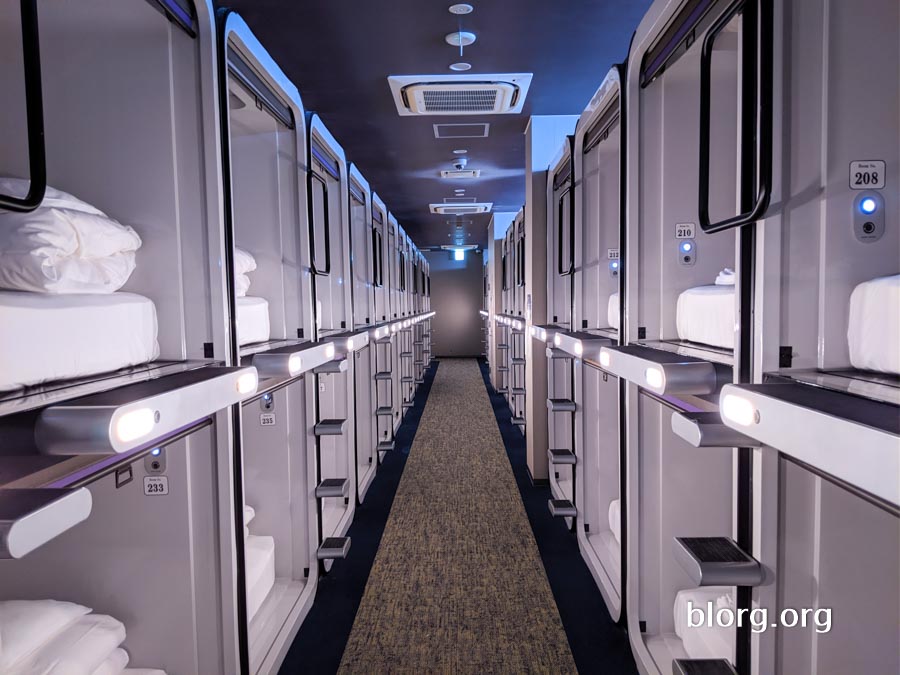 Capsule Room
It's a pretty big bed and everything looks brand-spanking new. But, there's no TV. This is a first for me, even though I can't understand the shows, I still like to browse Japanese television when I stay in a capsule hotel.
There are only 2 floors in the building. The first floor is the lounge, reception and the women's capsules. The second floor contains the men's capsules.
Locker Room
The locker room is where you can keep all your stuff locked up…obviously. It's pretty cool how they have it set up though. The lockers are unlocked and locked with your room key card.
Even though it was cool, there were two things I didn't like about the locker.
1. I didn't like how the locker had a very strong spring to close automatically. This made it VERY annoying when moving stuff and organizing the locker. I had the upper tier locker which was super aggravating as I moved things in and out of the locker.
2. Inside the locker, there are no shelves or smaller storage spaces. It's just 1 big box. You can't really organize your stuff.
I know these are small complaints, but I've experienced lockers that had shelves and small storage spaces in capsule hotels in Japan.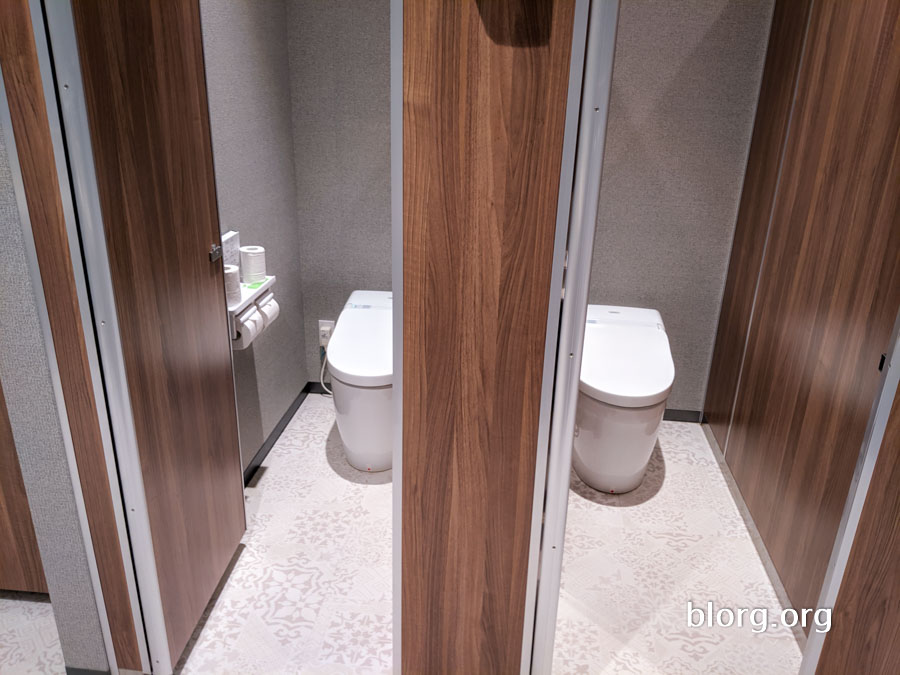 Bathroom
Super clean bathrooms. Once again, everything looks super new and they keep it sparkling clean. An absolute joy to use the restroom here.
I like how there are private showers at this capsule hotel and not a shared bath. Privacy and a quick shower are more useful to me than a public bath.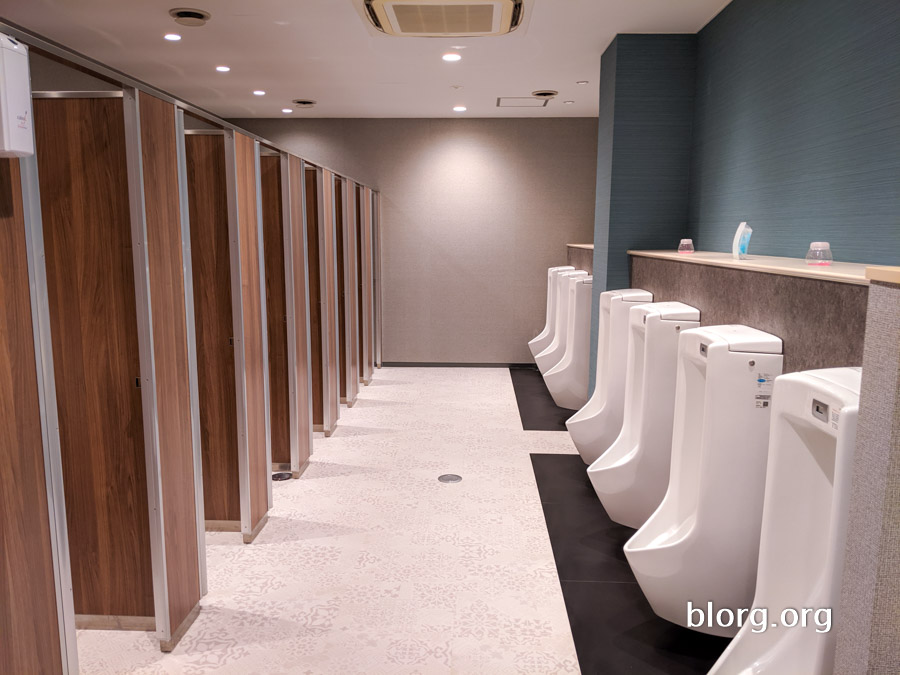 Amenities
Cabin & Lounge Highland Station Inn provides slippers, towels, earplugs, toothbrush and razors for free. The slippers are super thin and you're really just walking on paper. You can get pajamas, but that's an additional 200JPY charge.I opted for the pajamas to keep my other clothes fresh.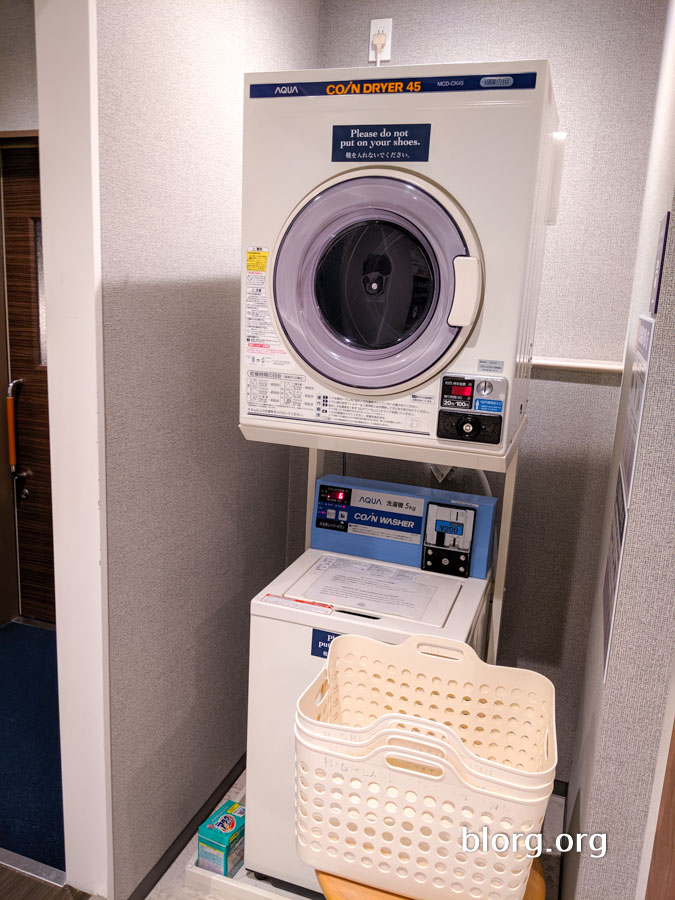 Lounge
The lounge at Cabin & Lounge Highland Station Inn is okay. For a place that markets "Lounge" in the hotel name, it's not much of a lounge. The biggest problem is that there isn't a restroom in the lounge, so you'll have to go up to the room area to use the restroom. Only drinks are available in the lounge via vending machine.
Since there's no restroom in the lounge, you'll have to go somewhere else between 10am-3pm since that's when they do their cleaning.
The Area By The Capsule Hotel
The area by Cabin & Lounge Highland Station Inn is pretty limited. Directly next to the hotel is a convenience store, several restaurants, Fuji-Q Theme Park and a train station. For this area in a small town in Japan, that's pretty good. There's a few more shops and restaurants but you have to walk pretty far on a small sidewalk.
At night, it feels a little dangerous because there aren't many lights and the cars drive right by you, so be careful. Other than that, walking around at night was pretty safe.
I went for the search for food. There's a supermarket across the street and a Lawson's right next door to the capsule hotel. I wanted to see what else is in the area and you'll find maybe 20 different restaurants within a 30-minute walk. There's a McDonald's not too far away, I asked for an English menu and was very surprised they didn't have one. I'm guessing this part of town isn't where the tourists go. Cabin & Lounge Highland Station Inn is located near Fuji-Q Highlands Station. Door to door, it's less than a 10-minute walk.
Conclusion
I've stayed in capsule hotels in Nagasaki, Osaka, Tokyo, Fujinomiya and Sapporo so I have a lot of different experiences.
I love how everything is super clean and new, but I do miss having a TV. There's also of places within walking distance, but you do have a train station. The location is great considering what your other options are in the Kawaguchiko area…and the price is hard to beat!