Do you love having anxiety? Well why not experience being in prison for dinner! At this Osaka jail bar, Prison Restaurant The Lock Up Umeda, you can have a "horrible" dinner! It's definitely not one of the best restaurants in Osaka, but it's the scariest (intentionally). If you're looking for things to do in Osaka at night, this is it!
If you are sensitive to flashing lights, you should absolutely not visit this place. There will be A LOT of it!
SPOILER ALERT: This post will contain my full experience at the Lock Up Restaurant Osaka
It's a must do in Osaka for any person who loves being scared or just having anxiety. Since you're supposed to expect surprises, reading this entire post might ruin it for you. I can recommend some other themed restaurants in Osaka if you want to avoid the spoilers. If you're just looking for Osaka happy hour, those will work for you.
Themed restaurants in Osaka can be found in many places around Namba area:
And those are just a few of the themed restaurants in Osaka. All of which are things to do in Osaka at night. You can check these places out for Osaka happy hour! But what makes this Osaka jail bar different is the experience! These are things you must do in Osaka.
Getting To The Lock Up Restaurant Osaka
Address: Japan, 〒530-0027 Osaka, Kita-ku, Dōyamachō, 4−12 白馬車ビルパート1
The bar is located on the 15th floor of a mall in the back area. No foot traffic from the other places in the mall. Anyone in this area, is here for the Lock Up Restaurant Osaka.
As we're walking towards the entrance, it already seemed Halloween and Horror themed. Not prison themed. It was also January. Okay, let's see where this is going. We walk up to the front and all the information is in Japanese. Luckily, we have a Japanese local with us.
Official Website Of The Lock Up Restaurant Osaka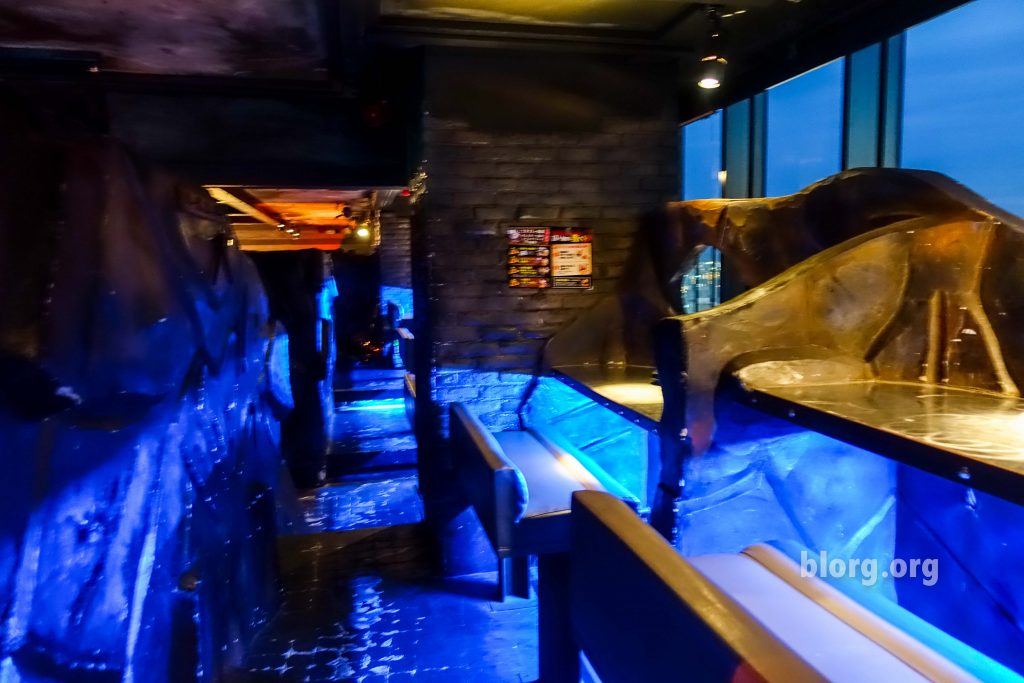 Reservations For The Lock Up Bar
My group and I managed to get in without reservations, but it is highly recommended. They were booked up for the evening but luckily we got there soon after they opened. The Lock Up Restaurant Osaka opens at 5pm and we were there at 5:15pm. Just in time for Osaka happy hour!
Expectations: Osaka Jail Bar
First of all, this was misleading. I was informed that it would be a women's prison bar. The literal translation on some Japanese websites described The Lock Up Restaurant Osaka as a women's prison bar.
My imagination went in the opposite direction of what the bar really was. I was thinking it would be seductively dressed Japanese woman acting out a fantasy. I was mostly wrong.
Getting In To The Osaka Jail bar
To get in, you have to ring the bell. The sign explaining that was in Japanese. That didn't slow down this adventure.
Our group gives me the honor of ringing the doorbell. I wasn't sure what I was supposed to expect. A moment later a Japanese girl (early 20's) dressed as a sexy police officer comes through the door and greets us.
Just a heads up, this place did not speak any English. Even if you said something that was in Japanese with an English accent, there would just be more confusion.
Back to the story, she leads us through the entrance and into a small room. She gives us really long instructions in Japanese that my friend doesn't translate which makes me slightly worried. In the small room is a person sized zombie figure, a person sized locker and other Halloween decorations.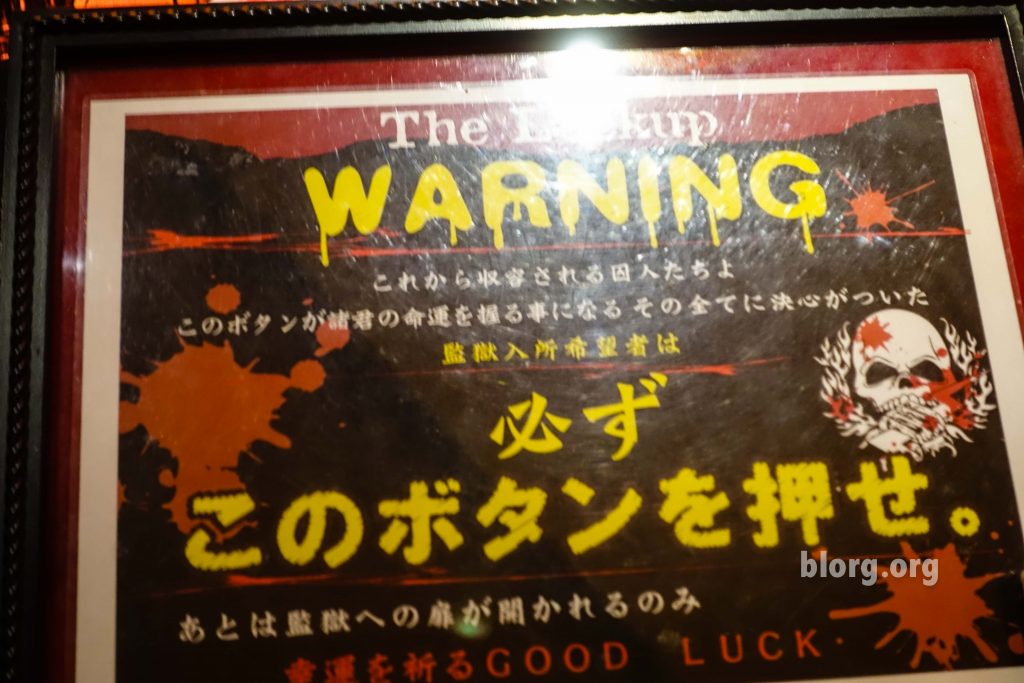 The lights go off and scary music starts playing. A bunch of dialog in a spooky Japanese voice begins and the lights flash on/off. Sirens are blaring and this goes on for about 5 minutes. The whole time I'm on high alert that someone is going to try and surprise us so I'm constantly scanning the room for movement or any changes. Nothing happened. The lights turn on and the door opens. I'm full of anxiety.
Getting To The Table For Osaka Happy Hour
The cop girl comes back to greet us and asks us in Japanese "Who is the bad person in the group?" My two friends point to me and I obviously don't point at me. We argue over who it should be when she just handcuffs one of us and brings us to the table.
Once we get to the table, she takes the handcuffs off. That's it? We made way too big of a deal who the bad person of the group was. Trying to decide for 2 minutes while our walk to the table was 10 seconds.
After taking a look at the menu we realize it's more Halloween and horror themed than prison themed. Since it's a restaurant, we order food and drinks. We're here to relax and enjoy Osaka happy hour. Little did we know what we were in for.
Don't Sit by The Entrance Of The Lock Up
Osaka is known for some of the best restaurants in the world but keep your expectations low at this themed restaurant in Osaka. The waitresses were dressed as prisoners, but not in a seductive way. Like actual prisoner clothing you'd find in Japan.
As other patrons of the restaurant entered the bar, they went through the same situation as we could hear the soundtrack of events happening again and again. More soundproofing needed or turn the volume down a little…or both.
It became irritating very quickly. This is the problem when you're the first one to show up at the party.
Food: Russian Roulette
The menu was limited to specialty drinks, beer and snack food. It's an izakaya and not a full on restaurant. The drinks were okay and the food wasn't that great.
One of the interesting things we ordered was a 5-piece takoyaki dish. The twist was one of the five takoyaki was super spicy. It was a Russian roulette food game. I like gambling (but have stopped because I have a problem) and this felt like a fun gamble. With our group of 3 people, I liked my chances.
I ended up with the spicy takoyaki.
My nose started running and I was having trouble speaking. I called the waitress (there's a button on the table to call for service) and asked for water for the table in Japanese. My Japanese friend feeds me the lines and I say it like a parrot that has a short-term memory. The waitress came back with one glass of water. I was dying.
The gambling aspect made it fun. I haven't seen that in much of the Osaka nightlife. I'm adding food gambling to my things to do in Osaka at night list.
Once I got my sense of taste back, I regretted it because the food wasn't that good. We requested the check but then were informed that the show was going to start in 20 minutes. So we ordered a large beer (served in a test tube) to check out this show.
The Osaka Jail Bar Show (Every Hour)
The show started an all the lights went off. A siren started ringing, smoke machines were blasting and a Japanese voice was playing loudly warning us of something. A bunch of people in scary costumes started running around the restaurant trying to scare people. They got us pretty good a few times. While sitting with my back to a window and then I noticed my two friends got really scared and were looking at the window behind me. I took that as a sign not to look. I took a sip of beer. The threat started patting me on my shoulder to turn around. I just shook my head and refused to turn around.
This went on for about 15 minutes and then gunshots started being fired. We saw the girl dressed as a police officer run by shooting the monsters. She came by to our table to inform us that she's taking care of the threat. After 5 minutes all threats were eliminated and the world was at peace.
An Outrageously Long Birthday Song
A moment later they played a 5-minute birthday song for a group celebrating a birthday. Birthday songs should only be 30 seconds at the most. We hung around for a while to finish our drinks but made it a point to get out as soon as possible. Since they do shows every hour on the hour, I could not sit through another one of those.
To leave, we had to press the call button and a prisoner escorted us out. It was a 10 second walk to the cashier to pay our meal. Overall, a good one-time experience as an interactive haunted house izakaya (that's what I'd call it at least). The food wasn't that good so definitely eat something good before you go.
Conclusion
Visiting The Lock Up Restaurant in Osaka was a fun experience. There are many options for things to do in Osaka at night and my preference is to not have anxiety…but it was still a fun and unique experience. I'd go again if they had good food. As for themed restaurants in Osaka, it's definitely a must do in Osaka.
If you're looking for more things to do in Osaka, check out my recommendations.
Would you go to a horror-themed bar?