You can climb Mt Fuji during the summer at any time of day. People plan around catching the sunset or sunrise from the peak and my group did the same. I've written up a detailed Hiking Mt. Fuji Guide if you'd like details on getting to Mt. Fuji and trail information.
How To Climb Mt Fuji: Starting At Station 5
An impromptu trip to Mt Fuji hike left my group a little under prepared but still optimistic. If we planned ahead we would have mixed in these Mt. Fuji day trips into our itinerary. Getting from Tokyo to Mt Fuji was easy with a direct bus and staying at the Fujinomiya Capsule Hotel was the nicest capsule hotel I've stayed in.
I didn't think we were going to start our Mt. Fuji hike at 12:38am…but that's what we did. From the start, I was already tired since I arrived in Japan at 5am that morning and worked a full day before getting on the redeye flight. There was very little sleep my AA LAX to Tokyo flight due to my large seatmate elbowing me during the flight. But let's climb Mt. Fuji!
After taking the expensive Taxi to Mt Fuji, we were dropped off at the 5th station for the Fujinomiya trail. That's as far as you can drive up the mountain. Once we arrived, it was a little unclear where the trail started. We walked up the road (of course!) to this large light and saw a sign that showed the trails.
We took the taxi because the Bus To Mt. Fuji 5th Station stops running late in the afternoon. If you're interested in climbing Mt. Fuji, this Hiking Mt. Fuji Guide will tell you everything you need to know.
Mt Fuji Hike Night Supplies
Things To Bring To Mt Fuji:
Headlamp
1 liter of water (or if weight is an issue, you can buy water
Food
Jacket (or use a rain poncho)
Gloves
Face mask (to protect your from the cold wind)
Mt Fuji Stations and Restroom:
About every 0.5-1km of hiking Mt. Fuji, you'll run into another station. A station has bunk beds, tables, restrooms, water, food, snacks and hot beverages all at understandably high prices. You can also buy a hiking stick for 1500JPY and get it stamped for 200JPY at each station.
If you want to return the hiking stick home, they'll cut it for you at the 5th station so you keep the stamps.
How Long Does It Take To Hike Mt. Fuji?
If you go at night when there's less foot traffic, are a relatively fast hiker and don't take any breaks, you can make it up Mt. Fuji in 4 hours and back down in another 4 hours. Double that if you plan at moving at a leisurely pace.
Climbing Mt. Fuji At Night: Starlit Paths
As we moved further from the light, we were climbing Fuji in complete darkness. Our group of four was equipped with two headlamps, a flashlight and a glowstick. The trail was full of loose gravel and what seemed to be an endless vertical climb. Along the trail, the boundaries are marked off with ropes to the left and right.
After some time, our eyes adjusted to the darkness and the trail was lit by the stars and the moon. Although it's very tiring starting the climb at night, it was a great experience being to stargaze while hiking. An even better bonus for me was that no one else was hiking at that time. Just so we don't get slowed down by the crowds of people.
How To Climb Mt Fuji Tip: Bring Durable Gear
An hour into the hike, Jin's backpack broke when we took a food break. I split my bag with him, but that was double the weight for half the time. We took a lot of snack breaks.
I was struggling with the hike. After 90 minutes of hiking, our group of four split up. Andy moved the fastest and Eric not too far behind. Jin and I were the slowest of the group but kept going.
I remember carry my liter bottle of water. It was very heavy. I wanted to drink a lot of it so I wouldn't have to carry it. I heard we could buy things at the stations but they were all closed as we were climbing up.
Climbing Mt Fuji At Night Tip: Stay Quiet And Warm
When we arrived at the 8th station, that's when we started running into more hikers. We were having a conversation as we were walking past the 8th station and someone whispered to keep our voices down. That's when I noticed there were a bunch of hikers along the wall of the station sleeping. This was around 3:30am. We also saw several people slightly off the trail camping on the way up.
After the 8th station I had to put on my jacket and gloves because of the cold temperature and the wind. The back of my t-shirt was sweaty from carry the backpack and that wouldn't get dry. I should have packed an extra shirt. I put the gloves on but I should have done that sooner. My hands wouldn't feel warm until after taking shelter in the 9th station (later that morning). I didn't need to put on a jacket earlier since I felt warm because we were moving pretty fast.
Catching The Sunrise From Mt. Fuji
Halfway between the 8th and 9th station we took a break and realized the sun was already starting to rise. We watched it for awhile and the continued to the 9th station for shelter. I was so cold and sleepy. My vision was blurry. I ordered a hot chocolate for 400JPY and it came in the tiniest cup. It wasn't very good. I was hungry so I also ordered a bowl of udon for 800JPY. Hungry, cold and tired…and yet I found it to be the worst udon I've ever had. I ended up drinking the broth just because it was warm. The noodles were left uneaten because they were so bad that consuming them would impact my happiness.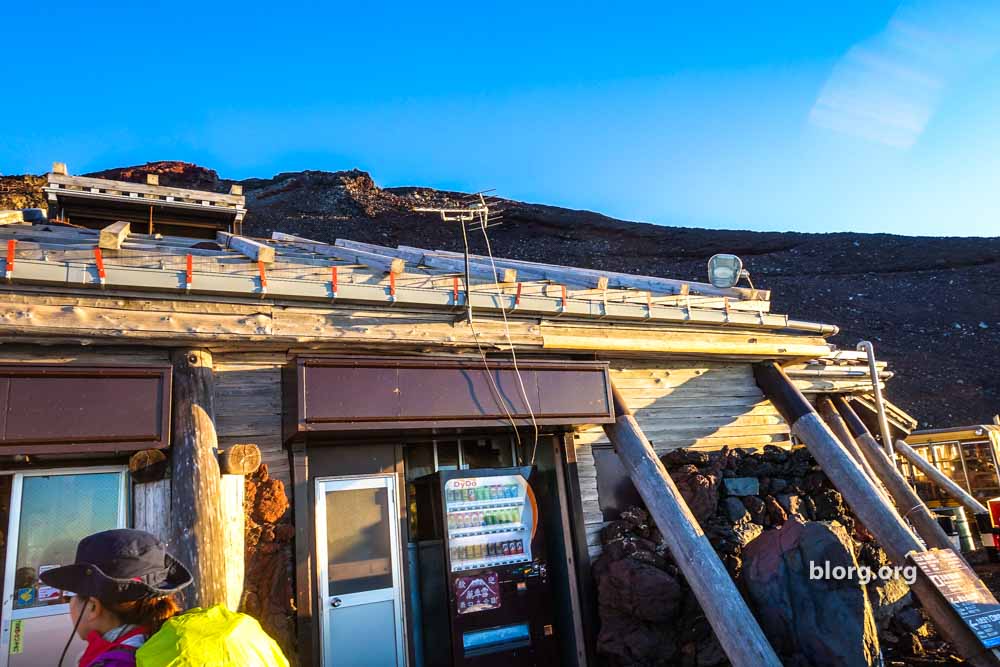 Even though the station was heated, it took sometime before I felt warm again. I packed a raincoat that I didn't use, but later realized I should have put that on to stay warm!

Mt Fuji Has Free Wi-Fi And Fast Cell Phone Service!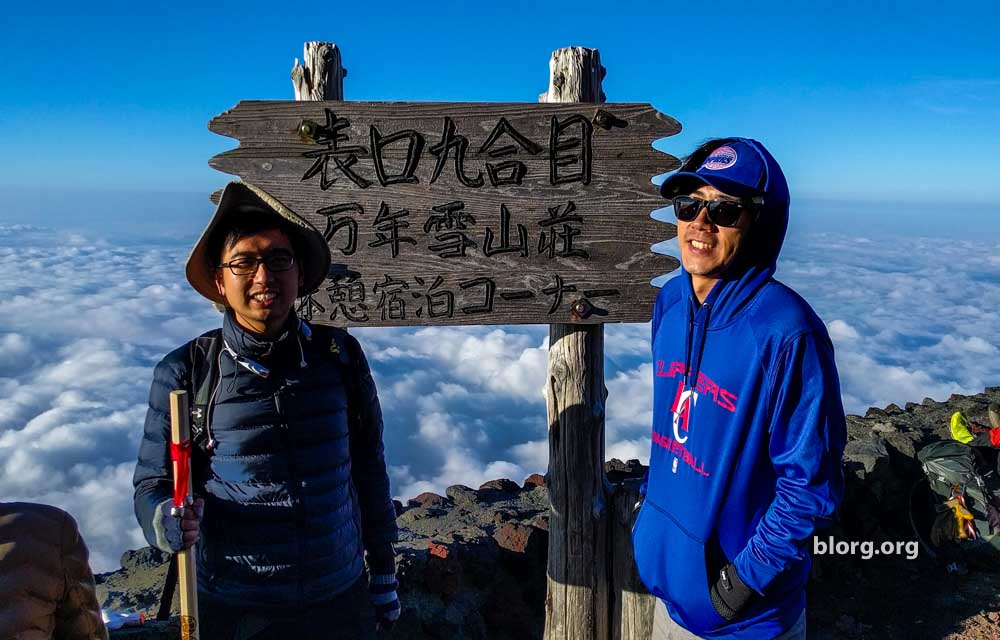 We waited at the 9th station for an hour hoping that we'd run into Eric and Andy on the way down. Inside the station I noticed that there was a sign for free wi-fi. I took out my phone and noticed I also had cell phone service. Nice work Japan! Always connected. I texted Eric and Andy said we'd meet them back at the 5th station. When we all met up at the hotel in the afternoon, we found out they were waiting for us at the top for an hour.
It was only an hour hike to the top of Mt. Fuji, but Jin and I were dying. We were more concerned with, "How are we going to make it down the mountain?" Jin strained his leg on the way up and I felt like a zombie. I just wanted to sleep. That was my motivation to make it down the mountain with no strength.
Buy A Wooden Hiking Stick For 1500JPY
Before we left the 9th station I saw that they sold these wooden hiking sticks for 1500JPY. I'm pretty cheap about buying things but I gave in and purchased the stick. The stick is pretty much a sanded down stick with annoying bells on them. I got a few splinters from the stick so I used some tissues I had as a grip. Two hours into the downhill climb, I was annoyed by the bells and realized I could just take them off and put them in my backpack. The stick ended up being worth buying since the climb down is very slippery. Even with the stick, I slipped a few times. A few times I had to grab the rope along the trail for balance. That rope is surprisingly strong.
Returning To Mt Fuji 5th Station
When we made it back down to the 5th Station, we waited for the rest of our group. Luckily, there's cell phone service on the mountain so we were able to stay in contact. The other two guys took a different trail by mistake (at the suggestion of another non-Japanese hiker). While waiting for a response I enjoyed some ice cream at the station.
Jin and I continued back to Fujiyama by taxi for 9000JPY:
Total time spent climbing Mt Fuji for Jin and I was 8.5 hours to get to the 9th station and back. With 2 hours of sitting around 6.5 hour to the 9th station and back isn't too bad.