The Caesars Palace Buffet, now known as the Bacchanal Buffet, is one of the most highly rated buffets in Las Vegas. But at $80/person, is it worth it? In my humble opinion, it is not. The buffet is absolutely not worth it at full price, so I'll show you how to not pay full price so you can get a better experience.
The Caesars Palace Buffet price tops out at $80, plus tax plus tip. Tax is about $5-7 for this buffet and then tip is about $5, so you're looking at around $90 for a buffet. If you've ever paid $90 at a really good restaurant, then go back to that restaurant! Because this buffet is not worth $90.
In this post I'll explain the Caesars Palace Buffet price tiers, coupon, groupons and hacks so you don't have to pay full price. Most of the hacks are detailed on my Las Vegas Hacks post.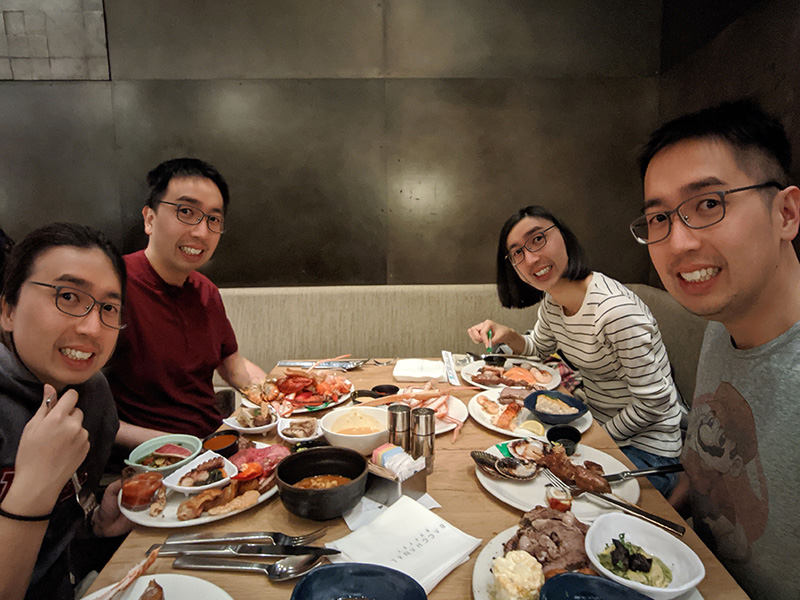 Caesars Palace Buffet Price and options:
The Bacchanal buffet price varies between weekdays, weekends, Fridays, breakfast, brunch, dinner and special holiday weekends. Since this Caesars Palace buffet is rumored to be one of the best, it's definitely one with the highest buffet prices in Las Vegas.
How much does the Bacchanal Buffet cost?
This table below lists all the different Bacchanal buffet prices:
Bacchanal
Buffet Prices
Breakfast
07:30am – 11:00am
Brunch
11:00am – 3:00pm
Dinner
3:00pm – 10:00pm
Grab & Go
MON – FRI
$23.66
N/A
$32.99
(8-10:30pm ONLY)
Grab & Go
SAT – SUN
$28.99
N/A
$34.99
(8-10:30pm ONLY)
MONDAY –
THURSDAY
$39.99
$44.99
$64.99
FRIDAY
$39.99
$44.99
$64.99
SATURDAY &
SUNDAY
$54.99
$59.99
$64.99
Special Holiday
Weekends
$54.99
$64.99
$79.99
There are additional add-on Bacchanal buffet prices:
All You Care To Drink
For an additional $19.99, you can get unlimited mimosas, wine, draft beer and sangria. It's phrased as "All You Care To Drink" so you don't go absolutely crazy on alcohol. I think you should focus on the food though and skip this add-on.
Skip The Line Pass at Bacchanal Buffet
For an additional $45, you can "skip" the line. This is great if you don't want to wait in the 45-90 minute line. You also don't need a reservation. If you have the money, it's worth it I guess. But for me, I use the Caesars Diamond Status Hack to skip the line for free.
To use the skip the line pass, you just line up at the Bacchanal Buffet entrance for Seven Stars, Platinum, Diamond and Express. It's to the left of the entrance.
Grab & Go: The Bacchanal Buffet Best Deal
The Bacchanal Caesars Palace buffet price has a special section for Grab & Go (according to the official website). Grab & Go means you get a to-go box and you are allowed to fill it up with as many items as you can from the buffet. This is the best deal you can get if you are NOT a super big eater. Grab & Go is only available for breakfast and for dinner from 8pm-10:30pm.
When I was at the Bacchanal buffet, I did NOT see any signs indicating this was an option. BUT, maybe it's because they don't offer it as a dinner option until 8pm. This is a pretty good idea since they offer a lower price and they'll have significantly lower food waste.
Had I known about Caesars Palace Bacchanal Buffet Grab & Go option, I would have just done this! When I'm at a buffet, I eat until it makes me sick to justify getting full value from the experience. I can really only do 2 full plates so there's not too much value for myself.
Strategy: A to-go box is composed of 2 sides. Leave the box completely open and fill up both sides as high as you can! The box won't be able to close, but there's no rule on the official Caesars Bacchanal website stating that the to-go box has to close. The only information stated is:
Your favorite items from Bacchanal Buffet now available to go! Fill a box and be on your way. 
You're welcome.
Bacchanal Buffet Coupon
If you're looking for a Bacchanal Buffet coupon, there isn't one. But the next best thing to a Bacchanal Buffet Coupon, is a Groupon!
There is an "indirect" coupon you can absolutely use. Just get matched to Caesars Diamond Status and you'll get an annual $100 dining credit that you can use at the buffet and any other participating Caesars Entertainment restaurant.
Bacchanal Buffet Groupon
If you're too stubborn to try the Caesars dimaond, you can get a discounted rate for the buffet with Groupon. They dinner price is $55 with the Bacchanal Buffet Groupon and includes the Express pass. The deal is not bad, but it's only valud for Monday-Thursday.
There are no Bacchanal Buffet Groupons for Friday-Sunday.
Bacchanal Buffet for free!
You can pay the Bacchanal buffet price of $65+ or you could pay the $95 annual fee for the American Express Hilton Suprass card. Alright, this sounds crazy, but I have another post on how to Status Match to Caesars Diamond Status that details everything very clearly.
The gist of it is that you get instant Hilton Gold Status with the credit card which comes with 125k Hilton Hotel points. Those points can be worth over $2000 by when used to it's full potential. You'll then need to status match:
Hilton Gold -> Wyndham Diamond -> Caesars Diamond
Caesars Diamond status gets you to the front of all restaurant, buffet, and all other Caesars Entertainment property lines. Additionally, the Caesars Diamond status GIVES you $100 dining credit you can use at any of their properties, which I used to offset the Bacchanal Buffet price.
Caesars Diamond Status also gets you:
Free 4-night stay at the Atlantis Bahamas
Free 2-night stay at the Caesars Blue Water Dubai
No resort fees
Discounted/free rooms at their Las Vegas Properties
Free self-parking and valet parking
Getting In The Bacchanal Buffet
The Caesars Palace Bacchanal Buffet is divided into two lines: the line on the left is for elite members and guests that want to pay for the express line and the line on the right is for the general public.
Both lines are very misleading because it's just the line to pay for the buffet. After paying the buffet admission, you'll then wait in another line to be seated. Of course elite members and express pass holders are prioritized.
As a Caesars Diamond member, I was able to pay for the buffet with little wait. Then I ended up waiting in line to be seated for 15 minutes because there were about 20 other elite/express guests ahead of me.
For the Seven Stars ultra elite Caesars Rewards members, there was no line. I saw one guy directly walk in and get a seat immediately. Obviously, it comes at a high price since you can't hack that level of status.
Bacchanal Buffet Wait Times For General Admission
If you don't plan on using any of the advice in this blog post, you're probably waiting in the Bacchanal buffet entrance line. The line to get to the cashier and peak hours can take 45-60 minutes and then the line to get seated can take just as long. So it's best to line up before you're absolutely starving.
Can you make reservations at the Bacchanal Buffet?
You can make a reservation for the Bacchanal buffet, but it comes at a much higher price. This Caesars Palace buffet has the "Like a Caesar" experience where you have:
A Dedicated Reservation Time
All you can drink package
VIP Seafood Tower
Reservations are ONLY available for dinner (3pm-10pm) and is a combination of the buffet price, All you can drink and the Express Pass. The Bacchanal buffet reservation price:
Monday – Thursday: $119.99
Friday – Sunday: $129.99
These are per person pricing. Take a step back and really think if that's worth the buffet. Alternatively you can use the Bacchanal buffet hack I mentioned and just eat there for free while skipping the line!
But, if you insist on making a Bacchanal Buffet reservation, you can do that at OpenTable.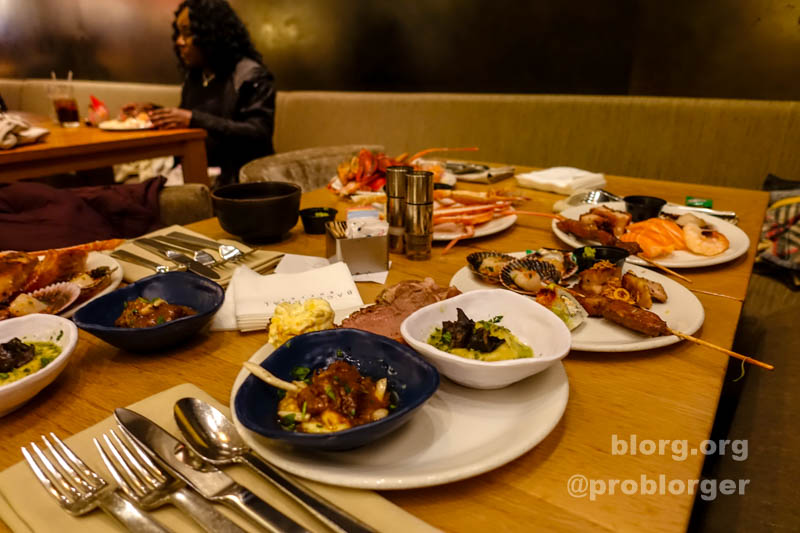 The Caesars Palace Buffet Review
As for my personal review of the Caesars Palace Bacchanal buffet, I don't think it's worth anything over $35 total for the dinner. Most of the food is just Instagram food, meaning it looks pretty but lacks substance. The Caesars Palace Bacchanal Buffet prioritizes appearance of the food rather than taste.
The food itself tastes good, but it's not the BEST food you'll ever have. For quality, the Caesars Palace Bacchanal Buffet is good and a step above other buffets. But for the equivalent price you can have a phenomenal meal at a nice restaurant.
Even though I saw many reviews touting the Caesars Palace Bacchanal Buffet the best in Vegas, things may have changed. My visit was for dinner on a Saturday night in January 2020.
Presentation: 9/10
Taste: 7/10
Value: 2/10 (based on full price)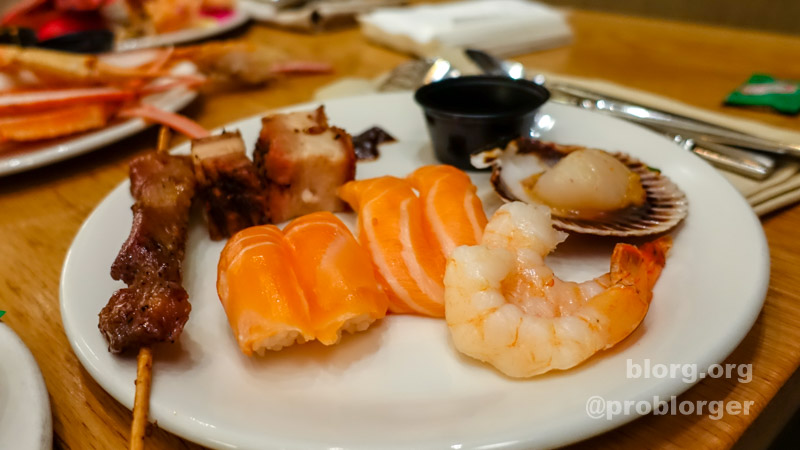 Alternatives To The Caesar Palace Bacchanal Buffet?
Caesars Entertainment has several big hotels along the Las Vegas strip, each with a buffet. They've create a "Buffet-of-Buffets" program which gives you 24-hour unlimited access to the buffet at Paris, Rio, Harrah's Flamingo and Planet Hollywood. There is a $35/visit add-on charge if you want to include the Caesars Palace Bacchanal Buffet for dinner.
Please note, it is FREE to sign up as a Caesars Rewards Member which would give you an immediate discount on the Buffet of Buffets Pass.
Las Vegas Buffet of Buffet Pricing:
| | | |
| --- | --- | --- |
| Buffet of Buffets Price | Regulars Price | Member Price |
| Weekdays | $69.99 | $59.99 |
| Weekends | $79.99 | $69.99 |
| Holidays | $89.99 | $99.99 |
| Bacchanal Buffet Upgrade | | |
| Breakfast | $15/visit | $15/visit |
| Brunch | $25/visit | $25/visit |
| Dinner | $35/visit | $35/visit |
| Holidays | $45/visit | $45/visit |
If you're visiting on a weekend, you could probably get a lot of value from the Buffet of Buffets deal if you start with a late dinner.
Other questions answered:
Do you tip at the Bacchanal Buffet?
Yes! But tipping at a buffet is slightly different from a normal restaurant experience. All the food is self serve except for the drinks. So you should only tip at the Bacchanal Buffet at your table with cash about $2-5/person. If you pay your bill with a credit card, you might instinctively leave a Bacchanal Buffet tip of 15-20% on the total price which is a lot! So bring cash and just leave it at your table when you leave as your tip at the Bacchanal buffet.
Does the Bacchanal Buffet have lobster?
The Bacchanal buffet does not have lobster. That would bankrupt any buffet. To get your lobster fix, this Caesars Palace buffet serves lobster bisque and lobster rolls.
Does the Bacchanal Buffet have crab legs?
The Bacchanal buffet does have crab legs! They are cut open for you for easy access. There are two crab legs stations at this Caesars Palace buffet that serve chilled lobster legs and another stations where you can get it HOT! I would recommend the hot crab legs station because it's all freshly steamed.
How long is the wait at Bacchanal Buffet?
At peak hours from 6-8pm, the wait time at the Bacchanal buffet can be anywhere from 45-90 minutes!
What is the best time to go to Bacchanal buffet?
The best time to go to Bacchanl buffest is at 2:45pm! Lunch service stops at 3pm and dinner starts at 3pm. This gives you the dinner selection at lunch pricing which can save you $20 MON-FRI / $5 on the weekends/holidays. The best time to go to Bacchanal Buffet not only saves you money, but it also helps you avoid the large crowds and wait time!
Does the Bacchanal buffet include drinks?
The Bacchal buffet includes drinks in the buffet price, but it's only for non-alcoholic drinks. You can get crazy like me and order an Arnold Palmer (half lemonade/half iced tea). If you want all-you-can-drink alcohol, there's an additional charge of $19.99.
How much is the Bacchanal Buffet Express Pass?
The Bacchanal Buffet express pass is $45/person. That's paying $45 otherwise you wait in line for 45-90 minutes at peak hours.
Where is the Bacchanal Buffet?
The Bacchanal buffet is located inside Caesars Palace on the Las Vegas Strip: Google Maps Location
How long can I stay at the Bacchanal Buffet?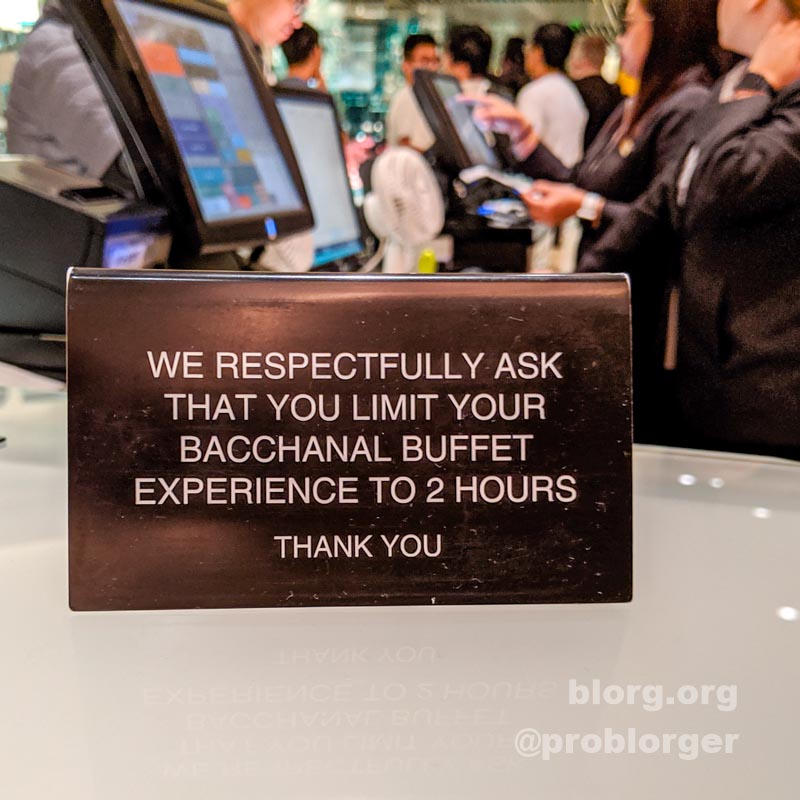 The Bacchanal buffet has a time limit of 2-hours. I'm not sure what happens if you try to overstay your visit, but I would expect they would just ask you to leave.
Overall (TLDR)
The Caesars Palace Bacchanal Buffet is honestly just Instagram food. The chefs at this Caesars Palace buffet really focus on how the food looks instead of how the food tastes. Sure, the pictures you take will "LOOK" delicious on your Facebook feed, but in my humble opinion I don't think the quality of the taste justifies the price.
When you pay the Bacchanal buffet price of almost $80 for a weekend dinner, you expect to leave saying, "The Bacchanal buffet was the best buffet of my life." Instead, I left saying, "I can't believe I paid the Caesars Palace buffet price of $80 just to see food." That's because a reasonable person knows they could get better value if they got the "Buffet of buffets pass" or just dined at Hell's Kitchen (located at Caesars Palace).