There's an all-Corgi cafe in Bangkok and it's worth the journey. This dog cafe in Bangkok is the nicest I've ever been to, but it comes with a few important rules.

Before going to the Corgi In The Garden Cafe, you should know that it has very specific hours, especially on the weekends. They break up play time with the corgis into sessions.
I also made a video of the experience on YouTube. Check it out if you want a better visual experience. If you've enjoyed this post, you can help me out by Subscribing to the channel.
Getting To Corgi In The Garden Cafe In Bangkok
It's not easy. The Corgi cafe is located on the western outskirts of Bangkok. I was staying in central Bangkok and it took 2-hours to get there in traffic. The traffic was so slow you could actually walk faster than the cars sometimes. There's only 3 ways to really get around Bangkok and that's by taxi, Grab (ride-sharing app) or motorbike.
Personally, I've had many bad experiences with taxis ripping me off (in many countries) so I always stick to ride-sharing apps. Uber isn't available in Thailand, so you have to use Grab. It's still cheaper than taxis and easy to use. Just a heads up, if it's your first time using Grab, make sure you have it set to Grab "car." The app will automatically default to Grab SUV and that will charge you significantly more. It's very annoying.
Hours: Corgi Cafe Bangkok
From Tuesday to Friday, the Bangkok dog cafe is only open from 12:30 to 18:00. It doesn't seem like there's a restriction on how long you can stay during this time. Things are a little different on weekends.

On Saturday and Sunday, the Corgi In The Garden cafe is open from 10:30 to 18:00. BUT, there are only 4 sessions where you can actually play with the dogs. Each sessions is only for 1-hour and occurs at 10:30, 12:30, 14:30 and 16:30.
Entrance Fee: Dog Cafe Bangkok
The entrance fee wasn't exactly clear at first. The corgi cafe doesn't exactly tell you from the sign what the entrance fee is, but that's actually part of the set.

The lowest price to get in to the corgi cafe will be 350THB and includes one beverage. The standard set also comes in another option for 450TH which includes a drink and a dessert.
There's a premium set which has similar options, but that's 300THB more and upgrades your drink to a re-usable drink tumbler.

I went with the standard set drink + dessert option since it was breakfast time for me…that was a complete rip-off. The ice cream is super tiny. If you're visiting the cafe, be sure to just get a drink and eat before/after your visit.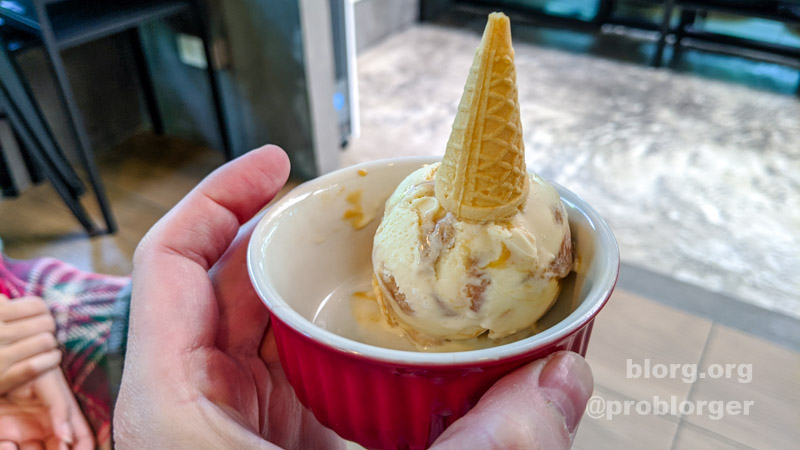 Before Going In The Corgi Cafe...
After paying your entrance fee for the Corgi in The Garden Cafe, you'll need to take off your shoes, put on plastic booties and wash your hands before entering the Bangkok corgi cafe. It keeps the space clean and healthy for the corgis, so that's very understandable.

Inside this corgi cafe in Bangkok, it's surprisingly super clean, modern and well-designed. It's practically a Starbucks. Considering this is a cafe that dogs run-around in, this place is in immaculate condition.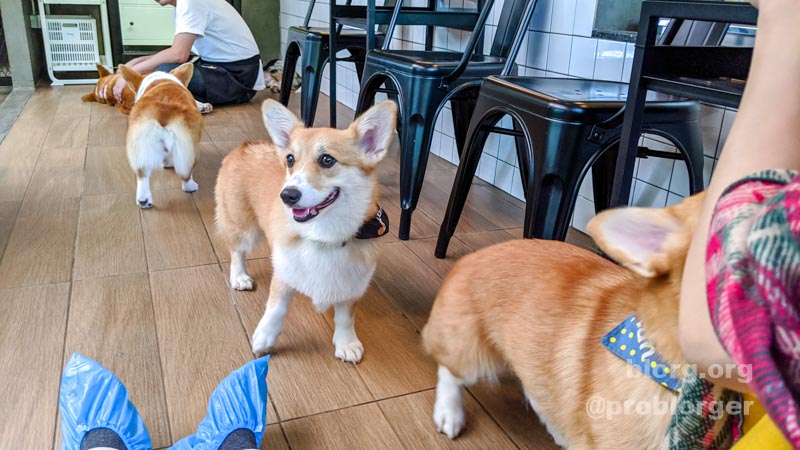 Before they brought out the corgis for our session, a staff member handed us the dog cafe rules. Most of the rules were common sense like no flash photography, don't wake up the dogs if they are sleeping and don't pick up the dogs without supervision. The last rule was a little surprising to me.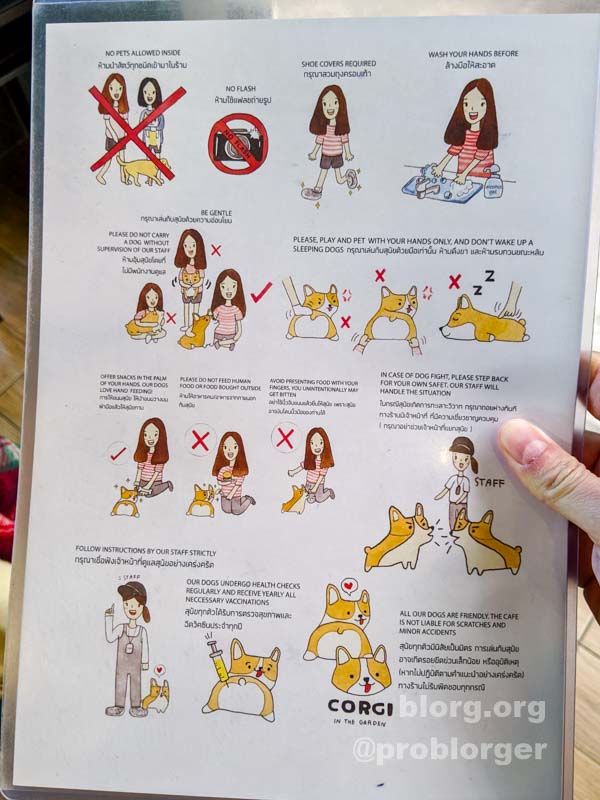 Just before the 12:30 session was about to start, one of the trainers brought in a corgi to show us how well trained the corgis are and the tricks that they do. You can get the corgis to shake hands, sit or lie down with different gestures. After that, they released the hounds! Cue Mr. Burns.
Each session at Corgi in the Garden cafe Bangkok is only one-hour. Even with that limited time, the trainers make sure you get the most out of your experience. They recommended tips on how to get the corgis to play with you and they helped each of the customers to take a picture with the dogs. Service at this place was absolutely 10/10
Buying Treats At The Corgi Cafe (Must-do!)
For 100THB, you could buy a small bowl of treats. The dogs would only come to you if you had food. They knew how to play the game well.

After buying treats, it was raining corgis. If you want a good experience at this corgi cafe in Bangkok, buy the treats. You'll want to buy the treats early on, because the corgis get full since other people are buying treats.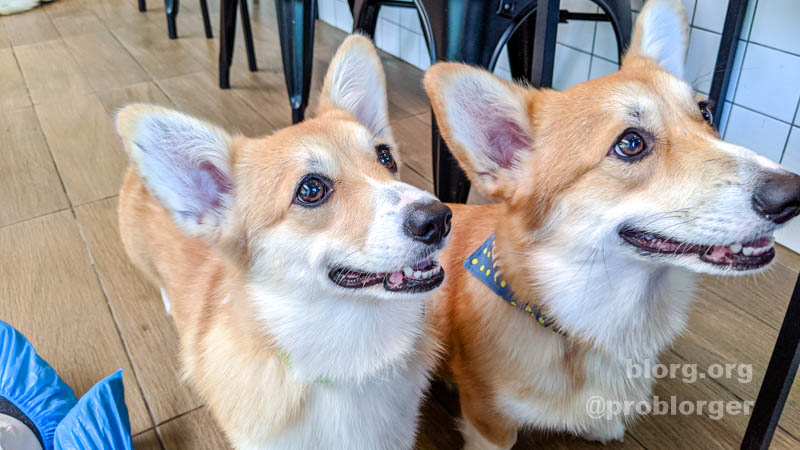 When the corgis are full, they just fall asleep. Understandable, I do that too. But if they weren't sleeping and full, they would just play with the trainers. That's also understandable since they have a connection with them and everyone else is a bunch of strangers. But I came here to play with corgis…
Once the dogs were all fed and happy, the trainers would bring 3-5 corgis together so you can take a picture. The trainers would get the dogs attention by holding a treat next to the camera. That's the trick to get a good photo!
The staff/trainers at corgi in the Garden Bangkok were amazing. They were all very helpful to make sure you had good photos and a fun experience. The quality of service was outstanding that we tipped the trainer that helped us throughout the experience 200THB.

Gratuity isn't expected at this corgi cafe, but I can't help but tip when the service is outstanding. I don't think many people tip here because the trainer was very grateful. If you have a good experience, let them know!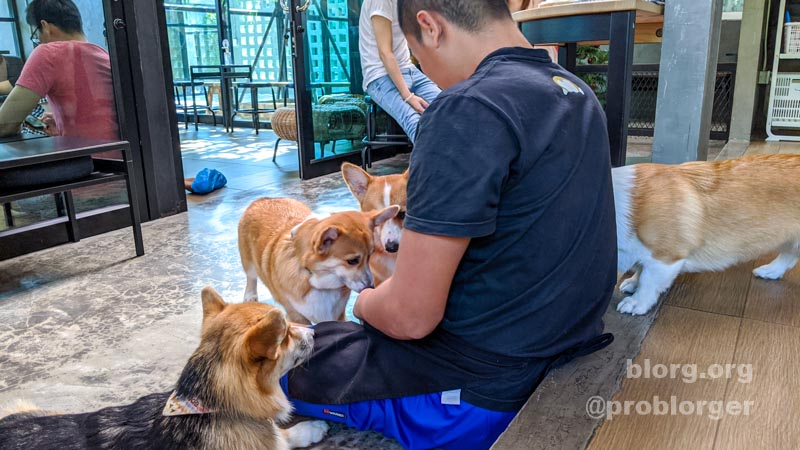 Overall 8.5/10
Value 8/10
Food/Drinks 7/10
Facility 10/10
Service 10/10
Dog Friendliness 8/10