Dogteria Cafe: Bangkok's Best Dog Cafe
At this Bangkok Dog Cafe, you can find a large variety of dogs from big to small. The big dog cafe Bangkok is split into two sections, one for small dogs and another for big dogs. While I was there, I noticed that they rotated the big dogs every hour. I really enjoyed seeing the friendly huskies, but I didn't get as much time with them as I would have liked.
It's not necessarily a husky cafe in Bangkok, but they do have a few huskies. I did enjoy the friendly variety of dogs.
Disclaimer: blorg.org may get a small commission or referral fee for some of the links posted. We value your time and money and won't waste it. For our complete advertising policy, click here. The content on this page is not provided by any companies mentioned, and has not been reviewed, approved or otherwise endorsed by these entities. Opinions expressed here are the author's alone.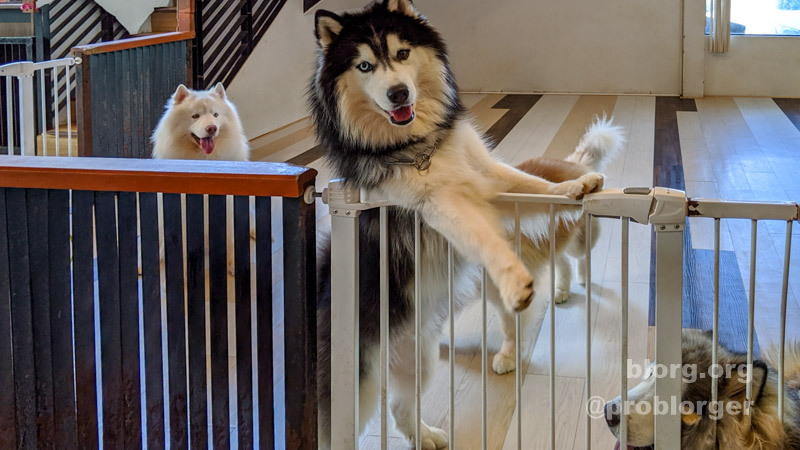 Location: Dog Cafe Bangkok (one of many)
There are actually plenty of dog cafes in Bangkok. I haven't been to them all, but I can tell you that Dogteria Cafe has a lot of friendly dogs that want to play and get some loving attention from people. I've been to a lot of animal cafes and I think I enjoyed this one the most because of the very friendly animals.

This Bangkok Dog Cafe is located on the East side of town. It's not near any of the train lines so you'll need to take a taxi. Personally, I just use GRAB to get around Thailand. It's their version of Uber.

Bangkok has a lot of traffic, so I would recommend staying near wherever you plan on going the most. Personally, I love the east side of Bangkok because I lived there for awhile. It's more local so the prices for everything are a lot lower.
When going into this big dog cafe in Bangkok, you'll need to first wash your hands. After that, you'll be required to take off your shoes and put on a pair of the communal sandals. Not all of the sandals were in great condition so you should examine them before entering.

Once inside, you'll be in front of the cashier. Ask for a table for however many people your party is, then your free to go inside. They'll hand you a table card number, that's to keep track of your purchases.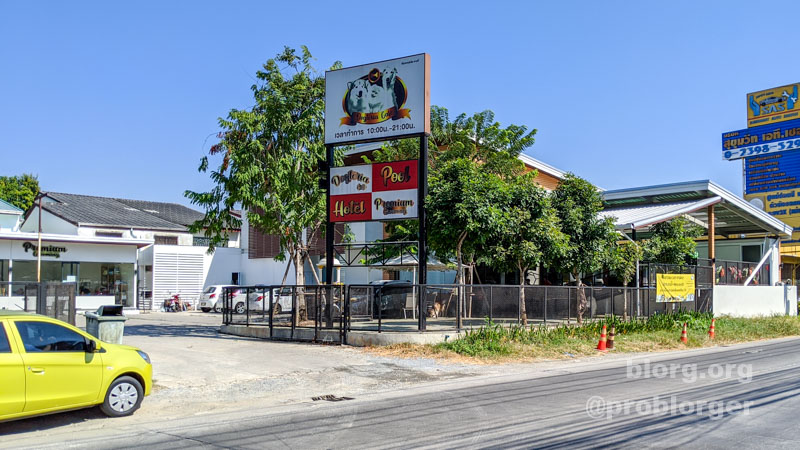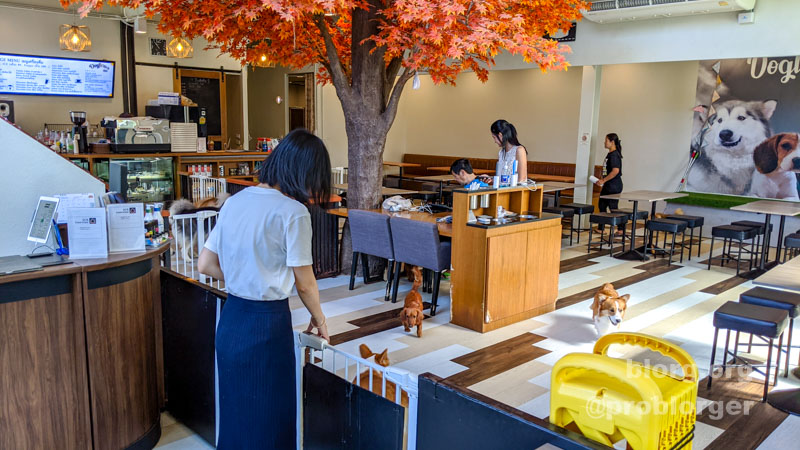 You don't have to pay any admission fees on entering, but you will have to pay for everything upon leaving. I had no idea what the price was or if there was a time limit. That part wasn't in English so I just went with it and had a good time.

When I left, I found out the fee is 169THB per person. We stayed for almost 2-hours so I don't think there's a time limit.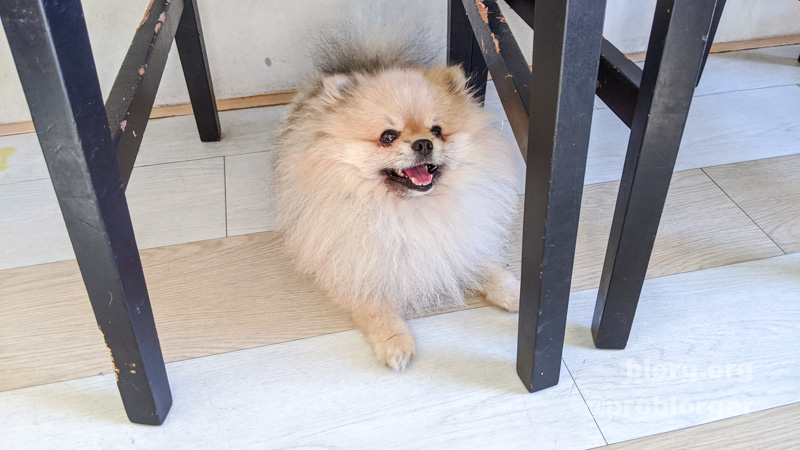 They have a pretty extensive menu of food and drinks. The menu at this Bangkok Dog Cafe is available in English and Thai, so ordering wasn't a problem. Most of the prices were very reasonable.
I ended up ordering a double cheeseburger with fries, which was decent. Of course, I wouldn't go here just for the food, but if you're hungry it will hit the spot. The french fries were just covered in salt so I didn't eat too much of it. Overall I'd rate the food at a generous 7/10.

I also tried the Thai Tea frappe which was pretty good. My initial expectation was that the drink would be way too sweet. That's what I've experienced at many drink places in Thailand, but this was really good: 9/10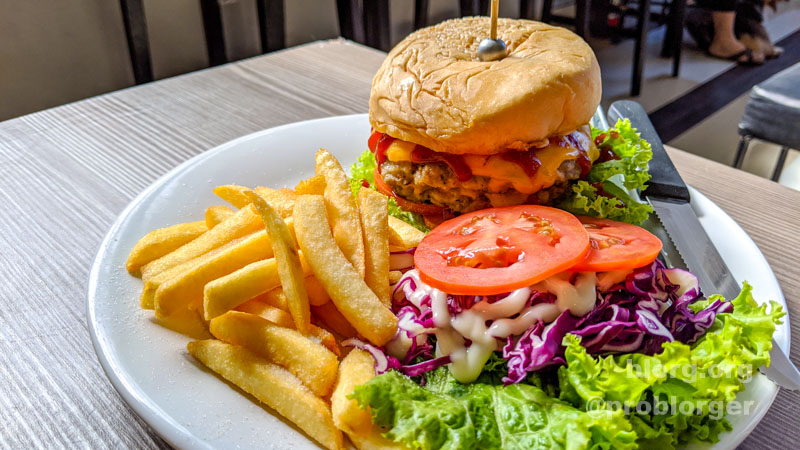 If you order food at a dog cafe in Bangkok, you should eat as fast as you can. Those dogs just watch you eat and it's like they are looking into your soul.
After I finished my meal I had to hook up my new buddies. This big dog cafe in Bangkok sells treats for 100THB. They give you a lot for that price, actually twice as much as the Bangkok corgi cafe I visited. The treats are unseasoned chunks of chicken breast.

You can break up the chunks of chicken breast in your hand pretty easily to share it with the dogs. Even though they all wanted treats, they were all pretty respectful of each other. I created enough space to feed each dog a treat and just kept going until I ran out. Don't worry about getting bit, just feed them with an open palm and you'll have no problems.

After that, we were all good friends.
This is a big dog cafe in Bangkok. By that I mean several things. They have big dogs, small dogs, and a lot of space! Dogteria Cafe is also a pet spa. Customers can drop off their dogs to get groomed which happens on the 2nd floor and in the additional building in the back.

In the cafe area, there's a place for customers to play with the small dogs in the general seating area, and a section to play with the big dogs.

Just outside the cafe, is the outdoor playground. Dogs can run around, eat and use the "restroom."

They also have a dog therapy pool which they use to rehabilitate and train dogs to swim. The trainer was very gentle and caring with the dogs.
Some of the dogs shed, but don't worry about it. They have lint brushes you can use on your way out.
Overall Thoughts on this Bangkok Dog Cafe
Overall 9/10
Food 7/10
Drinks 9/10
Value 9/10
Dog Friendliness 10/10
When I left this big dog cafe in Bangkok, I looked at my FitBit and learned I took over 5000 steps. I pretty much just woke up that day and went to a Bangkok dog cafe via Grab car, so I didn't do any walking. That's when I realized my FitBit thought petting dogs was me walking. So if you want an unusual workout, you can just pet dogs for a few hours.
At only 169THB per person and no time limit, this place is a great value and a lot of fun. I would absolutely go here again.