When it comes to airports and airplanes, you expect bad food at high prices. Even at one of the nicest airports in the world, the Qatar Air Business Class lounge had low quality cafe food.
After going through many airport lounges all over Earth, I've found the best airport lounge food in Singapore.
For reference, I've been to a lot of business class and Priority Pass lounges. As well as several first class lounges in Seoul, Munich, Hong Kong and Frankfurt. I'm sure there may be better food in first class, but this is the best airport food buffet I've experienced.
Singapore Airport Lounges:
As one of the biggest airports in Asia, there's going to be a lot of lounges. There's a few lounges you can just buy access to, Priority Pass lounges and airline lounges. This post is on the Silver Kris lounges available to Singapore Air business class passengers.
Silver Kris Lounge
The Silver Kris lounge is available to Singapore Air passengers flying in business and first class. When you enter the lounge, there are different sections for business class and first class. The Silver Kris lounges are located in Terminal 2 and Terminal 3 of Singapore Changi Airport, and I'll be reviewing the business class of both Terminals.
Kris Flyer Gold Lounge
The KrisFlyer Gold lounge is the Singapore Air partner lounge. It can be accessed if you have at least Gold Status with Star Alliance, flying in business/first on a Star Alliance partner, or if you have KrisFlyer Elite Gold status while flying in Economy. As a passenger flying in business class with Singapore Air, I wasn't allowed to access the Kris Flyer Gold lounge…but since it's a lounge for partner airlines, I'm sure the Silver Kris lounge was much nicer.
Singapore's Best Business Class Lounge
I was actually expecting a lot from the Singapore Airlines business class lounge, since Singapore Air is one of the best airlines in the world and Singapore Airport is the best airport in the world. It was good, but it was not amazing.
First off, the airport is amazing. Consistently ranked the #1 airport in the world with good reason. It's beautiful, there's lots of activities, there's affordable GOOD food, plenty of places to relax and charge your devices. Singapore airport is the IDEAL airport that all other airports should follow.
But, we're just going to talk about the Singapore Air business class lounges in Terminal 2 and 3. I had a 23-hour layover in Singapore Airport and spent about 18 of those hours in the lounge.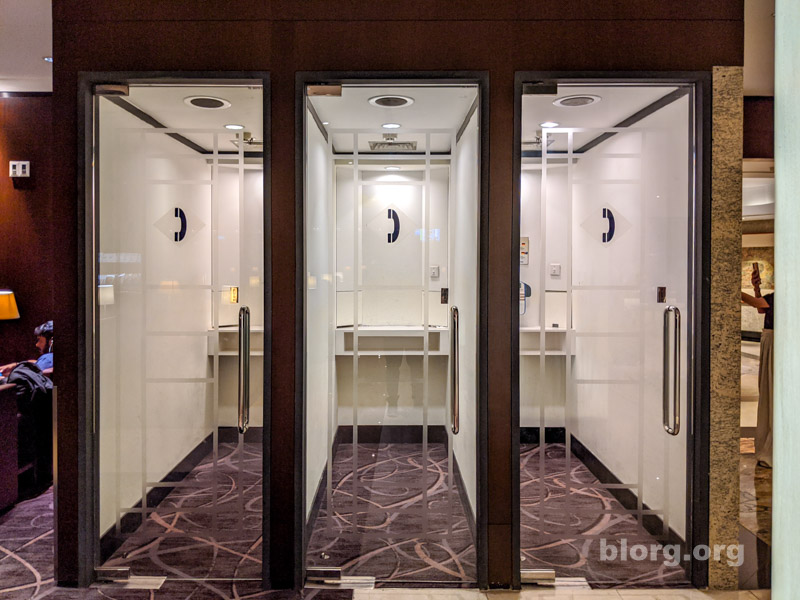 How'd I get this layover?
I had some Alaska Air miles expiring so it was time for some activity. Sure, I could have just transferred or bought miles, but many airline programs can quickly devalue their airline award redemptions. I wasn't in a rush so I didn't mind spending a massive amount of time in Singapore Airport.
The Cost:
For 25,000 Alaska Air miles and US$35.10, I was able to fly in Singapore Air Business Class from Bali to Singapore, super long layover, and then from Singapore to Taipei.
How'd I get these miles?
I just signed up (multiple times) for the Alaska Air credit card. If you get approved for the full version, you get 40k Alaska miles upon signing up. I've only got it twice, while getting approved many times for the lower tier 5k bonus.
Singapore Airport Features:
There's a lot! Singapore airport is the best airport in the world since they have a free cinema, many "public" lounges, amazing food, 7-Elevens, butterfly garden and a super-efficient system for immigration and security. As for the other popular features like The Jewel and the slide, those are located at Singapore Airport, but on the landside. Meaning, you have to go through immigration to enter Singapore if you want to visit it.
BUT, for those people who don't have enough time to go through immigration, if you ride the tram from Terminal 3 to Terminal 1, it passes through the Jewel so you can experience an express version of it.
Singapore Air Lounge Locations and Hours:
Singapore Air has lounges in Terminal 2 and Terminal 3; both are open 24 hours. The lounge is exclusively for Singapore Air passengers. There is no time limit for passengers AND you can sleep in the lounge.
The Silver Kris Flyer Lounge
Officially, the lounge for business and first class passengers on Singapore Airlines is called the Silver Kris Flyer Lounge. At the entrance, there is a path for business or first class passengers. Upon entering, they will need to check your ticket and passport for verification. The Singapore Air lounge is open 24 hours and as long as you're flying out in the next day, they'll let you in. I know this because I got in the lounge 20 hours before my next flight.
No Lockers
There are no lockers in the Singapore Airport Lounge and no lockers in the entire airport. They have luggage storage at Singapore Airport, but you have to pay some pretty high fees. They also don't let you store your luggage if it has any valuables…well you can you just have to inventory everything. The process is pretty slow and inconvenient. I wanted to freely wander around the airport, but didn't want to do that with my backpack.
I was traveling with laptops, hard drives, cameras and batteries in my bag. It probably weighed around 10kg and it was pushing the limits of my backpack's durability. Of course, I used a cart immediately, but you can't really use a cart everywhere around Singapore airport.
Terminal 2 Silver Kris Lounge
When comparing the Singapore Air lounges in Changi, Terminal 2 is the much smaller Singapore Air lounge. You will find the lounge is dimly lit and quieter. Unfortunately, if you're looking for a place to sleep there's nothing here for you. It's all chairs.
The food selection is pretty good, but it's half the size of what the Terminal 3 Singapore Air lounge offers. However, I did find that they set up the electrical outlets in this lounge to be easily accessible. In T3, only a small portion of the seats have access to electrical outlets.
Terminal 3 Silver Kris Lounge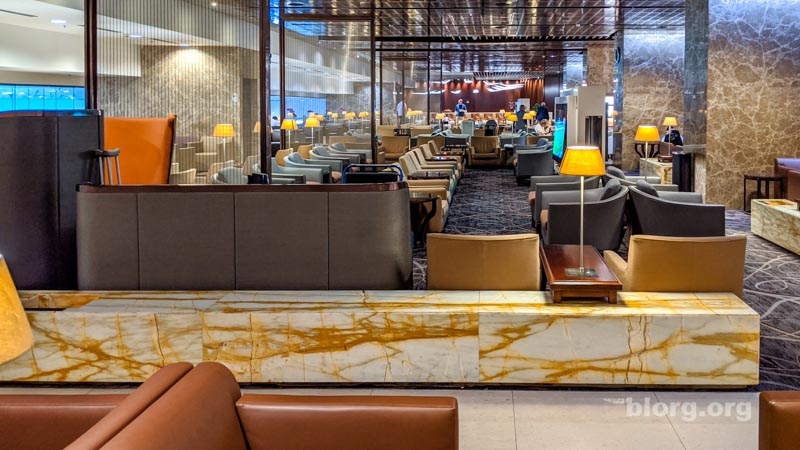 Sleeping At Singapore Airport:
There aren't any sleeper chairs or sleeping rooms in the Singapore Airlines business class lounge Changi. In Terminal 2, just chairs. As for Terminal 3, there are a few large sofas that you can sleep on. When I arrived, all the spots were taken, so I just tried sleeping upright in one of the chairs. I even considered just going to the terminal to sleep, since there are actual sleeper chairs and benches I could use. The only problem, is that there was no locker for my stuff. Even though it's a safe airport, someone could easily take something from my bag and just get on a flight, so I wasn't comfortable trying to sleep with my belongings exposed.
Around 2am, most of the people in Singapore Airline business class lounge Changi Terminal 3 had left. When I tried going to sleep, it was pretty full. I managed to get some sleep, even though the place was noisy, but that's because I had my eye mask and ear plugs ready. My plan was to sleep in Singapore Airport and not get a hotel in the city.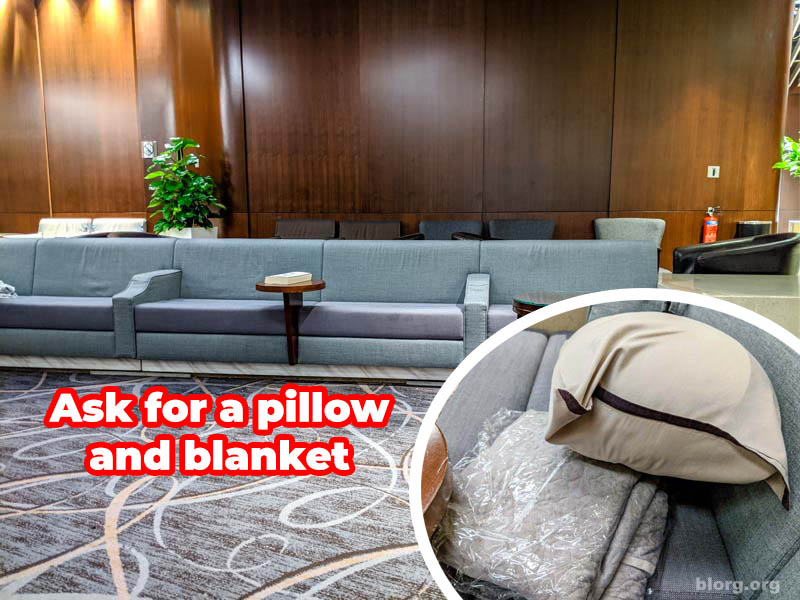 I noticed that some people had blankets and pillows, so I decided to ask one of the staff member if I could have a fresh pillow and blanket. They had it! I was able to sleep until 5am when people began filling the lounge again. Even with an eye mask and ear plugs, I just feel people moving around me and it's uncomfortable.
But if you're wondering if you can sleep at Singapore Airport, you can! When I went back to the airport through security, the officer looked at my ticket and sighed, he knew I was ready for a long day.
The Food In Singapore Airlines Business Class Lounge
10/10: The best food I've ever had in an airport lounge. Not just business class lounge, I'm including first class lounges too. I just kept eating because it was so good.
In Terminal 2, the SIA Kris Flyer lounge is a smaller food selection and only has 1 chef station. If you're not in a time crunch, I'd recommend making the journey to Terminal 3 to try the food there.
In Terminal 3, there is a big food spread with 2 fresh food stations. It's only open during primetime hours for breakfast, lunch and dinner, but it's good. I absolutely loved the quality, flavor and variety. If Singapore Air opened their own buffet restaurant, I would eat there.
They have a frozen yogurt machine! I have not seen this in the 100+ airport lounges I've visited. The fro-yo was delicious! Super sweet though, definitely a lot of sugar. Did I indulge? Yes. Way too much for an adult.

The bathrooms in the Kris Flyer Lounge were nice and very clean. It was staffed by about 3-4 people and it was constantly being cleaned. The toilet stalls were big enough that you could comfortable change clothes in there.
If you plan on taking a shower in the Singapore Air business class lounge, take a number. That's the first thing you should do. Just go to the bathroom and ask to get on the list. It looked like there were about 10 showers and it was pretty clean. Once you put your name on the list, they hand you a digital buzzer that you can take anywhere around the lounge. Once it starts buzzing, you can show up for your shower. I ended up waiting about 30-minutes to shower, but luckily I had the time.
Inside the shower room, it was pretty small and basic. There's a shower, sink, soap and towel. Most of the other shower rooms I've been in also had a toilet, but it looks like they maximized the shower space (rightly so).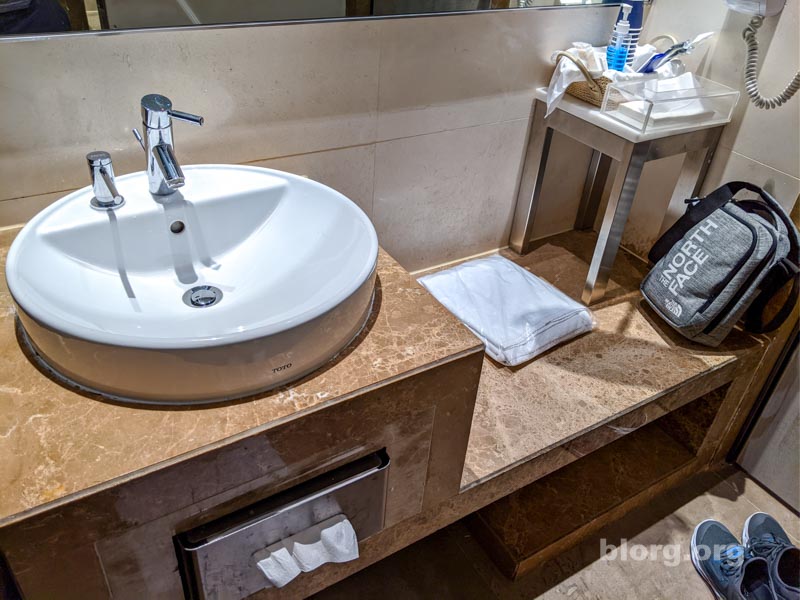 What I liked about the Singapore Air Business Class Lounge:
The food. There's a lot of nice business class lounges, but without a doubt Singapore Air has the best food at 10/10. I would give the Cathay Pacific Lounges in Hong Kong 9/10 and Japan Airlines Sakura Lounge 8/10. This is a rating on just business class lounge food. As a comparison, I would rate the food in the business class lounges in the United States by American Airlines, Alaska or United at about 5/10.
There was one cook who was really awesome and made some delicious food. The service from the cooks was very warm and friendly, but the service from the other lounge employees felt cold.
What I didn't like about the Singapore Air Business Kris Flyer Lounge:
The Singapore Air lounge is definitely not the overall best business class lounge by far. They definitely need more power outlets available (at each seat if possible). There's nowhere to really sleep or lounge. Lockers would be a huge plus. There's a lot of seating, BUT the lounge actually gets full to the point where not everyone can sit down. I actually saw that.
Overall 7/10
Seating: 7/10
Sleeping: 5/10
Food 10/10
Showers 7/10