Cathay Pacific Lounge: The Deck
As you probably know, Cathay Pacific is a Hong Kong based airlines and flies all over the world. Naturally, they are going to have a Hong Kong airport lounge. They but instead of one giant lounge, they have 4 lounges located in There isn't one giant Cathay Pacific lounge in Hong Kong, there are 4!
Pictures are great, but if you want to see a full video of the experience, you can find it on my YouTube channel.
The Deck is only one small all access lounge for first class, business class and elite OneWorld passengers. As for the other Cathay Pacific lounges in Hong Kong for business class passengers, you have The Wing, The Pier and The Bridge.
Cathay Lounge Hong Kong Hours
On my layover in Hong Kong, I was planning on doing a CX lounge tour, but I was exhausted. I arrived at HKG airport at 3am with a flight out at 7:30am. All of the Cathay Pacific lounges in Hong Kong don't open until 05:30am. They close around midnight, or whenever the last scheduled CX flight is supposed to depart. They don't extend lounge hours for delayed flights.
So I sat on a bench in the terminal for 2.5 hours and just waited for the lounge to open. I learned that HKG airport has the FASTEST free WiFi, I've ever seen. It clocked in at 300mbps. 
Cathay Pacific Business Class Lounge: The Deck
Cathay's "The Deck," is properly named this because it's situated 1 floor above the public terminal area. Giving you great views of the Tarmac. I got into the lounge as soon as it opened at 05:30am, by 06:30am I was surprised to see the place was full!
The Deck isn't the biggest Cathay Pacific Lounge in HKG Airport, but even the bigger lounges get full too. Thousands of passengers pass through the Hong Kong Airport lounges daily.
Since I already had a nice seat with the lounge full, I decided to stay rather than venturing off into the other business class lounges. Travel is about relaxing.
After a quick walk around the Cathay Lounge HKG: The Deck, it was quick. It's not a big lounge. There aren't and sleeper chairs, no business center, no massage chairs and no kid's play area. I got spoiled by the Qatar Airways Doha lounge and all it's fancy features.
A pretty common business class lounge amenity are showers, and you can definitely find that at The Deck.
More importantly, food is a big issue for me. I could be in a super ugly lounge, but if it has good food my experience will be amazing. Fortunately, the Deck is pretty beautiful and has amazing food. I love Asian food and you can find that at this Cathay Pacific business class lounge.
Cathay Lounge Hong Kong Food
I got in the lounge at 05:30am and I was hungry. They had a breakfast buffet spread of eggs, sausage, tomatoes and other generic airport lounge food. I skipped all that and went to the noodle bar.
The Deck has a noodle bar! It opens at 06:30am so I just patiently waited. Before it even reached 06:30, there was a line starting to build up. I jumped in line too. It looks like I wasn't the only one who didn't want the generic breakfast buffet.
Noodle Bar Menu @ Cathay Pacific Lounge Hong Kong
They had a delicious looking selection of food from noodles, wontons, buns, dumplings and siu mai. I only ordered the dan dan noodles and a steam BBQ pork bun. My flight was scheduled to leave in an hour and since I'm flying Business Class on Cathay Dragon (another version of Cathay Pacific), I was going to eat on the plane too.
I don't know if I was just tired and hungry, but this was delicious! Please note, I just spent 2 weeks in Europe without Asian food. I love almost all types of Asian food for the generations of researched flavors and textures. 
Most of the food in Europe, was bad. At least that's how I felt about the food. I mostly turned to Italian food while I was in Europe because it's my favorite type of food from Europe. It's safe to say that many people love Asian food, that's exactly why you'll find Asian restaurants in every country but you won't see many German restaurants outside of Germany. I'm sorry Germany…that you're food isn't that good. That's exactly why they turned to alcohol to improve the taste. I'm rambling now, but don't take it personal if you love German food more than Asian food.
The dandan noodles were so smooth. After my first bite, I wanted to order more. It had a thick sesame style broth to it. Incredibly delicious and I would have just ate here.
As for the BBQ pork bun, super delicious. The bun was very fluffy and the pork was juicy and full of flavor.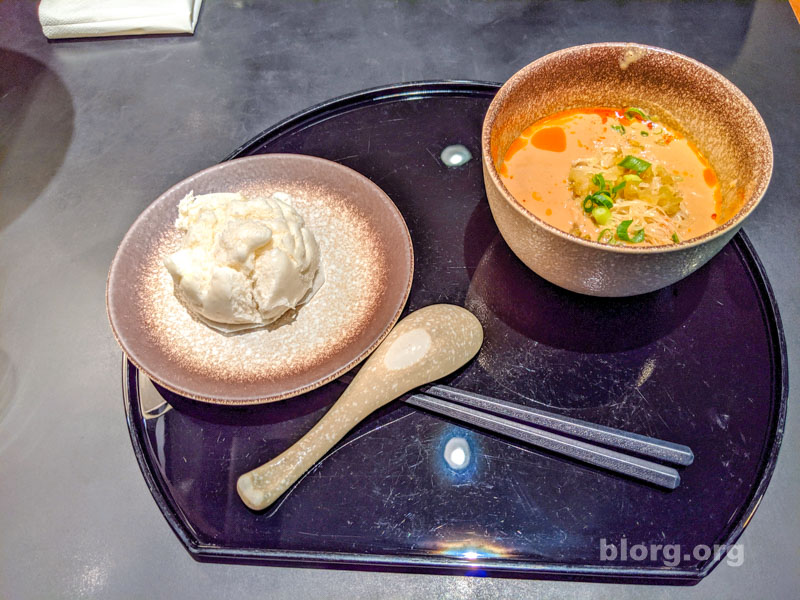 After a satisying meal, I continued my journey from Hong Kong to Taipei on Cathay Dragon business class. It's a 2-hour flight that I completely slept through. I didn't end up eating on the plane as I intended. My one regret is that I didn't eat more at the Hong Kong airport lounge. Don't make that same mistake.