If you've ever had something go wrong with your flight, have you been compensated? Well, if you complained the right way you probably did. British Airways compensation has become outrageously easy to fill out. I had the in-flight entertainment on my 13-hour flight broken from Bangkok to London (which I booked on miles) and got paid out 10,000 Avios for my troubles. Let's get started.
Missing A Flight To Munich
I had intended on staying in Bangkok for 2 weeks to try the digital nomad life. Short story, I didn't like it. After living in Taiwan, I had become spoiled to quality service, clean streets and polite people. Not to say Thailand is that bad, but there is a difference.
At the end of the two weeks I had planned on meeting my girlfriend in Munich, Germany. I had booked a flight with Thai Airways for $386USD, but missed that flight. This is the 3rd time it's happened to me where I misread the date of my flight because it was around midnight. Although, those first two times I showed up to the airport a day early.

Searching For Options
The first thing I did was call Thai Airways to see if I had any options. I wanted to fly out on their next available direct flight. When I asked them about it, the price would be an additional $500USD. This is a lot of money. I looked at cash rates for that flight and it was also around $550.
The spokesperson for Thai Airways told me that I could reschedule my flight in the same booking class for $100USD (change fee) but the next available seat was in 5 weeks. Come on man, who would actually take that option?
So, as a seasoned traveler, I started searching for options. I looked at my available miles and what the cheapest (and most direct) option would be to get me to Munich.
Those options were pretty limited since I had to leave in the next 48 hours, but I found something available with British Airways Avios. The frequent flyer program for British Airways is called Avios (instead of miles).
Booking British Airways Economy with Avios
As you would expect, there aren't any direct flights to Germany from Thailand on British Airways. You could only find those flights with German or Thai airlines. That meant I had to connect in London Heathrow Airport. It's not convenient, but it's immediate.
My British Airways economy flight from Bangkok to Munich (via London) cost me 23500 Avios and $208.85USD. I happened to be miles rich and cash poor, so this was a good enough deal. It gets even better later when I get a British Airways Compensation of 10000 Avios for broken in-flight entertainment.
British Airways Reviews: It's not great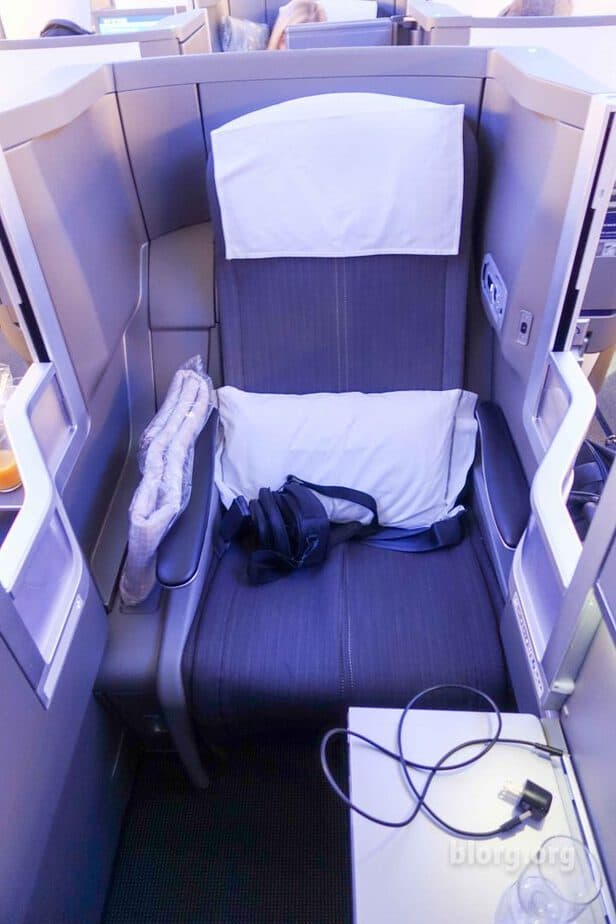 This would be my 2nd time flying with British Airways and the first time I flew them was in business class. The quality of the seat and food weren't great. It was an old plane. Things were about the same on this British Airways 777 economy flight.
Checking In: Important Tips
Since I'm flying solo, that gives me a lot of flexibility. I didn't pick an assigned seat in advance because that's an extra cost. As a cheap genius, I prefer the most comfortable seat at the lowest cost. So when checking in for my flight, I was very specific to ask politely if I could choose my seat and they accommodated my request.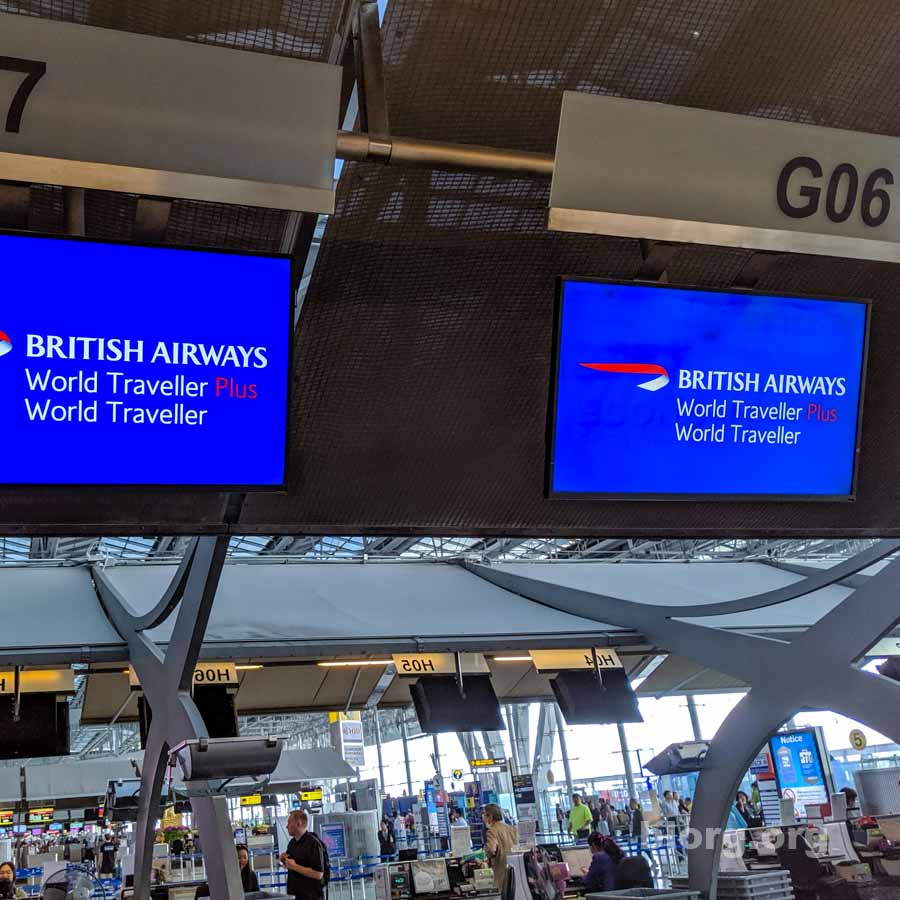 First off, I asked if the plane was full, they said "no." So then I asked, "would it be possible to get a window seat with an empty middle seat next to it?" They said yes! That small request made the flight much more comfortable.
If you've flown in a middle seat with large people on your sides, you know what I'm talking about. I don't like the battle for the arm rests and I like to stretch out for my meals.
Pre-Flight Lounge
BKK Bangkok Airport probably has the most Priority Pass lounges ever. It's a BIG airport and they seem to have a Priority Pass lounge in each concourse. See my reviews on the Priority Pass BKK Airport lounges for more info.
If you have Netflix, be sure to download as many shows as you can before the flight. You never know when the in-flight entertainment is going to be broken, available or low quality.
Boarding
The British Airways 777 economy boarding was pretty smooth. At Bangkok Airport, each of the gates are in a secure area where they check your passport and boarding pass before entering. When the flight is ready to board, you just walk on. This makes sense.
I later learned they have an even better system and Singapore Airport. They don't do security until you get to your gate. Each gate is grouped with 5 other gates so you can have dedicated security lines for that part of the airport. It's super efficient, unlike LAX…which is my home airport but loathe.
The Seats
The British Airways economy seats are old, lumpy and generally uncomfortable. It takes a lot of adjusting to find that sweet spot. You'll need to find it cause this was a 13-hour flight.
If you look at the British Airways World Traveller seats on BA's official website, it doesn't match the flight I'm on. I don't know if that's illegal, but they don't show you that they use old warn out planes. When booking flights, they really should show you what kind of seat you're in fo.
In-Flight Entertainment
This British Airways 777 economy flight used an old entertainment system and it didn't for the first 6 hours of the flight. As someone who knows about how to get airline compensation, this was a good thing. I took a picture of the screen not working and another photo showing none of the screens on in the cabin to use as evidence later on.
When the system was working, it wasn't great. It's an OLD low res monitor that's even worse than a CRT television. The screen is a touch screen, but you have to press it pretty hard for the screen to actually do anything.
Pro-Tip: Use the remote. You have to press hard on an old screen which will cause you to push the seat in front of you. Be a considerate traveler!
The quality of video on you're phone would be significantly better…which is why I just watched movies on my phone.
If you have Netflix or Disney Plus, you can download movies to watch offline later. For Netflix, there are different shows available based on country. Keep your phone offline if you want to keep your downloaded shows active.
Pro-Tip: Bring 2 phones; one for data and one for entertainment. My phone that I use for Netflix has a bigger screen and a new battery so it lasts a long time. You could also bring a tablet, but for myself I think it's easier to have a phone around.
Making Your Own In-Flight Entertainment
Luckily I had a lot of shows and movies downloaded on my phone. If you have a phone case and a napkin, you can hack your own in-flight entertainment system!
Food
The food on the plane was surprisingly just okay. I had very low expectations but was glad to food was edible. I ate a lot of food in the lounge and brought a few snacks with me as a backup plan.
Pro-Tip: Plane food is typically served in small portions and low quality (especially for economy passengers), it helps to keep your options open by bringing a few snacks.
By the way, the food is free. On legacy carriers like British Airways, United, ANA, Lufthansa, Delta (and more), you'll get free food and drinks on international flights. It's the low cost carriers like Air Asia, Lion Air, Wizz Air, Frontier (and more) where you'll have to pay for any food or drinks.
Service
I thought the service on the flight was outstanding. Sure, they didn't have much to work with on an old plane and low quality food, but I found the flight attendants to have a strong happy presence.
When drink service came by, I asked for a coke, they gave me two. That extra soda is pretty generous in economy.
After The Flight
Once my flight was completed, I made sure to save my boarding passes by taking a picture of them. Since my phone service is with Google Fi, my photos automatically get backed up to Google. Google Photos has a really smart system where you can search photos by object, person and location, so I can just search for boarding passes and it will appear.
It's a pretty crazy powerful feature. I types in beer and found out I take a lot of pictures of beer.
Getting British Airways Compensation
Alright, now for the best part, this applies to BA flight delay compensation, British Airways refund, cancelled flights. Just go to the British Airways complaints page.
As you can see from their page, you can get British Airways compensation for delays, cancellation, account issues, reservation/booking problems. checking-in, lounges, departure experience, on the aircraft, food and drink, arrivals and connections, baggage, disability assistance and the "Other" wildcard category.
This is a very detailed complaints page. That means, they had to have a lot of complaints to set up this page. I'm not aware of any other airline that has something this easy to get airline compensation.
Filling Out Your Complaint
First, you'll need to decide if you want to use your BA account or continue as a guest. I find it easier to just sign in and use my BA account. This makes it really easy to fill in information regarding recent flights and even easier if you need a British Airways refund as compensation.
Next,. you'll need to select the category. For my specific issue, it was "On board the aircraft." The very first option is "The in-flight entertainment," which means this must be a very popular problem.
And on the next list of options, my issue is "A fault with the system." It's the first option on the list and it's clearly not in alphabetical order, so they must have ordered it by how common the issue is.
Next you'll need to provide your booking details and any evidence you have regarding the incident. They'll ask if you made a formal complaint to the cabin crew, and why/why not.
For my specific incident, I didn't make a complaint because the cabin crew announced to everyone that there was an issue with the in-flight entertainment system. I made sure to mention that in the comments.
How Long Does it Take To Get British Airways Compensation?
After filling out my complaint, I received an email from British Airways 16 minutes later with my compensation for the British Airways 777 economy flight! They awarded me 10000 Avios and it went directly into my account!
There were hundreds of people on this British Airways World Traveller economy flight, but I think very few people knew that they could complain about this poor experience and get compensated!
Other Compensation Types You Should Know
As you saw from the British Airways complaints page, there's a lot to complain about. I've also been compensated for delayed flights and delayed luggage.
For delayed flights, it depends if it's the airlines fault, they can claim other issues like weather which won't get you paid or compensated.
As for delayed luggage, this happened to me and a few friends where you arrive at your destination, but your luggage doesn't. In this case, you can buy clothes until you get your luggage. The airline will reimburse you for those costs, but I'm not sure what the threshold is. I don't know if you can walk into the Gucci store and buy new clothes while on an economy ticket.
When my luggage was lost, I opted for miles rather than a cash payout. It was with Swiss Airlines and they have partners accounts with Lufthansa, so I took 8000 miles instead of getting paid for clothes.
If they lose your luggage, depending on the airline, you can be compensated up to $3000USD.
Pro-Tip: Complain.