Due to a long layover and a delayed flight, I spent 14-hours in the Al Mourjan Lounge which is the Qatar Business Class lounge in Doha. This gave me a chance to see everything in the 10,000sqm facility!

The Qatar Airways lounge is so big that you need a map! If you're wondering, if they have maps, they do!
Disclaimer: blorg.org may get a small commission or referral fee for some of the links posted. We value your time and money and won't waste it. For our complete advertising policy, click here. The content on this page is not provided by any companies mentioned, and has not been reviewed, approved or otherwise endorsed by these entities. Opinions expressed here are the author's alone.
Getting In To The Qatar Lounge Doha: Al Mourjan Business Lounge
The Qatar Airways Lounge Doha is can be accessed by passengers flying in first class or business class for Qatar Airways passengers. Passengers flying in business and first class flying with OneWorld Partner airlines cannot access the Qatar Airways business class lounge. There is a MUCH smaller lounge for OneWorld passengers.
Economy passengers on Qatar Airways can also access the lounge by purchasing a day pass from the reception area of the Al Mourjan Lounge.
The Space: Qatar Airways Lounge Doha
I've been in many airport lounges and by far the Al Mourjan Business lounge (Qatar Business Lounge Doha) is the BIGGEST! The size? It's over 10,000sqm! That's over 107,000 sqft! That's equivalent to the size of 10 Olympic sized swimming pools…well that's what the official Qatar Airways site says.
Around the lounge you'll find these mini tablets that have the departure times and an alarm clock. Unfortunately it seemed like a lot of them were out of order. Several of the USB electrical outlets I tried also didn't work.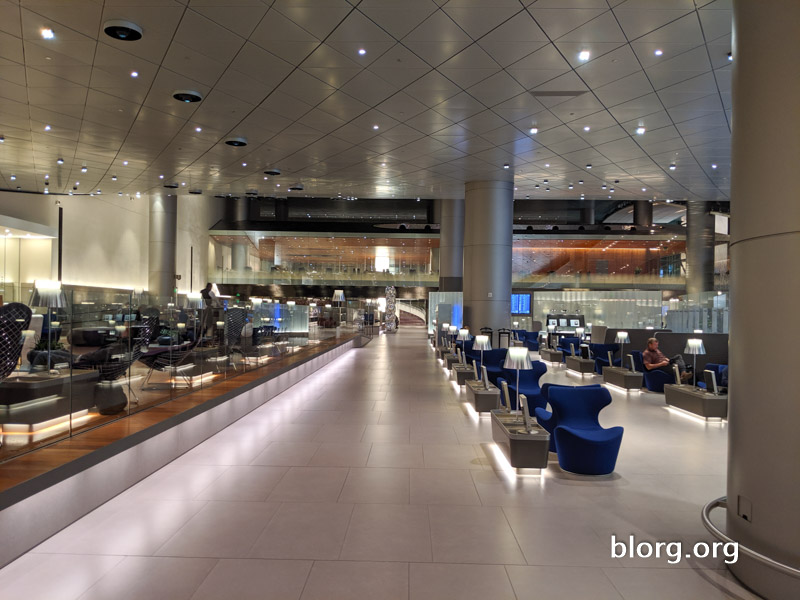 As soon as you enter the Qatar Airways Lounge Doha, big lockers are available to store your belongings. Each locked can be locked using a unique 4-digit code that you set. Very similar to how safes work in hotel rooms.
There are 2 large restrooms in the Al Mourjan Business lounge. You can find one of the restrooms by the lower floor dining area and the other restroom is located in the middle of the lounge.
The restrooms in the Qatar Airways lounge use hand towels. When it gets really busy and they run out of hand towels, they bring out paper towels.
Each of the restroom stalls are BIG enclosures. I was able to change out of my winter clothes that I was wearing very easily. The toilets are standard with the "bum gun" as seen in many South East Asian countries. 
Each restroom stall is immediately cleaned after use. The restrooms staffed by several cleaners, keeping this Qatar airport lounge looking immaculate.
To use the showers at the Qatar Airways Lounge, you need to write your name on the sign up board. There wasn't anyone to help me sign up at the desk, so I just wrote my name on the board and went in for a shower.

The shower rooms are private bathrooms with a toilet, shower, sink and is lockable. Everything was very clean with plenty of fresh towels.
Upon my first walk-through of the Al Mourjan Business lounge, I didn't see any sleeping areas, but later I found SOOO MANY! There aren't any private sleeping rooms, but you'll find a lot of somewhat private/quiet lounge chairs to sleep in.
When you sleep in any of the lounge sleeper chairs in the Qatar Airways Lounge in Doha, be sure to leave your boarding pass on the table next to you. This is to make sure you don't miss your flight. The staff will constantly look around making sure everything is clean and also will look at your boarding pass to warn you if your flight will leave soon.
#1 Partially Private Sleepers
To the right of the lockers, you'll find a lot of private lounge chairs and each one has a privacy wall. This is good for solo travelers. Unfortunately, you'll get a lot of noise from the people walking around Doha airport.
#2 Partially Private Sleeping Area
If you go towards the business center, keep walking forward. You'll find a lot of communal lounge chairs for sleeping in this Doha business class lounge. The sleeper lounge chairs have areas for 2 people, 4 people and solo travelers in the far corner.
#3 Quiet Area (This is where I should have slept)
In the lower level dining area, if you go past the restrooms there is a "Quiet Area." This wasn't very obvious to me and when I went in, it was completely empty! The area has big private suites with a TV, chair and sofa for sleeping. These are all first come, first served.
The biggest area to relax is in the family area. It's like the Quiet Area, but even bigger for families. Each family suite is like a living room with a big couch, TV, 4 chairs and coffee table.
No food or drinks are allowed in the business center. It's pretty big, like a large classroom full of computer stations and other business services. It's staffed by an employee in case you need any help. I took a quick look but found this to be the COLDEST room in the Qatar Airways lounge Doha.
The food at the Qatar airport lounge was pretty weak. I considered just buying better food in the airport then decided not too…once I saw the prices! It was about US$11 for a fast food burger and US$20 for tea at Harrod's.

After seeing those prices, I had no plans to spend money and decided just to eat at the Qatar business class lounge Doha for free.

There were two restaurants to eat in and several snack stations located throughout the lounge.
In the lower level dining area, you had the "most" food options, which still wasn't much. Here, you would take a seat and order any of the sandwiches or breakfast items at your table. A waiter would come by, take your order and serve the dish when ready.
I didn't know this at first and tried to order directly from the chef. This has been my experience at other lounges, but the Qatar Business Class Lounge Doha does things with a little more class.
In the upper level restaurant of the Qatar lounge Doha, they had food available buffet style.
I think alcohol is closely monitored in this lounge. You can't just pick up a beer, it all has to be served. There are two dining areas at the Doha business class lounge, but you can only get alcohol on the upper level from a bartender.
As I mentioned, the food wasn't tasty. The quality was there, it just was very bland. I was almost motivated to get food outside the lounge but didn't want to spend the money.
Coffee and Snack Stations
Around the Doha business class lounge, you can find coffee and snacks located in several areas. These coffee machines are loud! Since it uses fresh coffee beans and grinds on the spot, the sound insulation is pretty weak. I know this because I was trying to sleep and could hear the ear piercing sound of coffee beans grinding. You can also find light snacks like pastries, breads and crackers next to the coffee and tea.
Qatar Airways really prides itself on service. Every employee in the Doha business class lounge was very helpful. The helpfulness part was definitely part of the job, as many of them were helpful, but did not seem friendly. But that's just cause a lot of them had cold, dead expressions.

The Qatar Lounge Doha, you can force the workers to be helpful, but you can't force them to smile. That sums up it up.
Even though the service was good, the flight announcements in the Qatar airport lounge were incredibly annoying. Since Doha is the hub for Qatar Airways, they have A LOT of flights out of this airport, especially in the morning. It was non-stop announcements.

The announcements at the Qatar lounge Doha weren't over the speaker, they were individual people walking around the entire lounge saying the city and time. They had a person for each city. So, there was 1 employee that had to walk around and say London 7:45 for 20 minutes. They took at least 3 laps around the lounge.

I was especially annoyed because I went to one of the private sleeper areas that even has a sign warning passengers to set their own alarm because there would be no announcements.

As a traveler, you have to be responsible for your own schedule. I've missed a few flights and I can only blame myself. So these announcements around the lounge seemed unnecessary. If someone wants announcements, there should be an area of the lounge that's just for announcements. The Qatar Lounge Doha is big enough to support this kind of thing.
Even though it's called the parents room, it's a room for young kids to play and the parents to watch. It's located by the restaurant and a good place for kids to burn off some energy.
There are 2 games rooms at the Qatar airport lounge! Both are pretty similar, with Playstations, Wii-U's and Foosball. This is an incredibly rare feature for a lounge.
At the Qatar Lounge Doha, they got you covered…religiously. I've seen prayer rooms at airports but it's nice they even added one to the Qatar business class lounge Doha.
As I mentioned as part of the sleeping areas, there's a family area for lounging or taking a nap with your family. Located through the restaurant, is the Family Area in the QR business class lounge. Here, you'll find food, drinks and a big family space.
I think the lounge is very grand and beautiful with a lot of comfortable spaces. The game rooms and private sleeping areas are a big bonus. It's definitely better than and Priority Pass I've been to, but it's not the best business class lounge I've been to.

Personally, I liked the JAL business class lounge in Narita. They had delicious food and massage chairs. The Thai Airways lounge includes a free 30-minute massage for business class passengers. Overall, the Qatar Business Class Lounge Doha is still much better than any lounge you'd find in the United States. First class lounges included.
Overall 4/5
Design 5/5
Cleanliness 5/5
Food 3/5
Service 3/5
(those flight announcements were annoying)
Better visuals in the YouTube video.