I think the JAL Sakura lounge is the best airport lounge in Asia. Hang on, I'm just talking about business class. I haven't flown enough first class to tell you what's the best first class lounge. Let me hit you with some details.
I've been to the business class lounge for most of the airlines in Asia. That includes JAL and ANA in Tokyo, Singapore Air in Singapore, Korean Airlines and Asiana in Seoul, Cathay Pacific in Hong Kong and Shanghai, and Thai Airways in Bangkok.
In my opinion, Tokyo is overall the best. I'll summarize it here and we'll go into great detail into the Japan Airlines lounge Narita airport.
Pictures don't really show how nice the JAL lounge in Narita airport is, but video will. Check out my YouTube channel for more videos.
10/10 Draft beer robot: I have not seen or heard of this in any other airport lounge in the world, other than in Tokyo. I've seen it in both the ANA and JAL lounge
7/10 Good Food: The food is good, not the best, but having good food is essential just to be considered. I thing Singapore Air has the best lounge food with Cathay Pacific close behind.
7/10 Massage chairs: I've seen the Narita Sakura lounge and the Asiana/KAL lounges in Seoul. Bangkok is actually the best because you get a real 30-minute massage from a masseuse with your visit.
7/10 Sleeping room: I've only seen this in the Japan airlines Narita lounge, but the room isn't completely private. Not sure if I just missed it.
10/10 Amazing views of the tarmac: You're right next to the planes! You can also see this is in a few of the Cathay lounges in Hong Kong and Shanghai.
Power outlets everywhere!
Dedicated smoking room
Kid's Playroom
Lockers: This is super useful so you don't have to worry about your stuff. From these Asian carriers, I've only seen lockers at the Japan Airlines lounge.
Getting In To The JAL Lounge Narita
With Japan Airlines, they actually make it pretty easy to get into their JAL Airport lounges. Besides having JAL/OneWorld status, passengers in first, business, premium economy and economy (Flex Y Fare) can access the Sakura lounge. More information is available at the official JAL site.
Buying your way in to the JAL Lounge
If you or someone you know has at least the JMP Sapphire status, they can purchase lounge coupons with their miles. These lounge coupons are good internationally for first class lounges:
Diamond Premier Lounge
JAL First Class Lounge
International airport lounges in Paris
International airport lounges in Shanghai (Hongqiao)
Qantas First Lounge in Los Angeles
Flagship Lounge in O'hare
I'd like to buy my way in with miles, but the JAL status requirement is a big hurdle. Buying your way in isn't for everyone, but I would recommend trying to use miles to fly in the premium seats so you can try out this lounge.
There are two floors at the JAL Sakura lounge in Narita Airport. The 2nd floor is exclusively for dining. They have pretty strict rules about taking food from the 2nd floor to the rest of the lounge on the 1st floor. But that's not a problem, since there's a lot of dining space at the Japan Airlines Narita lounge.
When I was at the Japan airlines lounge on a Sunday afternoon, it was busy! But it wasn't full, you just have to make your way to the back areas. The Sakura lounge has a lot of space if you look. That's how I found out about the sleeping beds and massage chairs, because most of the seats at the front were full.
I won't go into all the details of the lounge, just check out the YouTube video for better details.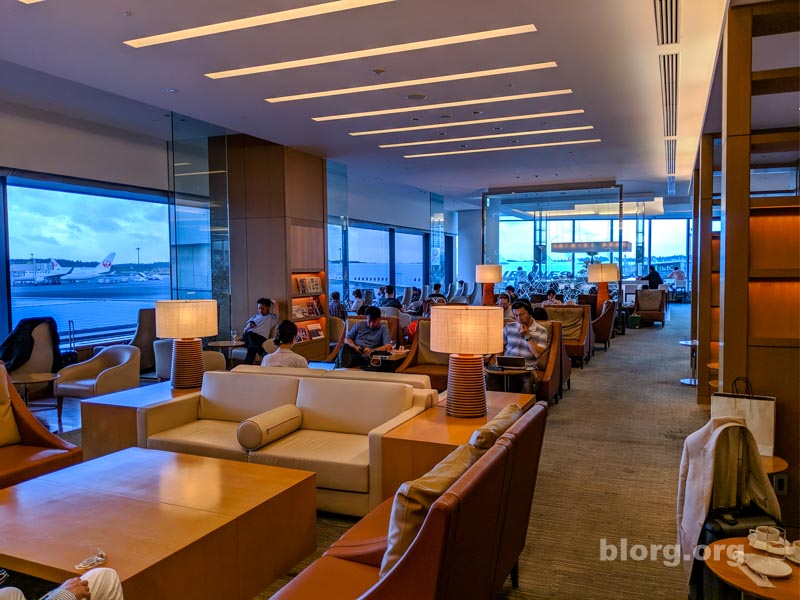 Dining at the Sakura Lounge
First off, there are 2 buffet style sections at the Japan Airlines lounge Narita. You'll see the first section when you make it up the stairs/elevator, keep going and you'll make it to the back section with a sign "The Dining."
The first section actually had a pretty long line to get food, while the 2nd section was relatively empty (pictured below).
The Food At the JAL Lounge
Lounge Food 8/10
As for the lounge food, it's overall pretty good. If this was a restaurant, I'd rate it at 7/10, but this is an airport so I'm a little more generous.
If you're wondering what I'd rate 10/10, that would be the food at the Singapore Air business class lounge in Singapore Changi Airport.
For 9/10, that's the food at the Cathay Pacific business class lounges in Hong Kong Airport.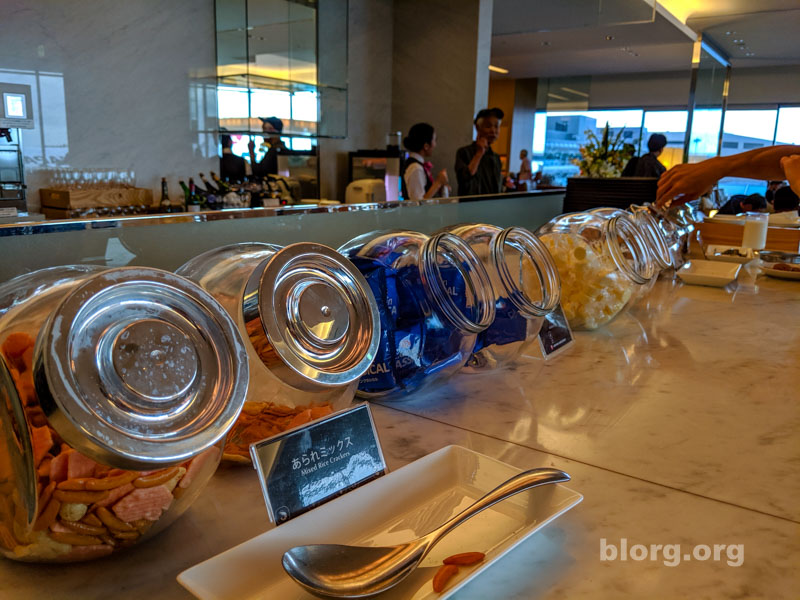 Alcohol at the Japan Airlines Sakura Lounge
There's a pretty good variety for wine, liquor and sake. Personally, I don't drink too much before/during flights because I get massive headaches. I want to enjoy the flight. 
JAL Drink Menu
BUT! The absolute best thing about the Japan Airlines lounge is that they have a draft beer robot. That really pumps up the interesting factor for this airport lounge in Japan. Besides Japan, I haven't seen this type of draft beer dispenser. This would put a lot of bartenders out of work in America.
As you can see, the food doesn't look too impressive. It's still tasty and when compared to other airport lounge food, this is pretty good.
I like the bar seating at the JAL Sakura lounge because each seat has a power outlet! That's very considerate and you won't find that in some of the other big business class lounges in Asia.
When I was here, the lounge looked to be at 90% capacity. I had to go to the far ends of the lounge to find a seat. I'm glad I did, because I found massage chairs! They were empty, so naturally I hopped in for a relaxing massage.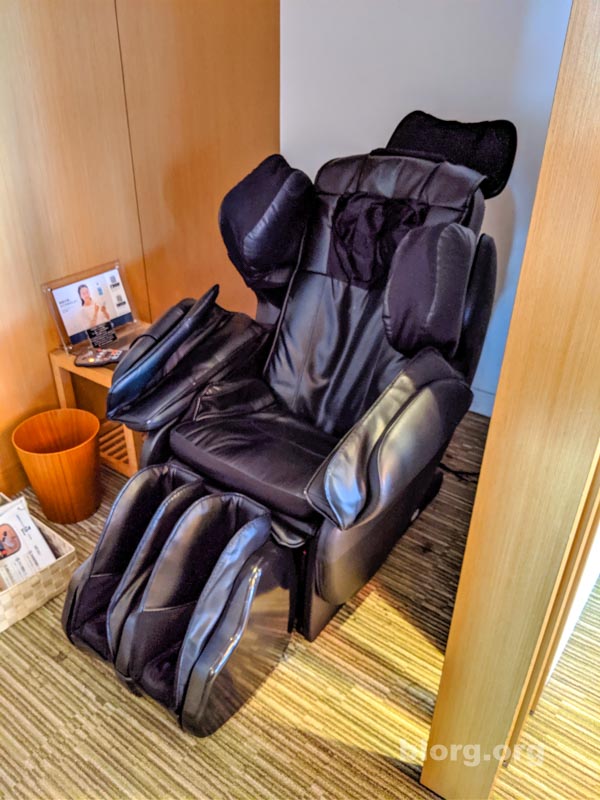 In the very back corner of the lounge, there is a sleeping bed. There aren't many places to really lie down at the Sakura Lounge, but there is a sleeping bed! I didn't see this in the business class lounges in Hong Kong, Singapore, Seoul,Shanghai, Taipei and Bangkok. Bangkok and Taipei Airport does have some sleeper lounge chairs all over the airport, but not actually in the lounge.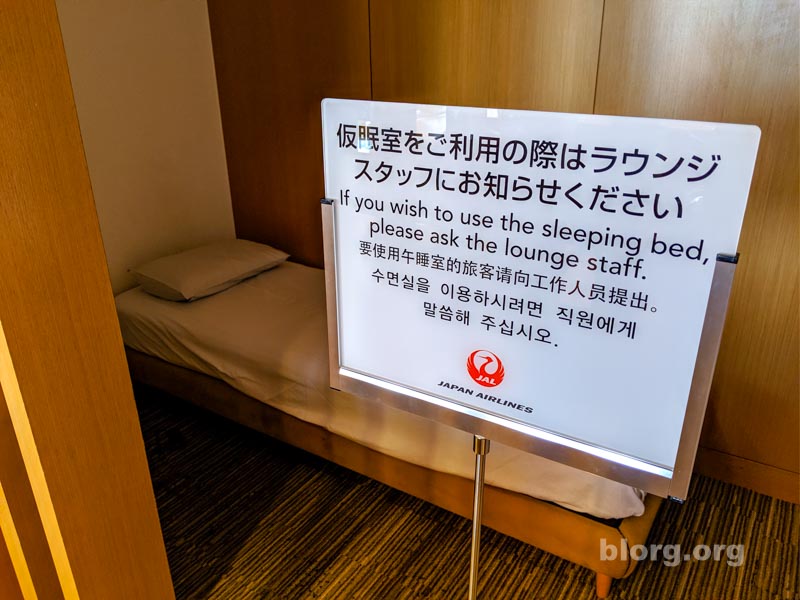 The Narita Sakura lounge has amazing tarmac views. As you can see below, I also have a power outlet and a perfect draft beer.
I personally think the Japan Airlines Sakura lounge Narita is the best OVERALL lounge in Asia. There's obviously some pros/cons depending on the comparisons, but if you asked me which lounge I would spend 24 hours in, without a doubt it's the Japan Airlines lounge Narita.