You can get paid up to €600 for a flight delay if your flight originated in Europe. In fact, I got the EU flight delay compensation maximum payout of €600 for my flight delay from Doha to Hong Kong. It's a flight a I booked on miles as part of a 3-part segment that originated in the EU. 
I was surprised I got paid since the flight was on miles and the delayed segment was outside the EU, but I did! In this post I'll explain everything and how you may be eligible for EU flight compensation.
Disclaimer: blorg.org may get a small commission or referral fee for some of the links posted. We value your time and money and won't waste it. For our complete advertising policy, click here. The content on this page is not provided by any companies mentioned, and has not been reviewed, approved or otherwise endorsed by these entities. Opinions expressed here are the author's alone.
Initially, I wasn't sure if I was eligible for EU flight compensation. As I was researching the EC261 compensation law, I found Compensair. To put it simply, they do all the research and contact with the airline for you.
If you have your flight information, it takes less than 1 minute to check if you're eligible for an EC261 compensation payout! Compensair will work on getting you paid for:
Delayed flights
Cancelled Flights
Denied Boarding
Missed Connections
Compensair Fees
It's free to submit a claim and you only pay Compensair IF they can get you a payout. To put it simply, if they don't get you money, they won't charge you money. If Compensair does get you a payout, they take 25% from whatever the airline gives you.
Depending on the airline, you can still claim for EU flight compensation months AFTER your flight. I'm not sure how long exactly, but it's not something you should wait around to test. If you're a person who's lazy and won't actually get around to fighting for your EU passenger rights, let Compensair fight for you.


See if you're eligible for EU flight delay compensation or if you have had any other issue with your flight:
Compensair
What is EU Flight delay compensation?
Basically, the EU got tired of all the flight delays with there being no penalty to the airlines. Passengers are inconvenienced from delays and the EU created the EC261 compensation law to improve passenger rights for delays.
Since it's an EU law, it's only valid on flights within the EU, or at the very least of flight TICKETS that originate in the EU. I saw flight tickets, because the EC261 compensation payouts are based on your arrival at your destination.
What makes you ineligible for flight delay compenstion?
If your flight is delayed or cancelled due to weather, strike or terrorism. Bad weather and worker strikes are more common in Europe. You'll also have to consider, these delays could impact the rest of your connecting flights and plans.
The airline is responsible for getting you to your destination, but they won't compensate you.
Are you eligible for EC261 flight delay compensation?
The EU flight delay rules state that your arrival at your destination has to be greater than 2 hours to be eligible for compensation. So it doesn't exactly matter when your flight leaves, it really matters when you get to your destination.
Compensation applies to all passengers delayed from the EU. That means, you don't have to be an EU citizen to get paid out for the delay.
Understanding Flights, Tickets and Segments
This may sound a little confusing, but let's start with the basics. If you bought a roundtrip ticket from the US to Europe, let's look at an example:
New York -> Rome: Delayed – No payout
Rome -> New York: Delayed – Eligible for compensation
First off, your ticket has to originate in the EU. A ticket is best described as ORIGIN and DESTINATION. A ticket can be composed of several segments. Each segment is a flight.
Ticket:
Rome -> Dubai (Segment 1)
Dubai -> New York (Segment 2)
It doesn't matter if segment 1 or 2 are delayed, but it matters if you arrive at your DESTINATION later than expected. Since this ticket originated in the EU, if your arrival at your destination is hours later, you are eligible for European flight delay compensation.
I was very surprised to see that award flights (aka flights booked with frequent flyer miles) were eligible for compensation from flight delays in Europe…and even not in Europe! I received my flight delay compensation from Qatar Airways and I booked my tickets using American Airlines miles:
VIE-DOH: On Time
DOH-HKG: Delayed
HKG-TPE: Rescheduled due to previous delay
Just because my award ticket started in Vienna, Austria, I was eligible for EU flight delay compensation. Even though the DOH-HKG segment doesn't go anywhere near Europe, I was still eligible since my "ticket" originated in Europe and had 3 segments.
If you're eligible for EU flight compensation but your work paid for the ticket, you can still get paid. Just because you didn't pay for the ticket, doesn't mean you don't have EU passenger rights. So, if you are eligible for European flight delay compensation on a ticket you didn't pay for, you can still claim that money!
Do you have to tell your work about the flight compensation? Nope. Unless you just want to brag that you made a big BONUS on your way back to the office.
How To Handle Flight Delays At The Airport
With your typical delay, you'll just end up waiting in the terminal a little longer. But! For really long delays or cancellations, you'll need a new ticket or the be rerouted. Here's a few tips you'll need:
1. Run to the sales desk
If you need a new ticket, so does everyone else on a plane with hundreds of people on it. The typical time to get a new ticket per passenger takes 10-15 minutes. Airlines have not automized the new ticket and re-routing process, so airline employees have to search manually to get you to your destination.
Now imagine a line with over a hundred people, with only several employees, and each person taking 10-15 minutes for a new ticket. That 2-minutes of running can save you 2-hours.
If you know the delay is going to be long, you can just sit back and wait out the line. But if you want to get to your destination as soon as possible, jump in line.
Refunds
Depending on how bad your delayed flight is, you can demand a refund for your flight.
Re-routing your ticket:
You can change the route to your destination! Let's say there's a direct flight rather than flying 2 segments, if you're flight was DOH-LAX-JFK, if there's availability you can reroute. Or if you just wanted to be sneaky and say you wanted to go back to
Los Angeles via Tokyo
to use the
JAL Sakura lounge
you can do that. 
I didn't reroute, but if you have the time you can do it for fun. There are stories online from FlyerTalk where passengers on award tickets (or even budget tickets), were re-routed to other flights and it changed their "fare bucket" to a higher tier. That means you're eligible to claim more miles for the flight.
When using frequent flyer miles for an award flight, you are not eligible to earn any miles for the flight. If you're flying in business/first class using frequent flyer miles and get changed to a paid fare by mistake, you're in for a lot of miles. It's like a huge rebate on your award flight.
Depending on the delay/issue, EU passenger rights entitle passengers to refreshments (drinks), meals, accommodations and transportation. In some cases, you can get upgrades and lounge access. Just be sure to ask them. They can't actually lie about it, but they can say they don't know.
During my delay, I saw an entire rugby team demand lounge access…and they got it!
EU261 Compensation for flights EU to EU
Delay At Arrival
2 hours
Flight Distance
1500km or less
Compensation
EUR 125
 
 
Delay At Arrival
3-4 hours
Flight Distance
1500-3500km
Compensation
EUR 200
 
 
Delay At Arrival
3-4 hours
Flight Distance
3500km+
Compensation
EUR 300
EU261 Compensation for flights EU to Non-EU
Delay At Arrival
2 hours
Flight Distance
1500km or less
Compensation
EUR 250
 
 
Delay At Arrival
4+ Hours
Flight Distance
1500-3500km
Compensation
EUR 400
 
 
Delay At Arrival
4+ Hours
Flight Distance
3500km+
Compensation
EUR 600
How To File A EC261 Claim: EU261 Explained
Filing a claim can be a little tricky. As I mentioned in my post earlier, Compensair will take care of that for you. I recently filled out a EC261 claim  with Qatar Airways and it was difficult. 
Step 1: Determine Is At Fault for the Delay
My EU delayed flight was caused by Qatar Airways so I would need to complain to them. If your ticket is made up of several airlines, you have to figure out which one cause the delay so you can submit your EC261 claim.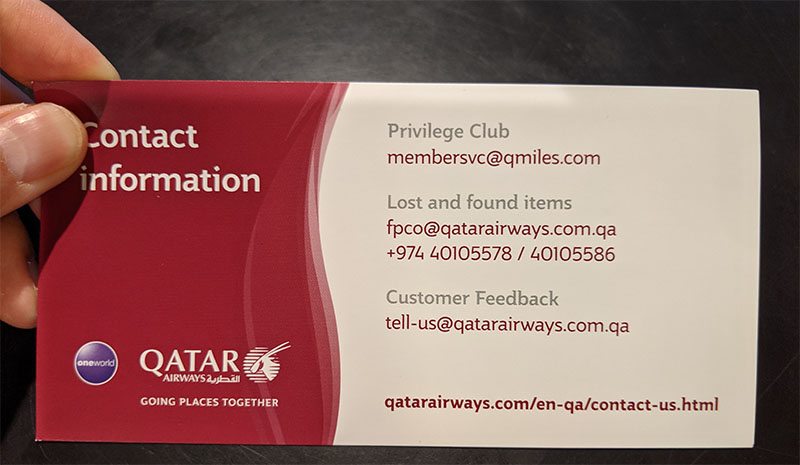 Step 2: Contact The Airline
As you can see from the official Qatar Airways Contact Us page, they don't list an email or a section to complain about delays. Even though Qatar Airways has a section about delays on their legal page. After a Google search for the official Qatar Airways e-mail address, I still couldn't find it. 
Luckily, I was still in Doha Airport while waiting for my delayed flight, so I asked the Qatar Airways customer service in person for the Qatar Airways official contact email:
tell-us@qatarairways.com.qa
They gave me a business card but I just took a picture of it because it's easier to have that way.
Alternatively, I would have just asked them through their Twitter account or one of the incorrect options on their Contact Us page. They don't make it easy.
I e-mailed Qatar Airways with pictures of my boarding passes, told them I was eligible for EU flight compensation and included a link to their own website regarding the payouts.
I did all this because I wanted to have everything I could include in the email to prove I was eligible for airline delay compensation. Additionally, I didn't want lots of back and forth emails. The airline is giving away money here, don't expect same-day service.
Step 3: Paperwork and Waiting
After sending my information to Qatar Airways for EU flight delay compensation, they got back to me after a few days stating I was eligible for the EC261 claim for €600 in compensation. Naturally, I was very happy about this. I then had to send them my bank details.
They got back to me again a few days later stating I would have to fill out a different form because I had a U.S. bank account. The form would need a physical signature. Since I was traveling in Taiwan, I was able to easily print out the document at a convenience store, sign it and then I took a picture of it with my phone (no scanner). They accepted the picture and told me I would get my €600 (US$662) in the next few weeks.
I actually received the money in my bank account within a week!
Delays and cancellations can be stressful on everyone, not just the traveler. You can't really blame an airline employee in Chicago that your the plane from Paris is delayed. They just work there. It's important to complain professionally and treat other people with respect, even if you are stressed out. I've seen some people raging at employees, but is it really that person's fault that your bag was lost?
It's just as important to compliment employees that do a great job and give you an excellent travel experience. During my delayed flight in Doha, James, the sales manager was very calm and easy to talk to. He explained why my flight was delayed and how he was going to resolve it with new tickets to get me to my destination. The service was attentive and calming in my stressed situation.
I made sure to get his full name and I contacted Qatar Airways support on Twitter to make sure he got recognition for his outstanding work. Qatar Airways had to verify I was an actual passenger that went through Doha airport that day, so I just sent them pictures of my boarding passes. 
Pro-Tip:
I always take pictures of my boarding passes so it's easy to download from my computer.
It only took a minute to reach out to the airline on Twitter to really send recognition to the employee. On the company side, they probably don't get that much compliments for employees, so that's a BIG deal for the employee to get more recognition at work. If you're truly thankful for someone doing a good job, make it official by reaching out to the company.
I also made a video explaining the entire experience on YouTube. Check it out if you want a better visual experience. If you've enjoyed this post, you can help me out by Subscribing to the channel.