I had the pleasure to fly for free with All Nippon Airways in the ANA 777 Business Class cabin. If you've flown with ANA airlines before, you know that there service is amazing even in economy (see: ANA economy Class Review). The ANA 777 seat is in a staggered formation giving you that extra space and privacy to enjoy a peaceful flight.
Booking ANA Business Class Review
I unfortunately transferred too many miles to Singapore Air 3 years ago and those miles have a 3 year (non-renewable) expiration date! My situation resulted in booking a flight with ANA Airlines back to Los Angeles. I actually wanted to save these miles for something better since the flight is only 10 hours from Tokyo to Los Angeles. Ana Business Class LAX to Tokyo would have been a much better deal since that's a 12-13 hour flight
Booking with Singapore miles also resulted in some high fuel surge taxes that I'm ashamed to have paid.
ANA 777 Business Class Seat
The flight was on the Boeing 777-300ER which I enjoyed since ANA business uses staggered seating. As you can tell from the cabin, the seats closest to the window provide the most privacy. I went with one of these seats. It's very cozy.
As I was taking pictures of the ANA 777 business class cabin, the flight attendant offered to take a picture of me. I said "okay." As you can tell from this photo.
The in-flight entertainment screen is pretty big with a large selection of movies. They had all the new Hollywood releases along with a lot of Asian cinema (subtitled in English). Since I don't get to watch too much Asian films, I watched as much I could!
Since I got the a private ANA 777 seat, I wasn't disturbed by anyone passing by the aisles. The best seat on the plane is 13A!
The screen also includes a universal power outlet to charge your electronic devices and a USB hub. I have no idea what kind of iPod outlet that is for.
For both the power and USB port, expect your devices to charge slowly.
Wi-Fi: ANA Business Class Review
Wi-Fi is available for the 10-hour flight, but it was not free. $20 USD for 100mb of data. I can make it on the flight without needing the internet for 10 hours. To fill the time, I just watched movies, ate ramen and drank sake. To me, that was a better use of my time than using the internet.
Amenity Kit ANA Airlines Review
ANA Airlines Business Class provides slippers! It was crazy to me that Cathay Pacific did not provide slippers for their business class passengers. Having slippers on a flight is something I love since I don't like putting on shoes to go use the restroom…that something people in economy should only have to do.
I'm kidding.
As soon as I saw the slippers I took off my shoes and got comfortable.
I fly economy most of the time since I'm frugal with miles. But I book one business or first class flight (one-way) each year as a treat for taking the time to accrue frequent flyer miles.
No Pajamas: ANA Business Class Review
On flights that are over 5 hours, having pajamas keeps your clothes smelling fresh. So whenever it's an option, I'll switch to pajamas. Unfortunately, All Nippon Airlines does not provide pajamas for business class passengers. They do provide pajamas for First Class passengers.
Having pajamas seems to be very different between Asian business class carriers:
EVA Air will loan you pajamas
Japan Airlines (JAL) will give you pajamas
Cathay Pacific will not give you pajamas
ANA will not give you pajamas
Bose Noise Canceling Headphones
These were very comfortable and made watching movies an absolute pleasure. I don't own any noice cancelling headphones but that's because I don't want to carry them around when I travel.
Inside The Amenity ANA Airlines Review
The amenity kit was pretty light. Toothbrush, toothpaste, eye mask, ear plugs, lotion and lip balm. The usual.
I always end up using just about all the items provided…that's a full value move.
At the top right of this photo, there is a fairly large storage bin. It was big enough to hold my phone, glasses, wallet, passport with plenty of room to spare!
ANA Airlines Business Class Special Feature
In The ANA 777 seat you can activate this rad blue light. It looks cool but is incredibly irritating after looking a minute.
This was not tested well.
Sake Selection – ANA Menu Business Class
I don't drink a lot of sake. It's hard to pick a good one at a bar and can get pricey. My favorite thing about the ANA Airlines business class flights is getting to try a bunch of different drinks.
They had a pretty wide selection of sake so I definitely indulged on the ANA business class menu. I didn't know which sake to select so the flight attendant helped me pick one. For me, I was looking for something light and smooth…and that's exactly the type of sake she brought me!
Sake is on the left and water is on the right. During the flight, I was watching a movie and forgot which one is which. I took a big swig of sake and accidentally got drunk.
I said "oh nooooo" and proceeded to enjoying the flight.
That's a problem I hope everyone could try once when flying in All Nippon Airways Business Class. Just want to remind you, this flight was free from using frequent flyer miles that can be easily accrued through credit card sign up bonuses.
FOOD: ANA Menu Business Class
ANA Airlines Food Reviews
My ANA airlines review is going to look really good from here. The quality and presentation of the meals from ANA is a whole level above other airlines in the field. This was the dinner they served a few hours after we left Tokyo. I went with the "Western" meal.
We started with an amuse-bouche to trigger the appetite.
Followed by some prawns, rice, and deli meats.
Then some corn soup. Very common in Japanese meals and very satisfying. But that's cause it's filled with corn and butter.
For the main course I had the beef and fried rice with vegetables. They had a more classy name for it, but that's what it was.
The main course ended with a custard pastry.
After all of this, I was hungry just a few hours later. The ANA business class menu has a good selection of "Light Dishes Anytime"…and that time was now!
ANA Business Class Menu: Ippudo Ramen!
I love Ippudo and Ichiran Ramen. Those are my two favorite ramen chains in Japan. I wasn't that hungry, but when I saw Ippudo ramen on the ANA business class menu, I couldn't resist.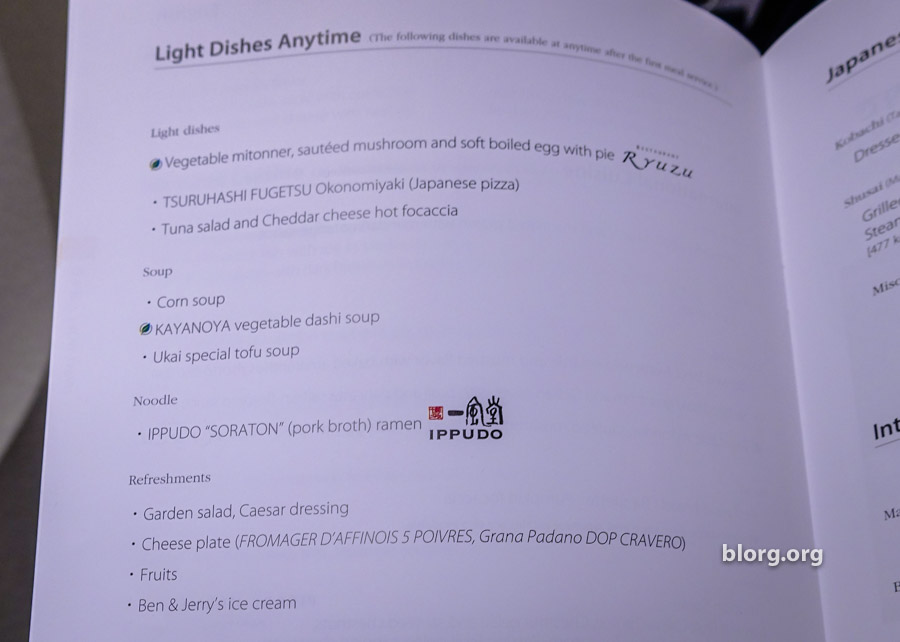 Ippudo ramen on the flight wasn't as good as it was at the official restaurant, but still pretty good! I would definitely eat it at home if that was an option.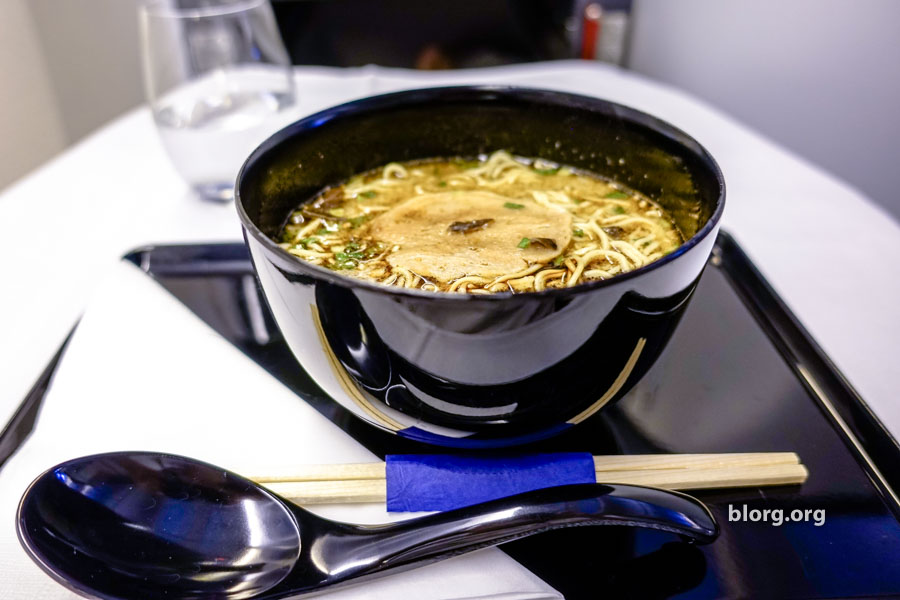 Not on the ANA business class menu was a bunch of snacks they had just sitting in the galley. Those were all up for grabs but I saved room for ramen.
Conclusion
Flying in All Nippon Airways Business class was an absolute pleasure. Everything felt new, clean and of the highest quality. The service was fast, attentive and friendly.
This was my yearly treat of flying in business or first class. Something I reward myself with for accruing frequent flyer miles. You can do it too! Flying for free is a real thing and that's how I've been getting to so many places.
When I'm not flying in the premium seats, I'm very likely to be in the cheapest seat possible to save some money. There's a few things I need to make things more comfortable so check out my Travel Tech post for that gear.
If it's your first time going to Japan, consider getting the Japan Rail Pass. Also check out my guide on How To Get Around Japan.
If you're going to Tokyo to visit the Fuji Area this Hiking Mt. Fuji Guide will tell you everything you need to know.