Places to visit in Cluj Napoca should include Alba Iulia! A place in Romania you probably haven't heard of since there aren't many tours to the place. Originally used as a fortress, the shape of a double-star helped with defending and attacking in the event of an invasion. If you're looking for things to do around Cluj Napoca, this would be it!
Getting to Alba Iulia From Cluj
After going on a free walking tour, I was looking for fun things to do in Cluj Napoca. I asked the tour company that did that walking tour in Cluj and they quoted me 370RON.
This was a custom tour to Salina Turda and Alba Iulia. They recommended these places as the places to visit in Cluj Napoca.
Since I had a flight at 6:30pm the next day, the tour operator was able to cater to my schedule. The custom tour would start at 8:30am and end by 4:00pm. That's with 4 hours of driving!
To Get to Alba Iulia from Cluj by public transportation, you would have to take several buses, but that will take around 6 hours. If you go directly by car, it's only 2-hours. The cost of an Uber will be more than a private tour.
The Perfect Tour To Alba Iulia
After my visit to Salina Turda, we then headed to Alba Iulia (It's like "Julia" but starts with an "I").  I have no idea what to expect and I didn't see this place on Atlas Obscura (my favorite site for interesting destinations). 
The guide informed me that it was a fortress and when we got there everything exceeded my expectations. This place was massive and very lively. Not many
It's about a 2-hour drive from Cluj which is the fastest way to get there. Ideally, a car is the way to go since public transportation was sparce.
The Double-Star Fortress of Alba Iulia
Built in the 18th Century and used as recently as World War II, Alba Iulia still stands strong and has been well maintained. They use a double-star pattern with two exterior walls before getting to the fortress.
Today, it is used as a University, a Unitarian Church, a Catholic church, a park, a music venue, restaurants and as a recreational facility. Best of all, there's no charge to go AND there's free parking!
People still come here for religious services, but in between sessions people are allowed to come in and take pictures.
There aren't any seats in the church so it's "standing room" only.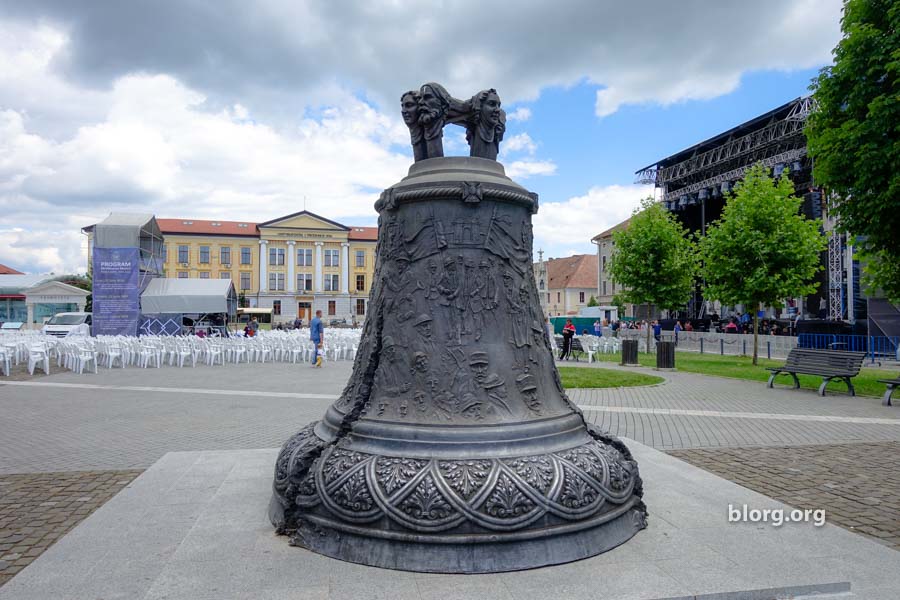 They hold concerts in the public areas of Alba Iulia.
The facility is so big that you can rent bikes and cruise around. People use the exterior walls for jogging and biking.
Monuments lie along the outside of the fortress.
There are several large entrances in to the fortress that connect to the rest of the city.
The jogging/biking path around the fortress.
KURTOS! Euro Churros!
I thought this was a giant churro since it was baked bread with cinnamon. It's actually cinnamon chimney cake for 12RON ($3 USD).
It looked pretty good so I went for it!
This took several days to eat.
Very happy. Sweet bread!
I saw the giant "chimney cake" topped with cinnamon. I bought it hoping it would taste like a churro, not exactly the same but it was good.
Restaurant in the Wall
Within outerwall of the fortress, they have a medieval restaurant! The restaurant is exclusively for potential restaurant guests so stop in for a coffee and to check out the facility.
If you've ever seen the anime, Attack on Titan, the walls of the city, gates and bastions reminded me of the show. It's definitely the most impressive fortress I've seen and it was in great shape! Clearly, it did its job.
Very medieval!
They don't like it if you try to take a sword down…those aren't free.
Since the side of the restaurant is build along a curved part of the fortress, the bathrooms are also rounded.
Pretty much everyone I saw was Romanian. It was fun finding out about this secret local spot and being the only tourist! If you're looking for things to do around Cluj Romania, you should try to make it to Alba Iulia over the weekend!
Conclusion
Things to do around Cluj Romania are limited, but you should make the journey to Alba Iulia! They have events over the weekend and it's very lively. It's a 2-hour drive from cluj, but fun things to do in Cluj are worth the journey!