Located in one of Taipei's many alleys, is Shinken Ramen (真劍拉麵). There is no large lit up sign and the store is very dimly lit. With only 7 seats and 2 chefs, the wait time can be up to 2 hours to eat here. What makes it special? They serve blue ramen.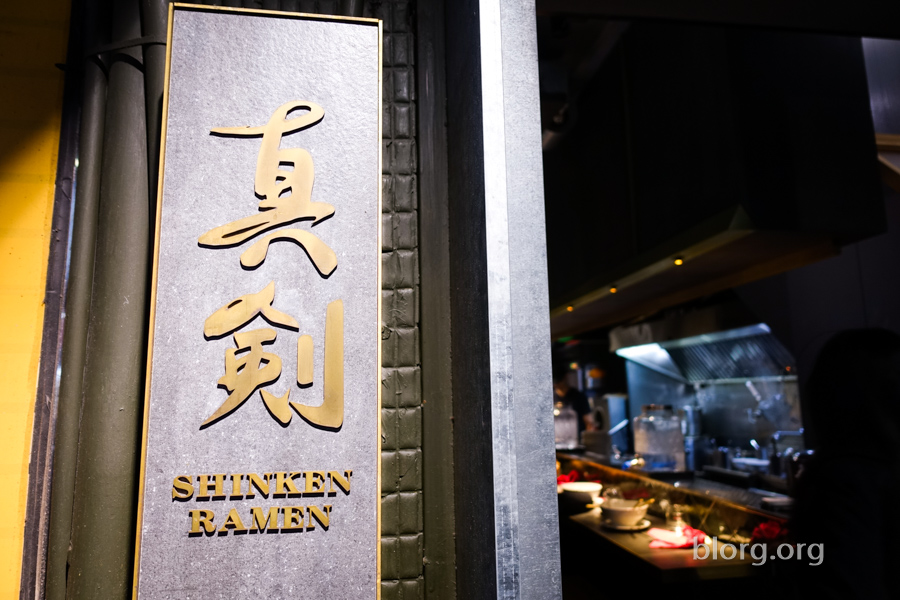 What's On The Menu?
The menu only has three items which must be ordered from a vending machine:
Blue Ramen – $260NTD ($8.42USD)
Chicken Broth Ramen – $240NTD ($7.77USD)
Pork Broth Ramen (Tonkotsu) – $260NTD ($8.42USD)
If you've been to Asia before, you'll know that this is the complete price. There's no additional tax or tip added later. Although the service was limited to taking your food ticket and handing you your order.
Beware though, most places in touristy areas will add a 10% service charge to your meal. That's normal and very transparent in Taiwan. You'd be able to see that somewhere on the menu before ordering (in English).
The blue ramen is a complete mystery to me, but everyone who ate it on Google Maps left amazing reviews. Unfortunately when I went, they were sold out! I got to try the chicken ramen and the pork ramen.
The vending machine is only in Chinese, but you can manage to use the
What's It Like There?
Since there is only 7 seats in the shop, you'll have to wait. After I was seated, it still took about 10 minutes to get my ramen. Average wait times can typically range between 1-2 hours to get a seat!
The place looked very modern and was dimly lit. There was a spotlight over your place on the counter to showcase your meal.
The music that they were playing didn't match the meal though. It was 90's American grunge rock. It was an unexpected surprise but I didn't mind.
They have 2 chefs carefully preparing each dish working in perfect harmony. One of the chefs works on preparing the noodles and broth while the other works on searing the meats and preparing the toppings.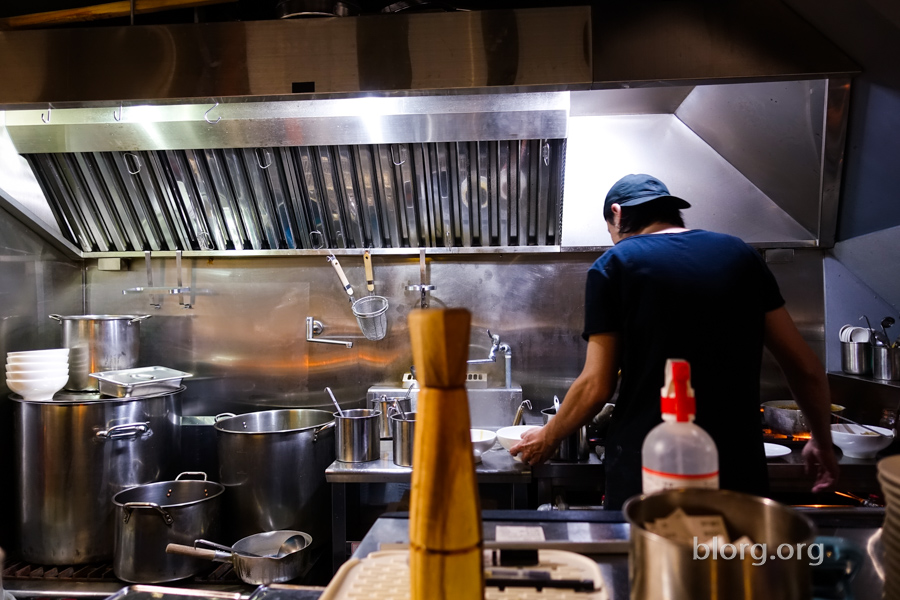 Shinken Ramen (真劍拉麵) Location and Hours:
Shinken Ramen (真劍拉麵)
No. 1號, Lane 126, Shida Road, Da'an District, Taipei City, Taiwan 106
Open Daily from 17:30 – 21:30
Detailed Food Review of 真劍拉麵 Shinken Ramen
Tonkotsu Ramen
7/10 SOUP: The pork broth (tonkotsu) ramen was thick and salty. If you've had Tenkaippin Ramen before, the broth was a little like that. It was very satisfying tasty at first, but by the end of the meal I couldn't take any more salt.
8/10 MEAT: There were two types of meat that came with the ramen. The first was thinly sliced pork which was layered along the edge of the bowl. It was thin and soaked up the broth nicely making it a pleasure to eat.
The other type of meat was a super thick slice of seared pork. It had a large layer of pork fat and meat. This was good, but since it was so thick and freshly seared, the inside layers of the meat were surprisingly dry instead of juicy.
8/10 NOODLES: The noodles were firm and had a good consistency. I like noodles on the firmer side so it was perfect for me. Even though it was good, it wasn't 10/10. That's at another place for an upcoming review.
7/10 EGG: The soft-boiled egg was a little too cooked with the yolk was almost solid. I've come to expect a more runny yolk with ramen and that's what I prefer.
6/10 TOPPINGS: The other toppings were raw onions, bamboo shoots and some shaved greens. There were okay but didn't really make the meal better.
Overall Rating: 7/10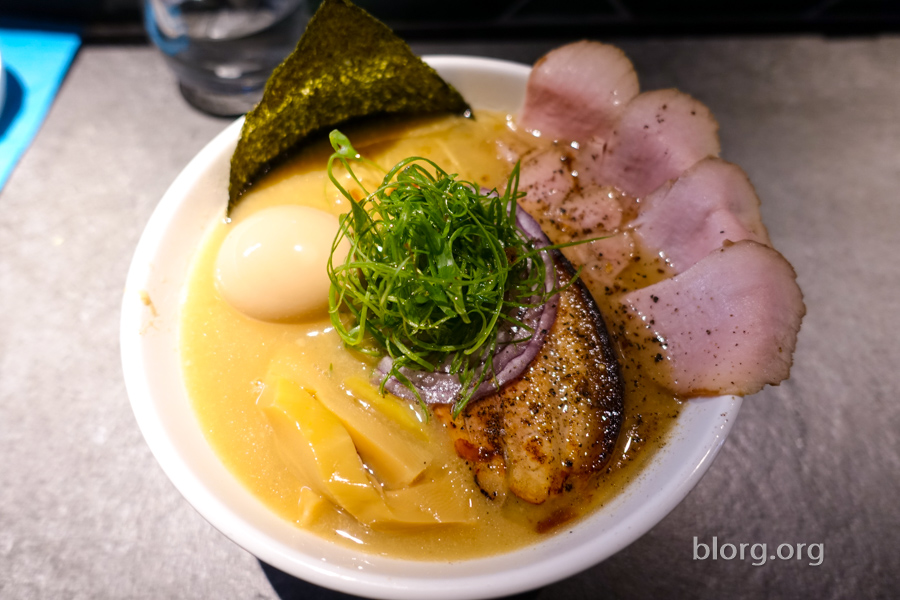 Chicken Ramen
The chicken ramen was similar but the only difference was the meat and the broth.
8/10 BROTH: The broth was light and tasty.
8/10 MEAT: The chicken was tasty and absorbed the broth nicely. It also came with a large piece of seared pork like in the tonkotsu ramen
Overall Score: 7.5/10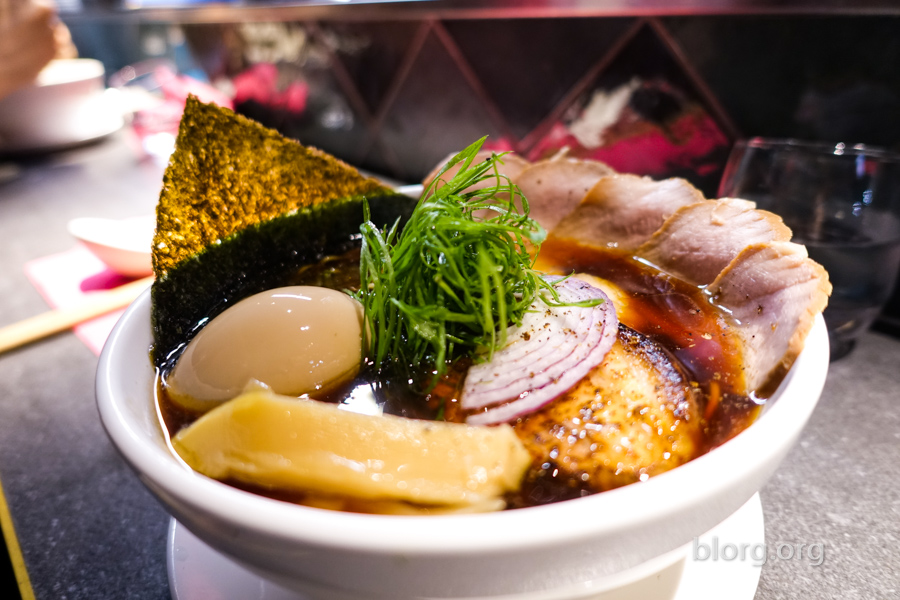 Conclusion
The reviews for 真劍拉麵 Shinken Ramen were really good but I think for Taipei ramen, that this location was about average. Since the level of food in Taipei is so high, food taste is very competitive. I'll be back here to try the blue ramen.
For more Taiwan foodie adventures, check out Kavey's adventure Gondola Visit to Maokong.