Review of the Miracle Lounge at Concourse C in BKK Airport. Within Bangkok airport, there are a total of 9 Miracle Lounges between all the concourses and terminals. As for Priority Pass lounges, you have your choice of 14 lounges! If there's an airport in the world with more Priority Pass lounges than BKK airport, then please let me know.
Getting to Miracle Lounge Concourse C
Finding the airport lounges in BKK airport can be tricky! You'll have to go to your concourse, down 1 level, then backwards. Yes, it doesn't sound right.
Basically, there isn't immediate access for passengers to go down 1 level after security. There are elevators, but the signage isn't very helpful. The easiest way to find these lounges, are really to go to the departures level of the concourse, then back. I got lost even with directions. It's absolutely okay to walk into any lounge and ask for directions to another lounge…and that's what I did.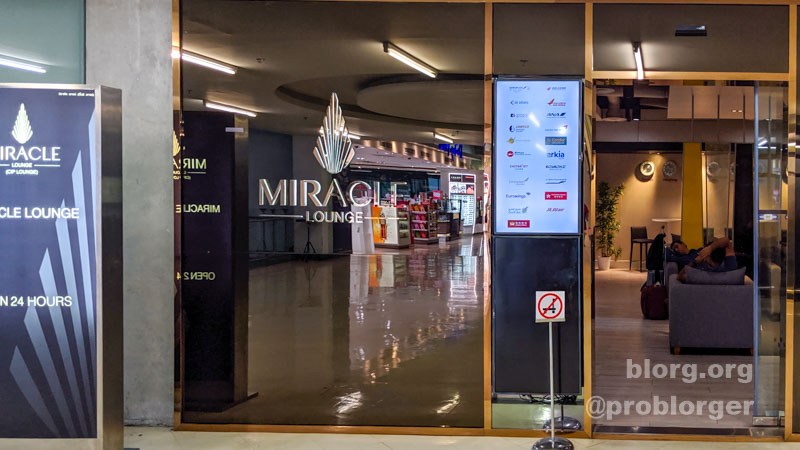 Inside The Miracle Lounge at Bangkok Airport
When I arrived, there were several people ahead of me in line. They were waiting to be processed because there was an issue with the machine reading membership cards. I use Priority Pass and ran into the same issue.
Unfortunately at the time, the main guy at reception didn't speak English well and was non-confrontational. I was pissed to see this older American couple walk right in and start scavenging food. The guy at reception asked them nicely to get in line, but they pretended they didn't hear it.
I get it. He's just trying to do his job and it's not within his power to physically kick people out. But I was very irritated and how rude this older couple was. They were eating food loudly, touching everything with their hands and talking loudly on the phone while blocking the food area. I was on edge. They quickly did a eat and run after doing their damage at the buffet. I remember this clearly because I regret not saying something.
After the couple left, I asked the receptionist if they were here before. In an attempt to inspire him, I said it's okay to be mean to those people. His English wasn't great and interpreted it like I was calling him "mean." Forget it, I'll just relax.
The Lounge
It's just okay. There are 14 Priority Pass lounges at Bangkok Airport and this was probably the worst one. I haven't been to them all yet, but my personal favorite (as of now) is the Oman Air First Lounge.
The lounge isn't that big and if you're trying to sleep, it will be challenging (although several people did succeed in taking a nap). As for lounges, it's located just outside the security gate for transfers. That means it's pretty loud inside. Additionally, there's a lot of natural light that comes in so you'll get blasted by the sun. There aren't any sleeping chairs so you'll have to make do with what's available. You can sleep in some of the lounge chairs in BKK airport or at the Oman Air lounge.
The Food
Not impressive. The food at the Miracle Lounge is the generic food you would get at most Priority Pass lounges. Since Bangkok is an affordable city, you can also find affordable food at the airport. I HIGHLY recommend at any of the Bangkok airport restaurants before getting on your flight. If you're flying in economy, you'll be doing yourself a favor by eating a delicious meal at the airport than on the plane.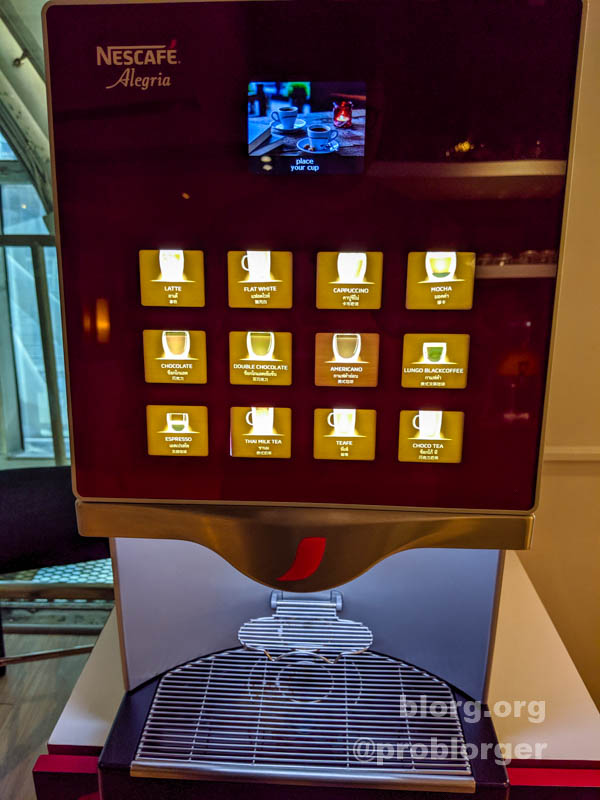 Overall
As a Priority Pass lounge, the Miracle Lounge in Concourse C was incredibly average. The food wasn't appealing and the lounge wasn't in a quiet location. When I go to an airport lounge, I like having free food and a quiet/comfortable place to sit before my flight. Although I was able to get a comfortable seat, the lounge missed the mark on my other goals.
Since Bangkok airport has a 14 different Priority Pass Lounges (at least 1 in each Concourse), do yourself a favor and skip this one.
Overall Rating: 3/5