I flew in the "most comfortable economy class" on the brand new Airbus A350XWB and it was awful. Do not get an aisle seat, because if you do, people will bump into your shoulder for the entire flight.
Getting To LAX
As you know, LAX doesn't have a train, subway or tram…as of yet. They are working on something, but it will be a few years until you can easily use public transportation to get to LAX. Until then, your best option is the LAX FlyAway Bus which gets you to several different points around LA for less than $10.
Pro-Tip: Never pay for a cart at LAX
The carts at LAX cost $6 to use! That's outrageous. Every airport I've been to outside of the United States provides carts for free or some require a deposit (Europe).
But this is blorg blog, we don't pay if we don't have to. So there's TWO ways to get a cart for free at LAX to save yourself $6.
Get dropped off in the arrivals area. There will be free carts all over the place.
In the departures area, just go inside the departures hall and grab a free cart next to security. Most people ditch their carts just before security. You can get these carts for free without a ticket.
Economy Checking-in for Fiji Airways at LAX
This is the economy half of my trip, even though my connecting flight is in Fiji Airways Business Class (video), I still have to check-in with the economy lines. No big deal, NBD.
Pro-Tip: Ask to be seated next to an empty seat
The check-in process didn't take too long. When it was my turn to check-in, I made sure to ask for a window seat with an empty seat next to it. Not available. Then I asked for an aisle seat with an empty seat next to it. Available.
Pro-Tip: Take A Picture Of Your Bag
I was checking in a bag, every time I do I make sure to take a picture of it and the weight. This just helps in case the airline lose your bag. It shows that you had that specific bag when checking it in and the weight. The weight is important because you don't want something to go missing…even worse, you don't want something to get added.
Pre-Flight Things To Do At LAX
Nothing. Everything is expensive. LAX has shopping and food, but it doesn't have the unique things you could experience on a layover in Singapore. My flight was departing at 11:30pm and I tried to use the Korean Air Priority Pass Lounge at LAX TBIT, but they don't let Priority Pass members in after 5pm. The space is reserved only for Korean Air passengers after 5pm. Dang.
I have consistently been disappointed with the offerings of Priority Pass lounges in the United States. Pretty much Priority Pass is useless for LAX international departures, since most of the international flight I would take are late at night.
The only reason I wanted to go to the KAL Priority Pass lounge at LAX was for free food and drinks. Expect to pay A LOT at LAX for any type of food or drinks. I bought a water and because I was SOL, for $4.15.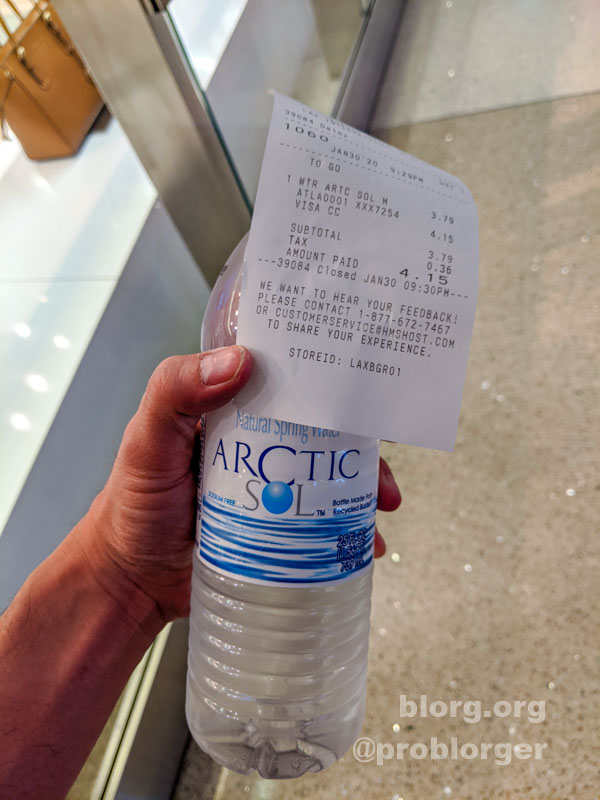 Fiji Airways Economy Class on the Airbus A350-900
Seats 2/5
The Fjiji Airways Economy seats on the A350-900 use a 3x3x3 seating configuration, while my previous flight with Fiji Airways on the A330 uses a 2x4x2 configuration. The A350 is a little wider so expect more people to be in the cabin (see A330 vs A350).
The seats look nice and have a very slim design. If you are just looking at the cabin, everything looks lean and aesthetically pleasing. When you experience the seats, it's a different story.
I'm not a super large person. I consider myself to be pretty average sized where most airline seats aren't too uncomfortable. Due to the slim design of the seats on the Airbus A350, you lose the shoulder protection of the seat. That means, your shoulders will exceed the width of the seat. Okay, that doesn't sound so bad.
BUT, once your seated and people are walking around the cabin, you can absolutely expect your shoulders to be bumped into. This makes it a very unpleasant experience when flying on Fiji Airways for over 10 hours. You can try to sleep, until someone bumps into you. I highly recommend getting a window seat to avoid this issue.
Of course it's frustrating when people constantly bump into you, but you can't really get mad at them. The seats provide no protection and people have to walk down narrow aisles…it's going to happen. I bumped into people too and I was trying hard not to.
The seat itself is comfortable and I probably would have given it 4/5 for an economy seat, if it wasn't for the critical shoulder issue.
In-Flight Entertainment 3/5
The in-flight entertainment selection is very limited. They have very few new releases and I guess it's cheaper to carry movies from the 1980's than anything new…so you'll see quite a bit of OLD movies. As for just the selection of movies, I would rate that 2/5.
The actual monitor at your seat was really nice. That was a solid 5/5. High-resolution touch screen and it was very responsive. Pretty much a tablet at your seat.
Food 2/5
As I mentioned about the food on the Fiji Airways A330, the food is bad. There is no difference in quality of food on the A350, it's still bad and in small portions. Be sure to eat before getting on the plane and bring snacks!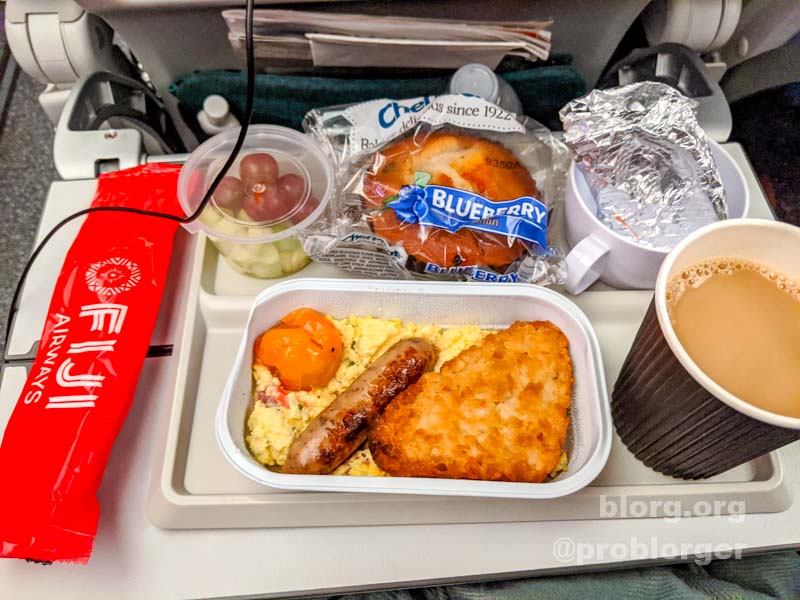 Amenities 3/5
At your seat, you get headphones, a blanket and a pillow. Pretty basic amenities, but you'll need them all. Since I flew in Fiji Airways Business Class 2 weeks before this flight, I still had the amenity kit.
The first thing I do after I get seated is take off my shoes and put on the compression socks. If your traveling for a long period of time, it absolutely helps to take off your shoes and save your clean socks for later in the trip. Compression socks help with swelling in the feet…but that still happens to me anyway. It's just more comfortable.
Transferring in Fiji
Since I was in economy in the back of the plane, I was in the back of the crowd. Apparently a lot of people transfer through Fiji…pretty much everyone on my flight. There was no one in the line to enter Fiji…so here's the trick.
The line to transfer Fiji will take A LONG time because they only have one security checkpoint for the hundreds of passengers passing through. It's not efficient. BUT! They do have the immigration line for Fiji completely empty. If you don't need a visa for Fiji, just enter the country through immigration, then re-enter the airport and go through security.
If you're in the back of the transfer time, this method will absolutely be faster.
Fiji Airways Premier Lounge
I had a 7-hour layover in Fiji on my way to Singapore and spent the entire time in the Fiji Airways Premier lounge. You can access this lounge if you are flying in Business class with Fiji Airways, have Priority Pass lounge access or pay $49 USD to get in.
To me, the lounge is absolutely worth $49 for a 7-hour layover. It's super comfortable and has pretty good food. Your food options at Fiji airport are Burger King and a local concession stand.
Overall Thoughts on The Fiji Airways A350
Not a fan. Sure, the seats look sleek, but if you have an aisle seat this is the most uncomfortable plane for a long haul flight. If you're trying to sleep, good luck.