Welcome to the Eat The World list! In this evolving post we'll cover the countries with the best food in the world. It's a compilation of favorite foods found by fellow travel bloggers.
Argentina
Buenos Aires
Eat the World: Argentina! Here we'll cover the best places to eat in Buenos Aires and what to eat in Buenos Aires!
Red meat and red wine. These are the stars of Argentina's cuisine. Both are world famous and for good reason, Argentine's know how to eat well and meals are big events in Buenos Aires. Here is what to eat in Buenos Aires to eat well:
Empanadas
These pockets of dough filled with meat, veggies and/or cheese are iconic of Argentina. Flavours are strictly traditional, including diced beef, chicken, spinach, or humita (creamed corn). To try some of the country's best northern style empanadas, you have to visit El Sanjuanino in Recoleta. They serve both deep fried or baked empanadas and all are excellent.
Steak
There's nothing more representative of Argentina than a good steak. They're served simple, no fancy marinades here. Just salted and tossed on the grill to cook over low heat on a parilla (grill in Argentina). It feels like there is a steak house on every corner, but a few, in particular, are worth the effort. Palermo's Don Julio is one of the top 50 restaurants in South America and worth making the reservation in advance. In San Telmo, try Desnivel for an old school, no frills experience or La Brigada around the corner (where steaks are so tender, they cut them with a spoon!).
Dulce de Leche Ice Cream
At the turn of the 20th century there was a massive wave of immigration to Buenos Aires. Italians came and brought with them their culture, including gelato. The ice cream in Buenos Aires is some of the best in the world so of course, you have to try the classic dulce de leche! Cadore on Avenida Corrientes makes the best in town.
Australia
Geelong
Eat the World: Australia! Here we'll cover the best places to eat in Geelong and what to eat in Geelong!
We're not foodies but we do love to eat. And fortunately for us our hometown Geelong has fabulous dining options to burn. From little laneway gems to the delis and cafes of the Pakington strip, you're never far from some good Aussie tucker. Here are three dishes every visitor should try.
Mussels
The Geelong region is known for having some of the best mussels in the country, big fat and meaty. And a trip to the city wouldn't be the same without slurping down a plateful of mussels right off the boat. The Mussel Boat serves delicious mussels in red wine, tomato and just the right amount of chilli.
Hot Chicken
For the 'hottest' chicken going around head to the Hot Chicken Project. Made with their own blend of herbs and spices, this Nashville style chicken leaves the Colonel's for dust. Each serve of chicken comes on a slice of white bread with pickles and a side of fries or coleslaw.
Cake
For the ultimate in decadence head to Armageddon Cake Dessert Bar. Relax on vintage sofas with Uno cards and melt-in-your-mouth red velvet cake while listening to vinyl. Or try a raw vegan snickers cheesecake that tastes exactly like a snickers bar.
Thinking of booking a flight? You can get e-mailed price alerts from Airfare Watchdog when they see a great deal!
Melbourne
Eat the World: Australia! Here we'll cover the best places to eat in Melbourne and what to eat in Melbourne!
One of Melbournes many interesting bites to eat sits just outside of the city centre, a simple train ride away. Combining the extremes of sweet and savoury, Nostimo and Co takes culinary pallets to a new level, mixing donuts with beefburgers.
Contributor: Campbell @ Highlands 2 Hammocks
Burger Donuts
Catch the train to Elsternwick in the suburbs of Melbourne and walk along the vibrant High Street until you find the colourful diner of Nostimo and Co. Head on in and take a seat while you peruse the menu filled with culinary delights, mixing main course and dessert into one dish.
Cheeseburger and bacon, served with a glazed and sprinkled donut as a bun is definitely one of the more interesting things you will eat in Melbourne, however like most things in life, you shouldn't knock it till you try it!! Wash it down with a side of the signature milkshake, served with French fries drizzled in Nutella chocolate.
In the same way pancakes and bacon are a match made in heaven, Nostimo and Co marries sweet and savoury to create the most unique dishes in Australia. No trip to Victoria is complete without a trip to this incredible burger bar.
Belgium
Brussels
Eat the World: Belgium! Here we'll cover the best places to eat in Brussels and what to eat in Brussels!
When you think about Brussels food, three things often come to mind: fries, waffles and chocolate. I hope you're not on a diet when you're visiting the Belgian capital!
Belgian Fries
As for the French fries, these golden potato sticks should actually be named Belgian fries given their history, popularity and the number of places ('friteries') that sell them. Although every inhabitant has a personal opinion concerning the best friterie in Brussels, some of the established places in the center are Fritland and Friterie Frituur.
Belgian Waffles
While exploring the city center of Brussels, it'll be hard to resist to the tempting scent of the Brussels waffle. For as little as 2 euros, you can already get one. Go crazy and add all the toppings that you like. Chocolate, strawberries and whipped cream are always a good match. The highest density of waffles shops is situated in Rue de l'Etuve, close to Manneke Pis. Otherwise, there's also Maison Dandoy, a tea room where you can sit down and order a hot chocolate.
Belgian Chocolate
Top off your culinary journey through Brussels by trying the Belgian chocolate. Head to the Galeries Royales Saint-Hubert, an prestigious ensemble of glazed shopping arcades that houses some of the most famous Belgian chocolatiers. In fact, the first praline was created there! Neuhaus, Leonidas and Pierre Marcolini are just a few of the chocolatiers offering high-quality pralines. Wouldn't that be a nice souvenir to take home for your family?
Colombia
Cartagena
Eat the World: Colombia! Here we'll cover the best places to eat in Cartagena and what to eat in Cartagena!
Fried Fish Plate
This is the one plate you absolutely have to try on a visit to Colombia's Caribbean coast! The most common fish served is Mojarra roja (red tilapia) and the entire fish is fried to a golden crisp. Avoiding the bones pro tip: eat one side entirely and then flip it over to eat the other side.
Usually, the fish is served with coconut rice and patacones (mashed and fried plantain patties), both local favorites in their own right. This classic Cartagena plate is best enjoyed for lunch at the beach and with a good squeeze from a fresh lime.
Cazuela de Mariscos
This creamy seafood stew is also a local, traditional favorite. It is usually served with shrimp, calamari, and clams although some restaurants may also include fish, octopus, and even lobster!
All of that is simmered in a stew made from a base of coconut milk. In addition to being delicious, it is also famed for being an aphrodisiac!
Arepa de Huevo
The arepa de huevo is a practical institution in Cartagena. There's even an annual festival devoted to it.
More like an empanada than traditional arepas, the arepa de huevo is stuffed with ground beef and fried with a cracked egg in it. It makes for a terrific breakfast on the go, greasy hangover cure, or a tasty snack anytime.
You can find arepas de huevo at street stalls all over Cartagena, but if you want a special experience, check out Donde Magola near the Exito supermarket in the walled city, where they have a number of different varieties and awesome homemade sauces to top it off.
Costa Rica
Puerto Viejo
Eat the World: Costa Rica! Here we'll cover the best places to eat in Puerto Viejo and what to eat in Viejo!
Puerto Viejo is a small community in southwestern Costa Rica, far away from all of the polished eco-adventure tourism. It has a Caribbean feel with many influences from Jamaican immigrants that arrived to work on the railway in Costa Rica. Costa Rican food in Puerto Viejo is typical coastal fare with lots of fresh fruit and seafood.
Rondon
It is a coconut based seafood soup. You can also find rondon in Nicaragua but it is a bit different in Puerto Viejo as it is spicy. Costa Ricans often use the Panamanian pepper in cooking, which is in the same family as the Scotch bonnet so it really kicks things up a notch.
Patacones
You can find these fried plantains in most Latin American countries. They are first boiled until soft and then smashed flat and deep fried. They can be tossed in salt and are also great with garlic.
Gallo Pinto
Gallo Pinto is the national dish of Nicaragua and Costa Rica, but often the Costa Rican version isn't simply rice and beans but also includes peppers, onions and sometimes fresh herbs. In Puerto Viejo it is more common to find a similar dish called rice and beans that also uses fresh coconut milk and it is divine.
Czechia
Prague
Eat the World: Czechia! Here we'll cover the best places to eat in Prague and what to eat in Prague!
Chlebíčky
Chlebíčkys are open-faced sandwiches that are traditional street food in Prague. A traditional Chlebíčky is topped with eggs, meats, cheeses, and vegetables. New modern twists on the sandwiches have also incorporated fruits and gourmet spreads. Due to the huge array of toppings, there are endless options which also include several vegetarian and vegan options. Chlebíčkys are also very affordable costing roughly $2 for a sandwich. In addition, there are numerous shops and vendors that offer these savory bites. My favorite shop to purchase these sandwiches is Lahůdky Zlatý kříž located in New Town. You definitely should indulge in this savory delight on your Praguevacation.
Guláš
A Czech household staple is the savory meat and potato dish Guláš, also called goulash. Goulash is a meat stew that is thick as gravy. Usually, pork or beef is used in the goulash giving the dish it's rich, hearty flavor. The stew is also served with dark bread or bread dumplings. Wash down the fulfilling meal with a robust Czech beer and you can almost consider yourself a local. This staple is easy to find all over Prague and most restaurants have their own unique twist on the traditional dish.
Smažák or Smažený sýr
If you're looking to indulge in a greasy appetizer that pairs well with the highly coveted Czech brews, Smažák is your ideal match. Smažák is fried Edam cheese. The cheese is coated in the same batter as schnitzel and then deep fried. The cheese is then served with tartar sauce. Again, this is a local favorite and is easy to find around the bustling streets of Prague.
Dutch Caribbean
Aruba
Eat the World: Aruba (Dutch Caribbean)! Here we'll cover the best places to eat in Aruba and what to eat in Aruba!
Although this Dutch Caribbean island might be best known for its white sand beaches and clear blue water, the fantastic local food in Aruba makes it a top destination for culinary travellers. And while Aruba boasts an international cuisine influenced by over 90 nationalities as well as fresh fish and tropical fruit, it's the island's unique and delicious desserts that really sets it apart from other Caribbean countries.
Aruban Desserts
Aruban desserts include a range of sweet confections but the top three desserts to try on a visit to Aruba include cocada (a fudge-like candy made with grated coconut, brown sugar and lime juice), bolos ( layer cakes in flavours such as pistachio, cashew nut or eggnog) and Dutch pancakes, which, while not officially a dessert, are sweet and special enough to qualify as the perfect finale to a meal.
You can find these sweet treats among the more than 200 restaurants, cafes and snack spots throughout the island, but my favourite dessert on on Aruba was a delicious pan bolo, rich with plump raisins and topped with vanilla ice cream, served at Elements Restaurant at Bucuti & Tara resort.
Finland
Rovaniemi
Eat the World: Finland! Here we'll cover the best places to eat in Rovaniemi and what to eat in Rovaniemi!
Rovaniemi, Finland, is the capital of Lapland, and during your visit, you'll have the perfect opportunity to taste real Lappish food and immerse to the local culture through delicious dishes.
Contributor: Katalin @ Our Life Our Travel
Salmon Soup
Start your meal with a healthy salmon soup. Salmon is a traditional element of Finnish cuisine and you can eat this simple soup throughout the year.
Reindeer Meat
In Lapland, reindeer meat is another must-try. It is served only on special occasions by locals, but your trip to Lapland is a good enough reason, isn't it? Reindeer steaks are delicious and served with baked potatoes and fresh salad or lingonberry sauce.
Finnish Cheese (leipäjuusto)
For dessert, I recommend the classic Finnish cheese (leipäjuusto) with cloudberry jam. It's the rarest nordic berry but in my opinion the tastiest.
Restaurant Nili is a reputable high-end restaurant in the city center for tasting local food. Their menu slightly changes seasonally but guaranteed you find a variation of the above-mentioned dishes and you don't leave the place disappointed.
Georgia
Tbilisi
Eat the World: Georgia! Here we'll cover the best places to eat in Tbilisi and what to eat in Tbilisi!
Georgia (the country) is fast gaining a reputation as a food and wine-lover's travel destination. The country's location in the Caucasus, on the cusp of Europe and Asia, means that Georgian cuisine reflects a mix of Middle Eastern, Eastern European and Mediterranean influences.
The list of must-try Georgian delicacies to sample in Tbilisi, the country's capital city, is endless. Three dishes you absolutely can't leave without trying are Khinkali, Khachapuri, and Badridzhani Nigvsit. You'll find this trio on just about every restaurant menu in the city.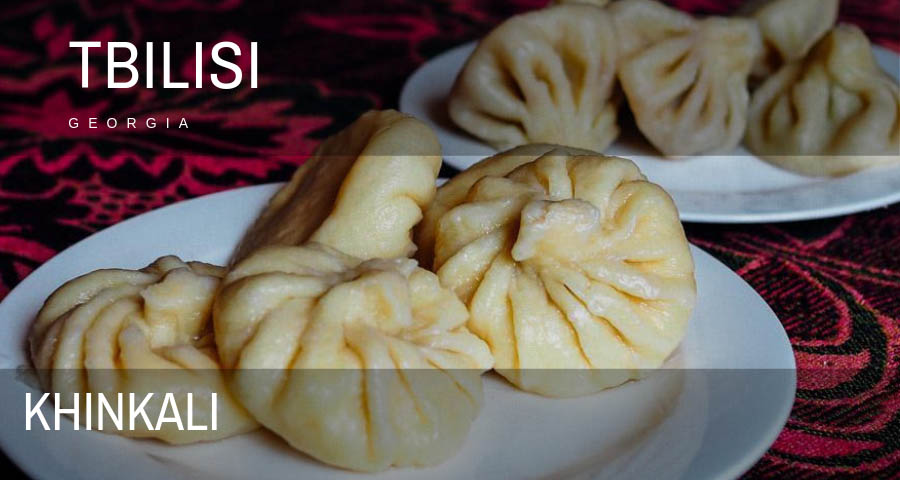 Contributor: Emily Lush / Wander-Lush
Khinkali
Khinkali, probably Georgia's most iconic dish, are boiled dumplings filled with either meat, potato, cheese, or some combination of all three. They're eaten in a very specific way: First, douse them with black pepper, then grab the khinkali by its doughy 'nob' and bite a small hole in the side to slurp out the steaming juices. My favourite khinkali in Tbilisi are served at Zakhar Zakharich.
Khachapuri
Khachapuri is another beloved Georgian dish. This boat-shaped baked dough is something like an open pizza. The most basic version is topped with cheese, but there are lots of variations. Adjarian khachapuri, a western Georgian delicacy, is served with molten cheese, an egg yolk, and butter.
Badridzhani Nigvsit
Badridzhani nigvsit (eggplant rolls) is the perfect Georgian side dish. Fried slices of fresh eggplant (aubergine) are spread with a garlicy walnut paste and rolled or folded into bite-sized pieces. My favourite eggplant rolls in Tbilisi come from Racha House, a homestyle restaurant close to the Ethnography Museum.
Thinking of booking a flight? You can get e-mailed price alerts from Airfare Watchdog when they see a great deal!
Germany
Munich (Bavaria)
Eat the World: Germany! Here we'll cover the best places to eat in Munich and what to eat in Munich!
When traveling in Bavaria, eating ALL the foods is a must! While it's hard to narrow down just what eats you should chow down on, in addition to the "classics" (you know, the Schnitzels, Currywursts, etc) there are some lesser known delicacies that are just as appetizing,
Contributor: LeAnna @ Economical Excursionists
Website: https://www.economicalexcursionists.com/day-trips-in-bavaria/
Connect: https://www.facebook.com/EconomicalExcursionists
Obatzda
Obatzda (and order a Brez'n with it!) can be typically found at most Biergartens, Obatzda. It'ss the perfect pairing to that smooth, German beer. Included with it is a soft cheese spread (usually a camenbert) with butter and paprika in a ball shape, served with sliced onions on top. Simply dollop it onto the bread or pretzel and enjoy!! You can order it as a (filling) appetizer and share with your table-mates or even just have it as your main meal.
Stuttgart
Eat the World: Germany! Here we'll cover the best places to eat in Stuttgart and what to eat in Stuttgart!
Stuttgart, Germany in southern Germany has a host of foods that are known throughout the Baden Württemberg region. Known for hosting the second largest beer festival in the world after Munich, Stuttgart has an abundance of great foods that goes along with not only beer, festivals, summer festivals, and especially winter Christmas markets.
Spatzle
A noodle dumpling like dish where flour is dropped into boiling water, spätzle is a well-known dish that can be eaten plain or with additional toppings. Cheese spätzle, or kase spätzle, is a very popular dish among children and at beer gardens and restuarants. Spatzle can be purchased at most German restaurants.
Bratwurst
The most famous food in Germany, the bratwurst is a sausage usually made of pork, and sometimes veal or beef. Provided with a bread roll, bratwurst is eaten all the time. It is easily available for purchase at outdoor vendors, food trucks and at nearly all German restaurants.
Schnitzel
A thin breaded meat, typically pork, veal and sometimes chicken, it is usually fried in oil and is served with a variety of side dishes including potato salad, fries, lemon or greens. It is one of the most quintessential German dishes and a staple of most diets.
India
Rajasthan
Eat the World: India! Here we'll cover the best places to eat in Rajasthan and what to eat in Rajasthan!
Rajasthan is not only known for its magnificent forts, camel safaris and tigers, but also for its fiery cuisine. Indian food is generally already considered spicy by standards of the Western palate, but even Indians think that Rajastani cuisine is spicy.
So if you can't handle the sweat-inducing, water gulping spice levels Rajasthani food, don't be afraid to ask for a mild version and additional yogurt or Raita to quench the fire on your tongue.
Laal Maas
Laal Maas is the signature dish to try when you are in Rajasthan, India. It will be part of every hotel buffet, every Rajasthani Thali and on every menu in every restaurant (minus the vegetarian restaurants of course). What is it? It is a lamb or mutton curry that gets its color from hot Kashmiri Chilis that are ground up and added to the sauce and a hint of smokey flavor by infusing the gravy with smoking charcoal before serving. It is usually served with rice or naan, as well as a variety of pickles, small shallots, and chutneys to cut the heat.
Gatte Curry
Gatta or Gatta curry is also a famous Rajasthani dish. Gatta are chickpea dumplings – a delicious, affordable, and vegetarian protein source that is doused with a delicious, creamy gravy made out of yogurt and spices. The dumplings are chewy and will fill you up fast (and usually cheap). You can eat it with parathas or steamed rice.
Kalakand
Indian deserts are usually super sweet and heavy, but Kalakand is more on the lighter side. It is made with milk, sugar, spices and nuts in any and all combinations. Fresh paneer is mixed and cooked with milk until its s thick, sweetened with powdered sugar, spiced with cardamom powder, formed into bars, and sprinkled with pistachios or nuts. These treats are best eaten fresh.
Jamaica
Kingston
Eat the World: Jamaica! Here we'll cover the best places to eat in Kingston and what to eat in Kingston!
There are a number of foods I would recommend to a first time visitor. However, if I had to narrow it down to three foods, my choices would be Jerk chicken/pork, Ackee and Saltfish, and Jamaican patties.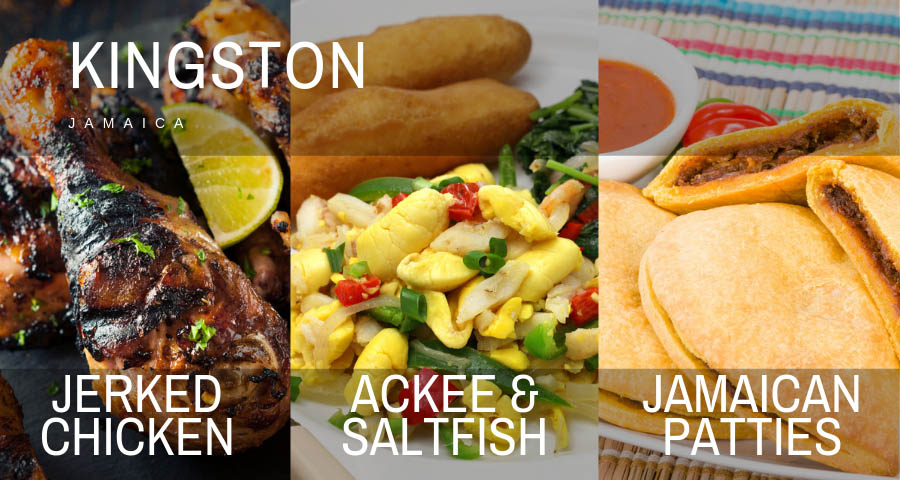 Jerk Meats
Jerk meats is one of the most popular foods in Jamaica. Chicken and Pork are the most popular meats used; however, other meats such as lamb, fish, etc. can be used. For this dish the meat is dry rubbed or marinated with a jerk sauce and then slow cooked over pimento wood. The best place to buy jerk is the Boston jerk center in Port Antonio. However, if you can't make the trek to the eastern end of the island you can purchase jerk at Scotches a popular jerk food chain.
Ackee and Saltfish
The second food on my list is Ackee and Saltfish. This is the national dish of Jamaica and it is usually eaten for breakfast. Ackee is a fruit that resembles scrambled eggs when cooked. The fruit is boiled and then cooked up with scotch bonnet, onions, tomatoes, black pepper, and saltfish. It is usually served with yam, green bananas, breadfruit, or johnny cakes. This dish is very common and most hotels and restaurants will have it on their breakfast menu.
Jamaican Patties
The third food on my list is Jamaican patties. This dish consists of a flaky pie crust filled with meat. The most common meat used in beef, but you can use other meat fillings such as shrimp or lobster. There are also vegetarian options that use ackee or callaloo. A few popular outlets for purchasing patties are Tastee or Juici. Charmaine-
Japan
Nagoya
Eat the World: Japan! Here we'll cover the best places to eat in Nagoya and what to eat in Nagoya!
Japanese food is famous all over the world for being one of the best cuisines in the world. But did you know that each region in Japan has their own local specialties that are worth checking out as well? In Nagoya, a city right in the middle between Tokyo and Kyoto you get to experience some of the best and most unique foods Japan has to offer.
Contributor: Lena @ Nagoya Foodie
Aka Miso
Red miso which is fermented much longer than regular miso thereby getting a much stronger taste. This miso is used in different dishes in the region. One of those dishes I highly recommend, especially in winter is Miso Nikomi Udon, thick white noodles served in an earthenware pot with different vegetables in a thick brown miso broth.
Tebasaki
Another specialty to be found in Nagoya are Japanese style chicken wings, called Tebasaki. The chicken wings are flavored with different spices and deep-fried twice to get the perfect outside cross/inside juicy combination that these chicken wings are so famous for. One of the best restaurants to enjoy Tebasaki is a chain called Sekai no Yamachan, which you can find all over Nagoya and even in some other cities. Tebasaki is a perfect dish to enjoy with some ice-cold beer.
Hitsumabushi
The number one food to try in Nagoya is called Hitsumabushi, freshwater eel grilled and served dipped in a rich and sweet sauce on rice. The dish has a more than 200-year long history and is a real delicacy. For this reason, it isn't all that cheap but definitely worth having the experience.
Jordan
Amman
Eat the World: Jordan! Here we'll cover the best places to eat in Amman and what to eat in Amman!
If you ever find yourself in Amman, Jordan (and you definitely should!)
make sure to check out the local cuisine.
Contributor: Eva @ Not Scared of the Jet Lag
Falafel
My favourite, so much so that I had it 2 times in 4 days, is Falafel and
Hummus at Hashem's. Yes, Falafel and Hummus doesn't sound special at all,
but you will never be happy eating it anywhere else again, because it is
just so good here. The restaurant is very understated with plastic chairs
and plastic tablecloths, but it is full with locals, which is always a
good sign.
Mansaf
The second dish you should try, is called Mansaf and is the Jordanian
national dish. It is said to be best at family dinners and parties, but
the Al Quds restaurant in downtown Amman has a very tasty version too. It
is a big chunk of lamb or mutton served on a bed of rice mixed with
spices, almonds and raisins and soaked in a sauce made from dried goat's
yogurt.
Knefe
The absolute number one dessert in Amman (even if only judged by the line
outside the shop) is called Knefe and the shop to get it at is called
Habiba. Knefe has a base of soft cheese covered with either pistachios or
a sugar crust and then drowned in sugar syrup. And please do yourself a
favour, do not try eating it after having Mansaf for dinner like I did, it
is just too much!
Malaysia
Kota Kinabalu
Eat the World: Malaysia! Here we'll cover the best places to eat in Kota Kinabalu and what to eat in Kota Kinabalu!
Malaysia is one of my favorite countries for food. It is a melting pot of flavors with its fusion of Chinese, Malay, and Indian cuisine. Whenever I visit Malaysia, I will visit my Uncle in Kota Kinabalu. He is more than happy to take me to eat his favorite local dishes.
Contributor: Burt @ Survival Fitness Plan
Claypot Chicken Rice
In this dish the chicken and vegetables are slow-cooked over a charcoal stove in a pot made of clay. This gives it a unique flavor and keeps it sizzling hot as comes to your table. It takes a little longer to cook and a little longer to eat due to the heat, but it is worth it for the taste.
Little Tenom in the suburb of Damai is a good restaurant to try Claypot Chicken Rice.
Hainan Chicken Rice
This is poached chicken over flavored rice usually served with chili soy sauce and cucumber. It is originally from Hainan in mainland China but thanks to the long tradition of Chinese immigration a variation of it is now a staple of Kota Kinabalu (and the rest of Malaysia). They call it Nasi Ayam which translates to chicken rice.
You can find the Malaysian version of Hainan Chicken Rice in almost any local restaurant.
ABC (AKA Ice Kacang)
ABC has a base of shaved ice, red beans, and sweet evaporated milk. Depending on where you get it from there are many other toppings such as sweet corn, jelly, ice cream, coconut, or peanuts.
This is also widely available, though one of my favorites spots to eat it is in Tanjung Aru Beach.
Melaka
Eat the World: Malaysia! Here we'll cover the best places to eat in Melaka and what to eat in Melaka!
Portuguese Tarts
These little custard tarts are not only delicious, but they also come with a historical story. They date all the way back to 1511 due to the Portuguese Empire influence. These tarts are all just the same as those made in Portugal, they are just much cheaper. They are creamy, slightly sweet and have a beautiful crispy pastry as a shell. You can find the absolute best Portuguese custard tarts at the Italy Bakery located at No. 590 Jalan Merdeka.
Kuih Keria Gula
Kuih Keria Gula is a weird but oddly delicious type of donut. It is made of sweet potato and covered in a thick crunchy glaze Malaysian palm sugar. These donuts are best eaten warm and it messes with your brain a bit as the sweet potato, whilst a touch sweet, is more of a savory food, whilst the thick crunchy sugar coating is super sweet! Whilst you can find these at the market in Jonker Street, the best Kuih Keria Gula can be found at Kuih Keria Antarabangsaw Hjh Rahman.
Klebang Coconut Shake
Another fabulous speciality that you HAVE to try in Melaka is their famous Coconut Shakes. They are made from coconut water, ice cubes, blended coconut shavings and ice cream. Oh my, it is so delicious, full of coconut-goodness and so super cheap! The best Coconut Shakes are located at Klebang Original Coconut Shake which is a 15 min ride out of town, but so worth it if you have some transport.
Penang
Eat the World: Malaysia! Here we'll cover the best places to eat in Penang and what to eat in Penang!
Penang is known as the food capital of Malaysia and it is maybe the best place to go in the world for great food especially if you love Malay, Chinese or Indian cuisine as all of this is done perfectly.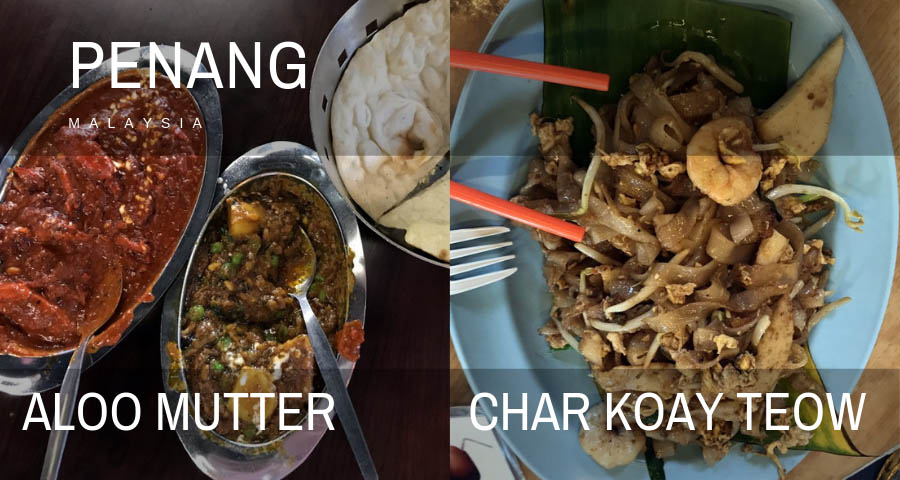 Contributor: Sharon @ Dive In To Malaysia
Char Koay Teow
Char Koay Teow means "stir fried rice cake strips" and it is one of the most iconic dishes in Penang. You will find it just about everywhere. This noodle dish involves frying noodles in pork fat with soy sauce, prawns, sprouts, eggs and some meat (often chicken but this varies). Usually a little bit of chili is added but it's usually very mild.The best place to eat this is at a night hawker centre, like Long Beach Kafe in Batu Ferringhi.
Aloo Mutter with Roti
There is some fabulous Indian food in Penang and you have to try it on your trip. The best is Aloo Mutter, a creamy, spicy vegetarian curry with potatoes and peas. Make sure you eat with roti bread. So good! The best place to eat Indian in Penang (and perhaps the world) is at Sri Ananda Bahwan, Tanjung Bungah.
Ais Kacang
Pronounced "ice kachang" and meaning ice bean, you won't want to miss the typical Malaysian dessert. It consists of shaved ice and red beans and whole lot of other things. Exactly what is on it will vary but it can include bright coloured, sweet toppings, coconut milk, corn, jelly, ice cream, fruit and more. It can sound disgusting but it's delicious.
Mexico
Mexico City
Eat the World: Mexico! Here we'll cover the best places to eat in Mexico City and what to eat in Mexico City!
Contributor: Mar @ Once In A Lifetime Journey
Tacos
Mexico is filled with delicious, mostly corn-based, foods that are popular throughout the world. One option for those who want something familiar when eating in Mexico City can opt for the simple taco. This Mexican food staple dates back all the way to pre-Hispanic times and Mesoamerican civilizations and comes from the nahuatl word tlahco, or half.
For those who don't know, the taco is basically a Mexican sandwich, a soft corn tortilla filled with any kind of meat, fish or vegetable and some condiments. They can be found as street food or at restaurants designated for them called taquerias. My recommendation for tacos in Mexico City is Tacos Los Callejeros, a taco place near downtown Mexico City where they serve lots of different types of tacos, have a huge range of toppings to add, and even some tortillas are made with blue corn. They also have a long list of aguas frescas to drink.
Huevos Divorciados
Foodies looking for the perfect breakfast option should try huevos divorciados (divorced eggs) which consists of two eggs, covered in either red or green sauce and separated by a line of chilaquiles, or fried tortilla strips, and then topped with grated cheese. If you like you can also add sprinkles of cream, onion, chilli and even mashed frijoles. And if this isn't enough, they also come with tortillas to make an egg taco! Try El Cardenal for the best huevos divorciados in town.
Guacamole
And when in Mexico, don't forget to try the guacamole which is smashed avocado with lemon juice, salt, chilli, coriander, tomato and chopped onions. It is fresh, deliciously creamy and usually made table side. Guacamole is good anywhere in Mexico, as they produce 45% of the world's avocados.
Nigeria
Ibadan
Eat the World: Nigeria! Here we'll cover the best places to eat in Ibadan and what to eat in Ibadan!
Ibadan city has some mouthwatering dishes you should try while you are away there. Here are 3 must try Restaurants & foods/meals that will leave your taste-buds dancing.
Contributor: Balogun @ Eco Pet Life
Beans & Dodo (Plantain), Fork & Knife, Iwo road
Fork & Knife food place is situated at Iwo road. The chefs here offer meals like the popular Nigerian Jollof rice, Fried rice, Beans and dodo (plantain) and plenty more.
Whichever you order, you'd be wanting more!
Amala – Local Buka, Bashorun way
Colored black, this Ibadan popular dish will leave your mouth watering and your throat sending more and more wraps down without much effort.
It gets better when paired with Gbegiri, Ewedu, Shaki, Tinu Eran, and a cold bottle of soft drink.
Semo, Ventura, UI Road
Heavenly white manner from the depths of an African pot, this is sure to wow and delight you.
Tastes as expected – a delicious lump of goodness carrying with it essential nutrients and diets.
Lagos
Eat the World: Nigeria! Here we'll cover the best places to eat in Lagos and what to eat in Lagos!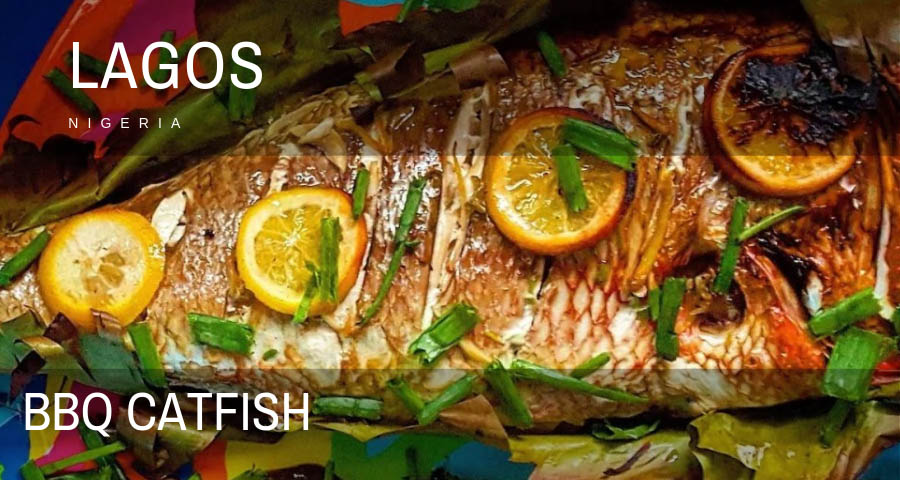 Barbecue Catfish
The Barbecue Catfish is a delicacy that is certain to take your love for Catfish to an addictive level. The peppery and spicy taste of the dish leaves your taste buds wanting more.
The BBQ catfish is made by inserting a whole full-length catfish into a mixture made with cayenne pepper, lemon juice, Capers, onions, mustard, mayonnaise, chicken cube, salt and vegetable oil. After properly coating the fish in the mixture, the Catfish is then Oven-Cooked for 40 minutes and then Garnished with fried Potatoes and Cabbage
The Sky Restaurant at the Eko hotel is one of the best places to eat Barbecue Catfish. The Restaurant is one of the most highest and unbeatable Restaurants in the States which serves not only African dishes but Asian, European and North American cuisine.
Peru
Lima
Eat the World: Peru! Here we'll cover the best places to eat in Lima and what to eat in Lima!
Contributor: Natasha @ And Then I Met Yoko
Ceviche
Ceviche is the perfect dish for people who enjoy seafood and acidic
flavous. It's made with raw fish, lime or lemon and sometimes onions, cilantro
and spices. In Peru it's commonly served with sweet potatoes. The sorcery
behind ceviche is that the acid from the lime/lemon ends up cooking the fish,
turning it from its raw pinky state to white. Lima is the best place for ceviche
simple because it's the largest city on the coast so the fish is freshest here. Most
good restaurants serve fresh fish, caught that morning so it's best enjoyed at
lunch. For amazing ceviche try La Mar in Miraflores.
Anticuchos
Like any great city, Lima has delicious street food. One of my
favorites are anticuchos. Street vendors will marinate their meat throughout the
day so that it's flavorful when cooked. The marinade is made up of vinegar and
local spices like aji pepper, garlic and cumin. It's possible to get anticuchos as
different types of meat but the most common is beef heart. Don't be grossed out.
It tastes just like steak only the texture is a bit smoother.
Nikkei
In Lima there is a large population of Japanese-descent Peruvians. This
gave birth to Nikkei cuisine – a Japanese-Peruvian fusion. One of the best
restaurants in Lima for this is Maido. It ranked #7 in 2018's World's Top 50 Best
Restaurants. Here you can experience a Nikkei tasting menu or enjoy a more
laid-back, a-la-carte meal at the bar.
Check out this guide for the ultimate 2-week Peru itinerary. It covers places to
eat in Lima and other cities throughout the country.
Poland
Poznan
Eat the World: Poland! Here we'll cover the best places to eat in Poznan and what to eat in Poznan!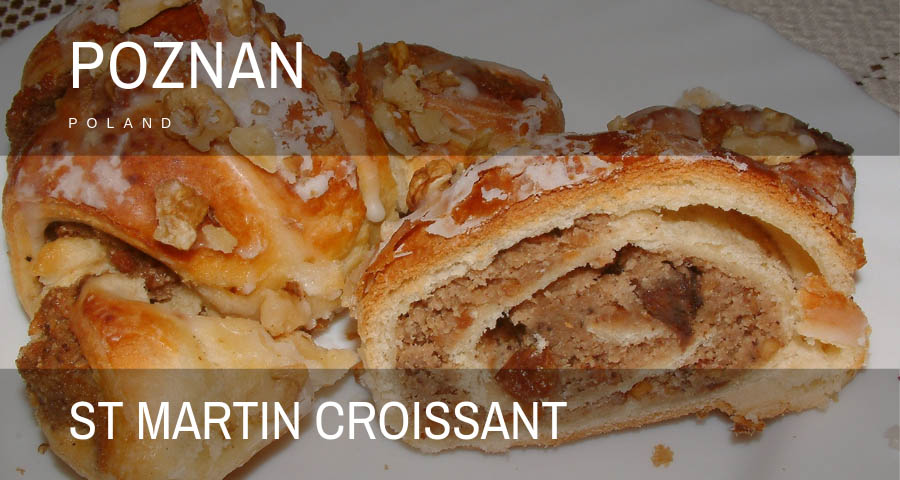 St Martin Croissant (rogal świętomarciński in Polish)
A croissant with white poppy seed filling typically prepared for St Martin's Day (11th November). Nowadays, it is available in the city center all year round, however, the original ones can only be bought in the pastry shops with a special certificate, since the St Martin croissants are registered under European Union Protected Destinations of Origin.
Pierogi
Typical Polish dumplings with all kinds of fillings (also sweet). The most popular ones are:- with meat (pierogi z mięsem)- with cabbage and mushrooms (z kapustą i grzybami)- with white cheese and potatoes (ruskie)- with sweet white cheese (z serem)- with blueberries (z jagodami)
You can find them in any restaurant serving Polish food, however, if you find a place called Pierogarnia then it's a place that specializes in pierogi and you can find a wider variety of fillings there.
Pancakes with sweet white cheese (naleśniki z serem in Polish)
The most popular way of serving pancakes in Poland is with fresh white cheese mixed with egg yolk and sugar. Sometimes it's also topped with sweet cream and/or some fruits. Some restaurants have it as dessert, however, it's best to find a place called Naleśnikarnia. You will find a wide variety of pancakes there.
Warsaw
Eat the World: Poland! Here we'll cover the best places to eat in Warsaw and what to eat in Warsaw!
Poland is one of our favourite places in the world when it comes to food and no matter where in Poland you are, you will find some traditional favourites to enjoy. However like most capital cities, Warsaw is a foodie delight, with endless options for delicious foods and drinks all around the city.
Contributor: Holly Connors
Pierogi
Without a doubt, the number one food you must try in Warsaw is Pierogi. Pierogi are Poland's version of dumplings and can be either filled with potato, mushroom or ground meat typically. You can also get dessert pierogi with fruit filling. They can be cooked several ways with steamed being a popular option or fried. Personally, I love mine fried with bacon and onion.
Bigos
Bigos is another Polish tradition that you must try. It is a meat and cabbage stew, flavoured with herbs and very hearty for the cold weather months.
Gofry
Follow up your Warsaw feast with one of Poland's best desserts. Personally mine would be a gofry with Nutella and cream from a street food vendor. They are waffles loaded with toppings of your choice. For my husband, who happens to be Polish, it will always be pączki, a jam filled donut. You can't really go wrong either way.
There are some great restaurants right in the centre of Warsaw's old town, however like every city centre, expect to pay a little more. Walk a few blocks away and find cheaper prices and food just as good though. Market food is always a great option too if you are visiting at the right time!
Thinking of booking a flight? You can get e-mailed price alerts from Airfare Watchdog when they see a great deal!
Portugal
Lisbon
Eat the World: Portgual! Here we'll cover the best places to eat in Lisbon and what to eat in Lisbon!
The food scene in Lisbon is amazing. Here are three Portuguese dishes you must eat while there.
Bacalhau
Bacalhau is dried and salted cod. Super popular here and a dish prepared with it is on just about every menu. It's said that there are as many ways to prepare bacalhau as there are days of the year.
During our recent trip to Lisbon, we ate bacalhau fritters a couple of times. This is a simple dish of bacalhau mixed with potatoes and seasonings and deep fried. Surprisingly delicious! Our favorite version of the dish was at Tidbit located in the Barrio Alto area of the city.
Bifana
Bifana is another staple of Portuguese cuisine. Portugal's version of fast food is available at any café.
Thin pork cutlets are marinated and served on a roll with mustard creating a sandwich that is perfect paired with a beer. Or as is often the case, eaten after consuming one too many beers! Again, simple and delicious.
Pasteis de Nata
Pastries in Portugal are incredible! Bakery cases are piled high with tantalizing pastries. But the granddaddy of pastry here is Pasteis de Nata. We couldn't resist them and ate a few everyday. They are addictive!
A flaky, crispy puff pastry shell is filled with smooth as silk custard and then dusted with a sprinkling of cinnamon. Eating a warm Pastel de Nata is a spiritual experience. Upon taking a bite, the roof of your mouth tingles from the sugar, the warm custard melts, and the crunch of the delicate pastry combine to make a perfect bite.
A must-eat dessert when visiting Lisbon, Pasteis de Belem is the most famous place to buy them but they can be found in bakeries throughout the city.
Porto
Eat the World: Portgual! Here we'll cover the best places to eat in Porto and what to eat in Porto!
Francesinha
If there's one dish that Porto has well and truly claimed as its own, it's the Francesinha. This hefty hot sandwich is based on a croque monsieur but taken to a whole new level.
The Porto version is stacked with minute steak, sliced sausage and ham then covered with a layer of sliced cheese and popped in the oven to melt the cheese. Before serving, a rich beer and tomato sauce is poured all around it. Serve with a portion of fries and you have a meal that Porto locals go nuts over.
Warning – servings are HUGE so it's not a bad idea to share one if you're going to try it. Lots of restaurants lay claim to the 'best Francesinhas' and locals will all have their go to restaurants so ask around. I liked the one from Levare Brew Pub – they use their own craft beer in the sauce.
Fresh Grilled Fish
A far healthier alternative would be fresh grilled fish. With Porto's proximity to the Atlantic, there is no shortage of fresh fish and seafood. You don't have to leave Porto to get this dish but if you want to take your pick from a string of restaurants with outdoor grills and the catch of the day on display, head for the fishing village of Afurada just across the Douro River from Porto or the neighbouring town of Matosinhos.
Morcela
If smoked meat products appeal to you, I suggest you try morcela, which is a blood sausage, some versions of which contain rice. This needs to be cooked before serving and is very rich so you wouldn't want a whole one to yourself. When served on a bed of apples or even pineapple to counterbalance the flavours, a good quality morcela is delicious. Try it at De Castro Gaia restaurant in Espaço Porto Cruz.
Slovenia
Lake Bled
Eat the World: Slovenia! Here we'll cover the best places to eat in Lake Bled and what to eat in Lake Bled!
Slovenia is known for their delicious cakes. They've really made an art of dessert. The most famous type of cake in the country is probably the Bled Cream Cake.
Contributor: Mel @ Traveling Mel
One of the best things to do in Lake Bled is visit the Park Restaurant and Café on the shore of Lake Bled and order the Original Lake Bled Cream Cake. Park Restaurant and Cafe is the birthplace of this symbol of Bled cuisine. Even today, they continue to make the cream slice following the original recipe, which has not changed in decades.
The recipe was invented by Ištvan Lukačević. He modified an old Vojvodina recipe for cream slices to make a light and delicate dessert. The original Bled cream cake is recognized as a dish with a protected designation of origin.
My second favorite place to get the cake is at the Bled Castle on the other side of the lake. The bonus to eating cake here is that if you make a reservation for the restaurant, you can get into the castle for free.
South Africa
Cape Town
Eat the World: South Africa! Here we'll cover the best places to eat in Cape Town and what to eat in Cape Town!
Want to explore the Mother City, Cape Town? It's a melting pot of different cultures and, obviously, that means delicious types of food are on offer. However, if hard-pressed, there are only 3 must-eat foods to try: bunny chow, braai and bobotie!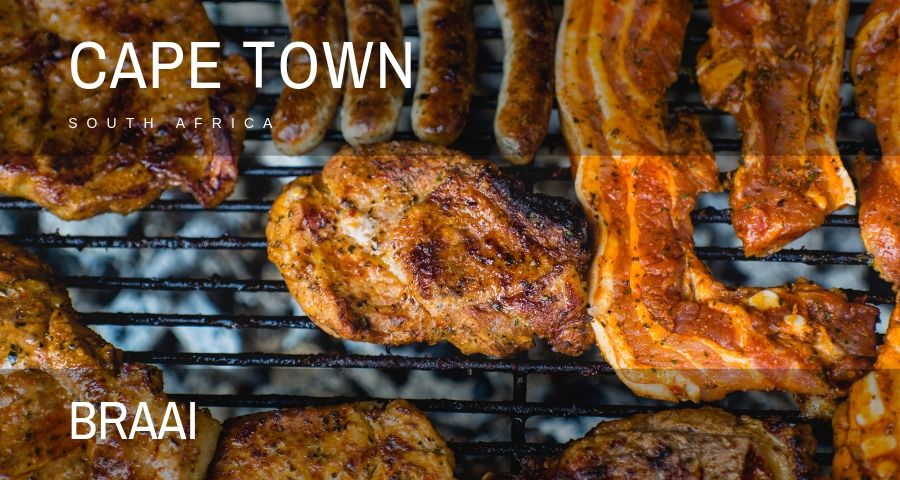 Contributor: Lee from The Travel Scribes
Bunny Chow
Technically better known out of another South African city, Durban, the bunny chow is a local invention that borrows from Indian cuisine. Essentially a half loaf of white bread, it's hollowed out and filled with delicious curry! The curry is usually inspired by either Malaysian or Indian food; both of which have had a heavy influence on South African palates. The best place to find it? The street corners of Bo-Kaap in the Cape central business district – just find a corner stand and eat it!
Braai
The South African term for 'barbecue' or 'grill', the braai is so famous that it even has a national holiday, National Braai Day 😊. People in South Africa love to come around an open fire, with various meats in hand, to have a bit of conversation; usually over a brandy and coca-cola, or an ice-cold beer. The braai, however is not just about grilled sausages and beef fillet, but usually is accompanied by very local accompaniments – potato salad, green salad, 'pap' or 'braai broodjies' which are toasted sandwiches. If you're looking for a very authentic braai, head to Mzoli's; located in a township.
Bobotie
Another Malaysian influence, Bobotie is a mix between a casserole and a curry. Traditionally served with yellow rice, it's a sweet mince and fruit dish with a creamy golden topping that will have your tastebuds soaring! There is only one place that you MUST go to eat it: Bismallah restaurant.
South Korea
Seoul
Eat the World: South Korea! Here we'll cover the best places to eat in Seoul and what to eat in Seoul!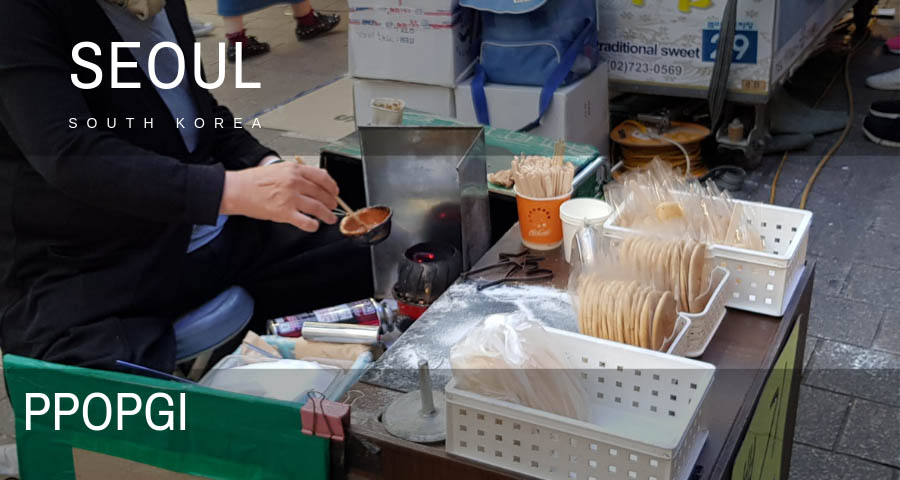 Contributor: Marie @ Be Marie Korea
Myeongdong Night Market, Seoul, South Korea
Korea is a country of amazing dishes and restaurants, to truly experience Korean food, you have to try street food snacks at one of the markets. The best things to try are odeng, ppopgi and tteokbokki. These are 3 traditional Korean street food snacks.
All of these snacks can be found at any market or street food market, but the most popular place to get these snacks is at Myeongdong night market. Every evening around 4 pm the market opens and over 200 stands sell a different snacks.
Odeng
Odeng is a kind of fishcake, you can find it at any street food card or even in underground subway stations. Fish cakes or odeng is served on a stick together with a cup of broth.
Ppopgi
Ppopgi is a traditional Korean sweet, young kids used to buy if after a long day of school. It is made baking soda and sugar and is sold in different shapes.
Tteokbokki
The last must try Korean street food snack is Tteokbokki, made of rice cakes, boiled eggs and a red spicy sauce. It is the perfect Korean snack for on a cold winter night.
Spain
Barcelona
Eat the World: Spain! Here we'll cover the best places to eat in Barcelona and what to eat in Barcelona!
If you ever happen to be in Barcelona, please don't fall for the usual tourist-trap combo of paella plus sangria. Sure, they are delicious, but they are typical from other places in Spain, so if you're interesting in getting to know the local gastronomy, having paella and sangria is the culinary equivalent of any of the international cuisine options I give on my blog A Fork on the Road.
Contributor: Iris @ A Fork On The Road
What you really want to try while in Barcelona are, among other delicacies, these three treats that could conform a three-course meal:
Escalivada
For your veggie starters, go for the escalivada. Fresh eggplant, red pepper and onions roasted and coated with golden olive oil. It's often served with anchovies and their famous pà amb tomàquet, toasted bread with garlic and grated tomato.
Fricando
For your main dish, you won't regret having fricandó (that is if you're not a vegetarian, of course). It's a rich, traditional stew. A beef steak is thinly sliced and covered in a tasty sauce made from vegetables, almonds, and native mushrooms, like ceps or rovellons.
Crema Catalana
For dessert, the crema catalana is, without a glimpse of hesitation, the queen of Catalan desserts. It's a creamy custard with caramelized sugar on top. One of the most sublime pleasures on this earth is to break that upper layer of sweetness.
Don't forget to rinse it all with homemade vermouth with olives! Nothing to do with the commercial brands, believe me. And, if you really want to try a good paella, just take a train south and in a couple of hours you will be where the yellow rice magic happens: Valencia.

Valencia
Eat the World: Spain! Here we'll cover the best places to eat in Valencia and what to eat in Valencia!
Contributor: Laura @ Travelers Universe
Paella
Paella might be Spain's national dish, but it was first cooked in Valencia and as you'd expect, there are hundreds of restaurants serving this delicious dish all over the city. For the best paella, however, you should either head on over to the beach (most beachfront restaurants serve an exquisite paella!) or to El Palmar, a tiny village a few kilometers south of the city. Paella is usually eaten for lunch, so after a quick siesta and a bit more sightseeing, it's time for a refreshing glass of horchata.
Horchata
This vegan milk made from chufa (aka tigernuts) is the perfect pick-me-up in mid-afternoon. It is sweet and comforting and best enjoyed on a nice terrace in the Old Town. My favorite place is a specialist horchateria called Daniel. You can find them in Mercado de Colon (Columbus Market), a magnificent modernist building that was recently transformed into a gastro market. The lively atmosphere and excellent culinary offers make this one of my favorite places to visit in Valencia whenever I want to relax and unwind!
Dulce De Leche
To satisfy my sweet tooth, I always seem to find my way back to Dulce de Leche, a delicious place that serves dozens of scrumptious cakes, one more mouth-watering than the other. They have a few boutiques around the city and many of their cakes are made with dulce de leche, a butterscotch-like sauce make with sweetened condensed milk. But I also recommend you try their meringues and cheesecakes – they really taste like heaven!
Sweden
Stockholm
Eat the World: Sweden! Here we'll cover the best places to eat in Stockholm and what to eat in Stockholm!
Contributor: Mal @ Raw Mal Roams
Fika
Fika is the most popular Swedish pastry. It's a cinnamon bun that is eaten for breakfast with a coffee. They are sold everywhere in Stockholm- in cafes, deli shops, airports and train stations. The place I recommend is Naturbageriet SATTVA located in Gamla Stan just a few minutes' walk from the Royal Palace. It's a little cosy vegan bakery and a cafe.
Meatballs
You can't leave Stockholm without eating the famous Swedish meatballs. The meatballs come accompanied with mash potatoes, gravy of sort and cranberry. One of the most famous places to try them is Meatballs for the People. What's great is that they also have a veggie option so if you don't eat meat like me you can still enjoy this Swedish staple. And if you're on a budget, head to the nearest IKEA. They meatballs taste awesome and they're an absolute bargain! Veggie option also available here.
Yellow Pea Soup and Pancake
This Sweden Thursday favourite is an equivalent to curry Thursday in the UK! It's very traditional, home cooked. This dish is made of dried peas, garnished with fresh thyme and mustard. The soup is followed by pancakes served with whipped cream and berry jam. This dish actually reminds of my childhood in Poland! One of the places you can eat this Swedish delicacy is Under Kastanjen, situated in GamlaStan.
Taiwan
Taipei
Eat the World: Taiwan! Here we'll cover the best places to eat in Taipei and what to eat in Taipei!
Taiwan has some of the best food in the world! I'm currently living in Taipei (Daniel @blorg.org) because I can't get enough of all the food. You can get amazing food from fine dining or from street food.
Fuzhou Black Pepper Bun
Fuzhou black pepper buns are legendary! For less than $2 USD, you can have this delicious Taiwanese street food. The outer crust is like a pastry, while the inside is like a pork hamburger full of black pepper and scallions. It requires a Chinese oven to make so it's very rare to find places serving up a black pepper bun.
Master Spicy Noodle
If you want to get the best beef noodle soup in Taipei, Master Spicy Noodle does a modern take on it. It is extremely delicious! The noodles alone, are the best noodles you'll ever have! Wait times can be 1-2 hours so if you want to save time, get here at the beginning or end of the day!
Tofu Ice Cream At Soypresso
I don't eat tofu often because I don't like it. BUT, Soypresso makes a delicious tofu ice cream! It's vegan and lactose friendly and healthier than your standard ice cream. What does that mean? Since it's healthier ice cream, I'll eat more of it!
They also serve up traditional Taiwanese desserts and they have soy milk on tap! Prices at Soypresso are very affordable at about $2 USD for most items.
Thailand
Bangkok
Eat the World: Thailand! Here we'll cover the best places to eat in Bangkok and what to eat in Bangkok!
Bangkok, the capital city of Thailand, is teeming with restaurants and stalls serving local dishes as well as fusion and international cuisine. It is not a surprise that it within this city that dessert is re-defined.
Contributor: Karolina @ Karolina Patryk
Thai Ice Cream
Quite popular on Instagram are Bangkok's innovative ice cream shops that have changed the way this creamy treat is served. Instead of the usual round scoops, the famous Thai ice cream that has taken the Western world by storm takes the form of dainty rosettes decorated with syrup, whipped cream, berries, and other toppings. Instead of being scooped out of a tub, the ice cream is made by pouring its liquid form on an ice grill (that is below freezing) and is rolled into dainty rosettes.
Sticky Rice and Sweet Dumplings
Aside from this new ice cream trend, the traditional Thai desserts have changed the role of rice in a meal. In Bangkok, it also has a place in the dessert menu in the form of sticky rice and mango and sweet dumplings. Before you wrinkle your nose at the thought of eating rice for pudding, head to one of the oldest mango sticky rice shops in Bangkok, Mae Varee, and taste the creamy, coconut-flavoured rice dessert topped with sweet mangoes. Then, have a nice, hot bowl of sweet, coconut soup filled with bobbing sticky rice dumplings.
United Kingdom
Cambridge
Eat the World: United Kingdom! Here we'll cover the best places to eat in Cambridge and what to eat in Cambridge!
Steeped in history, the beautiful university city of Cambridge attracts millions of students and tourists each year. This buzz of culture is being reflected in the rapidly growing food scene, as many new independent businesses are choosing to open their doors (and food truck hatches) here. I am focusing on three of the must have desserts whilst in the city.
Reviewers are raving about recently opened 'Parkers Tavern' where chef Tristan Welch offers 'unpretentious British food with eccentric twists". This lively art deco style restaurant is a fabulous choice for any time of day. Try the amazing Duke of Cambridge Tart; a deliciously crafted tart with a candied citrus and brown sugar centre- this really can't be missed.
Chelsea Buns
Head to Fitzbillies and try one of their famous Chelsea buns. These Chelsea buns have been a local treasure made on the premises since 1921-sticky, soft and sumptuous. I have heard that warming them for a few seconds made them even more heavenly. Boxed beautifully, you can also pick some up as a gift for a loved one- or yourself!
Chelsea Bun Gelato
Imagine the taste of some of that delicious Chelsea bun in an ice-cream? Well Jack's Gelato has turned fantasy to reality and offers 'Chelsea Bun' as one of their wonderful gelato choices. Jack has a huge selection of gelatos and sorbets which are made by hand in small batches using organic, Fairtrade ingredients. Flavours include pumpkin seed brittle, salted liquorice, and crowd pleasing chocolate recipes. Find the shop on Bene't Street and peruse the blackboard which shows the flavours of the day.
Cambridge is a must visit for a food-filled trip.
Thinking of booking a flight? You can get e-mailed price alerts from Airfare Watchdog when they see a great deal!
Cardiff
Eat the World: United Kingdom! Here we'll cover the best places to eat in Cardiff and what to eat in Cardiff!
What better place to taste traditional Welsh food than in the heart of the Welsh capital city, Cardiff?

Cardiff city centre is home to a range of restaurants and cafes spanning different cuisines but if you're visiting the city for a holiday or short break, I recommend prioritising the traditional local cuisine.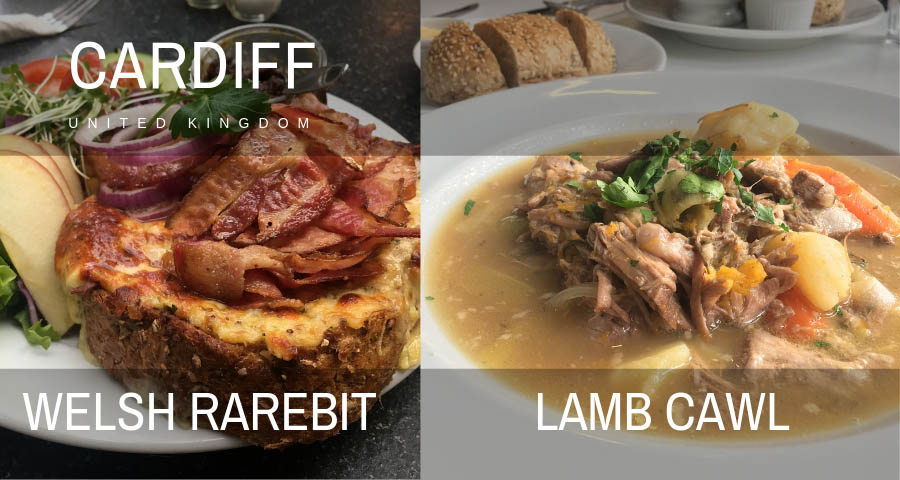 Contributor: Kacie @ The Rare Welsh Bit
Welsh Rarebit
An absolute must-eat dish is Welsh rarebit! There's no better place to eat this mustardy, beer-infused take on grilled cheese on toast than at Madame Fromage – a cosy little deli in Castle Arcade (opposite Cardiff Castle) serving mouthwatering Welsh and French classic cheesy dishes.
Welsh Lamb Cawl
Meanwhile, head over to Milk and Sugar in the Old Library on the Hayes and tuck into a bowl of hot, hearty Welsh lamb cawl, served with hunks of pillow-soft bread.
Welsh Cake
After all that savoury food, you might be craving something sweet. Pop into Cardiff Indoor Market and make a beeline for Cardiff Bakestones, where you can pick up a hot Welsh cake baked fresh on a traditional bakestone. If you have room in your suitcase and plan on returning home soon, you might want to buy some to take home with you as edible souvenirs!
United States
Chicaco, IL
Eat the World: United States! Here we'll cover the best places to eat in Chicago and what to eat in Chicago!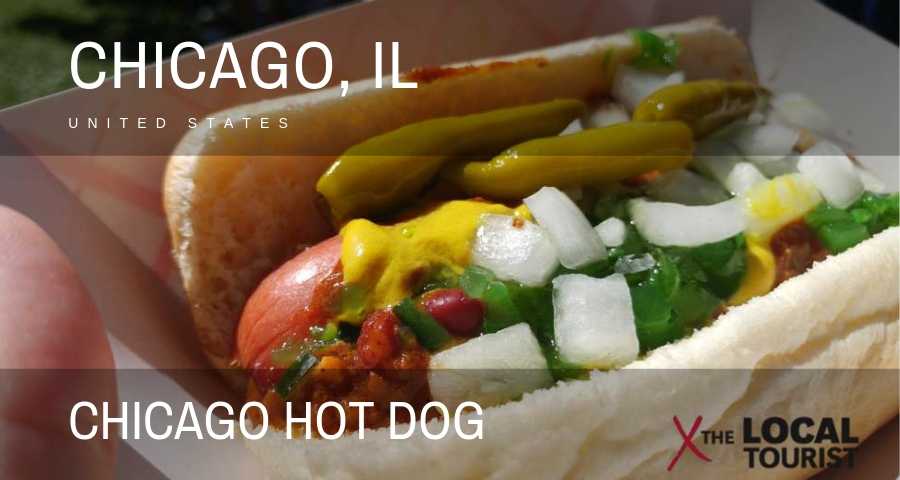 Contributor: Theresa @ Two Lane Gems
With its plethora of Michelin-starred restaurants and James Beard Award-winning chefs, there's no denying that Chicago is a city filled with tasty culinary options. However, some of its best, and most popular, cuisine, is a bit less high-brow. In addition to molecular gastronomy and creative farm-to-table restaurants, the Windy City is also known for hot dogs, deep dish pizza, and Italian beef.
All Beef Hot Dog
Both Chicago-style hot dogs and Italian beef can be traced back to the Great Depression. The first, an all-beef dog topped with fresh ingredients and neon relish (but never ketchup!), was an easy way to add vegetables to the diet.
Italian Beef Sandwich
Italian beef is a sandwich piled high with tender, savory meat prepared using a cooking method that made cheap cuts of beef palatable. You can an all beef hot dog and Italian Beef sandwich at Portillo's.
Deep Dish Pizza
Deep Dish Pizza is another Chicago staple. This decadent style of pie is filled with cheese and boasts a crust that can be up to three inches tall on the sides. It was invented in the 1940's, and it's been delighting locals and tourists ever since. Favorite spots for deep dish are Pizzeria Uno, where it began, Gino's East, and Pequod's.

Los Angeles, Ca
Eat the World: United States! Here we'll cover the best places to eat in Los Angeles and what to eat in Los Angeles!
Los Angeles is an absolute melting pot of cultures and food. If you know where to look, you can experience the best food in Los Angeles! Contributed by Daniel, here at blorg.org. These are my top 3 places to eat in Los Angeles!
Howlin' Ray's Fried Chicken
Howlin Ray's Fried Chicken Sandwich (The "Sando" on the menu) is the best fried chicken sandwich you'll ever have! Located in a plaza in China town, typical wait times can be between 2-4 hours just to get a meal here! They're open from 11am-7pm every day and close when they run out of chicken.
You'll find that the Howlin' Rays fried chicken is full of flavor and you can modify it to your spicy preference. For optimal flavor, you'll need to eat the chicken sandwich within 20 minutes of receiving it! If you take any longer, the sandwich loses it's crispness. Super crispy on the outside while being super juicy on the inside. I don't like pickles, but it comes with super crisp and flavorful pickles that balances out everything in the sandwich.
Los Angeles Mexican Food at Salsa & Beer
The best Mexican Food in Los Angeles can be found at Salsa & Beer; Authentic, full of flavor, generous portions and most meals cost less than $10 USD. Wait times can be between 1-2 hours depending on when you go. If you're traveling as 1 or 2 people, take a seat at the bar and skip the wait!
My favorite is the spicy green burrito. They used to have chimichangas on the menu (deep fried burrito) but have removed it. If you're feeling crazy, ask them to deep fry your burrito. The contrast of crispy, soft and juicy textures will take you to food heaven.
Korean BBQ at Kang Ho Dong Baekjeong
The best korean BBQ in Los Angeles can be found at Kang Ho Dong Baekjeong in LA's Koreatown (K-Town). This is the best Korean BBQ for quality and price. The staff cook all the meat for you to ensure the meat is cooked perfectly! It's a chain restaurant so you'll be able to find Kang Ho Dong Baekjeong in several other parts of LA and around the world! Be sure to get the marinated short rib and brisket!
The wait times at Kang Ho Dong Baekjeong Los Angeles can be between 1-2 hours at night. Their open for lunch and there's almost no waiting time during the day.
Memphis, TN
Eat the World: United States! Here we'll cover the best places to eat in Memphis and what to eat in Memphis!
It's no surprise that when you think of Memphis, Tennessee, you think of good food…especially BBQ. However, good BBQ is easy to come by in Memphis, so we'll go over a few other foodie-loving restaurants.
Contributor: Jaemye @ Time Zone Travelers
Omelettes
Brother Juniper's: Not only has this restaurant won awards for best breakfast in Memphis, but it as won awards for being the "Best Breakfast in the Nation." Earning itself a spot on the "must eat when in Memphis" list.
Avocado Toast
Edge Alley: If you're a fan of avocado toast, premium coffee, and an atmosphere that can't be beat, then you need to head over to Edge Alley. Just note that they're closed on Mondays.
Banana Pudding
Makeda's Cookies: If you're looking for THE best Southern dessert, then head right on over to Makeda's for her amazing banana pudding. This is a banana pudding that you've never experienced. In place of wafer cookies, she uses her famous butter cookies as the crumble. It's one block away from Central BBQ, so after you finish us a plate of pork, walk over and grab yourself the dessert of a lifetime!
Memphis, Tennessee is known for all of it's amazing restaurants, so you won't have a problem fulfilling your foodie dreams in this lively city!
New York City, NY
Eat the World: United States! Here we'll cover the best places to eat in New York City and what to eat in New York City!
Eat the world New York City! The best food in the world from one of the greatest cities in the world. New York City has plenty of great classic desserts (New York cheesecake, anyone?), but there are modern dessert crazes from NYC that you have to try.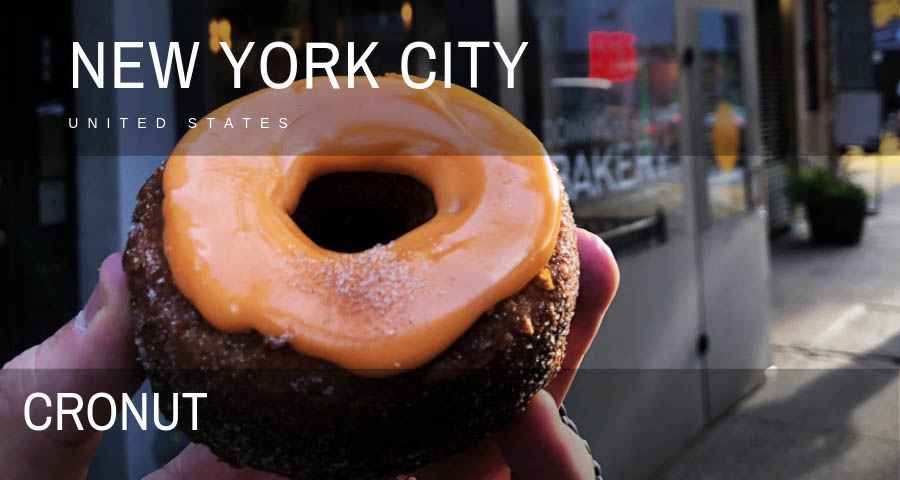 Contributor: James Ian at Travel Collecting
Cronut
You can find these elsewhere nowadays, but they were invented in Soho, New York City, and the Dominique Ansel Bakery original is still the best. As the name implies, it's a cross between a croissant and a donut. It's the shape of a donut but has the texture of a croissant, and is filled with a flavored creme and topped with ganache like a donut. It's everything you expect and more! The combination of flaky pastry and delicious flavored crème is heavenly. The flavors change every month.
Cookie Dough
Second is cookie dough at DŌ. Of course, cookie dough is not a new thing, but a whole shop dedicated to different flavored dough served in scoops like ice cream? Well, that has tourists lining up around the block in Greenwich Village. The dough is very rich and kind of heavy, so one or two small scoops is all you need. In case you're worried, it's perfectly safe, as the eggs are pasteurized. It is worth the wait.
Crack Pie
Finally, Crack Pie is as addictive as… well, you get the idea. Created by the celebrity chef of Momofuku's Milk Bar, Christina Tosi, a slice of this sugary, buttery pie will have you coming back again and again to feed your new addiction. There are several Milk Bar locations around the city.
Typically, you will walk a lot sightseeing in NYC, so you can try all three of these fun desserts guilt-free!
St. Louis, MO
Eat the World: United States! Here we'll cover the best places to eat in St. Louis and what to eat in St. Louis!
Contributor: Jess & Ron @ Unearth The Voyage
When you think of St. Louis, Missouri- most people don't think that it is a place to go to try unique, delicious food. Although, this is quite the opposite of what St. Louis has to offer! Besides being a great place to live, explore, and taste lots of different local beers, St. Louis also has some pretty amazing food!
Toasted Ravioli
The first thing that is unique to just St. Louis is toasted ravioli. Toasted Ravioli is just like ravioli- but it is toasted and crunchy instead of like pasta! People dip it in marinara sauce and you can enjoy it with a cheese filling or a ground beef filling. The best place to try toasted ravioli is definitely at one of the best restaurants in St. Louis Charlie Gitto's on "The Hill."
Gooey Butter Cake
Another classic staple of St. Louis food is gooey butter cake. Gooey Butter Cake is only found in St. Louis and it's a mix between a cheesecake and a coffee cake! One of the best restaurants in St. Louis to try gooey butter cake has got to be at Park Avenue Coffee in Lafayette Square.
St. Louis Style Pizza
The third best thing to eat in St. Louis has got to be St. Louis style pizza. What makes a St. Louis style pizza so special is that the cheese is made from provel, a mixture of provolone, cheddar and swiss cheeses. One of the best restaurants in St. Louis, Imo's Pizza, is a classic place to get take-out St. Louis style pizza (and can be found on every corner) and it is a must try when visiting the city.
Thinking of booking a flight? You can get e-mailed price alerts from Airfare Watchdog when they see a great deal!
Vietnam
Ho Chi Minh City
Eat the World: Vietnam! Here we'll cover the best places to eat in Ho Chi Minh City and what to eat in Ho Chi Minh City!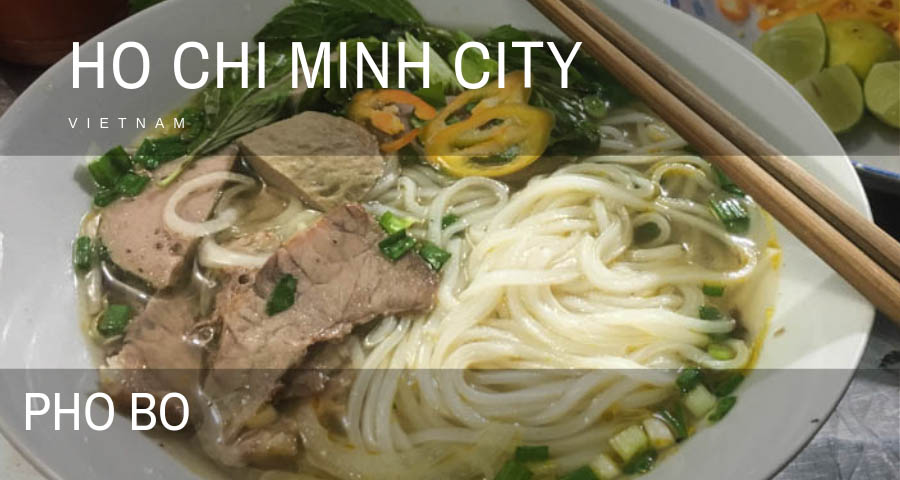 Vietnamese food is world renowned and no visit to Ho Chi Minh City would be complete without trying one of the many fresh and tasty Ho chi Minh food dishes. If you're looking for what to eat in Ho Chi Minh, then try out these 3 foods!
Contributor: Markus @ The Roaming Fork
Pho Bo
The #1 Ho Chi Minh food you should try is Pho! It's name "Pho" refers to the type of noodle (a thin flat rice noodle) with Bo referring to beef. The broth is made by slowly boiling beef bones overnight, then adding aromatics such as shallots, star anise and ginger. The noodles and beef are added to the broth to order, and served with plates of fresh herbs, limes, and chillies, to further enhance the favour. Although Pho is generally a breakfast dish, it can be eaten at all times of the day.
Banh Xeo
The #2 Ho Chi Minh food you should try is Banh Xeo, which means sizzling pancake. This dish is made by quickly frying a batter made up of rice flour, water and turmeric, the latter imparting the the bright yellow colour. The pancake is then filled with various ingredients, depending on the vendor, but usually includes a combination of shrimp, pork, and bean sprouts. The Banh Xeo is served with large pieces of lettuce (used to make a wrap) and other herbs, citrus, and chilli, and a fish based dipping sauce.
Che
The #3 Ho Chi Minh food is Che. Dessert in Vietnam is often a colourful affair with the most popular offering being Che. Che is essentially a savoury dessert made with a combination jellies, fruit, glutinous rice, beans, and tapioca and served with a syrup, quite often made with coconut milk.
The Ben Thanh Street Food Market is a local institution where each of the above dishes, and many more, can be tried in one spot.
Conclusion
Thanks for taking a look at my Eat The World list. I know it's not every city in the world, so this will be an evolving list as we add more cities from more countries. Taste is absolutely subjective, so these countries with the best food in the world might just be places with "okay" food to you.
Bon Appétit.