While checking out the Osaka Nightlife, we found Ninja izakaya not too far from Dotonbori that will let you get drunk and handle Japanese weapons! They have a mini ninja museum and you can do samurai karaoke or ninja karaoke. Lots of costumes to try!
It was probably fate finding this place…
While walking around the food alleys south of Dotonbori, we passed by a sign that got my attention: Ninja Karaoke Izakaya. Those are three magical words to get me to go check something out. Would you go to a Ninja Izakaya without looking at the reviews?
Osaka Nightlife: Drinking and Throwing Ninja Stars
As I was confirming with my friends if they'd like to check it out, we saw a very drunk Japanese man stumble out of this Ninja Izakaya. Confirmed. This place will be fun.
We took a look at the board outside since it was in English so we knew what to expect.
Prices At Ninja Izakaya:
The prices were pretty reasonable and consistent with other Osaka nightlife bars:
Admission Fee: 1000 JPY (includes 1 drink and snack)
1 Karaoke Song: 200 JPY to sing
All beverages: 500 JPY (beer and soda)
Snacks: 250 JPY
Entering Ninja Karaoke Bar: Osaka Nightlife
The ninja karaoke bar is located on the basement level so you have to make your way down 1 set of stairs. That's pretty easy if you haven't drank too much.
When you get to B1, you'll meet "Kagurame," a ninja dummy to tell you you are about to enter a ninja museum. That's how you know you're at the right ninja karaoke bar.
We were greeted by this very nice lady who seated us immediately. She was dressed as a ninja and escorted us into the ninja bar.
As soon as we walked into the main bar area, I felt as though I had just made a huge mistake. There was no one in that bar! Why is no one else in this ninja bar?
Finding Fun At This Ninja Karaoke Bar
We decided to stick around for 1 drink since the lady was really nice. It was 1000JPY for the entry fee which came with a drink and a snack. We went with a round of beers and some beer nuts. I actually went with the "highball" (whiskey and carbonated water) because that's how I prepare for karaoke.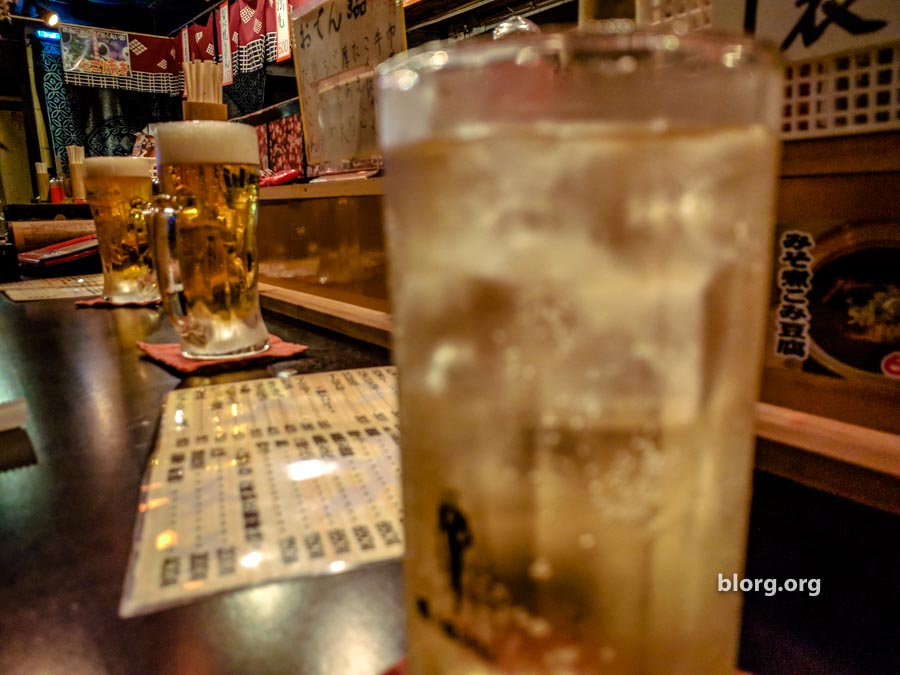 The lady working there didn't speak too much English but she was very friendly. Luckily, one of my Japanese friends was with me to handle the translations. After getting us our drinks and snacks, the lady began showing us the fun features of the shop.
Ninja Museum Games and Weapons!
Our ninja guide started with showing us a few features of her ninja museum and bar! She showed us a hidden ladder that was attached to a wall pillar.
Then she showed us a secret ninja "getaway wall" that helps ninjas disappear in a flash. All guests of this Osaka ninja restaurant are free to try any of the activities.
With that in mind, I disappeared.
This ninja Osaka bar lets you throw ninja stars!
Our Ninja Osaka guide pulled a wall open to reveal ninja weapons and a target range. As you can see from the photo below, there are shurikens on the wall as well as several other ninja weapons that you can play with.
At no additional cost, our ninja Osaka guide handed us some ninja throwing stars and showed us how to throw ninja stars like an authentic Japanese ninja!
Just remember, we've been drinking and it's extremely dangerous to throw sharp objects. If you visit this ninja Osaka bar, go with people you know have good aim.
Luckily, we made it through the night with no injuries…AKA ninjuries.
Samurai Karaoke: I found Samurai Armor
As you can see in the background from the previous photo, there was Japanese samurai armor sitting around. Since I was drunk, I didn't hesitate asking the ninja bar owner if I could wear the armor.
She was super nice and allowed me try on the armor and sing karaoke in it! She of course helped me put on the armor since I had no idea how to.
It took 5 minutes to put all the armor on but it felt super cool! Best of all there was no additional cost to wear the armor.
Samurai Karaoke Osaka: Bad Singing and Uncomfortable Armor
The samurai armor was fun to wear, but very uncomfortable. I wanted to remove it after 5 minutes because the helmet was poking into my skull.
But since I had it on, I made it through 2 karaoke songs! Each song is 200 JPY at this Osaka Ninja Karaoke bar.
We then spent a lot of time singing bad karaoke. I'm not a great singer but that's just you just got to let loose and go with it. I think this is the only place for Samurai Karaoke Japan.
2 Hours Later: Leaving Osaka Ninja Karaoke
After having fun there for 2 hours, we left. We initially had a bad impression of the place and wanted leave immediately. But since we gave it a shot we ended up having so much fun!
The ninja bartender was very entertaining and kept us very engaged throughout our mini ninja museum experience!
On our way out, the ninja bartender gave us ninja masks!
I really wanted to give this place a good online review but I couldn't find it on any social media. I guess you can say, the place had a very ninja presence online…
How To Get To This Osaka Ninja Karaoke Bar
Unfortunately, the business isn't registered on Google Maps. Here's the address:
1-6-14 Sennichimae Chimae-ku Chuo-ku Osaka Prefecture 542-0074 Osaka Prefecture Senju Bldg. Annex B1 (Area: Namba (Namba) )
Opening Daily From:
12:00~17:00(Last Order 16:30)
18:00~23:00(Last Order22:30)
This Japanese website has the address and hours.
Conclusion
If your looking for more Osaka nightlife, you could try going to an Osaka magic bar, Game Bar Continue or the only Osaka Prison Bar! There's a lot more to things to do in Osaka!
Have you ended up in a place you didn't want to be, but later found out it was more amazing than your first impression?