My experience with Taiwan Dental tourism and visiting the dentist in Taiwan was extremely positive at a very low cost. The Taipei dentist spoke English, was knowledgeable, helpful and gentle. As for medical tourism in Taiwan, I've had nothing but positive experiences with the hospital and optometry fields.
After 6 months of being in Taiwan, it was time for a checkup at the dentist. This is not something I ever look forward to doing, but it's worse to delay medical issues.
I didn't have any references for a dentist in Taipei and had no idea how much the cost would be, but I just showed up and went for it.
Taiwan Dental Tourism: Looking For A Taipei Dentist
To find a dentist in Taipei, I just searched Google Maps and found a place with good reviews. I found 德華口腔顎面外科牙醫診所(植牙與智齒專家) and it had 4.8 stars out of 561 reviews. This Taipei dentist was also in walking distance of me so I walked over on a Saturday afternoon.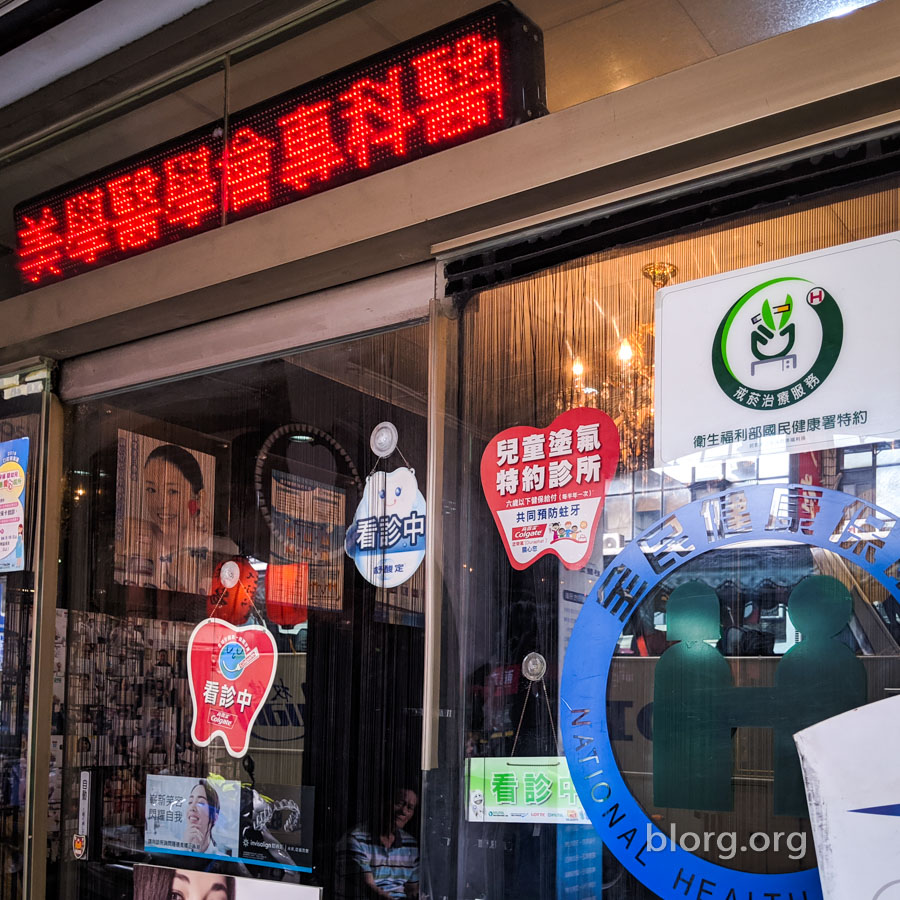 I showed up and made sure to bring a few thousand NTD because after my medical situation, I knew places like this preferred cash. Using a credit card with add an additional fee.
When I went to check-in, they wanted a passport. Damn. Luckily there was no one else waiting to I just ran home and was back in 20 minutes.
Taiwan Dentist Pre-Procedures
Before seeing me, I had to fill in 1-page of paperwork with a questionnaire about my medical history and allergic reactions. The only other personal information required was my name, passport and phone number. I competed the required Taiwan dental clinic paperwork in less than 5-minutes!
Taiwan Dental Prices Pre-Exam
They told me the price for a check-up with X-rays and light cleaning would be $1000 NT ($31.87 USD). I was shocked! The Taiwan dentist prices were so low compared to the United States! The Taiwan dentist price (without insurance) was the same price as the co-pay for someone with dental insurance in the United States.
Getting X-Rays At The Taipei Dentist
After completing the paperwork, they took me to an enclosed X-ray room in the back of the office. There was no chair. I was expecting to get the metal mouthpiece that I had to bite on as they took pictures from multiple angles. Typically in the U.S. this is a 20-minute process. But getting X-rays at this Taipei dentist only took 2-minutes!
With a very modern X-ray machine, all I had to do was stand up next to the x-ray machine, bite on the center piece, stay still, and then the X-ray machine would scan around my head. I literally walked in and walked out of the X-ray room in 2-minutes. I'm shocked at how modern this Taipei dentist was compared to my experiences in the United States.
Check-Up At A Taiwan Dentist
After completing the X-rays, I was immediately seated in the examination chair. There was a large high-definition TV screen in front of the chair with my teeth X-rays! There was no lag time between taking the X-ray and then going over them!
The exam began immediately. There were no cavities but there was some plaque so the dentist cleaned it up. The cleaning was thorough and careful.
It was a completely painless dental experience. The Taiwan dentist and dental assistant were definitely looking for anything that would cause me any discomfort or pain. I liked this a lot because they weren't just trying to get me in and out of the office!
At the end of the exam, the dentist gave me the exam tools. They are "disposable" for the dentist and more hygienic. I like that!
An Extremely Honest Taiwan Dentist
The X-rays showed that I had no cavities! Great job me! It also showed my wisdom teeth that I never took out. There was one wisdom tooth that looked fully grown pushing towards my other teeth.
The Taiwan dentist informed me that at my age (34) it wouldn't be an issue. Since the tooth is fully grown, I'm not experiencing any pain, and that the stem cells by the tooth die around a person's mid-30's.
The area can cause benign tumors but my current situation was clear of any serious issues and I'm just about in the safe zone due to my age.
I remember a few years ago I was at fancy dentist in Burbank, California, United States. They told me I NEEDED to take out my wisdom teeth. It was going to cost $5000 USD per wisdom tooth (with insurance). That was a lot of money. I delayed it. That dentist was a bad person. I didn't need it.
Taiwan Dental Prices For X-Rays And A Checkup
They printed out my invoice and the Taipei dentist price for an x-ray, exam and light cleaning came out to $1000 NT exactly! No other hidden taxes or fees. I was expecting the Taiwan dental prices to go up after the exam after they "find" something. I've become super jaded with my American dental experiences.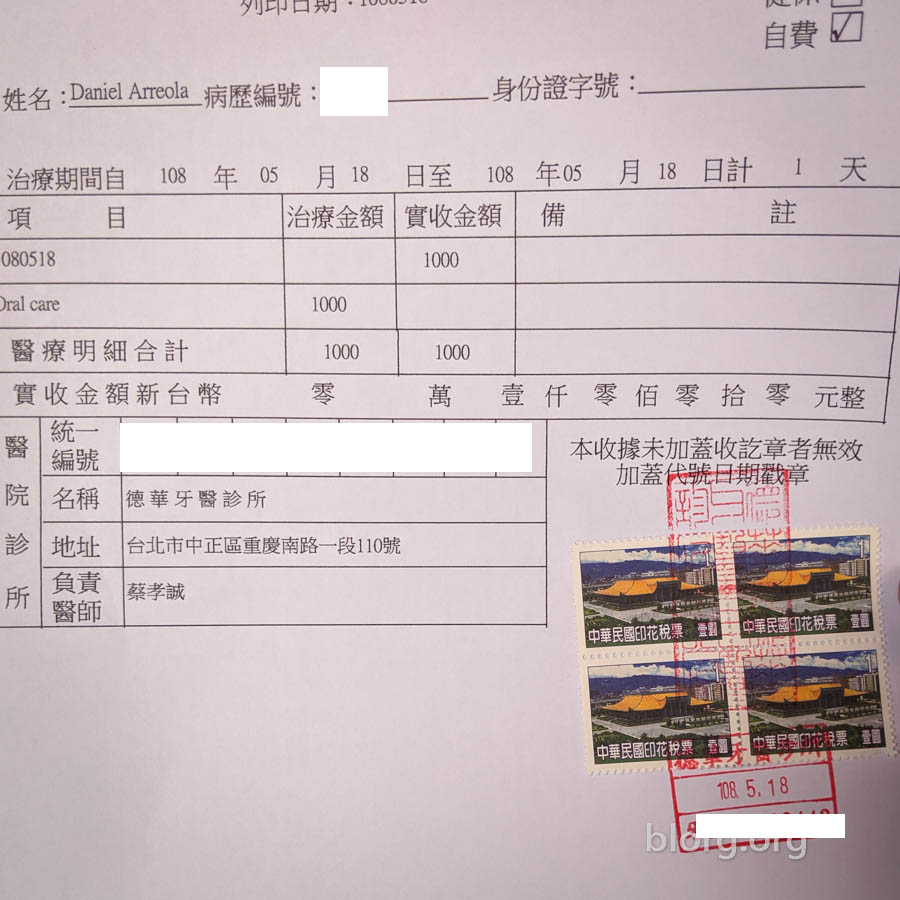 I handed them $1000 NT and they gave me a copy of the receipt. Super Easy!
After walking in, filling out paperwork and going through the entire process, I was in and out of the Taiwan dental office in less than 30 minutes! Incredibly fast and affordable. I absolutely recommend Taiwan dental tourism and Taiwan medical tourism.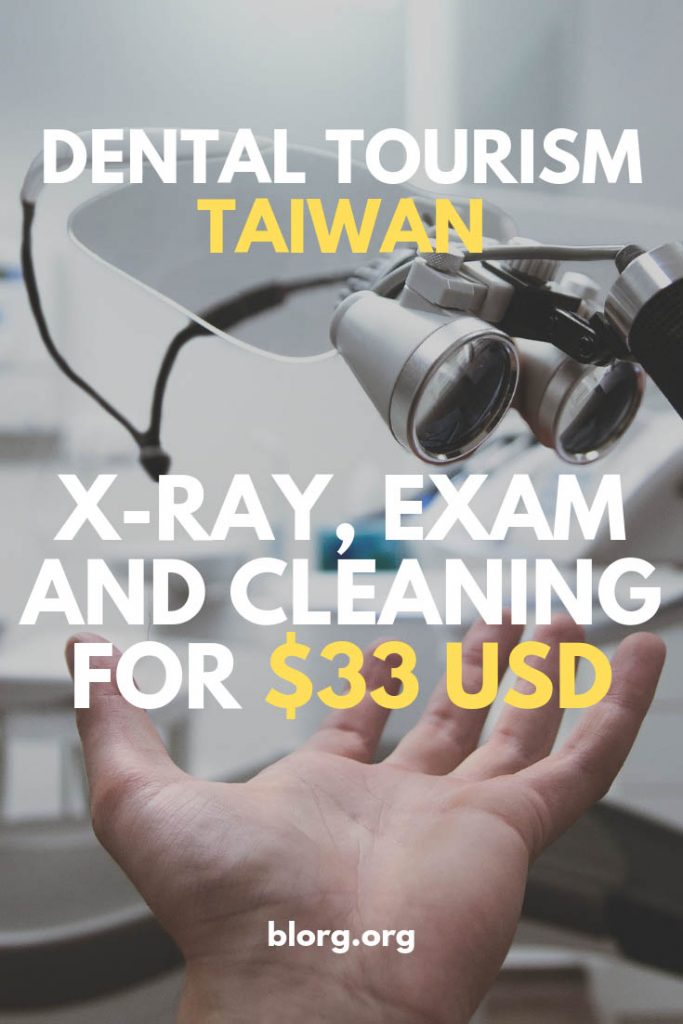 Conclusion
Taiwan medical tourism isn't as popular as places like Mexico, Thailand, India or the Philippines, but you can still get some great deals and a great experience. At NT $1000 for a check-up, x-rays and a cleaning Taiwan dental prices are extremely affordable. My overall experience was unbelievably amazing compared to what I'd experience (and pay for) in the United States.
They spoke English, were very gentle and very honest about not upselling me on unnecessary procedures (what up with that, America?).
My Taiwan dental tourism adventures have really given me more perspective of the American medical, dental and vision industries. I had to go to the emergency room in Taipei and I was out in less than 90 minutes for less than $60 (with prescription medicine). I'll have a post on that experience soon.
As Taiwan medical tourism regarding vision, I needed new glasses and had them in less than an hour! That cost me about $130 USD with the most premium glasses; the frame, lenses and examination. Check out my Own Days Glasses Review on the full details.
If you're looking to travel smarter, cheaper and further, I can help. You can start with my Travel Tech page or How To Get The Best Deals On Hotels!
Will you be going to the dentist soon?