You're not supposed to be able to buy the JR Pass while in Japan, but there is a way! To buy the Japan Rail pass in Japan, you'll need to order it online and then have it delivered to your hotel.
Can I Buy Japan Rail Pass In Japan?
Yes! You can. But the reason why you're not supposed to be able to get the JR Pass in Japan is to prevent the local people from taking advantage of the pass meant for tourists. If you happen to be one of those local people, you're in luck! You too, can buy a JR pass in Japan…though you will need to borrow a foreigner to redeem the pass.
Backstory: Figuring Out How To Buy JR Pass In Japan
On an impulsive trip to Japan, I flew to Okinawa for a week. I realized I was able to take more time off work than I had anticipated and wanted to get a JR Pass in Japan. A lot of official sites and tourism offices stated that you could not purchase the JR Pass in Japan (cue office lady forming arms into an "X").
I then started considering flying out of Japan to Taiwan to buy my JR pass the flying back. I bailed on that plan once I considered how much money that would cost. From Okinawa to Taipei, it was going to be $250 roundtrip but a hassle.
Testing The Theory: Buying The Japan Rail Pass In Japan
Step 1: See if I can Purchase The Japan Rail Pass Online
Then I thought, let's see if I can get this JR pass delivered to me in Japan. I placed an order through https://www.japan-rail-pass.com/ to get my JR Pass while in Okinawa. The site was pretty straightforward and seemed legitimate enough so I went for it. When trying to buy the JR Pass in a travel agency office, they ask for your passport. They didn't ask for any passport information online.
Step 2: See If I can buy the JR Pass In Japan and have it delivered to a hotel
In 6 days from buying the JR Pass online (while in Okinawa), I would then be staying at the Hyatt Regency Naha. Of course this is an expensive stay that I booked for free using points. I then called up the hotel to confirm if I can use their address to send a package to myself. This call was before placing my order online. The Hyatt Regency Naha concierge was very helpful and spoke perfect English. They said it wouldn't be a problem and they would have the package waiting for me when I arrive.
Step 3: Placing The Order
Bam! I completed the order and it would arrive the same day that I would check-into the Hyatt Regency Naha. Can I buy a JR Pass in Japan? Heck Yes!
Getting The Package: Buying Japan Rail Pass In Japan
Upon checking-in to the hotel, they informed me that an envelope had arrived for me. They would bring up the envelope along with my luggage to my room. That is excellent service!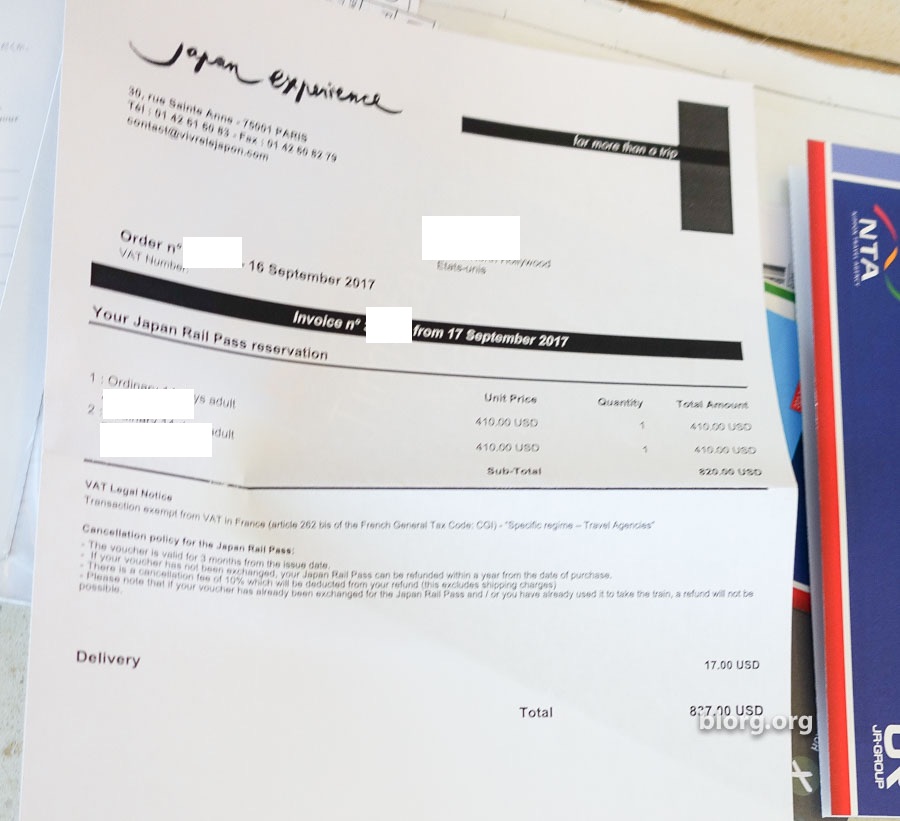 After I got to my room, the envelope and my luggage arrived a few minutes later. I opened it up and I had that beautiful JR Pass waiting for me.
Also, it's pretty sweet getting mail at a hotel. It feels extra fancy!
How Much Is The Japan Rail Pass?
The Japan Rail Pass Price varies depending on where you buy it.
If you buy your Japan Rail Price Online and have it sent to Japan:
$265 JR Pass 7 Days Price
$423 JR Pass 14 Days Price
$540 JR Pass 21 Days Price
Buy JR Pass Price from Klook, the standard (full Japan) JR Pass Price:
All prices are for the ordinary Japan Rail Trains. This excludes the 2 fastest trains so relax…save some money and slow down by 20 minutes.
What Is The Japan Rail Pass?
The Japan Rail Pass is a pass exclusively for non-Japanese residents to ride on the Japan Rail lines at a discounted rate. This is to encourage tourism in Japan.
The Japan Rail pass is only good on the High Speed Rail (Shinkansen) and JR Train Lines. "JR" is the Japan Rail company. In Tokyo and other cities, you'll find that there are other companies running different trains and subway lines. The JR pass is not valid for rides with these companies.
How Do You Redeem The Japan Rail Pass?
As you can see from the letter, I only received a voucher. The voucher has my name and passport information on it. There is no specified date to redeem the JR pass so you can exchange it whenever you like. It does not have to be on the first day you get to Japan.
To redeem the JR pass, present your voucher and passport at any JR office. You'll find a JR pass at any of the bigger stations or airports.
How Do I Use The JR Pass?
You'll notice most people go through the gates by scanning a card or inserting a ticket. This is not required for JR pass holders. To use the JR Pass, you have to present your JR pass to the station attendant to get through the gates at any station.
How Do I Use The JR pass for the Bullet Train (Shinkansen)?
Using the Bullet Train (Shinkansen) Non-Reserved Seats
There's two ways to use the bullet train. Just show up at the bullet train (shinkansen) station, present your JR Pass to the attendant, and they'll let you in to the station. Once at the platform, you can just show up and take a non-reserved seat, but that's a gamble.
If you're traveling during the summer, you might not get a seat. That's when a lot of people travel.
During your ride, a train employee will come by to check everybody's tickets. Be sure to have your JR pass ready to present.
Using The Shinkansen Reserved Seats
Getting reserved seats on the Shinkansen is super easy. Just go to any JR Ticketing Station, present your JR Pass and tell them where you want to go. They'll give you a list of available times with seats and you can take your pick. Typically, they won't have seats last minute, same day or even the next day. If you have solid travel plans, book your JR Pass Reserved Seat in advance!
JR Pass Tip: If you book JR Pass Reserved Seats and you don't end up using them, nothing happens. There is no penalty for not using your reserved seat. You can still use your JR Pass for any JR Train. Don't be afraid to book in advance and change your plans if you need to.
Where To Go In Japan
Now that you have a pass to access all of Japan, you should visit all the places that you can. Typically most people fly to Tokyo since that has the most flight deals so this is a good opportunity to venture out of the big city and see more oh Japan!
To spark some interest you can check out Things To Do In Nagoya, Osaka, Nagasakiand Sapporo!
Where To Stay In Japan
If you're using the JR pass for a few days or a few weeks, you'll probably be moving around a lot! On a journey like this, the cost efficient option is to stay in capsule hotels and hostels. I've found that the level of cleanliness in Japan is probably the highest in the world. Also, you're more likely to meet similar travelers and hang out! Check out The 5 Best Party Hostels in Japan for more info!
When To Go To Japan
This was my fourth trip to Japan in 2017. I happened to be there in January, May, August and now I'd be there for a month starting from mid-September. As you can imagine, Japan has four real seasons (unlike my home of Los Angeles) so the weather can really impact your experience. Treksplorer has a detailed post on the best times to go, what to wear and what to expect.
Conclusion
If you need to buy your Japan Rails Pass in Japan, you can order the JR PASS online and then have it delivered to your hotel in Japan. For those of you that aren't in a rush, you can buy your JR Pass from Klook for a little less money. It's also an affiliate link so you help out my blog too!
If it's your first time in Japan, it's extremely hard to get around without being online. Having mobile data to be able to use maps, find places, translate things, and get recommendations is critical for a traveler.
If you're going to Tokyo to visit the Fuji Area this Hiking Mt. Fuji Guide will tell you everything you need to know.