In Taipei Main Station Underground Mall, officially known as Taipei City Mall, you can find 1-mile of Taipei shopping places. Extending from Taipei Main Station to Beimen station at 0.5 miles (850m) so if you take a lap through the mall it's 1-mile (1700m) of cheap shopping in Taipei.
In this Taipei shopping mall, you can find almost anything:
Arcades
Crane Games
Capsule Toy Machines
Anime: Toys, Figures, Media, Apparel
Massages: Regular massages and knife massages (get chopped!)
Electronics: movies, video games, consoles, drones, phones, accessories
Video game stations: Several places just to stop and play video games for free
Ice Cream Shops
Clothing
Souvenirs
Random things to shop in Taipei: Umbrellas, water bottles, household utensils, fans
Restaurants
Cafes (Regular cafes and maid cafes)
Fortune Telling
Caricature Artists
Live Performances
If you've been looking for where to shop in Taipei, this Taipei shopping mall will satisfy your shopping needs! Not only is this one of the good shopping places in Taipei, it's also the cheapest. Making this one of the places to visit in Taipei for all your shopping desires.
YouTube Video
This is the YouTube of shopping in Taipei's cheapest shopping mall: Taipei City Mall
Location and Hours
Location: 100, Taipei City, Zhongzheng District, Section 1, Shimin Boulevard, 100號
Hours: 11AM-9:30PM Daily
Taipei Main Station Underground Mall runs from Taipei Main Station to Beimen Station. It's accessible from the street level along Zhengzhou Road (26 entrances/exits), Taipei Main Station, Beimen Station and the airport MRT station.
You can access this shopping area in Taipei as early as 8am. The lights aren't actually on until 9am and most stores open at 11am. Official closing hours are at 9:30pm, but most shops begin to shut down at 8pm.
How do I know this? Because you can find me and a few elderly people walking around this Taipei shopping mall for exercise in the mornings.
If you're looking to get to Taipei City Mall with a little less chaos, you can enter from the Beimen station side. Just get to the Beimen station and from there follow signs for the Airport MRT. Along the way on your left side, you'll see several entrances to Taipei City Mall
Getting To The Taipei Underground Mall From Taipei Main Station Terminal
Head underground towards the Taipei High Speed Rail (THSR). Along the way you'll see a sign for "Taipei City Mall" and follow the signs. It's about a 5-minute walk from the terminal level.
Don't be confused by the other malls through.
Getting To The Taipei Station Underground Mall From Beimen Station
The underground mall in Taipei is so big that it spans the length of a subway stop (850 meters). To experience the best of Taiwan shopping, start at Beimen station. It's less crowded and it will be easier to find the underground mall Taipei.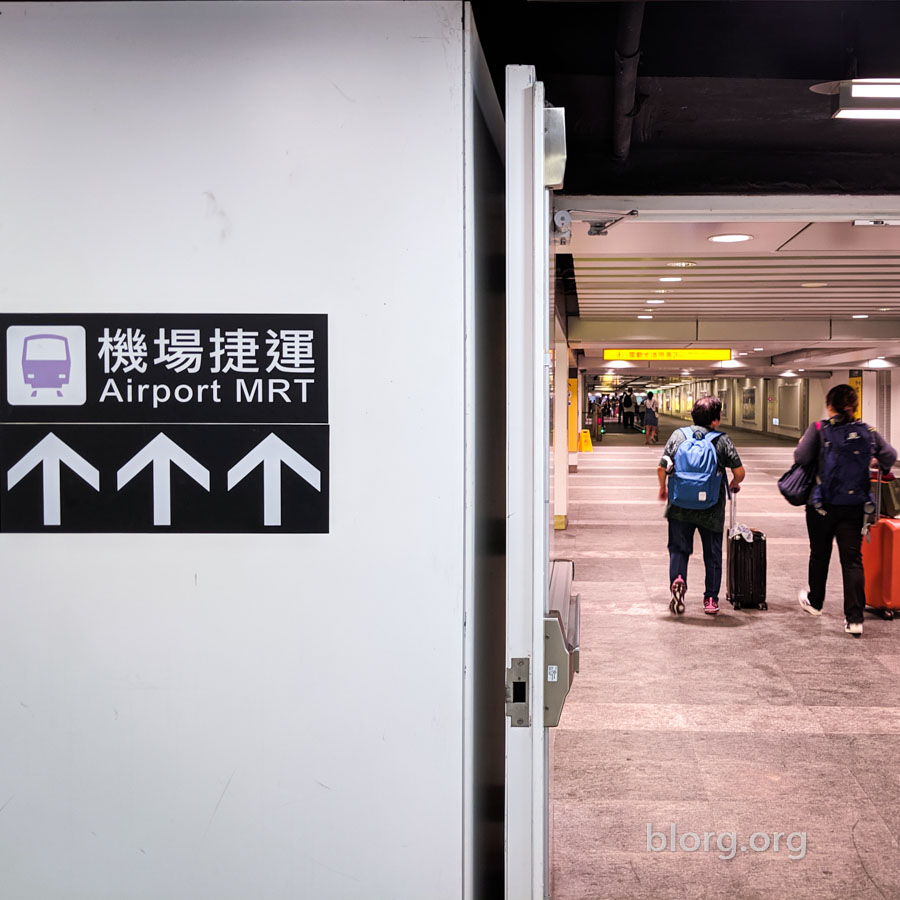 Within Beimen station, just follow signs for the airport MRT. After you make your first right turn from the MRT platform, there will be an entrance to "Taipei City Mall" on your left. Don't worry if you miss the entrance, there will be more entrances along the way!
Taipei City Main Station Underground Mall Connections
Taipei City mall is connected to everywhere. You can get to all the underground Taipei shopping places easily through public transportation:
MRT Subway Lines (Airport, Blue, Red and Green lines)
TRA (Taiwan Railways)
THSR (Taiwan High-Speed Rail)
Taipei Bus Terminal
A Massive Shopping Area In Taipei
If you're looking for Taipei City Mall, an alternate name for it is Taipei Metro Mall, Taipei Underground mall and "Y-Mall". With entrances/exits labeled as Y1, Y2, Y3 all the way to Y26. Within Taipei City Mall, you have immediate access to Q-Square mall. A fancy above ground mall…if you're in to that kind of thing. Entrance/Exits Y5 and Y1 will connect you to the Q-Square mall.
On the south side of Taipei Main Station Mall, you can connect to K-Mall (Eslite) and Z-Mall (another underground mall in Taipei) with a short walk. This will connect you to Mitsukoshi Taipei Main Station Mall. It's a big department store.
If you head north, you can connect to R-Mall (Zhongshan Metro Mall) and leads you all the way to Shuanglian Station.
A great way to spend a rainy day or if you feel like just getting exercise, you can walk through the underground malls starting at Beimen to Shuanglian Station 1.3 miles (2.1km).
Cheap Shopping in Taipei: Negotiating and Quality Issues
Purchasing A Phone Cable
Personally, I don't really like shopping unless it's a crazy deal. For reference I was in the Ximending Shopping District looking for a phone cable. It was 200NTD there! There's many opportunities for cheap shopping in Taipei so if you have the time, you can negotiate and for the lowest price. I tried to negotiate and offered 100NTD. They decline my offer came back at 150NTD. I declined and walked away. The next day, I found a similar cable in Taipei City Mall for 50NTD! I didn't even try negotiating since I was happy with the price.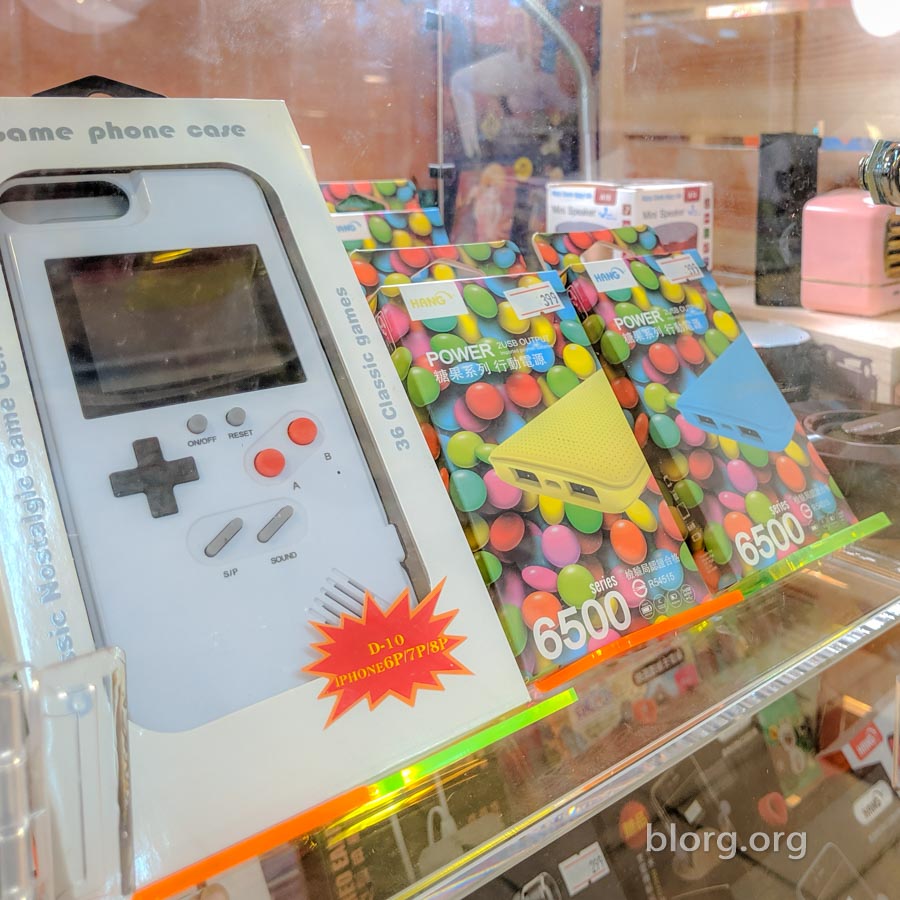 Buying Apparel
Unfortunately, with the Taipei Underground Mall, the quality of some items can be of extremely poor quality. I bought a "Superlazy" shirt for 200NTD and it survived being washed 2 times before the graphics started fading and damaging my other clothes. It was definitely cheap shopping in Taipei, but I really wanted value instead of "cheap" quality.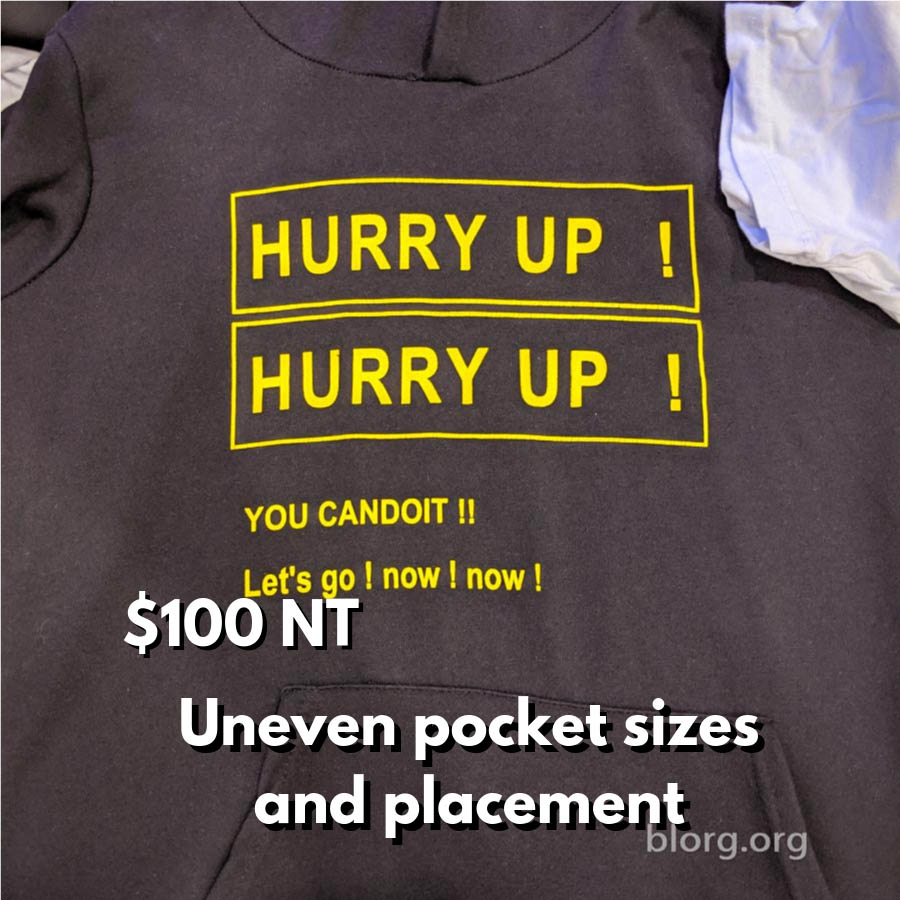 Another item I purchased was a defective hoodie for 100NTD ($3.21 USD). It was an impulse purchase because the hoodie had something I thought was hilarious. Other shops that actually catered towards respectable fashion choices had much higher quality at similar prices. So it looks like they get the impulse buyers like me with "tourist" quality apparel.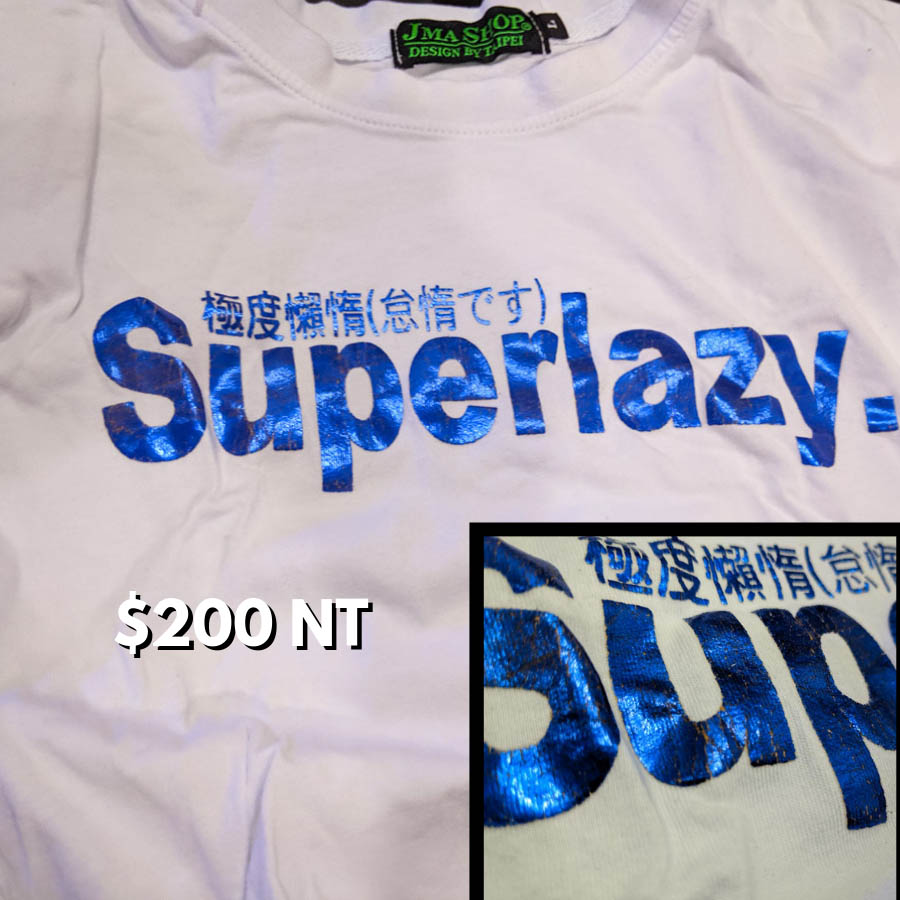 If you're looking for some "quality" bootleg travel shopping, check out Han Market in Da Nang, Vietnam. Everything was "probably" real brand name clothing for super cheap prices. Prices ranged from $1-5 USD although some items were definitely from the defective pile at the Nike factory.
Buying Umbrellas: Cheap Shopping in Taipei!
It rains a lot in Taipei! In this Taipei underground shopping mall, you can get some cheap but high quality umbrellas. My friend and I each bought one. The one is simple and durable for $100 NTD while the red one is the premium reversible kind that keeps water from dripping on floors for $350 NTD. For a similar premium umbrella, I've seen places selling them for $600 NTD!
So if you know it will rain on your trip to Taipei, stop by the best shopping area in Taipei and pick up an umbrella! Otherwise, you'll end up overpaying for an umbrella everywhere else.
Taipei Souvenirs: Shopping at Taipei Metro Mall
You can and should do your Taipei souvenir shopping in Taipei Main Station underground mall. The prices here are less than half for the same merchandise you would purchase at the Ximending Shopping District. If you do your Ximending shopping as a comparison, you'll see that Taipei City Mall is the best place to shop in Taipei.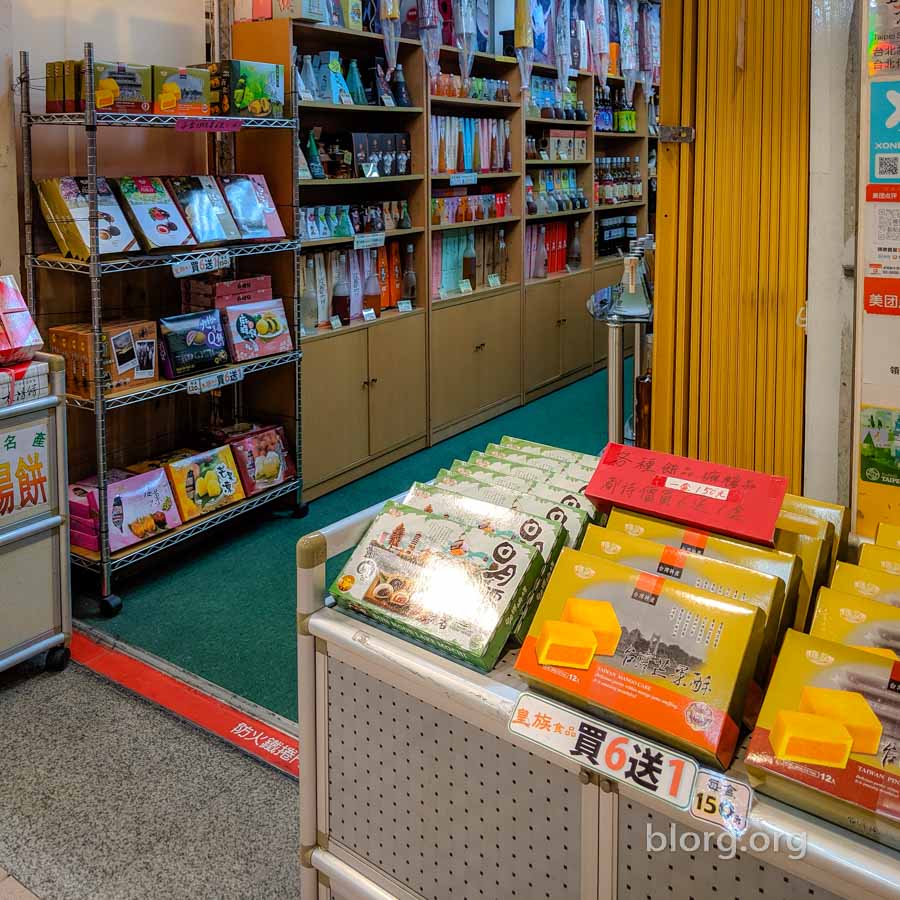 All Taiwanese souvenirs from shirts, pens, magnets, stickers, postcards, specialty Taiwanese food, ornaments, charms and lanterns can be found since the is the best place to shop in Taipei. Do yourself a favor and look here before making any purchases at places that cater to tourists. Otherwise suffer the wrath of the "tourist tax." Where the price of goods goes up depending on how much the seller thinks they can get from you.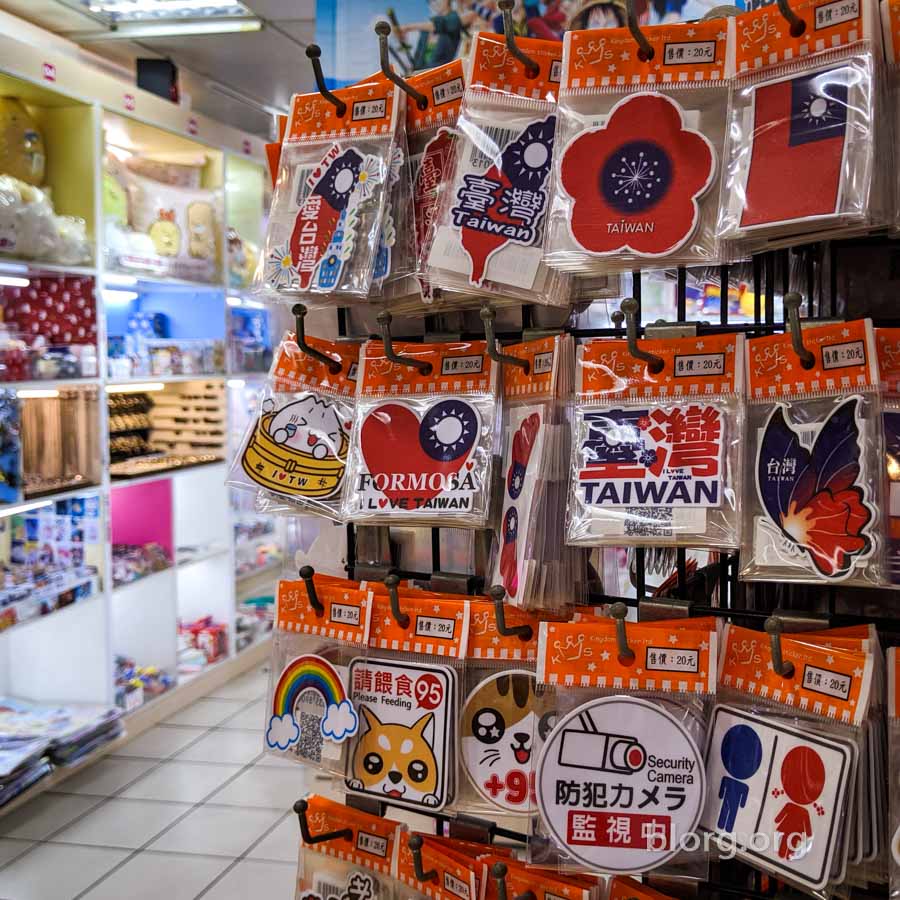 Buying Everything in This Taipei Shopping District
Pretty much everything you would find in any Taipei shopping district can be found at this underground Taipei mall. Not only is it the best place for cheap shopping in Taipei, you don't even have to negotiate. Check out my YouTube video on Taipei Metro Mall to see experience all the shopping in Taipei.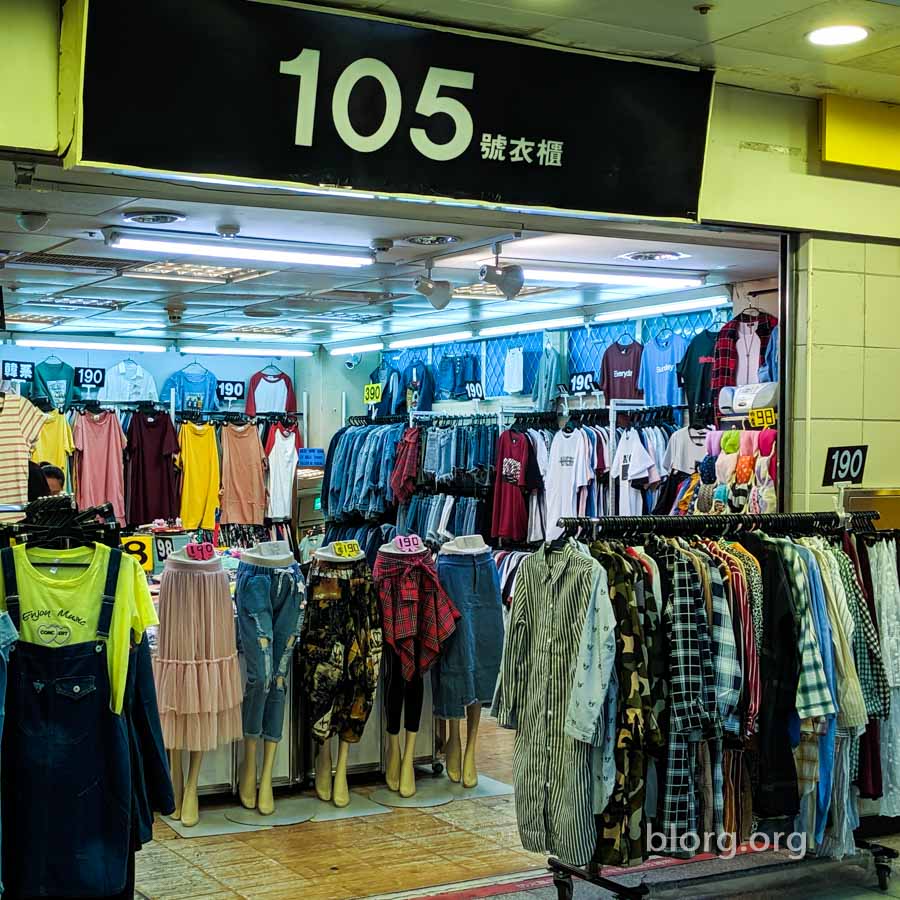 Many shops include women's apparel, purses, luggage, electronics, toys and everything that you can fit in your bag on the way to the airport. This is the best shopping mall near Taipei Main station and significantly cheaper than outlet shopping in Taipei Mitsui Outlet Park.
When I went to the fancy outlet shopping in Taipei at Linkou station (by the airport), I couldn't find sneakers for less than $100 USD.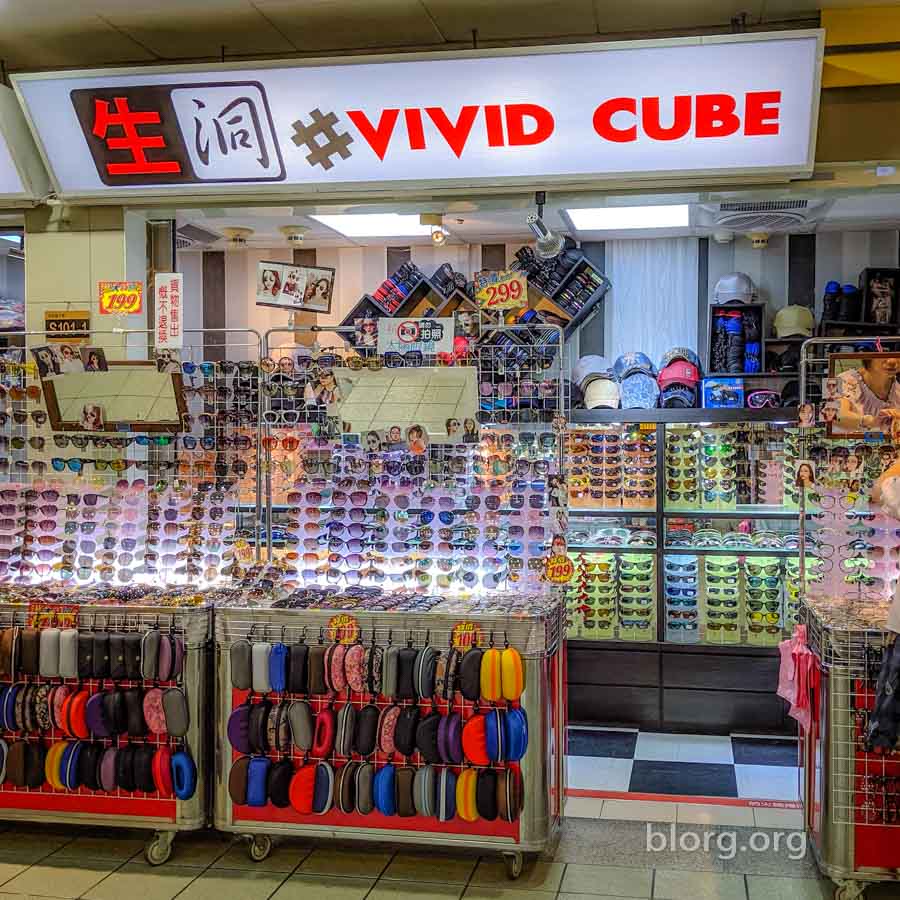 Anime and Otaku Stuff: Taipei Central Station West Side
If you're an anime otaku, start on the west side of Taipei Metro Mall. That's where you'll find maid cafes, arcades, anime, crane games and electronic stores. The amount of anime merchandise could be its own Taipei shopping district! My fellow otakus, welcome home. It's too much to list out so check out my attached YouTube video touring the place.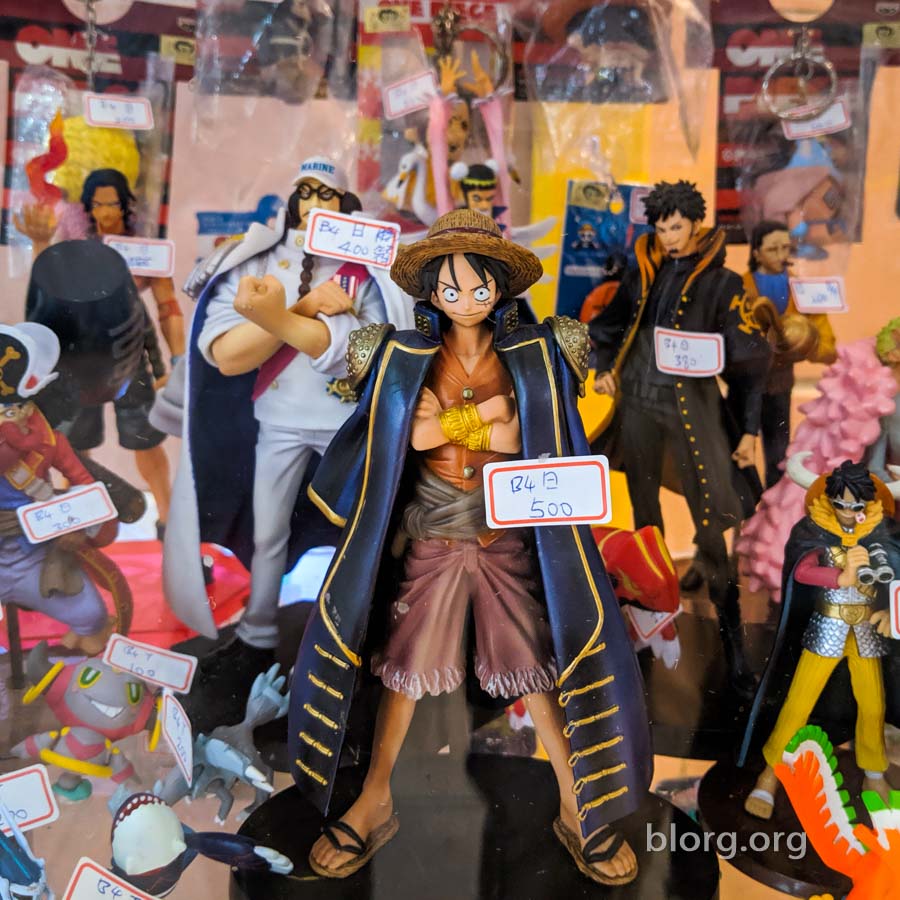 Crane Games in Taipei Main Underground Shopping Street
I'm pretty sure Taipei has more crane games than Tokyo based on what I've seen. You can find crane games in Taipei in every night market and most places to shop in Taipei. That's no exception for the best place to shop in Taipei Main Station shopping mall.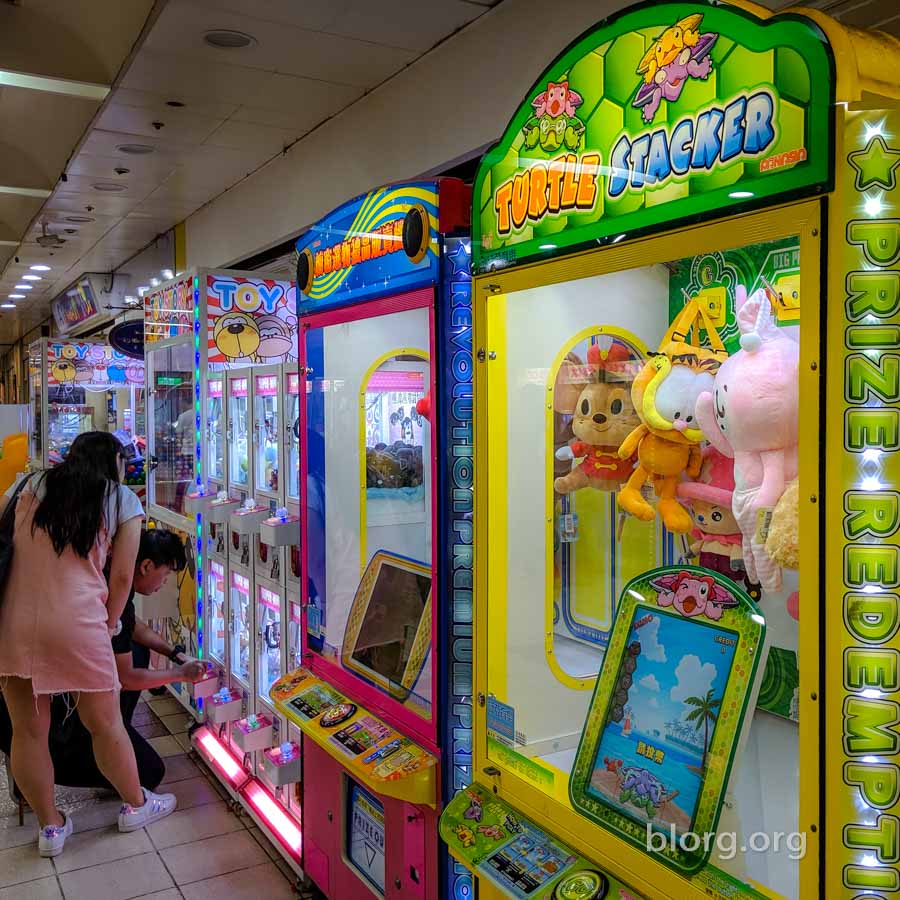 Mostly on the west side of the Taipei Main Station Mall, you can find crane games with all types of prizes from toys, electronics, candy, towels, coffee mugs and more!
When I was in Taichung, I found many of the crane game machines had adult toys. I was wondering if that was legal since these games are advertised towards children, turns out it was not legal.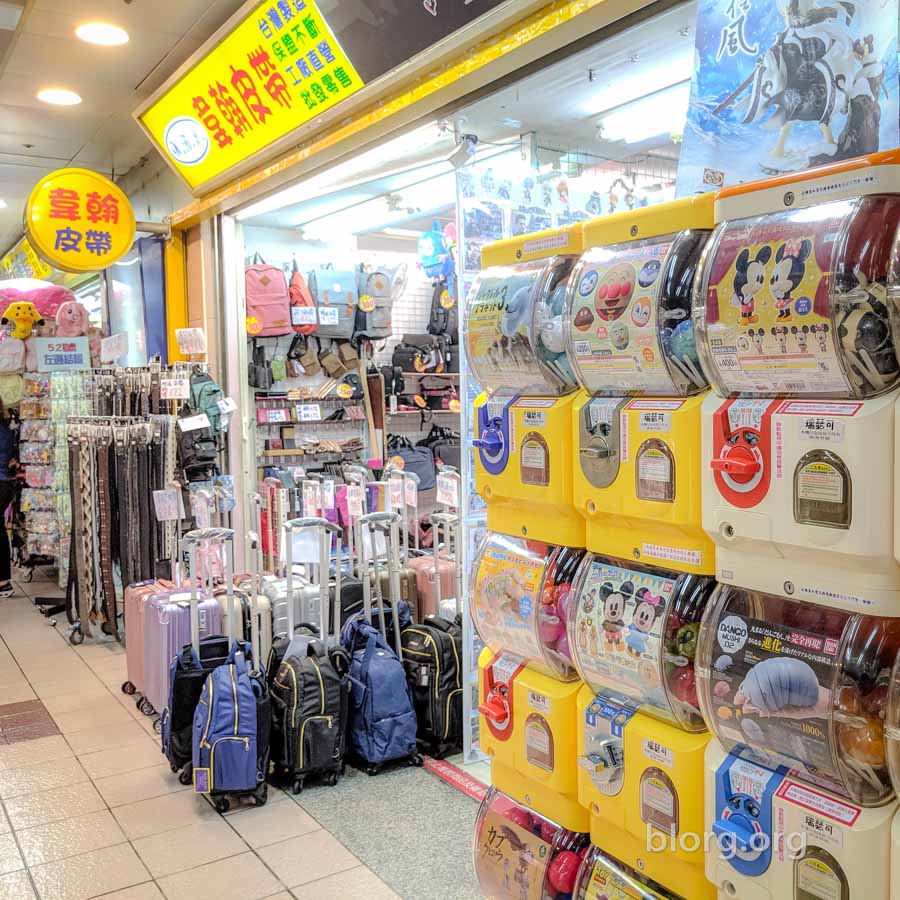 I've tried crane games a few times but have been unsuccessful to win anything. Luckily, I quit very easily and have spent less than $100 NTD ($3.30 USD) in my lifetime on these games. Please be careful when playing these games and learn to quit early. It can resort some people to obsession and crime.
Maid Cafes In This Underground Taipei Shopping Mall
Whenever I pass by, there's at least 2 maid cafes that are open during the day. It seems like there's no time limit since the people I saw through the window were working on their laptops instead of engaging with the maids. I experienced a different situation at a maid bar in Tokyo and a ninja-themed bar.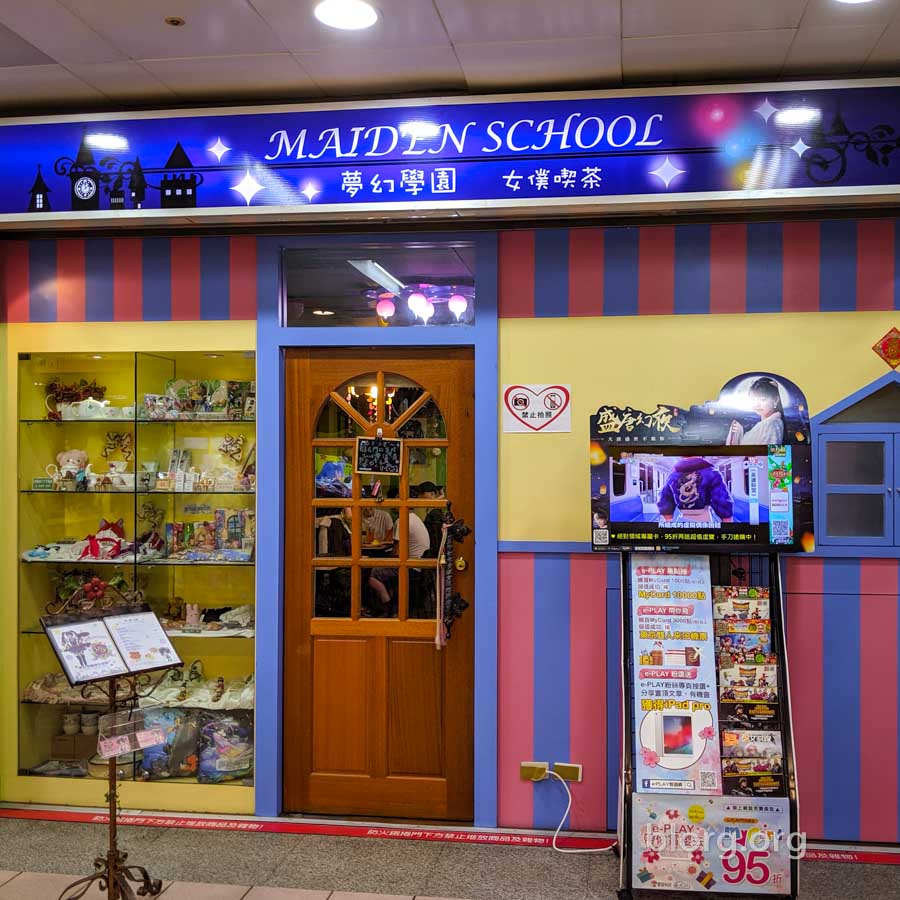 If you're interested in visiting them, you can find Maiden Diner and Maiden School (not on Google Maps) both on the west side of the underground mall Taipei.
Ice Cream Shops In The Underground Mall Taipei
There are threeice cream shops (pretty much right next to each other) in the Taipei Main Station shopping mall by Y22: Frozen Yogurt, Duroyal Ice Cream and Meiji Ice Cream. Both Duroyal Ice Cream and Meiji Ice Cream are popular brands that can be found throughout Taipei.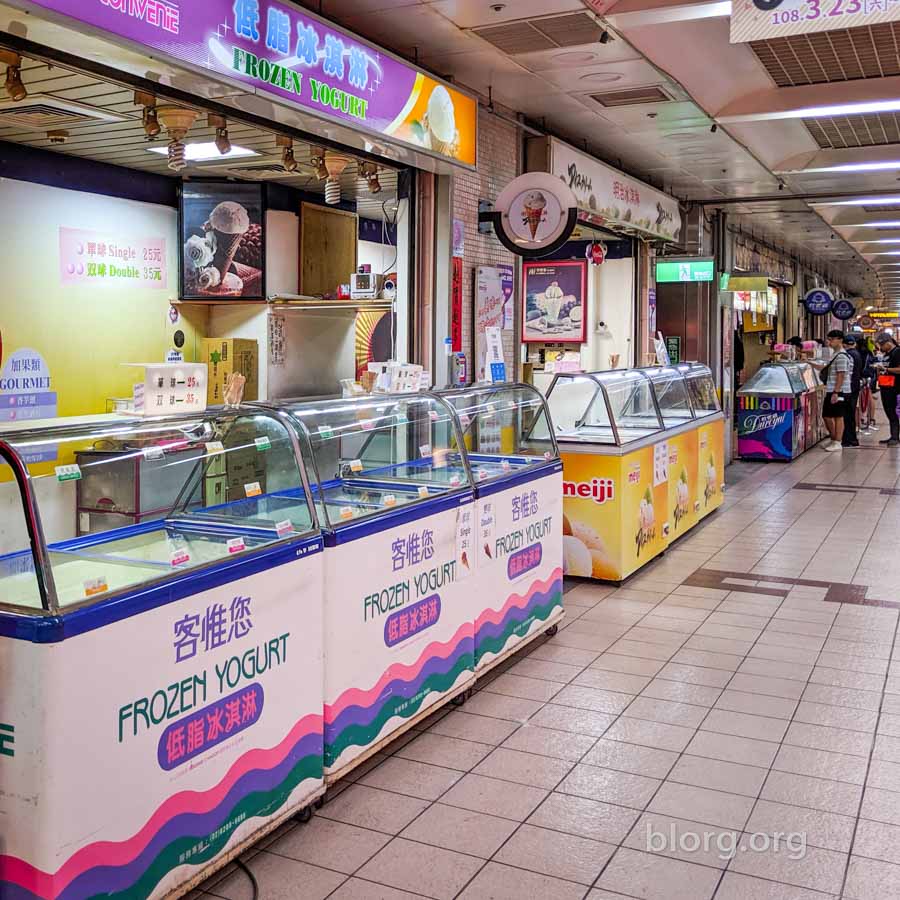 Frozen Yogurt Ice Cream
They sold ice cream. The frozen yogurt shop is a small ice cream stand in Taipei Main Station mall underground. It's the same price as Duroyal but much less popular at NT $25 for 1 scoop and NT $35 for 2 scoops.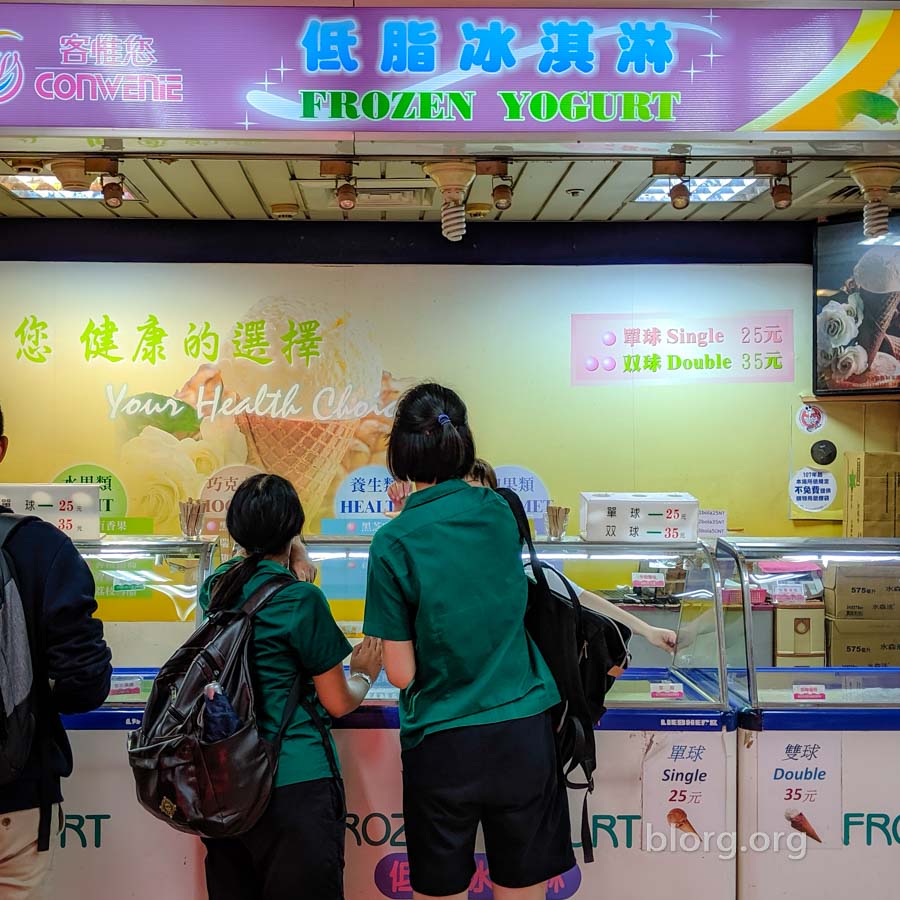 Duroyal Ice Cream
Duroyal ice cream is a Taiwanese brand that can be found in supermarkets and convenience stores. The price for Duroyal ice cream is only $25 NTD for 1 scoop and $35 NTD for 2 scoops! Making Duroyal the cheapest ice cream shop I've seen in Taipei!
Among the three ice cream shops, Duroyal ice cream is definitely the most popular. To buy Duroyal Ice cream at Taipei Main Station underground mall, you'll have to buy a ticket from the vending machine. It's pretty easy since there's only 2 prices. Duroyal ice cream for 1 scoops is NT $25 and 2 scoops is NT $35.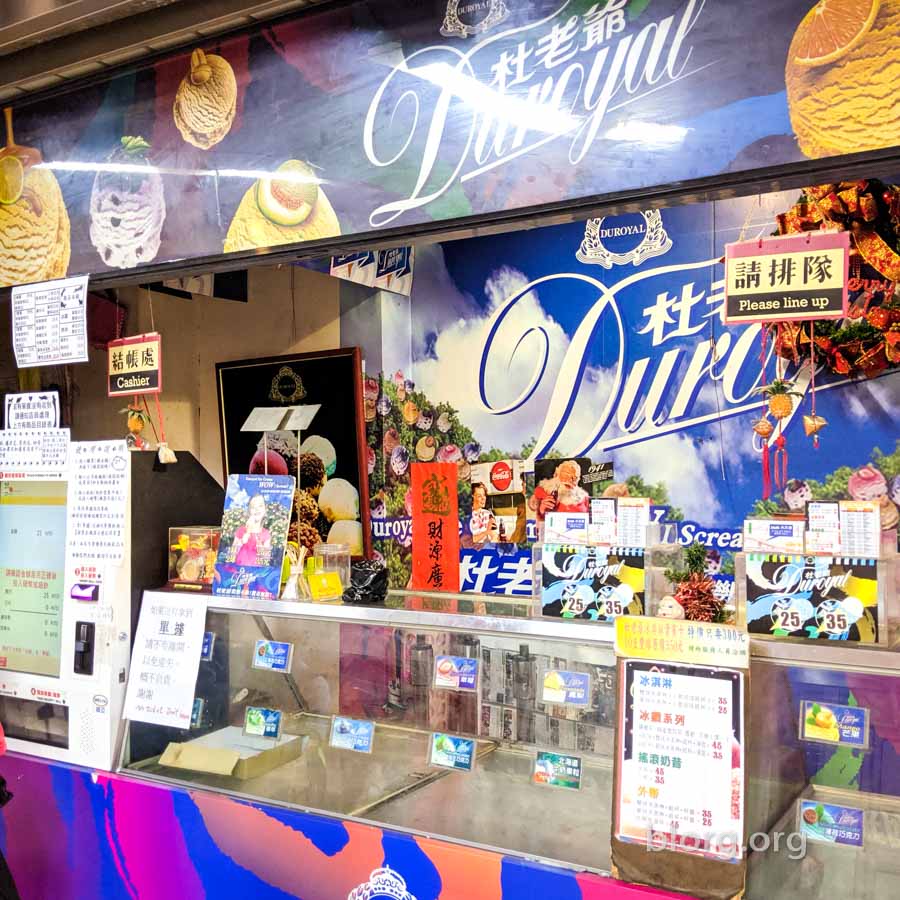 Meiji Ice Cream
Meiji ice cream is a popular Japanese brand that can also be found in convenience store, supermarkets and hot pot restaurants in Taipei. As for taste, I think Meiji is pretty light on flavor. I prefer something more substantial like Cremia, but I haven't found anything like that in Taipei.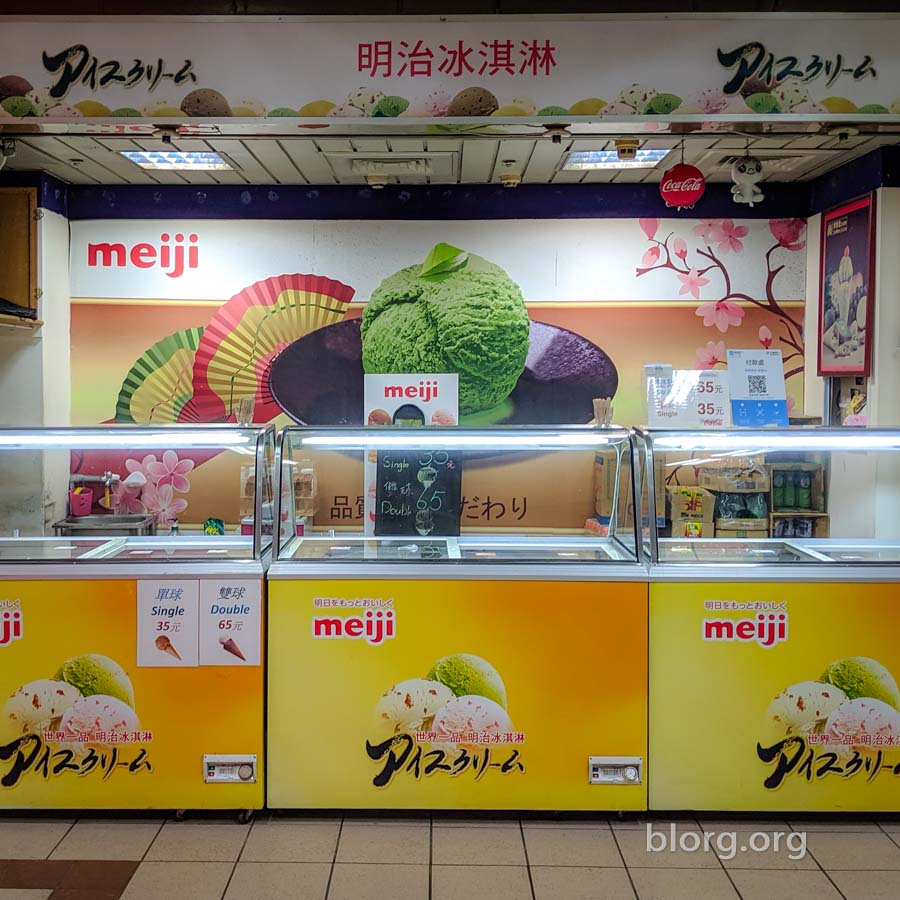 Meiji ice cream was the same price but had no customers. The people of Taipei Main Station Underground mall have clearly made their decision…Duroyal Ice Cream.
For me, I thought it was creamy but pretty typical for ice cream. The taste was average and satisfying for your ice cream cravings. My FAVORITE ice cream by far though is tofu ice cream at Soypresso. I don't even like tofu! That's how delicious Soypresso's tofu ice cream is!
Restaurants In The Taipei Station Underground Mall
Don't expect to find any street food here, you're underground and indoors! But you can expect to find Indonesian, Malaysian, Singaporean, Italian and Taiwanese food.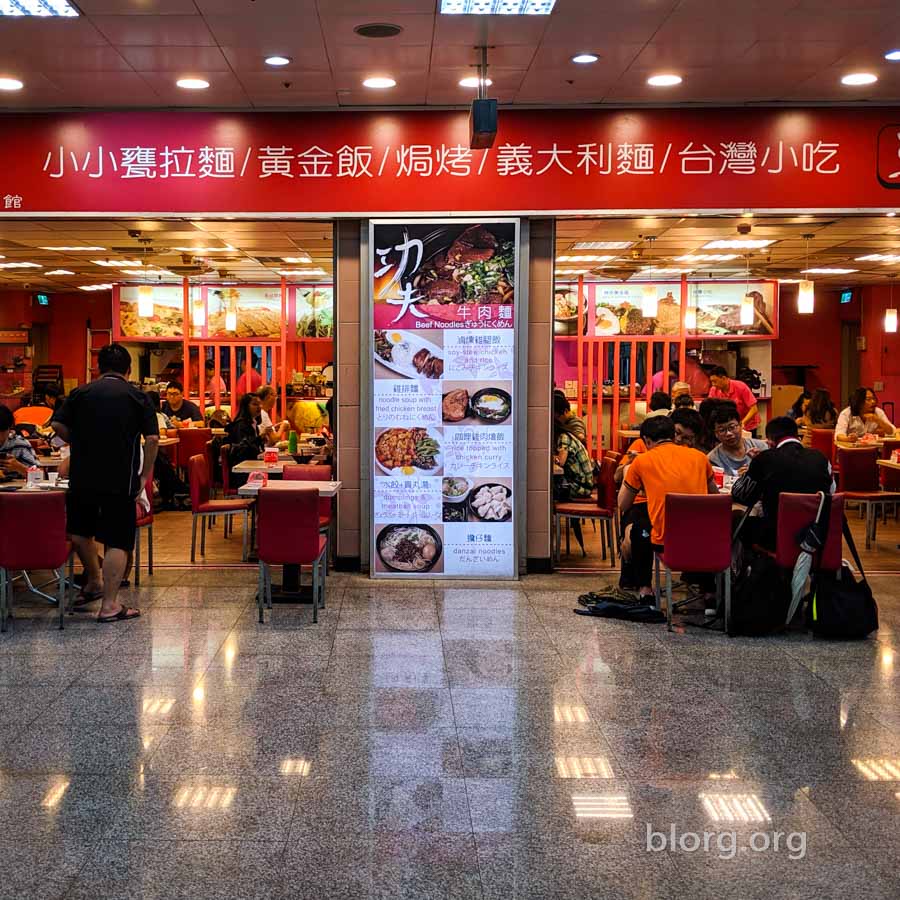 Personally, I haven't tried any of the restaurants in this area. Taipei has the best food in the world and there are restaurants all over the city that have a higher priority for me at the moment. My apologies dear readers.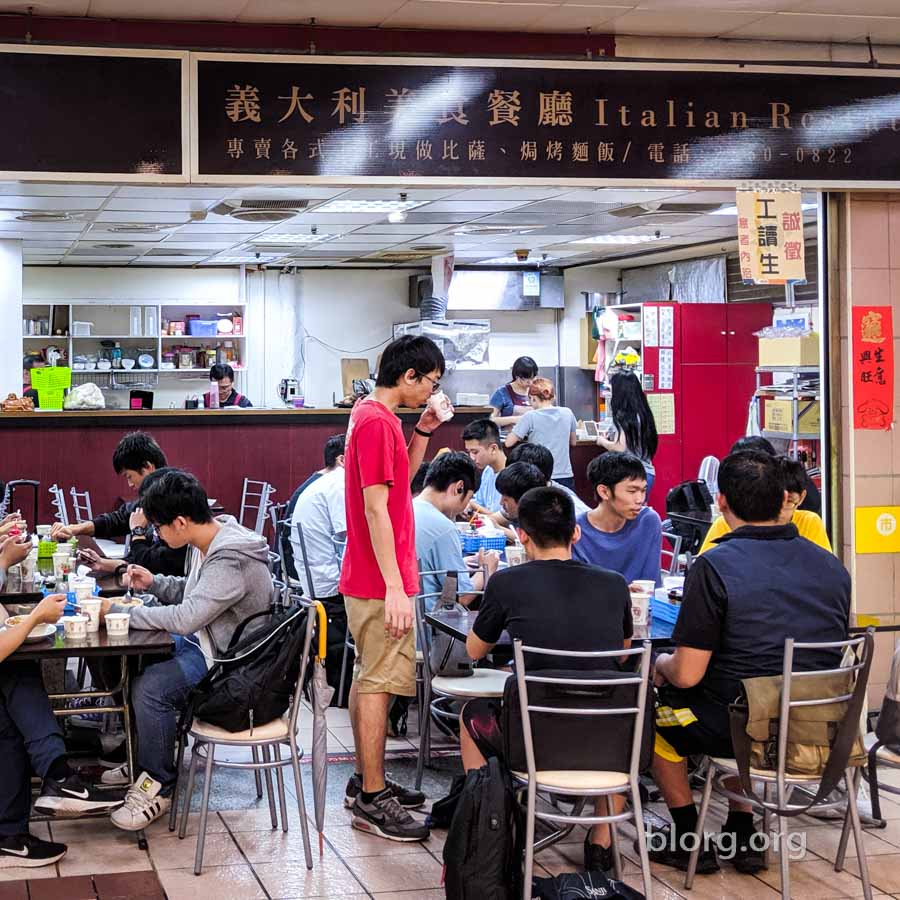 Cafes In Taipei Main Station Mall
As for cafes, you can find a Mr. Brown Coffee underground. They have a full menu of drinks and food. I'm always craving an ice blended coffee in this Taipei humidity and this is one of my go to spots since I can avoid the weather underground.
Play Video Games For Free in This Underground Mall Taipei
As you walk around the middle to west end of Taipei main station underground mall, you'll find several stations to play video games for free! This is not inside any shop but along the walking paths of the mall. So there's no pressure to go inside a store and make a purchase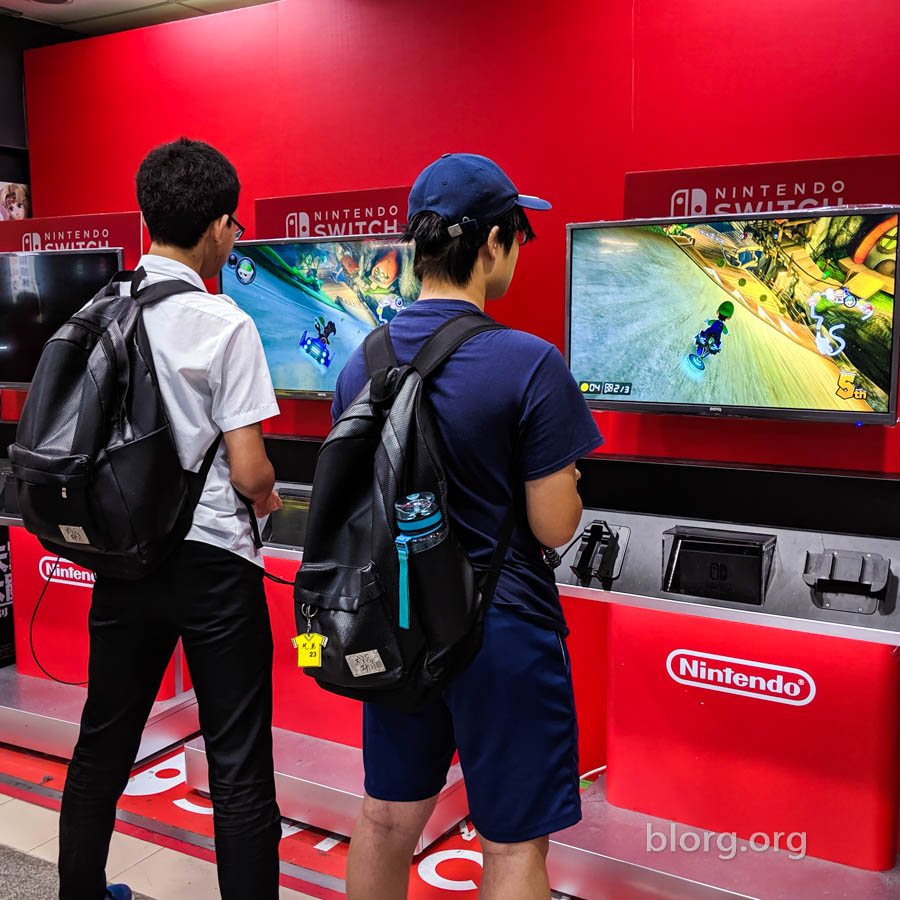 Additionally, they have several stores where you can buy video games and consoles. If you're coming from the United States, prices are going to costs 10-20% more than you typically would pay for video games if you purchase them in Taiwan.
Arcade Games for only $10 NTD
All the games are 10NTD ($0.32 USD) and include arcade basketball (6 stations), music based coordination games and fighting games. Pretty much all the popular games.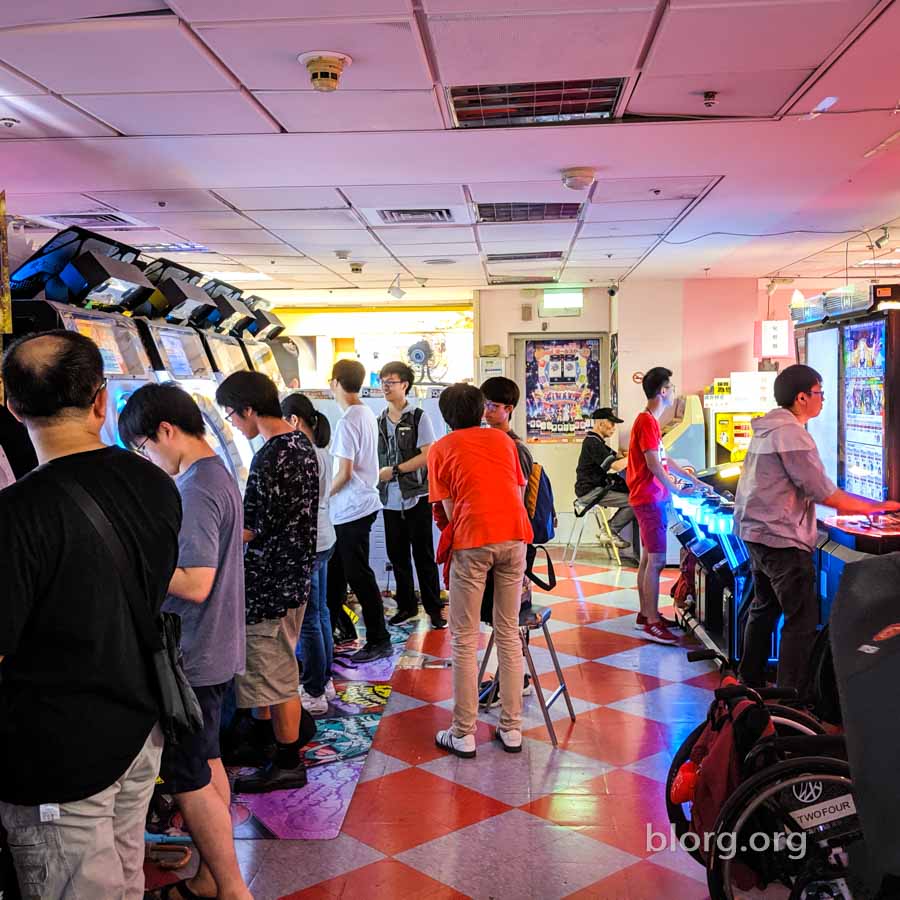 When I'm walking laps in Taipei metro mall, I normally stop by to play a game of basketball for $10NTD. That's only because it's the most straight forward game. The other music games are complicated and the instructions aren't in English.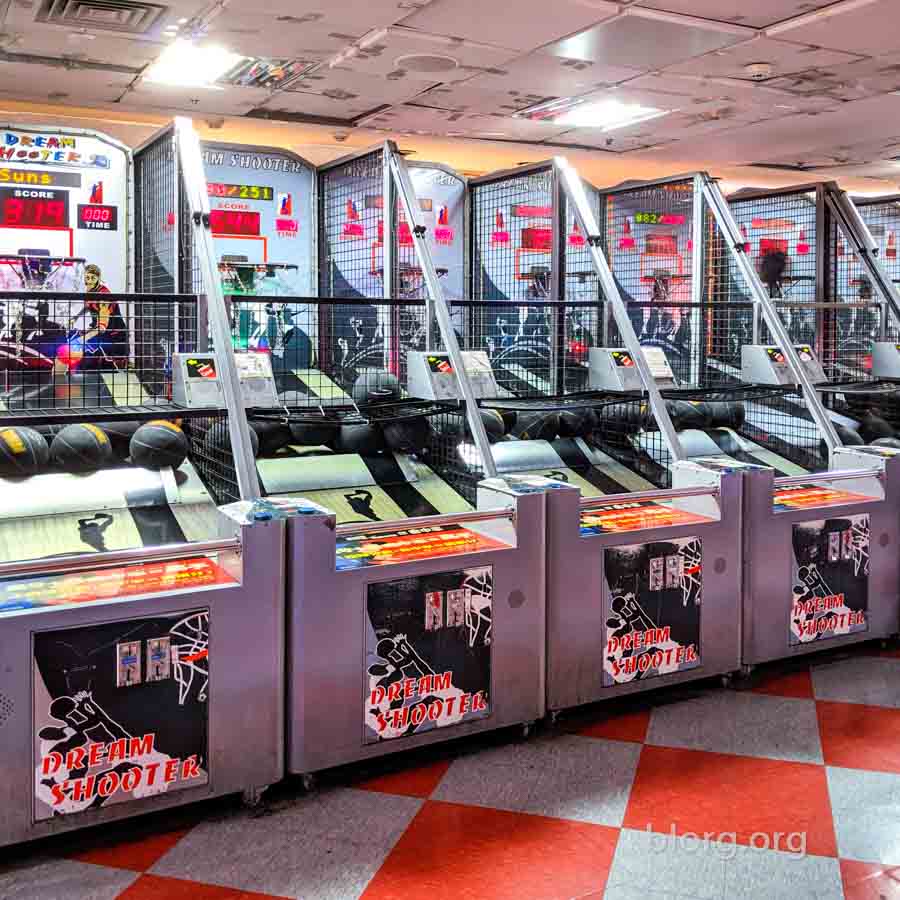 DVD's, CD's and VCD's! Remember them?
Prior to the internet streaming days, people used to watch their media via Digital Video Disc. If you want to relive those days, you can purchase a these old school video discs at the Taipei Metro mall. Personally, I like to live in the future and stream all my content.
Taiwan Massage In Taipei Shopping Places
Within this Taipei station underground mall, you can find 3 places to get Taiwan massages. The first place is more of a large booth where you get blind massages. That means the masseuses are all blind. There's a few of these places throughout Taipei so it's nothing unique to this shopping mall near Taipei Main Station. It's located by the entrance to the R-Mall (by Y-1 entrance).
There's second location of Taipei blind massages by the Y12 entrance. Yup, this mall is so big that they have multiple locations within the same mall.
The third place does a knife massage and fortune telling. If they read your fortune, it's probably going to predict you will be hit by a knife soon. The knife massage "looks" like you should survive it. I watched for a moment but kept moving because I didn't want them to think I was interested.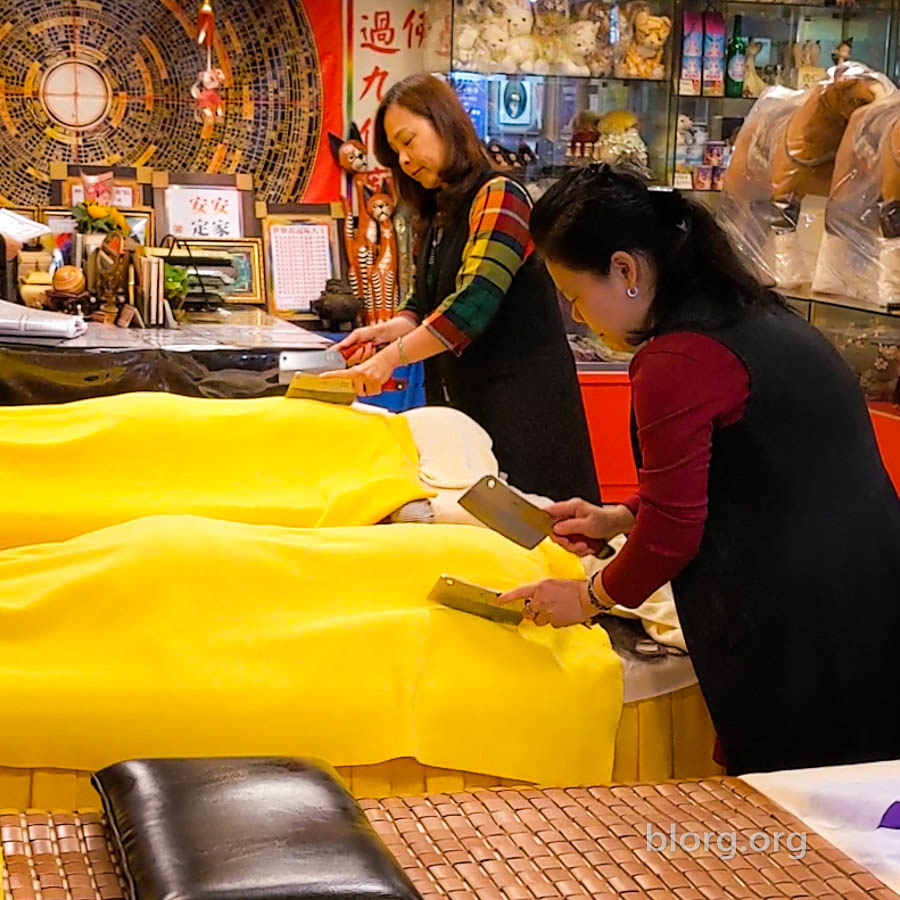 What do we say to the god of death?
Not today.
Taiwan Massage Prices
Each of these Taiwan massage locations charge about the market rate for a massage in Taiwan, $100 NTD ($3.30 UDS) for every 10 minutes. You can go to much nicer places around Taipei Main Station and Ximending (Ximen) for a Taiwan massage at the same price.
Each of those massages have different types of massage services. I would avoid the foot massage and the "Taiwan massage" because both of those are extremely painful. I've never had a more painful massage experience and am still traumatized by the amount of pain inflicted.
Taiwan Fortune Tellers: Shopping In Taipei City Mall
With more than just cheap shopping in Taipei, you can also Taiwan Fortune Tellers in the Taipei Main Station mall underground. If you're feeling adventurous you can get your fortune told in Chinese. Costs typically start around $100 NT and if anything, it's worth it just for the show.
Many Taiwan fortune tellers are available in multiple languages such as Korean, English and Japanese. You'll see a sign at the fortune teller desk that says "English OK" or "Japanese OK" and that's how you can get your fortune told.
There are many types of Taiwan fortune telling methods. Here's a few:
Rice Reading
The Taipei fortune teller prepares your questions, places some rice in their hand and then throws the rice on the table. Depending on how the rice lands, the Taiwan Fortune Teller will read your fortune.
Of course, the fortune teller will really just tell you what you want to hear.
Bird and the cards
In this Taiwan fortune telling method, the Taipei fortune teller will tell you to prepare your questions in your mind. They will have a bird and a several cards on the table. The Taiwan fortune teller will then release the bird and see which card the bird chooses. This will be how your fortune is determined.
Turtle Shell and the 3 Ancient Coins
The Taiwan fortune telling method of the turtle shell and 3 coins starts with a question. You prepare your questions and depending on how the coins come out of the turtle shell that will be your fortune.
Math Based Taiwan Fortune Telling
In this Taiwan Fortune Telling method, the Taipei fortune teller will ask you to write down your family name and ask you about your birth date and birth time. They will then calculate the number of strokes in your family name along with the numbers associated with your birth. From that, they will read your fortune.
They will read your fortune and give you advice on how to take advantage of your upcoming good fortune or how to avoid upcoming bad fortune.
Two Half Moons At Any Temple
Without the need of a fortune teller in Taipei, you can just go to any temple and pick up the two half moons. You hold them up, ask the god of the temple your question, and then drop the half moons. Depending on how they land, that's the answer the gods have given you.
In this Taiwan fortune telling method, you get 2 do-overs. If you get the answer you don't like, that's 2 more chances. At this point, I think it's not about the fortune telling it's about not giving up on what you want.
Caricature Artist At Taipei Metro Mall
Cheap shopping in Taipei also includes art! By entrance Y17/Y18 in the open space, you can find a caricature artist to make drawings for you for only $100 NT. If you want a picture with two people, it will cost you $200 NT.
Live Performances At This Taipei
On the east side of Taipei Main Station underground mall, you can find a small stage with different performances throughout the day. There's also seating for people who want to watch and just to take a break from shopping. Not many places in Taiwan shopping facilities provide seats.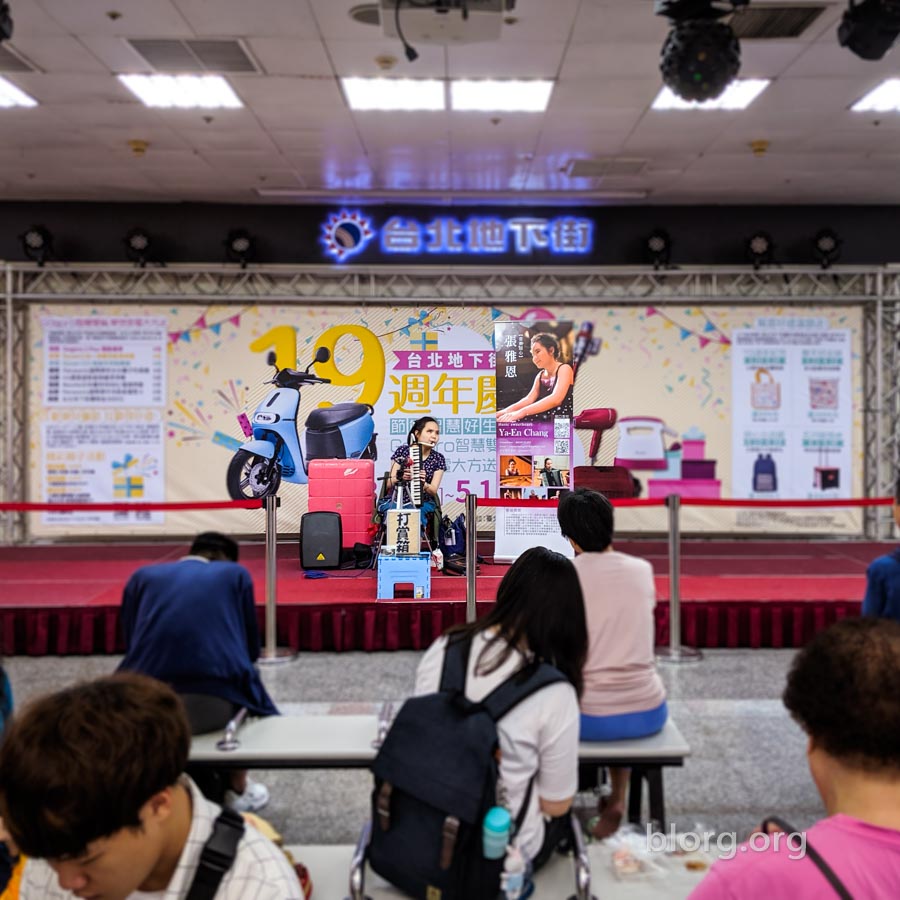 The performances can vary between strictly music, dance or a play. All the shows are free for people to enjoy. At times, it looked like some people just showed up to perform and put out boxes for tips. So technically you'll run in to some street performers when the stage is not in use.
I've stopped by for a few of the musical performances and they have been pretty good! I'm surprised that a shopping area in Taipei have organized and quality performances free of charge.
Post Office In Taipei Main Station Underground Mall
There's a small 1-person operated post office in Taipei City Mall. It's great for tourists that want to mail a postcard to a loved one from Taiwan.
Hair Cuts In Taipei
In Taipei Metro mall, you can also get a very affordable hair cut in Taipei for $200 NT ($6.37 USD). That's a pretty low price. In the image below, they were having some sale for $100 NT.
Most places in the other nearby malls have prices starting at $300 NT so you're getting a pretty good deal for a hair cut in Taipei. Not only can you do some cheap shopping in Taipei, you can throw in a hair cut too!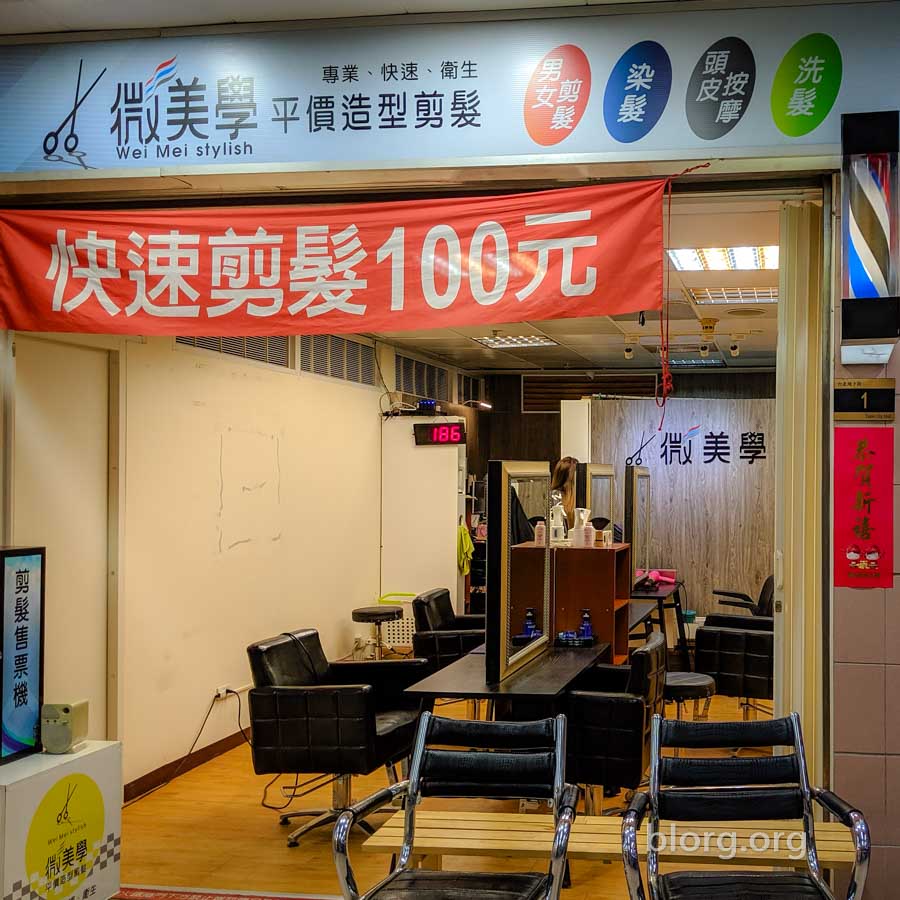 Conclusion
If you're looking for bootleg, low cost or clothing with poor English grammar, you can find all of that at this Taipei underground shopping mall. But you can you also find some very high quality items at a low cost, you just have to look!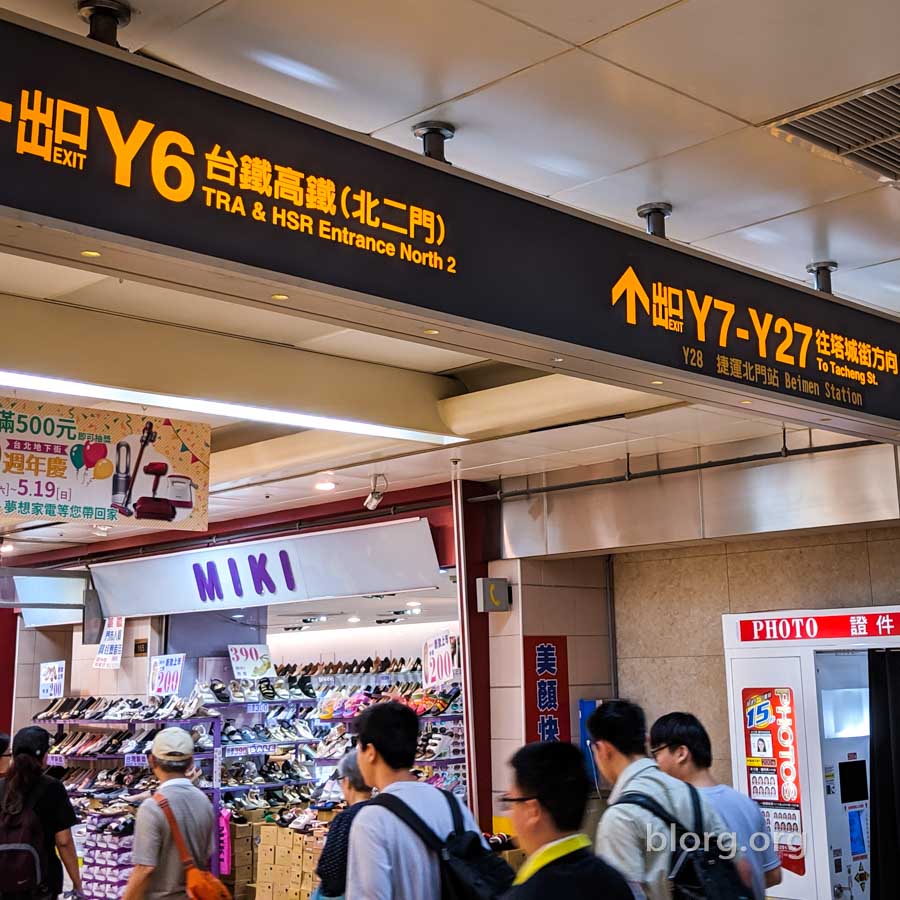 Since I'm currently living in Taipei, I typically do my shopping here look through Taipei Online Shopping sites like PCHome or Shopee. Brand name store items typically cost 20-40% more than in the United States. So if I wanted a $100 USD pair of Nike sneakers, it might be $140 USD even at a Taipei outlet shopping facility. Apparently nothing is ever on sale in Taiwan. So buying non-US brands will really save you money.
I would recommend dedicating at least 1 hour to visiting Taipei City Mall because it's the best place to shop in Taipei. You'll find some deals! It's right next to the airport MRT so it's a great place to pick up last minute Taiwan souvenirs before you get to the airport and are charged 10x the price.
Plus, if you want to take a lap around this mall that would be at least 20 minutes. I don't recommend running…because you'll get tired. Also because it's a mall and can be crowded. It's dangerous for you and other to run around.
Thanks for reading my Taipei blog! Did this interest you in to visiting this Taipei underground shopping mall?