AirAsia X review of the AirAsia A330-300 from Taipei to Kuala Lumpur and back! I took a weekend trip from TPE to KUL and got to experience the AirAsia X check in, AirAsia x baggage, AirAsia seat, AirAsia food, AirAsia Menu and the AirAsia flight experience. But if you're looking for a review for your Air Asia X flight, this is the same thing since AirAsia X operates the A330 on all flights longer than 4 hours.
This wasn't my first time flying AirAsia X and it won't be the last. The flights was 4.5 hours and that's just within my threshold of handling a low cost carrier.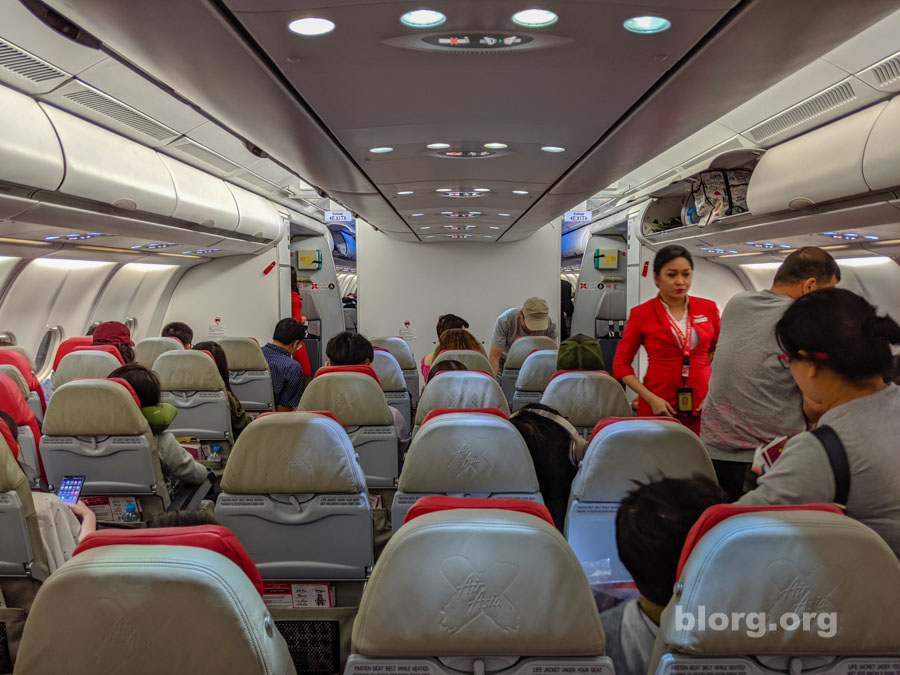 AirAsia X Review
Air Asia is a low cost carrier based in Kuala Lumpur International Airport in Malaysia. As you know, LCC flights are budget airlines that only promise to get you to your destination. You have to pay extra for bags, food and pillows. Nothing is free on the plane, not even water.
If you're hungry or thirsty, you'll have to pay.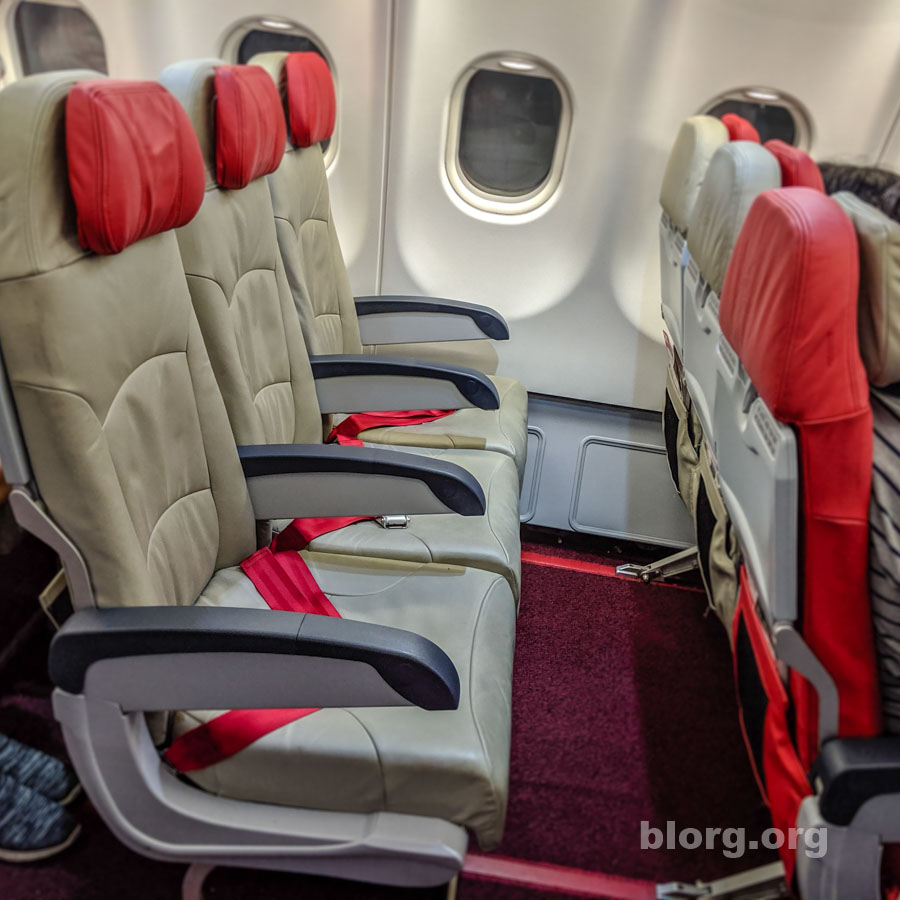 What's the difference between AirAsia and AirAsia X?
Air Asia and Air Asia X are bot the same company but with two different operating configurations.
Air Asia
Airbus A320 with a single-class cabin that has a seating capacity of 180 passengers. Air Asia operates the Airbus A320 on around South East Asia that are 4 hours or less.
Air Asia X
Airbus A330 with two cabin classes and a seating capacity of 377 passengers. Air Asia X oeprates the A330 for all flights from Kuala Lumpur that are 4 hours or more.
Why is it called Air Asia X? Because the "X" makes it sound cooler.
AirAsia X Check-In and Baggage
When flying with AirAsia, you are allowed one free cabin bag that is 7kg or less. If you check-in for your flight at the AirAsia check-in counters, they WILL weigh your bag.
Luckily though, they don't put a luggage tag on your personal bag. So if you happen to have a bigger bag that you want to take on, you can probably sneak it in.
Cheating The System: The hack to bring in a heavier bag is to use the check-in kiosk to get your tickets. If you have to use the check-in counter, only bring 7kg of your stuff to check-in. You can hide the excess in a shopping bag or store it in a locker temporarily.
If you want to check-in a bag, you just have to pay. There's no travel hack for that.
AirAsia X Seat
Pros: The AirAsia X Seat is surprisingly spacious! There's a lot of leg room and you can actually stand in front of your seat without hitting your head. That's the only positive points.
Cons: The AirAsia X Seat doesn't seem to have a lot of padding. My butt was starting to hurt after 2 hours of sitting. There is no in-flight entertainment, but you can rent a screen for an additional cost. If you need something, you have to buy it. There's also no flight attendant button at your seat so you just have to catch an Air Asia flight attendant as they pass by.
AirAsia X Business Class Seat
The Air Asia X Business Class seat is a lie-flat angled seat. Air Asia X has a very affordable business class seat since the price was around US$300 for a 4.5 hour flight from Kuala Lumpur to Taipei. I stuck with my cheap US$100 economy seat since I'd rather save that money for delicious food in Taipei.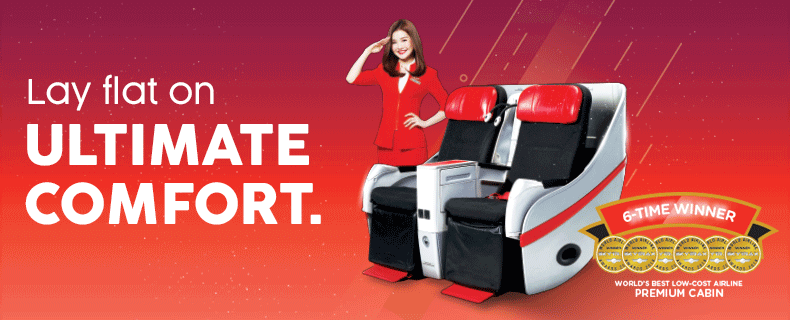 Before the flight departed, there were still seats available for upgrade on AirAsia X. Air Asia X does not give away their Business Class Seats, but you can pay extra in-flight to upgrade via credit card only
AirAsia Review of Service
The Air Asia flight attendants work hard! They were all constantly coming up and down the aisles selling snacks, drinks, AirAsia products or duty free goods. It was too much selling.
The attitude of the flight attendants was "just okay." They weren't very friendly and it seemed like they treated requests from passengers as an inconvenience.
I needed to fill out a Taiwan arrival card but they didn't hand one out to me. When the flight attendant was walking by asking if people needed it, she walked fast! I completely missed her so I had to snag one later in the flight.
That's when I realized, there is no flight attendant button on the Air Asia A330-300. Maybe there are buttons on other AirAsia planes, but not on the AirAsia A330-300!
With no flight attendant buttons, you just really have to yell out if you want anything when the flight attendants come by. It is a very "different" experience.
AirAsia X Food
If you want food for your AirAsia X flight, you have to order it in advance! I did not order food in advance and attempted to order food on my 4.5 hour flight from Taipei to Kuala Lumpur and they didn't have any hot meals to sell me.
I was only able to purchase drinks or snacks on board. You could pay with Malaysian currency or credit card.
All meals on Air Asia X must be ordered online prior to your flight. This is so they don't waste food. That makes sense, but I was very hungry.
Before they told me that food was unavailable, I was checking out the AirAsia menu for about 30 minutes. I was so hungry because it took 3 hours to get from Kuala Lumpur city to my departure gate at the airport. Immigration at KUL airport took about 80 minutes then you have to stack on security and running to your super far away gate.
AirAsia Menu
This is the AirAsia menu. As I mentioned above, none of the hot meals are available unless you order it in advance.
Drinks

Drinks

Drinks

Drinks

Drinks

Drinks

Drinks

Drinks

Snacks

Snacks

Snacks

Snacks

Dessert

Food

Food

Food

Food

Food

Food

Food
Conclusion
Would I fly with Air Asia again? Yeah, probably. If they have a significantly cheaper price, absolutely! I'd rather save money than be comfortable, within reason of course. At about 5 hours is my threshold for an uncomfortable experience. I've flown in Qantas Business Class and ANA Business Class before so I know how much more comfortable a flight can be, but I'd still rather save money. The experience on flying low cost carriers for short flights is very bearable, even with European Low Cost Carrier Blue Air isn't that bad.