If you haven't heard of Japan's Battleship Island, you've probably seen it. Battleship Island (AKA Hashima Island Japan / Gunkanjima) was featured as the James Bond island in the film Skyfall.
In this post I'll cover:
Battleship Island's Aliases
The Hashima Island coal mine
Abandoned Island Japan: Why Everyone Left
James Bond Island (where was Skyfall filmed)
How To Get To Battleship Island
Battleship Island Tours and other things to do in Nagasaki
Abandoned Island Japan: Hashima Island Gunkanjima
This abandoned Japanese city has several names. The official name is Hashima island, but since it looks like a battleship it picked up the name Battleship Island (or Warship Island). In Japanese, "Gunkanjima" means "Battleship Island."
Hashima Island, Japan: Originally a coal mining town, but later abandoned when the mines ran dry. Over 40 years of typhoons and rough weather has decayed this city into a beautiful disaster.
If you take a Hashima Island tour, you will only be able to visit a small portion of the outside perimeter of the island. That's if you're lucky, considering that sometimes your Hashima island tour won't be able to disembark if the water is too rough.
Skyfall Island: James Bond visits Hashima Japan
In the 2012 film Skyfall, James bond visits one of the most interesting abandoned places in Japan. You'll recognize it as the Skyfall abandoned city. You can see several shots from the Skyfall locations in the trailer. An even better shot in this clip from the film.
In the scene from Skyfall, Hashima island is used as the Bond Villain's hideout in Skyfall. Any type of abandoned city or abandoned island automatically makes for a supercool hideout.
You actually see way more of Hashima Island in the movie Skyfall than from a Hashima Island Tour. Since a lot of the island can crumble at any time, most of it is closed off to tourists for safety reasons.
Origins of Battleship Island
Battleship Island was originally a coal mining town, but later abandoned when the mines ran dry. Over 40 years of typhoons and rough weather has decayed this city into a beautiful disaster.
Life On Hashima, Japan
When Hashima island was thriving as a coal mining town, at it's peak in 1959 they had up 5,259 people on 16 acres of land. They had many tall building to support the amount of people, but it was still crowded. With that many people in such a small space, it's historically the most crowded city on Earth.
Even though they didn't have much land, they still had a soccer field! The people needed an open space to run around. Besides tall apartment buildings, they had all the modern infrastructure: school, town hall, community center, clubhouse, bathhouse, swimming pool, cinema, rooftop gardens and of course a pachinko parlour.

Booking Battleship Island Tours
Hashima Island is 9 miles (15km) away from Nagasaki through choppy waters. It's a 40-minute ride each way and there were many warning about people getting sea sickness.
If you want to book a tour in advance, there's only two sites to book Hashima Island Tours for 4300JPY:
I didn't book in advance and couldn't book the tour on the same day online. Not a problem though. There are several tour companies that you can book at the Nagasaki Ferry Terminal for last minute trips!
Getting To The Nagasaki Ferry Terminal
Nagasaki is a pretty small city and you can walk everywhere. If you're staying anywhere near the city center, you can walk to the Nagasaki ferry terminal.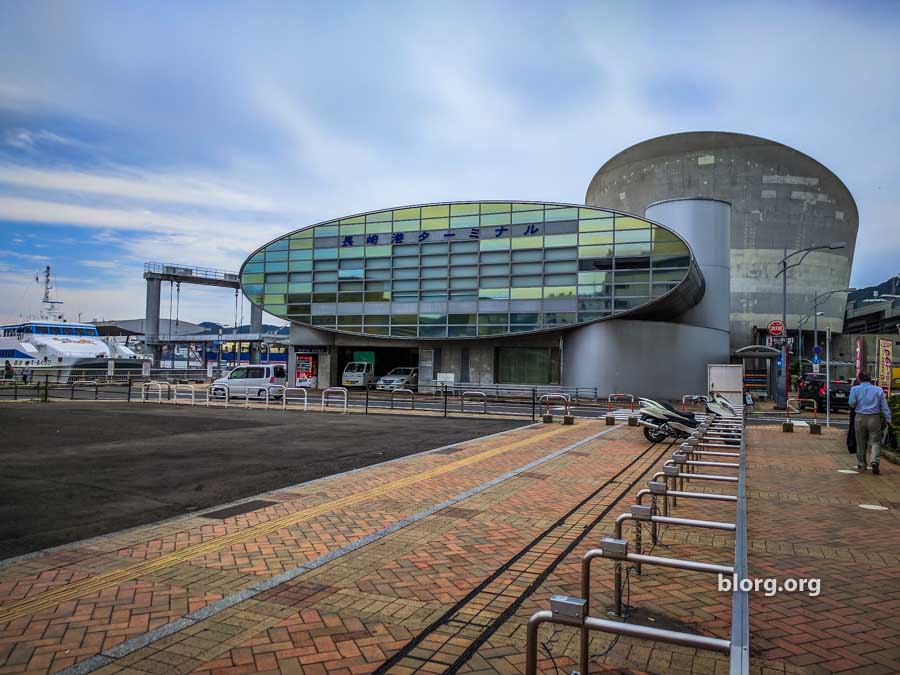 I booked my tour with "Gunkan-Jima Cruise" for 4200 JPY + 300 JPY (entrance ticket). The tour would be in English tour for a total price of 4500JPY. It was a little more than the tour you can book online (4300 JPY), but it was great being able to book last minute.
Before making the purchase, I was required to sign a safety waiver since there was some danger involved. That just made the trip a little more mysterious and exciting. The ferry departed at 1pm from port #7.
Preventing Seasickness
I get very seasick. Planes, trains and rollercoasters do not give me motion sickness, but being on water does. I'll never be a pirate. The only way to prevent this issue is to take motion sickness medicine.
Right next to the Nagasaki Ferry Terminal is a large department store (mall). I went into the mall and found the pharmacy area on B1. At this point the ferry was going to depart in 20 minutes so I had to hurry. With my Google Translate app, I looked up "motion sickness medicine" in Japanese and then asked one of the employees.
They redirected me to this very cute Hello Kitty motion sickness medicine so I bought it and headed back to the port. Motion sickness medicine for adults was available, but I went with Hello Kitty.
Ferry Ride to Battleship Island
Boarding the ferry to Hashima island consisted of mostly Japanese tourists. I felt really lucky to have gotten a ticket now since there were so many people.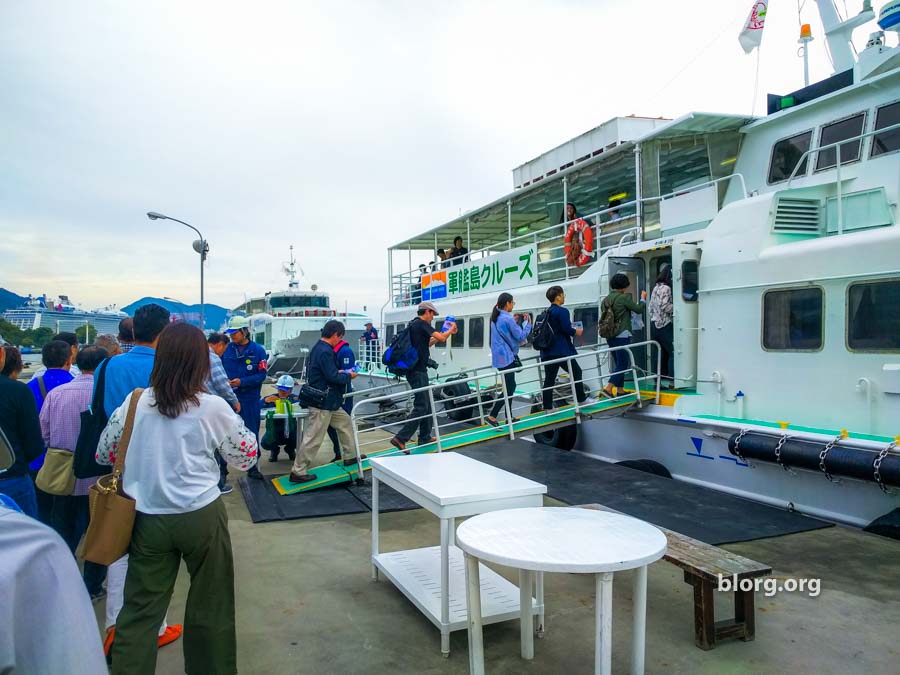 The ferry would take approximately 40 minutes through rough water. It was rough, but I didn't get seasick. The seats were pretty basic bench style for 4500 JPY. I looked at the tour provided by Klook and the seats looked way nicer for a lower price!
Issue With Booking Tickets In Advance
In cases of bad weather, two things may happen:
The water becomes too choppy, the ferry won't be able to dock at Hashima Island. Instead of docking they will just sail in circles around Battleship Island for an hour.
If the weather is EXTREMELY bad, the ferry won't depart Nagasaki Ferry Terminal. In this case everyone will get a refund.
Disembarking At Battleship Island
When we arrived at Gunkan-jima they had two groups disembark; the English tour then the Japanese tour.
Only 2 boats can be docked at Hashima Island due to the limited size of the dock. Typically they limit each visit to 1-hour per tour group. That's all you really need on this Japanese abandoned island.
There aren't any restrooms on Hashima Island so if you need to use one, you have to go to use the toilet on the ferry. If you need to use the restroom, the ferry will be at the dock so you can go back to use the restroom at any time.
Additionally there aren't any food vendors or trash cans on Hashima Island.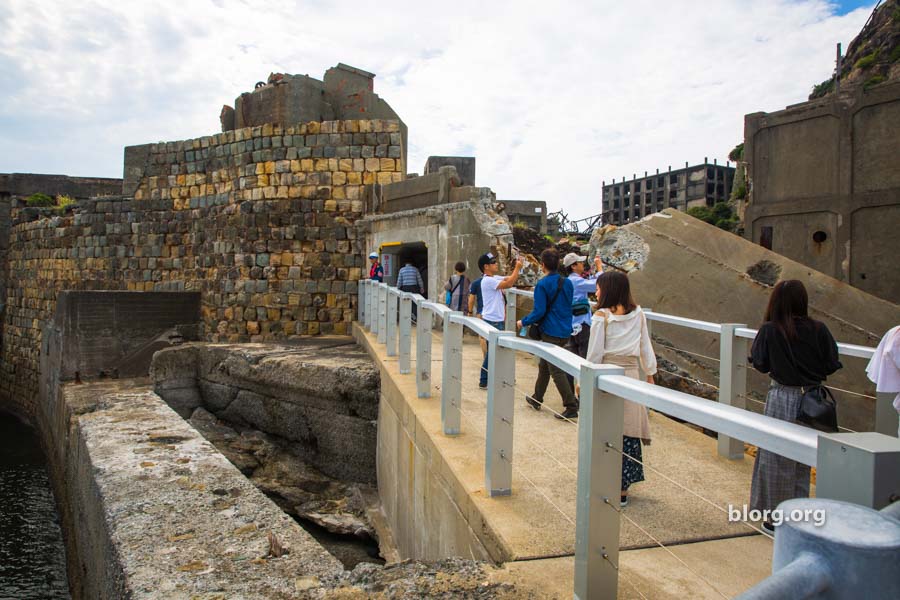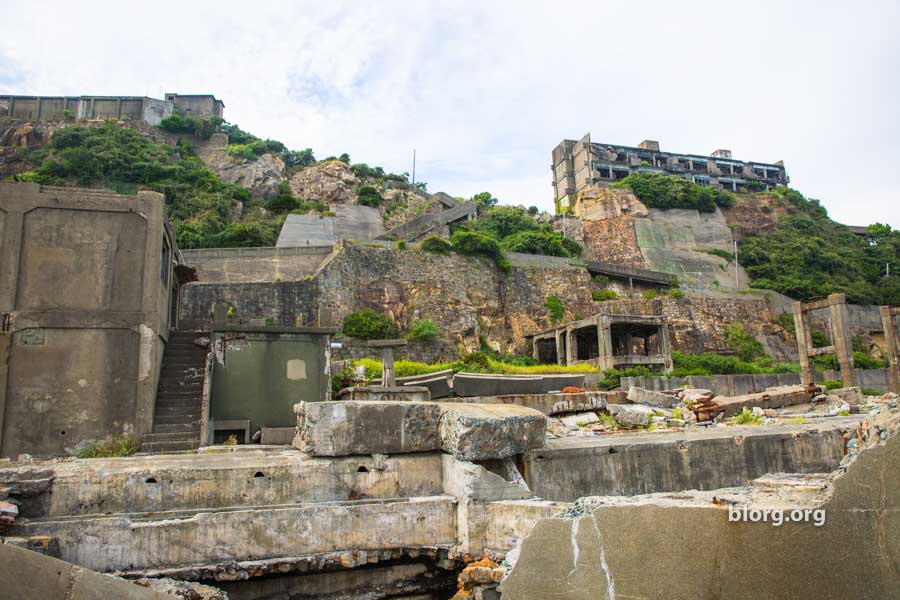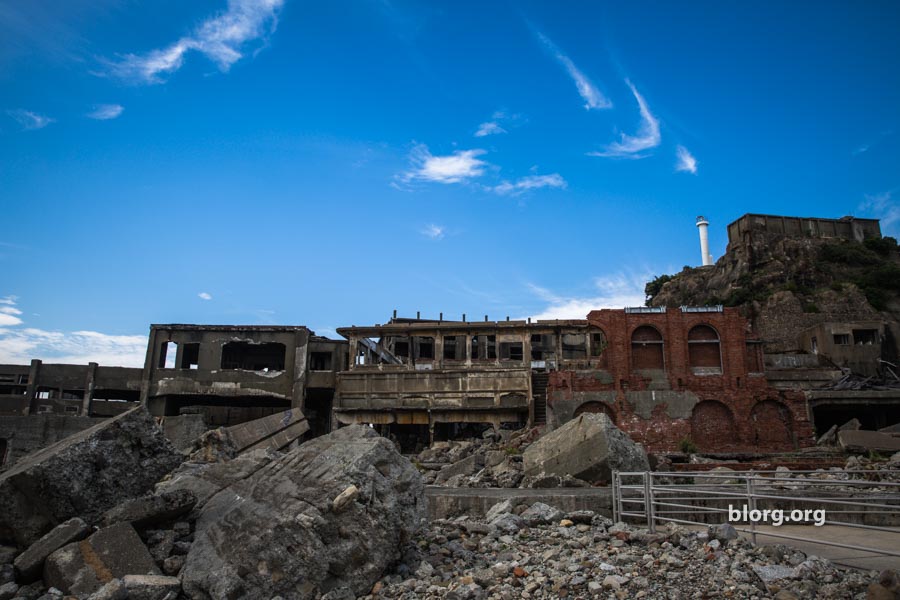 The area where you can walk around is very limited. There were three sections where the tour stopped to explain things about the island. We weren't allowed to wander around on our own. Security was very vigilant about watching the tour groups and keeping people in the safe areas. The buildings are very dilapidated and can fall at any given moment.
The island was abandoned 40 years ago and after 40 years of rough weather and typhoons, the island is now in this condition.
Ferry Ride back to Nagasaki
After about an hour of touring Battleship Island, the tour ended and we returned to the ferry. The ferry took a lap around the island so we could get a better feel of what we missed out on.
As we got closer to Nagasaki, the staff walked around trying to sell souvenirs for Gunkanjima. They were selling hats, T-shirts, towels flags and postcards. It's really hard to sell souvenirs with an island as the mascot.
I passed on making any purchases.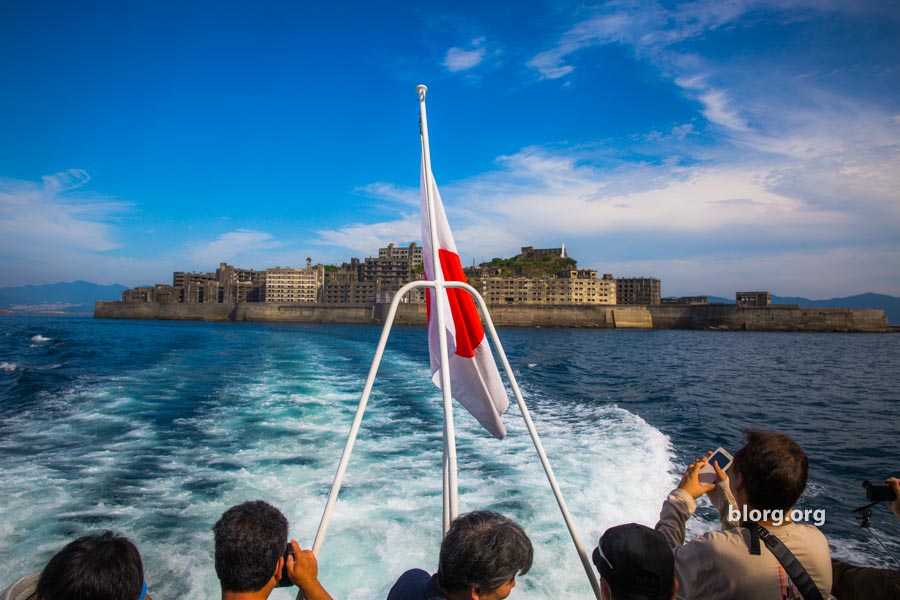 Conclusion
Getting to Hashima depends on good weather! Planning last minute helps and if you're lucky with clear weather that's even better!
If you're not as lucky, the Hashima Island tours offer free refunds if the weather is so bad that they can't even leave the Nagasaki ferry port.
Your best chance is to plan a flexible schedule and go on the day with the best weather. You don't really have to buy your tickets in advance since there are multiple ferry companies, but only one company is available to book online (and in English).
Things To Do In Nagasaki
Seeing Hashima Island was beautiful yet sad. I returned to my Nagasaki Capsule Hotel and decided not to continue eating any more horse…at least for now. So If you're in Nagasaki for a few days you can do the following:
Disclosure: The Klook links are affiliate links were I get a small commission. It's still as cheap of cheaper than the lowest prices you can find online.