Direct flights and all aisle access. The best way to travel. This is my short flights from Melbourne To Bangkok on Thai Airways.
Business Class on Thai Airways From Melbourne To Bangkok
Flight: TG 466
Route: Melbourne – Bangkok
Time: 3:25pm – 8:35pm
Class: Business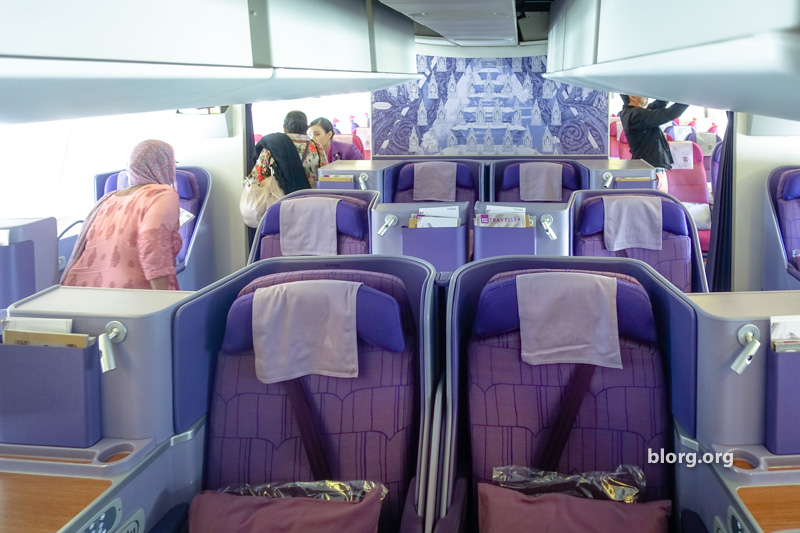 Booking Thai Airways Business Class MEL-BKK
I booked this the day before the flight for 30k United miles and $118USD (plus $75 close in fee). Since this was a last minute trip and non-flexible, I didn't have time to pull the trick to avoid the United fee.  I flew from Melbourne to Chiang Mai with a connection in Bangkok.
This trip was booked in the beginning of 2017 and United has since then increased the redemption rate for this flight. Now it will cost you 50k United miles which is a huge increase!
Journey To Chiang Mai
I loosely plan my trips (as in I only planned the first week out of four) with a general idea of where I want to go.  I initially wanted to go to New Zealand and the Philippines.
After researching New Zealand, I couldn't find anything interesting enough to justify me going there.  There was a monsoon in most of Southeast Asia so the Philippines was no longer an option.  Sunshine in Chiang Mai? I guess I'll go there…so I did.  I looked at my inventory of miles and found I can get there in business class for just 30k United miles.
Flying in Thai Airways A350 Business Class from Melbourne To Bangkok
The flight was very pleasant.  There weren't any additional ground services or express passes for business class passengers arriving in Bangkok.  I flew Thai Airways in first class before and they drive you from your arrival gate to the diplomatic immigration line.  That was a great VIP experience.
The flight and service was outstanding. Since we had a 16-hour layover in Bangkok, we got to use the Business Class departure lounge in Bangkok which includes a free 30-minute massage.
Be aware though, if you're a US citizen you don't need a visa when arriving in Thailand.  I only booked a one-way ticket since I didn't figure out the next destination yet.  They don't require that you have a departing ticket from Thailand.