While in Okinawa, the public transportation isn't going to be as good as it is in Tokyo. A lot of the island is not connected by any public transportation. Being able to rent a car in Japan is essential if you're going outside the city of Naha.
Requirements To Rent A Car In Japan:
Driver's License
To rent a car in Japan, you need to have a driver's license. You don't necessarily need a Japanese license, you just need one from your home country.  I have a U.S. driver's license so that won't be a problem.
International Driver's Permit
The next thing you'll need, is an International Driver's Permit.  If you have a driver's license, it allows you to drive in many other countries (in this case, Japan). It's outrageously easy to get an International Driver's Permit if you already have a driver's license.  All you need is $20.  I went to a AAA office, filled out the paperwork (no tests), gave them money and they gave me the permit.
The crazy thing is, you're getting in a vehicle in another country and you're not familiar with the language, road signs, or customs.  But, here's a license!  It took me a day to adjust to Japan's driving style, but there should have been a mandatory prep class at the rental facility.
Credit Card and Passport
The last two items you need to rent a car is a credit card and passport.  For the credit card, I used my American Express Platinum.  They have amazing rental car insurance coverage.  For $17, you're covered in any situation.  I can non-intentionally wreck the car and not have to pay more than $17.
 Finding The Best price
I don't like overpaying for something especially if all I have to do is a little research online.  I checked the following sites for a 5-day car rental in Japan:
Kayak
Expedia
Citi Thank You Points Rewards Portal
Chase Ultimate Rewards Portal
ToCoo
OTS Rent-A-Car
Nippon Rent-A-Car
I found the best price on ToCoo, which seems like a Japanese rental car hub.  Since I was actually renting the car from "SKY Rent-A-Car."  For a 5-Passenger Toyota CH-R for 5 days, the total was 18000JPY.  After going through to check out, there's a small fine print on the ToCoo site saying there would be a ToCoo service charge of 6000JPY.  Grand total of the rental was 24000JPY which was still the best price I was going to get for a 5-passenger vehicle for 5 days.
It turns out ToCoo was a 3rd party booking site for Sky Rent-A-Car.  If you go directly to Sky Rent-A-Car the price will be much lower!
Picking up the car in Naha (Okinawa) Airport
Since my rental was really with SKY Rent-A-Car, I had to go to their office to pick up the car. From Naha Airport, their pick up station is outside the domestic airport at section #11.  The pick-up area is on the central divider, next to the domestic arrivals curb.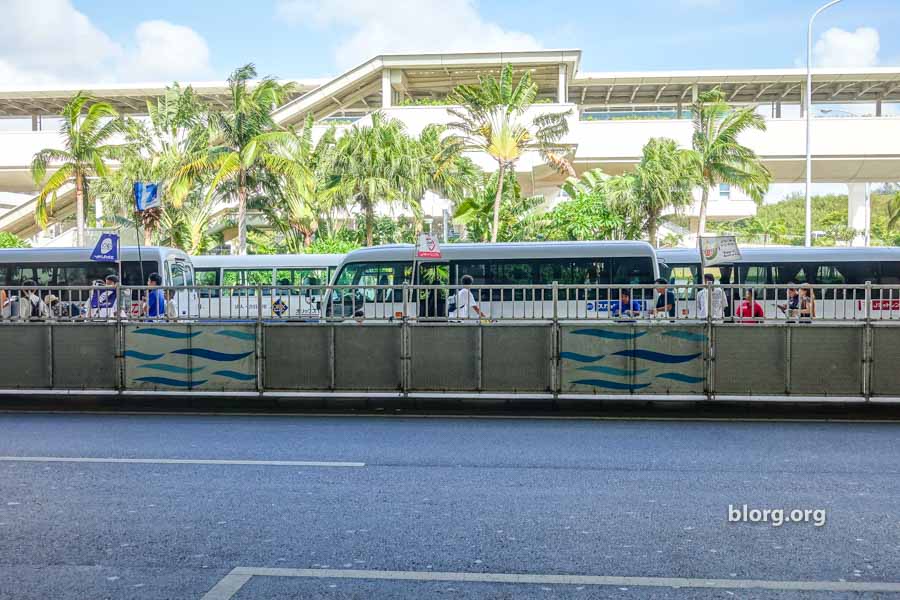 From there, you give them your reservation information and they take you to their office on the shuttle.  The ride took about 10 minutes with traffic.
They spoke excellent English at the office and the pick-up was very straightforward.  After getting a copy of my information, we were walking around the car doing a scratch check. The car was a red 2018 Toyota CH-R.  This car was quick, comfortable and high tech.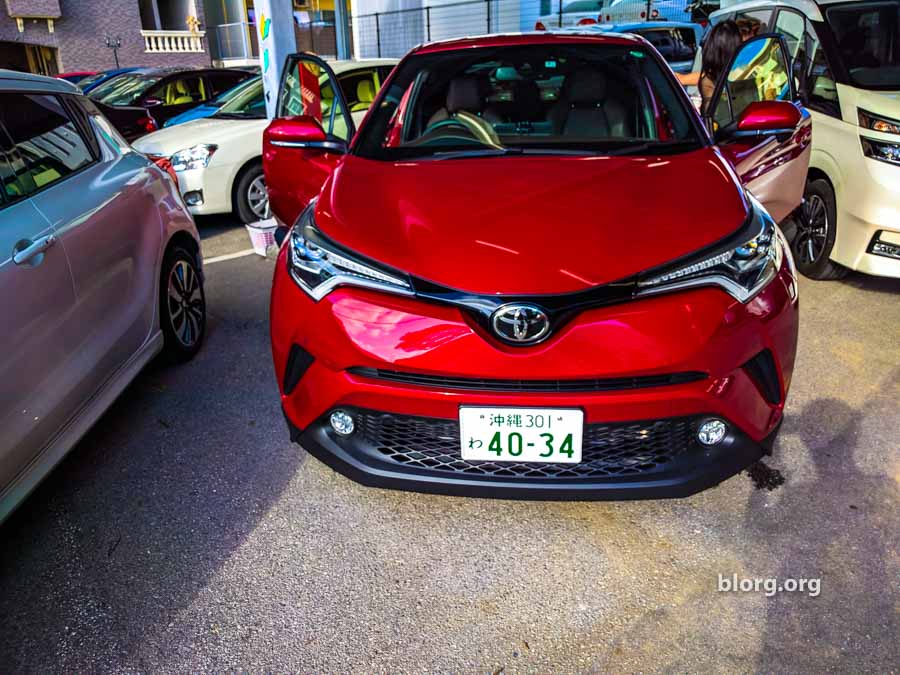 Returning the Car
Returning the car was a very simple process.  You can drop off the car at any of the Sky Rent-A-Car facilities in Okinawa.
After filling up the gas tank, I went to the nearest Sky branch parked the car and looked for an attendant.  There was a guy washing cars outside so I just asked him.  He asked for the rental agreement paper that I was given but I didn't have it on me.  Then he said it was okay and proceeded to inspecting the car.
A quick inspection of the car resulted in an "OK" from him and I was on my way.  No damage and no additional fees.
Car rental journey complete.