Ok, it was close to free! It was in the free "area code". I used 44,000 Radisson Rewards hotel points to stay at the Radisson Blu Malta Golden Sands rather than paying the $300+/night the hotel was retailing for. Plus, I got an upgraded room!
Radisson Blu Malta Golden Sands Best Use Of Points
Definitely only needed 1-night here to get full value from the experience. It was my last night in Malta and I arrive to check in at 10am and I checked out the next day at 1pm. I was flying out of Malta to Romania at 3pm so it worked out perfectly.
When you get tired of relaxing in Malta, you can check out this list of 16 Things To Do In Malta.
Getting Early Check-In/Late Check-Out
Whenever I'm arriving or departing a city, I look at the travel times. Airbnb's and most hotels are very strict about not letting you check-in early or check-out late. That's why I typically stay at a hotel chain where I have premium status.  When you have status at the hotel, you get upgrades and flexible arrival/departure times.
How To Get Hotel Status
Credit Cards! Used extremely responsibly of course. I have 3 Radisson Rewards credit cards that I have open for the points. Two personal cards and one business card. Literally have 2 identical personal cards! I did it just to see if I could get away with it. I don't use any of these cards but I pay the annual renewal fee of $60-$75 since it includes the hotel status and 40,000 points as a bonus each year.  For this situation, it's like paying $80 to stay at this hotel which was going for $300+ when I stayed over the summer
The Beach At The Radisson Blu Golden Sands
Getting to the beach anywhere on Malta was a pain. Just taking public transportation anywhere took an hour. I wanted to just walk out of my room and be at the beach and this was the place to achieve that goal.
They have a private beach! There's an area sectioned off for hotel guests with umbrellas, lounge chairs and a service button to order whatever you want.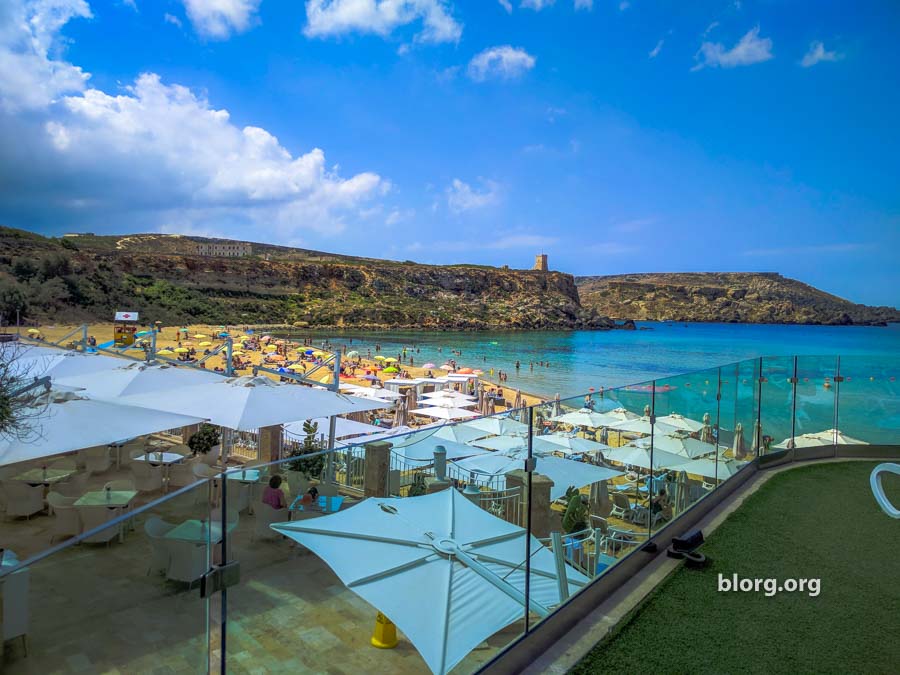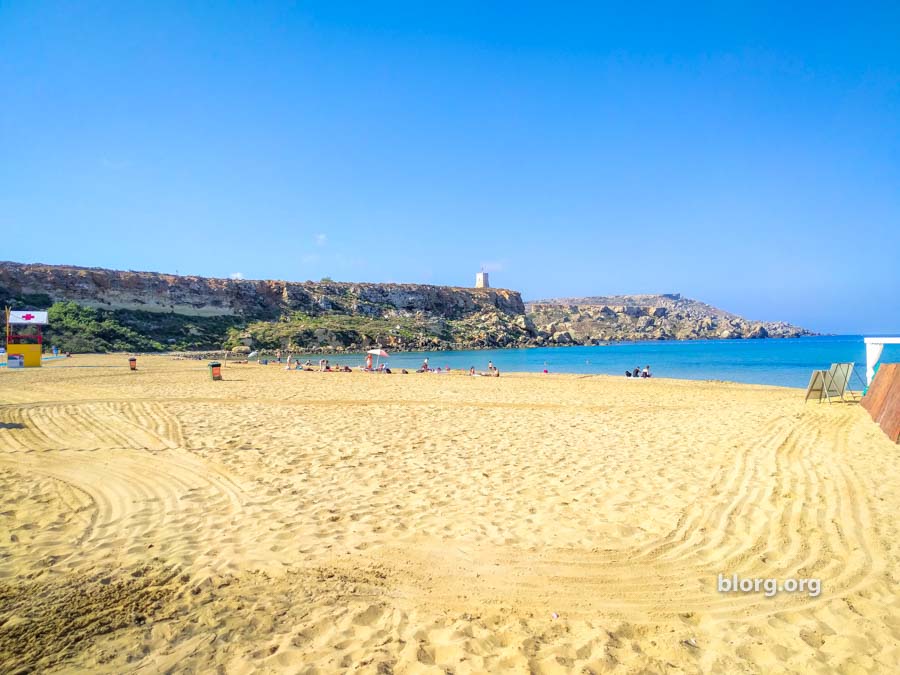 Prices For Food At The Beach
1/2 liter of beer on the beach for €5 or less! Pretty good! Standard beer size/price was €3.50. Fries were €3.50 and Burgers were around €13. To me, the prices were reasonable to eat on the beach. But I just went beer and ended up eating risotto at a nearby restaurant later.
Breakfast Is Not Included?
Breakfast is not included! The only Radisson I've ever been to where they didn't provide breakfast for people with hotel status. I ended up eating leftovers I had from other times I went out to eat so it wasn't a problem…but still!
You Can Rent Yachts!
I don't have yacht money. Not even yacht rental money. But I did ask how much were the rentals. The answer…a lot!  I was surprised they answered me like I was actually going to rent a yacht. That was just a questions out of curiosity.
Hiking To The Next Beach And Guard Tower
The Radisson Blu Malta Golden Sands is a popular beach destination because of the beach. There's a nearby bus stop that provides easy access for most tourists. If you're going here and not staying at the Radisson, be prepared for very full buses at the end of the day when everyone is leaving the beach.
But if you're looking to branch out, you can hike to an old guard tower that looks over the beach to the Radisson and to another nearby beach.
The Room
I was surprised that the room had a full kitchen. It was full because it had all the equipment you needed for cooking and dining.  Other than that, the room decor was a little outdated but still very comfortable.