There are two popular blue lagoons in the world. The most popular one is in Iceland and it's a hot spring. The second (less known) location is in Malta.
Malta's Blue Lagoon
Malta's Blue Lagoon is known for its crystal clear waters and rocky shores. The one drawback is that there isn't much actual sandy beach around Malta.
Getting To The Blue Lagoon
To get there, you have to take a ferry that will drop you off there. It's a popular tourist destination so there are a lot of tour companies that will take you there (lots of competition). I booked online through Viator and happened to get the most expensive one after looking at other prices, Hornblower Cruises at 20€.
The tour took off from the port of Bugibba.  I happened to be checking out of my hotel in Mellieha to an Airbnb in Bugibba. Instead of going back to the hotel to pick up my stuff, I decided just to bring my luggage with me so I could save a trip. Getting around on buses is very time consuming in Malta.
Hornblower Ferry To Comino (Blue Lagoon)
As I walked over to the port I could see several different ferry services going to Comino.  That's good to know that there's several options which cause price/service competition.  There was a short queue to get on the Hornblower Cruise and the captain was welcoming each person before boarding.
The captain verified our tickets and gave us options on which cruise package we would like. There were 2 packages:
For 20 euros, you could take a day trip to Comino
For 30 euros, you could take a day trip to Comino for 90 minutes and then a 3-hour trip to Gozo being shuttled around to the prominent sights.
I initially opted for the 20 euros options through Viator (30 euro wasn't online) and when I got to the tour, they offered me an upgrade to the 30 euros option.  I'm glad I took it.  Spending 4.5 hours on Comino would have been too much time for me.  The water was beautiful, but I didn't feel like swimming. I need an immediate shower available after swimming.  That wasn't an option.
Storing Luggage
As I was boarding, it was very clear that I was the only person who brought luggage. I read online that there were lockers available.  There are very small lockers (pretty much for a small purse) available with a 5 euro deposit. No lockers were available for luggage. I was very worried that I would have to go on a tour of the islands while dragging my luggage around. After bringing up this issue with the crew, they were happy to help.  They said I could leave my bag under one of the seats by the lockers.  CCTV's were in the room and it was constantly staffed so theft wouldn't be a problem.  Feeling assured, I left my bag as they suggested. I happen to also have a lock on my bag so I felt secure about leaving it around strangers.
On the boat, they had a small restaurant with food available: burgers, fries, sandwiches, drinks, beer and snacks.  The prices were very reasonable. Cheaper than the food you could get at Comino island (and they mentioned it too).
On the way to Comino island the captain explained notable things along the way.  We also stopped to see some caves around the Island.  All announcements were made in English, French and another language (I wasn't sure).  The explanations were made in a fun, funny and engaging way.  The captain also stopped in to check in with every passenger to explain the route, itinerary and if we had any explanations.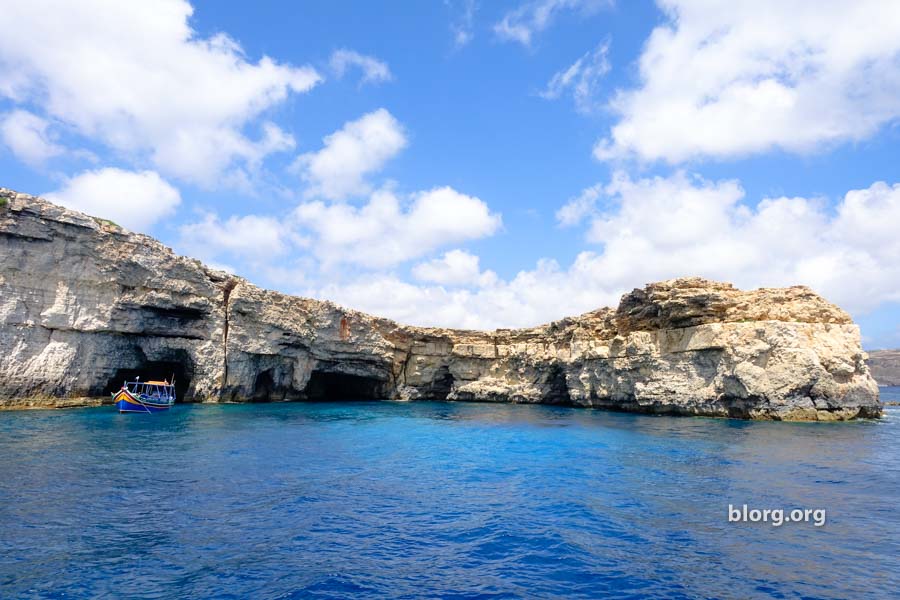 Docking At Blue Lagoon
With the package I booked, there was a stop on Comino island (Blue Lagoon)for 90 minutes.  After the boat docked, it turned into party time on the boat.  They brought out the lounge chairs and set up the water slide. Yes, they have a water slide!  I still didn't swim but kept in mind if I decide to do the tour again.  Instead, I ventured on to the island of Comino.
There were incredibly clear waters and large crowds.  They have several vendors where you can get food and drinks. I ate on the boat since they were right about it being more expensive on the island.  Umbrellas and chairs are available for rent.  As you can see in the image, that small segment of beach is pretty much the sandiest part of Comino.
I don't like crowds. So instead of relaxing I opted to venture into the island.  There weren't any paths. Just power through the nature.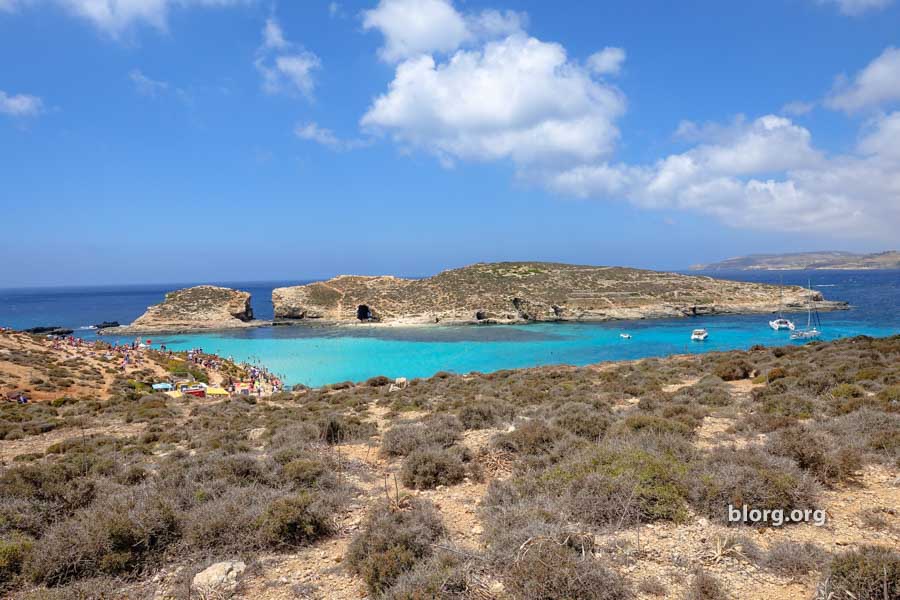 Setting Off For Gozo
After a little more hiking, I found myself back on the boat relaxing and having a burger.  I was surprised that you don't have to stand around to wait for your order (snack bar style in the U.S.) since they had the staff bring the food and drinks to you!  You could place orders with any of the staff. Dang…that level of service was surprising.
The boat soon continued off to Gozo for my 3-hour tour.  I normally try to avoid tours that are 3-hours because of Gilligan's Island, but I went anyway.  As we embarked on to Gozo island, there were a lot of passengers on the boat that opted for the tour.  They divided the people up as evenly as they could since there were groups of various sizes.  Everyone got on to about 5 large passenger vans.  There were 12 passengers in my vehicle.
The van first took us to the citadel.  A large maze of tunnels and walls surrounding a church. It was pretty cool.
The next stop was the oldest church in Gozo.  A large church was built around it. A church, in a church.
Then we headed to these awesome cliffs.  Just more of the beautiful Malta landscapes to enjoy.
We then returned to the boat and made our way back to Bugibba port to end our trip.