This guide will explain getting to Mt Fuji's Kawaguchiko area from Narita Airport. The bus is pretty direct and takes approximately 2.5 hours from NRT airport to get to the Mt. Fuji area. This isn't actually Mt. Fuji, you'll have to transfer at Mt. Fuji Station or one of the nearby stations.
In this post we'll go over the entire process of booking a bus to Mt. Fuji from Narita Airport and the entire experience of the actual bus ride. This Mt. Fuji Hiking guide is helpful if you're looking to understand the timetables, routes and logistics of climbing Mt. Fuji. I've climbed Mt. Fuji unsuccessfully before and you can learn more from my mistakes.
Cost: Bus From NRT To Mt. Fuji
The Keisei bus ticket to Mt. Fuji will cost you 4800JPY…I know it's a lot! But from Narita airport, it's your cheapest and fastest option. If you take the bus from Haneda Airport to the Kawaguchiko Fuji area it will cost you about half the price of Narita airport at only 2470JPY.
Booking Tickets from NRT to Mt. Fuji
Bus tickets to Mt. Fuji can be purchased online up to 30 days in advance. They can also be purchased at the bus ticket kiosk at Narita airport. They only have 2 buses running daily during the peak summer Fuji climbing season and you can find the schedule here.
Where To Find The Keisei Mt. Fuji Bus At Narita Airport
My Scoot Flight from TPE to NRT arrived in Terminal 2. From NRT Terminal 2, it's a 700m walk to Terminal 3…not too bad. They also have a free shuttle that will take you the last 350m if you need it.
Bathrooms At The Narita Airport Terminal 3 Bus Stop
There are bathrooms and an air-conditioned waiting lounge for bus passengers. There are drink vending machines available for your convenience. I always find it better to use a bathroom that's not moving. There's a restroom on the bus, but my preference is always solid ground.
Finding Your Bus Stop at NRT Airport Terminal 3
Bus stop #7 at Narita Airport Terminal 3 will take you to the Kawaguchiko area of Mt. Fuji. It will arrive about 5-minutes prior to departure time to give people time to load their luggage. You can confirm the destination by looking at the placard with the destinations.
There are a lot of buses so confirm the destination on the board and with the bus driver before boarding the bus from NRT Tokyo airport to Mt. Fuji.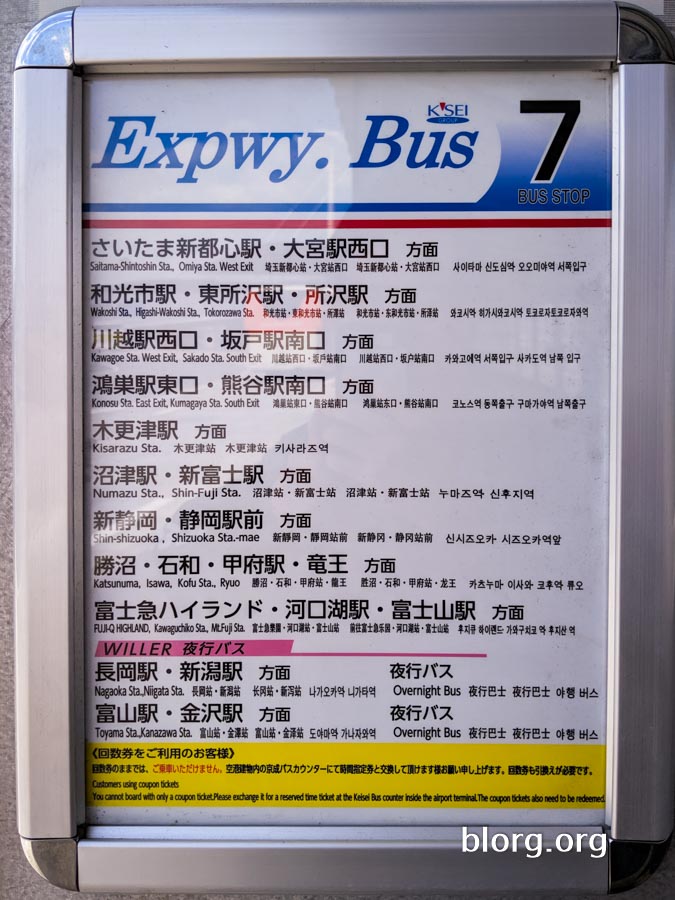 Boarding the Bus from Tokyo to Mt. Fuji
Before boarding the bus to Mt. Fuji, you'll have to present your bus ticket to the bus driver. I just showed him the confirmation e-mail that I received on my phone.
Once we departed from Terminal 3, it was only me on board with 1 other person. The experience felt extra cool cause it felt like a private bus. When we started moving we took a stop at Terminal 2. The official website didn't say it was an option (or from the confirmation e-mail).
I'm sure if you buy your bus ticket to Mt. Fuji at Narita Airport, they will direct you to this bus stop.
On The Keisei Bus From Narita To Mt Fuji
The Keisei bus is really nice! The entire bus was very clean, lots of legroom, USB ports at the seats and a restroom. Seats on the bus to Mt. Fuji are comfy and have the ability to recline. Get that extra rest!
Last time when I rode the bus from Tokyo to Fujinomiya, the bus made a 10-minute pit stop after 2-hours of driving. This time, the direct bus from Narita Airport to Mt. Fuji Kawaguchiko took 2.5 hours and did not take any breaks.
I took the 12:30 bus from Tokyo's Narita airport to Mt. Fuji and it was a very smooth ride. There wasn't ANY traffic along the way so I'm guessing 2.5 hours is the fastest you can get to Mt. Fuji from Tokyo airport.
Free WiFi onboard bus from Narita Airport to Mt. Fuji
Free WiFi on the bus. Just give them your email and you'll have 5 minutes of temporary internet to confirm the link they send you. Then you can use the free WiFi on the bus from Narita Airport to Mt. Fuji.
The WiFi speed was a little spotty and varied in speeds from 0.6-16mbps. It's fast enough to stream a movie on your phone and the price is right!
Getting Off The Mt. Fuji Bus
The direct Keisei Mt. Fuji Kawaguchiko bus only stops at 3 stations: Mt. Fuji-Q Highlands, Mt. Fuji Station and Kawaguchiko Station. For the first 2 stations, you'll need to press the STOP button located above your seat, otherwise they will probably skip your stop.
I slightly messed up. My hotel for the night was at Fuji-Q Highlands area and I missed the stop so I got off the bus at Kawaguchiko Station. From there, it was an easy train ride to Fuji-Q Highlands (1 stop away).
The local trains vary in style! They look like old wooden trains on the inside…while some of the other trains are more modern advertising popular anime. Two very different experiences!
Conclusion
The bus from Tokyo's NRT Narita Airport to Mt. Fuji's Kawaguchiko area is super easy by direct bus. It will cost you 4800JPY, but that's still faster, cheaper and more convenient than taking the train. If you took the train from NRT airport, you'd have to take the NEX Narita express, transfer to the bullet train, then transfer to the local train. There's you'd have to book your tickets in advance to get a seat on those trains and it would end up costing you significantly more money and time. Also, if you're not that familiar with the trains and train stations in Tokyo, in can be overwhelming when you have luggage and are in a rush.
Take the bus to Mt. Fuji because it's much easier. If you need more information about hiking Mt Fuji, I have a super detailed guide post on it.