I flew Scoot Air's Boeing 787-8 from Taipei (TPE) to Tokyo (NRT). As you know, Scoot Air is a budget airline and you want is ideal if you want to save money. When I was looking for flights with Google Flights, Scoot Air was the cheapest option…but there were some drawbacks.
Scoot Air is a low-cost carrier (LCC) based out of Singapore. It's actually a subsidiary of Singapore Airlines. They say you can accrue miles with Singapore, but they make that impossible! I even tried contacting them and never heard back. The flights with Scoot air are super budget but the quality is good enough if you don't mind being bored fore a few hours.
Scoot Air Flight Info: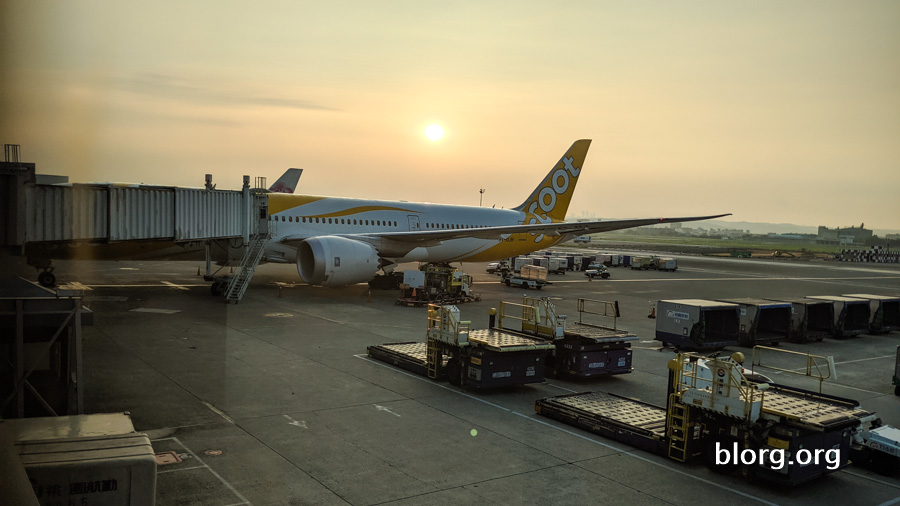 Route: (TPE) Taipei To (NRT) Tokyo
Cost: $110.74 (no luggage)
Flight Date: 9/2/2019
Duration: 3h 25m
Depart TPE: 06:40
Arrive NRT: 11:05
In-Flight Entertainment: No TV
Flying With Scoot Air Review
Drawbacks For Flying With Scoot Air (The Cheapest Flight)
Bad departure/arrival times
When you're flying with the cheapest flight, you tend to either depart or arrive at your destination at a strange hour. Since my Scoot Air flight was at 6:40am, I'd have to arrive at TPE airport at by 5am. As you know, Taipei has an amazing public transportation system. The Taipei Airport MRT only costs $5USD and takes you to the airport in 35 minutes from the city center!
I consider leaving a country at 6:40am a bad departure time because you have to check out of a hotel you paid for at 4am and pay extra money for a taxi to the airport. In this case, it costs NT$1000 to go from Taipei city to TPE airport.
Arriving in a new city too early can be difficult, especially for Japan. Most hotels start guest check-in at 3pm and are VERY strict about early check-in. You can ask nicely, offer to pay more money but the answer is still "No early check-in."
Trust me, I've tried. Since this was a trip to Mt. Fuji and I'd be staying overnight on the mountain, I wanted a hotel I can get some sleep at. I really wanted early check-in and contacted 20+ hotels in the area, they all said "no" (but in a polite way).
Amenities (or lack of)
I know this is a Scoot Air review, but this also goes for all low cost carriers. On my Scoot Air flight (much like other LCCs), it's a bare bones fare. This is what's included with your fare:
10kg carry-on luggage
No in-flight entertainment (bring your own stuff)
No seat selection
No food or drinks (fuel up before the flight)
No air vents
No power outlets or USB ports for charging your devices
Luggage With Scoot Air
Included with the Scoot Air fare for your flight is carry-on baggage. They limit your cabin baggage to 10kg. Not bad! They make you check-in anything else. Since my trip from TPE-NRT was for my 2019 Mt. Fuji climbing trip, I was bringing with me 2 hiking poles.
I reached out to Scoot Air over Twitter to ask them if I would be required to check my hiking poles instead of being allowed as carry-on luggage. They got back to me within 5 hours (pretty good) and said I would be required to check-in my hiking poles. I did not want to do that.
Showing Up To The Airport Without Prepaid Check-In Luggage.
I bought 2 hiking poles at Taipei City Mall for a total of $23USD. To check it in with Scoot Air would cost $30USD…if I bought check-in luggage online in advance. If I were to pay for last minute check-in luggage at the airport, it would cost $45USD!
I took the gamble! I brought my hiking poles to the airport without paying for check-in luggage. They kind of fit in my backpack…but not really. While checking-in for my flight I took the chance and asked the Scoot Air check-in attendant if I would be required to check my hiking sticks. He examined them, took them to a nearby security agent and said "It should be fine." Great news for me!
When I was going through the security check point, I put the hiking poles in the tray and then it went through the x-ray machine. My palms were sweating and I was nervous. If they denied me I would have to go back to the check-in counter and pay $45USD to check two sticks as luggage.
After my hiking sticks got scanned and passed through the x-ray machine, I waited a moment. I was worried they were going to stop me. It didn't seem unusual to anyone so I quickly took my belongings and proceeded to the airport lounge!
Can you bring hiking poles as carry on luggage?
Yes. I was able to bring hiking poles as carry-on luggage in TPE Taipei airport.
Inside the Scoot Air Boeing 787-8
Seats Scoot Air Boeing 787-8
It was a pretty new plane so all the seats were very clean and in "like new" condition. The actual seats had enough leg room (I'm 5'8″) for me and was pretty comfortable. Luckily, they gave me an aisle seat. Unluckily, the seats are a little narrow so my shoulder was in the aisle just a little bit.
The aisles on Scoot Air's Boeing 787-8 are narrow (as expected). Since I was sitting in an aisle seat, people would occasionally bump into my shoulder. Not ideal if you like sleeping on early morning flights.
The seats on Scoot Air did not have in-flight entertainment of any USB charging outlets. There were also no air vents above the seats.
Official Stats from SeatGuru:
Pitch
Width
Seating details
ScootPlus
38
22
21 recliner seats
ScootinSilence
34-36
18.9-19.7
33 standard seats
Economy
31
18.9-19.7
281 standard seats
Windows on The Scoot Air Boeing 787-8
I actually really liked the windows on this plane. They didn't use the old style window shades that you had to manually list up/down. There were buttons on the window and you can control how dark you want the window shade. Several gradients from fully clear to completely dark. I loved this modern touch, but would have also loved some USB ports and a stand for my phone.
Preparing For Landing
On a 3-hour flight from Taipei to Tokyo, they announced to stay in our seats and prepare for landing 90 minutes before arrival. Seats and table trays up. While we were seated in that time, they passed by many times trying to sell food and duty free items.
That's the trick. Keep people in their seats and try to sell to them. 90-minutes is insanely early! Most other flights it's been on (internationally and domestically) prepare for landing 30-45 minutes before ACTUALLY landing. People still got up to use the lavatory though, but I don't like the false expectations of actually landing soon.
Conclusion: Scoot Air Review
Flying with Scoot overall wasn't that bad. Since they were the cheapest flight for my needs, even though the times were odd, I would still fly with them again…but that is of course if they are the cheapest flight.
I didn't select a seat for this flight because I'm cheap and they didn't offer a seat option during check-in. I'm sure you can ask nicely though. Departing from Taipei airport, they did not have an online check-in system available.
They did email me to bid for upgrades to Scoot Business class before my flight, but I didn't want to spend extra money. The minimum bid is about $60USD to upgrade to business class. Not really worth it in my opinion for a short flight.