I love and hate Japanese theme parks. Theme park guests can dress in costumes and some of them are amazing! Some of them are not. It's very crowded, but everyone is still very polite and patient.  As long as you keep that in mind, you can survive.
Visiting Universal Studios Japan
September 30, 2017: I went to Universal Studios Japan (USJ) with the goal of watching the One Piece Premier Show. One Piece is long running Japanese Anime that's very popular. I'm a fan. The One Piece Premier Show is a Live Action Show placed over the WaterWorld stage.  I've been to the show in the summer of 2012 and 2013 and was ready for 2017…until they cancelled.  It was a huge bummer. We found this out as soon as we got to the park. This was the last day for the show too.
One Piece Premier Show
You can't just buy tickets to the One Piece Premier Show. You have to buy tickets to USJ to enter the park first.  It's a crappy condition because the OPPS happens only once per night, right before they close USJ.  If they wanted to, they could just sell you the OPPS tickets without forcing you to buy theme park tickets…but they want your money.
Since my friends and I were already at USJ, we proceeded to spend the next 10 hours at USJ.  Each ride/attraction has an estimated wait time displayed in front and can also be found on the USJ app.  We proceeded to 3 events: Dragonball Z 4D, Gintama Live and The Flying Dinosaur. Dragonball Z 4D and Gintama Live is part of the Jump Comics Summer Special at USJ. We attended on the last day for these events.
Link To:
Universal Studios Japan: Dragonball Z 4D Experience
Universal Studios Japan: Gintama Live Talk Show
The Flying Dinosaur Rollercoaster
With two attractions done, we needed to go to a rollercoaster. We considered going to the flying dinosaur and it had a 3 hour wait. We took a break to refuel a little and to psychologically prepare to wait in line again before heading over.
In the walking paths by the rollercoasters, I really liked how they had safety nets over the people in case something fell off someone on a ride. It's that extra level of consideration for people in Japan that I really appreciate.
We got in line and it was another battle to stand in line.  The line looped around and around. They do this to keep your mind off the awfully long wait, but for me it started making me freak out.  Two hours into the wait, we passed by the area we started in and it felt like we didn't move.  I think I started laughing hysterically at this point as I was losing my mind. I don't know how people have the tolerance to wait in line all day. It was literally maddening. Of course, many people kept their minds off the line by looking at their phone.  I didn't get a picture of this but you'll have to believe me.  There was a lady holding a laptop in front of her watching a drama while holding her phone in her other hand playing a video game. It was impressive because she still knew when to move up in line.  You gotta have strong arms for that level of entertainment commitment.
By the time we got to the front of the line, I felt really anxious and nervous. I just really wanted the wait in line to be over and to get out of the theme park.  Hunger and thirst levels were very high.  The rollercoaster was a blast but that 1-2 minutes of fun didn't seem to balance out with that 3-hour wait. Those numbers were not favorable to my fun level, but it helped that I was with friends.
Halloween Horror Nights
Theme parks in Japan around Halloween are awesome! People dress up in amazing costumes. They also happened to be starting their Halloween Horror nights. Once the sun went down, there was some WEIRD stuff happening.  A lot of aggressive zombies, but I was in Japan so I wasn't scared at all. Even though their trying to scare you, they weren't going to touch you. I kind of wanted to see how far they'd go to try and scare me.  Since I didn't react with fear, the zombies would focus their attention on people who were getting scared. Darn.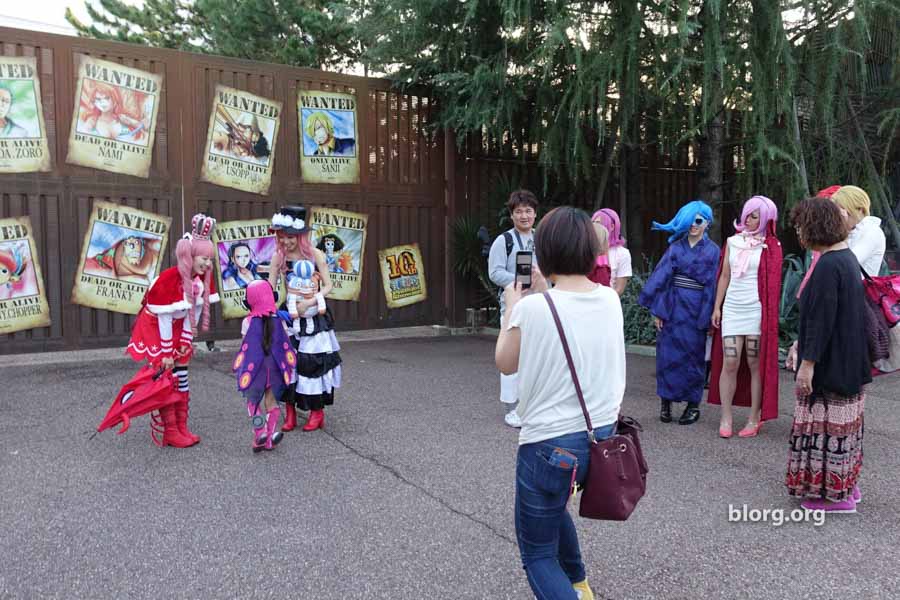 Damn! They sell fast passes from 2000-7600JPY! After waiting in lines, I know these are absolutely worth it if you are on a time crunch. If you're on vacation and can only spare 1 day for USJ, I highly recommend getting the express pass othe